10 years of chronic tummy pain: How a woman in her 20s chose to manage it with psychotherapy
SINGAPORE — It starts off as a dull pain in the abdomen before increasing in intensity. Then the pain lasts around a week and leaves her unable to function properly.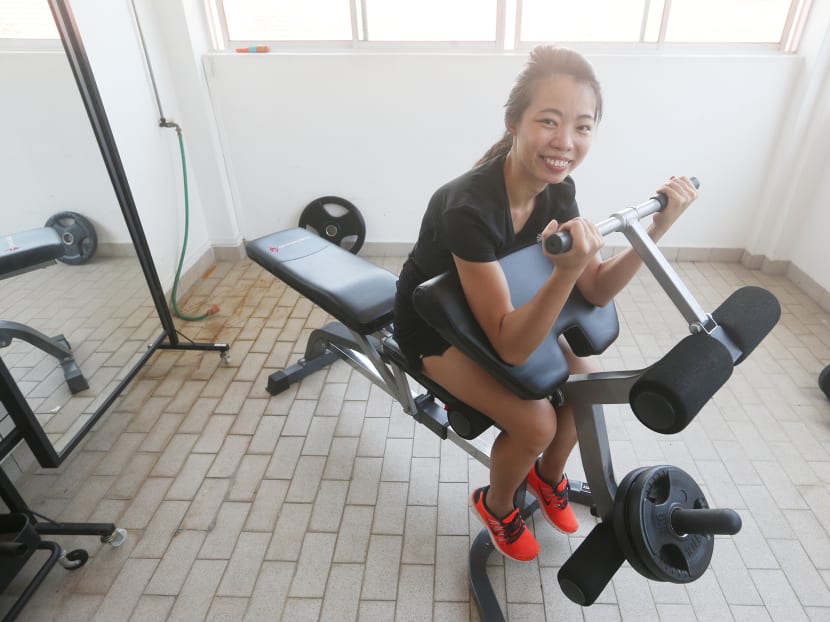 SINGAPORE — It starts off as a dull pain in the abdomen before increasing in intensity. Then the pain lasts around a week and leaves her unable to function properly.
From the time she was a teenager, Ms Kristine Tan has not been able to do without painkillers whenever she experiences these pains.
Gradually through the years, she stopped exercising, gave up playing her favourite sport volleyball and skipped important events.
Now 29 and self-employed, she said: "It got to a point when I was popping six pills every four hours. When those didn't work, I would go to the hospital to get stronger pain medications."
Then, as if enduring debilitating abdominal pains that have affected every aspect of her life was not bad enough, in 2017, Ms Tan was diagnosed with leukaemia.
She experienced her worst abdominal pain episode during that time when she had cancer.  
"It felt 10 times worse than my usual pain episodes. The abdominal pain was so intense it radiated all to my back. I could not get up to go to the toilet or even sit on the wheelchair properly… I didn't want to move at all," she said.
Her blood cancer is now in remission but the chronic pain in her abdomen has not gone away.
It started a few years after she underwent surgery in 2005 to treat appendicitis. She was 14 years old then. She had been told that the pain was likely due to scar tissue adhesions that had formed inside her abdominal area.
Ms Tan is a social worker who now runs a startup that focuses on workshops and programmes that build soft skills. She has met her share of doctors who thought that she was exaggerating her ailments.
That was until one doctor suggested that she should see a psychologist as part of her chronic pain treatment.
She was sceptical at first. "I thought he was another doctor who did not believe that I was really experiencing real physical pain."
However, it turned out to be a recommendation that has brought her much-needed relief.
In 2018, Ms Tan was referred to the pain management clinic at Tan Tock Seng Hospital (TTSH), where psychological intervention was part of its multidisciplinary pain management approach.
'GOLD STANDARD' TREATMENT
Dr Yang Su-Yin, principal psychologist at TTSH who is now treating Ms Tan, said that interdisciplinary treatment has been held as the "gold standard" for chronic pain treatment, and psychological treatment is one of the key players. 
Yet, few understand the psychological component of chronic pain, which is estimated to affect one in five people worldwide.
Dr Yang said that chronic pain can be considered one of the most misunderstood conditions at present since most patients generally "look well".
"There are still many health professionals who have limited understanding and appreciation of the biopsychosocial nature of chronic pain. They do not understand the (use) and role of psychological interventions, much less patients," she said.
What this means is that there is an interconnection among biology, psychology and socio-environmental factors when it comes to pain management.
"Patients' lifestyles, relationships, work or study performance are often affected, especially if the pain is long-drawn and treatment options do not bring much pain relief," Dr Yang said.
"Many report becoming more short-tempered and have less patience. As such, they choose to stay away from colleagues, friends or family as they feel that they have to keep up with appearances.
"Patients express feeling tired of hearing people tell them, 'You look well', 'try not to think about it', and it is 'mind over pain'," she added.
Despite her initial doubts, Ms Tan decided to finally take a more holistic approach. 
"Due to the longstanding pain, my mental health was really bad by then," she said.
"I felt helpless and so tired of it. It made me feel that life was very meaningless, and that sense of meaninglessness really drained the soul."
LOOKING BEYOND PHYSICAL PAIN
For those who may not know, The Pain Association of Singapore is the Singapore chapter of the International Association for the Study of Pain. Its mission is to acquire new knowledge to diagnose, research and increase awareness of pain management for professionals and the public.
Dr Nicholas Chua, president of the association here, said that people often think of pain as a purely physical sensation.
However, chronic pain is far more complex.
Dr Chua, who is also director of Specialist Pain International Clinic and a senior consultant in pain medicine and anaesthesiology, said: "Pain has biological, psychological and emotional factors."
Dr Damian Ong Wen Kai, director of Pain Management Clinic at TTSH, said that unlike acute pain that usually has a limited duration, chronic pain is defined as pain that lasts or recurs for more than three months.
"It persists long past the expected duration of recovery from the initial injury or disease, or the pain (from the disease) keeps recurring for months to years.
"When it reaches this stage, the pain can have a significant impact on the physical, psychological and social functioning of the patient.
"As such, chronic pain itself becomes a disease in its own right," Dr Ong said. 
In his private practice, Dr Chua has seen a 10 to 15 per cent yearly increase in new chronic pain patients in the past years prior to Covid-19.
At TTSH, there were more than 3,500 patient visits to a pain specialist last year.
The doctors said that the Covid-19 pandemic could also possibly drive chronic pain cases up, due to reasons such as complications arising from prolonged period in intensive care or the infection itself.
WHY CHRONIC PAIN DON'T GO AWAY
Dr Ong of TTSH said that apart from chronic primary pain, there is chronic secondary pain, which is linked to another disease and the pain may at first be regarded as a symptom of the disease such as cancer pain.
Dr Chua said pain can become chronic when an underlying problem does not heal, such as in the case of longstanding arthritis that causes persistent inflammation and damage to the joints.
However, he pointed out that chronic pain may also occur even when there is healing and no obvious injury to tissues.
"This may be the result of damage to nerves that transmit pain.
"When pain persists for a long time, there can be changes to the spinal cord and brain that alters how we perceive these painful sensations.
"These changes may result in severe pain with little or even no painful triggers," Dr Chua said.
What he suggests is to get a referral to a multidisciplinary pain management team for any pain that is not improving after one month.
Dr Ong said that a person's thoughts, state of mental health, attitudes and beliefs towards can also influence the risk of developing chronic pain.
For instance, there is some evidence that patients with anxiety, depression or certain pain-coping behaviours are more predisposed to developing chronic pain.
WHEN TO SEE A PSYCHOLOGIST
Dr Yang of TTSH said that patients are usually referred to see a psychologist when their condition does not warrant surgery and when drug treatment options are perceived to provide minimal relief. Or when patients choose not to take prescribed pain medications and prefer to learn to self-manage.
They may also be referred when they express experiencing issues that affect their mental wellbeing and everyday life as a result of their pain.
These can be mood changes, sleep problems, reduced concentration and focus affecting school or work performance, and feeling anxious and fearful — leading to avoidance of daily activities that they perceive are likely to trigger pain.
Dr Yang and her colleagues see an average of 15 to 18 patients a week for chronic pain management.
HOW PSYCHOTHERAPY HELPS
Through psychotherapy, patients learn to be aware of their own pain triggers, communicate their pain, manage their mood and reach a level of acceptance of their condition to regain some semblance of a quality of life they once enjoyed.
They also relearn certain behaviours and make lifestyle changes, Dr Yang said.
For example, if the pain trigger is due to sitting or standing in a prolonged position, one measure may involve setting an alarm to remind the patient to stretch every 20 minutes.
Previously learnt behaviours to manage pain in the acute stage, such as lying down and reducing activity levels, may no longer work as effectively for most patients when pain becomes chronic.
Dr Yang said that the fear of pain can be more disabling than pain itself, and maladaptive behaviours could be counterproductive when managing chronic pain.
For instance, in what is called fear-avoidance, chronic pain patients may avoid exercise and reduce activity and movement for fear that these will trigger pain.
"The more they avoid, the muscles get more de-conditioned and this would lead to reduced functional ability. Pain would likely be more easily triggered and a vicious circle ensues," she said.
RESUMING EXERCISE
For Ms Tan, she stopped exercising more than 10 years ago after a doctor advised her to avoid it.
"As a result I became too scared to use my muscles. Right now, I also attend physiotherapy sessions as part of my pain management and am doing exercises to build up muscles and physical strength," she said.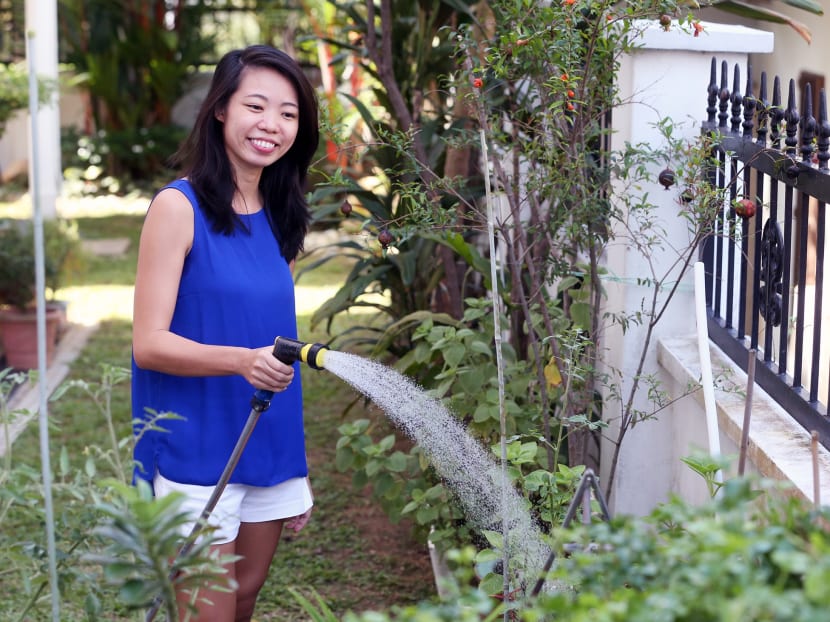 She has also resumed playing volleyball and other vigorous exercises such as running and has never felt better. Research suggests that exercise can help lower severity of pain and improve quality of life in those with chronic pain.
While she still experiences pain, the frequency and intensity have dropped drastically. To people in the same boat, Ms Tan said it is important for them to celebrate small wins while battling pain. 
"Chronic pain is a long stretch. It can feel incredibly lonely. You need to be your own cheerleader," she said.