377A challenge: Lawyers argue declassified UK documents show law was originally aimed at male prostitutes
SINGAPORE — The first of three court challenges against Section 377A of the Penal Code got under way on Wednesday (Nov 13), with lawyers for Mr Bryan Choong, former executive director of non-profit organisation Oogachaga, setting out their case.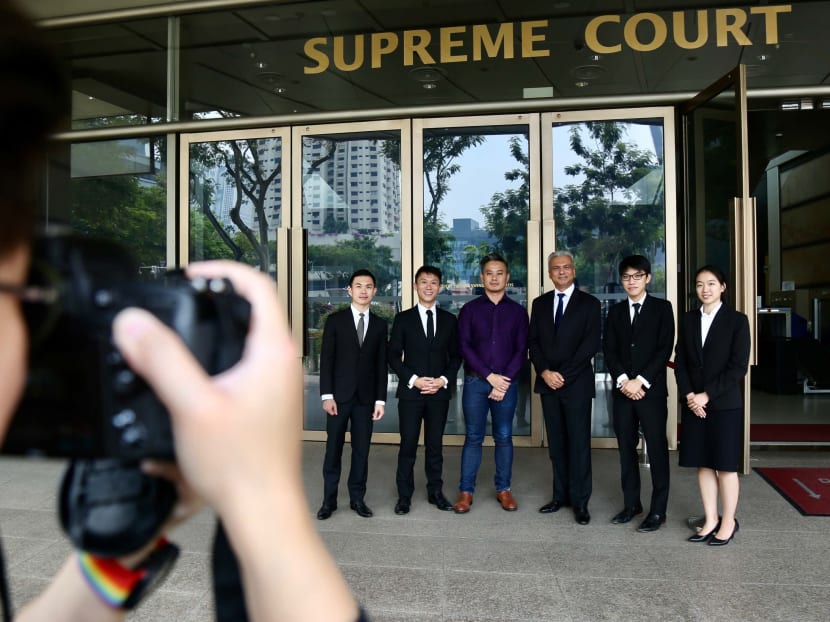 SINGAPORE — The first of three court challenges against Section 377A of the Penal Code got under way on Wednesday (Nov 13), with lawyers for Mr Bryan Choong, former executive director of non-profit organisation Oogachaga, setting out their case.
In written submissions seen by TODAY, Mr Choong's lawyers argued that back in 2014 when then-graphic designer Lim Meng Suang and his gay partner challenged the constitutionality of Section 377A — which ostensibly criminalises gay sex — the court did not consider documents from the United Kingdom's National Archives that were classified at the time.
The documents were declassified between 2014 and 2016. And they showed that the original purpose of Section 377A by the British colonial rulers of Malaya, which included modern-day Singapore, was to stamp out male prostitution rather than discriminate against male homosexuals, the lawyers stated. Singapore as an independent legal jurisdiction inherited the provision.
This was also an argument made by former chief justice and attorney-general Chan Sek Keong, who set the legal fraternity abuzz with excitement last month with his 72-page analysis that argued that Section 377A — when seen as against gay sex — is unconstitutional.
Mr Chan said that when Section 377 — which covered penetrative sex acts against the order of nature — was repealed in 2007, the original purpose of Section 377A was "impliedly repealed" as well.
The three plaintiffs include disc jockey Johnson Ong Ming, 43, also known as DJ Big Kid, who was the first to mount a legal challenge in September last year. This was after India repealed its version of Section 377A in a landmark court ruling.
After that, Mr Choong, 42, launched his case in November last year. 
Dr Roy Tan Seng Kee followed suit in September this year. Dr Tan is a 61-year-old retired general practitioner and former organiser of the annual Pink Dot event for the lesbian, gay, bisexual and transgender (LGBT) community.
The three cases are being heard together before Justice See Kee Oon in chambers in the High Court on Wednesday and Friday this week, and a few more days next week. The hearings are closed to the public.
Mr Choong's team of lawyers include Senior Counsel Harpreet Nehal Singh of Audent Chambers, Mr Remy Choo Zheng Xi, Ms Priscilla Chia and Mr Wong Thai Yong of Peter Low & Choo, and Mr Jordan Tan of Cavenagh Law.
Mr Ong is represented by Mr Johannes Hadi, Mr Suang Wijaya and Mr Eugene Thuraisingam, while Dr Tan is represented by human rights lawyer M Ravi.
377A WAS A RESPONSE TO 'OUTBREAK' OF MALE PROSTITUTION
Mr Choong's lawyers on Wednesday highlighted one document dated 1940, which was declassified in 2016, that showed that the legislative provision was in response to an "outbreak" of male prostitution in Malaya at the beginning of 1938.
It recorded communication between local colonial authorities and the permanent under secretary of colonies in the UK, and cited specific examples of civil servants being caught associating with male prostitutes.
Another document dated March 24, 1938, which was declassified in 2014, cited an example of a senior prisons officer in the Straits Settlements who resigned after being caught in January 1938 attempting to sodomise two male prostitutes.
The document was a communication from Sir Thomas Shenton, who was governor and high commissioner of the Straits Settlements, to the secretary of state for the colonies.
Section 377A was tabled as part of an amendment bill in April 1938.
Both these documents corroborate the 1937 annual crime report of the Straits Settlements, which confirmed "widespread" instances of male prostitution at that time. The annual crime report was a document considered by the Court of Appeal in 2014 when Mr Lim Meng Suang's case was still before the courts. 
The lawyers said: "It would be extraordinary to conclude in the face of the above evidence, in conjunction with the fresh documents, that the legislative purpose of 377A was anything other than (for the purposes of combatting male prostitution)."
The legal significance of this conclusion, they said, is that if the purpose of Section 377A was to criminalise male prostitution only, then applying it to criminalise all homosexuals had gone overboard.
"Should the analysis be any different just because the rights of a minority of the population (gay and bisexual men) are being trampled upon to further a narrow legislative purpose, which is to target male prostitution?" the lawyers asked.
Another part of their submissions argued that Section 377A is inconsistent with Article 12 of the Singapore Constitution, which states that all persons are equal before the law and are entitled to the equal protection of the law, and therefore unconstitutional.
The lawyers questioned: "What would be the purpose of Article 12 if it only protected discrimination against the majority and not discrimination against the minority?"
AS IF GAY MEN ARE 'SECOND-CLASS CITIZENS'
Mr Choong's affidavit stated that the legal application was made because he believes that the right to equal protection under the Constitution cannot just protect the personal intimacies and choices of some Singaporeans but not those of others.
"What is at stake here goes to the very right of individuals like me, to define our humanity and to live this one life we each have in a way that is authentic and true to who we are," he said. "Just as heterosexual couples have an interest in consensual intimacy, so, too, do adult gay couples."
Asserting that the original legislative purpose of Section 377A is "obscure and extremely cryptic", he said: "The only ex post facto justification of Section 377A appears to be to send a message through the criminal law that the private intimate conduct of people like me is frowned upon by certain segments of our citizens.
"There appears to be no other reason behind Section 377A."
He added: "Section 377A sends the message that gay men like me and many others are second-class citizens and lawbreakers, and this in turn adds to discrimination and misunderstanding throughout our society."
He also said that to say that there is nothing to fear because Section 377A will not be actively enforced is "not only inaccurate (gay men risk investigation), it adds insult to injury".
"It reinforces the fact that Section 377A serves no purpose but to discriminate against gay men," he said.