MP raises sanitary pad littering problem at Yishun HDB block 'which will go away only when litterbug reaches menopause'
SINGAPORE — For years, passers-by and residents at Block 841 on Yishun Street 81 have had to deal with the periodic unhygienic problem of used sanitary pads thrown from one of the flats there, and it has stymied investigators and frustrated their Member of Parliament (MP) Lee Bee Wah.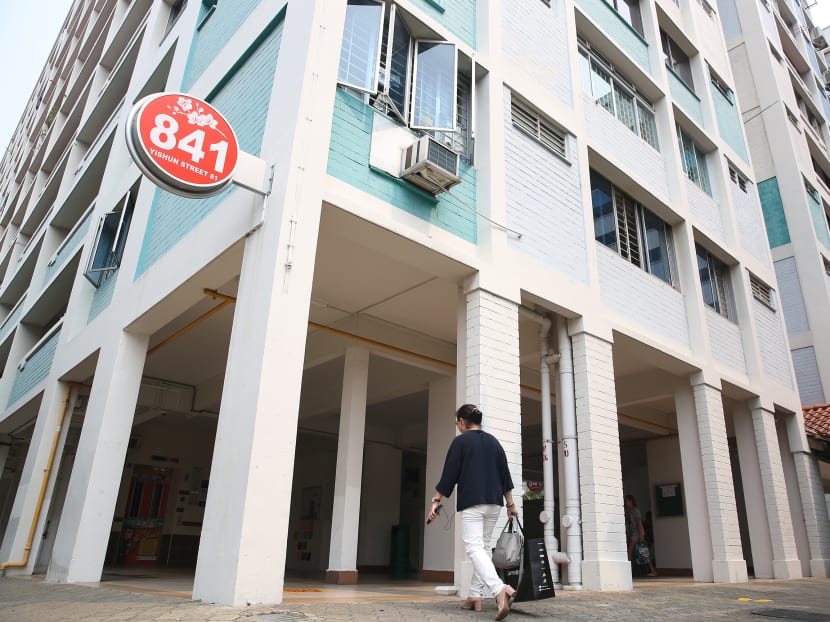 SINGAPORE — For years, passers-by and residents at Block 841 on Yishun Street 81 have had to deal with the periodic unhygienic problem of used sanitary pads thrown from one of the flats there, and it has stymied investigators and frustrated their Member of Parliament (MP) Lee Bee Wah.
In a lively parliamentary exchange with Dr Amy Khor, Senior Minister of State for the Environment and Water Resources, the MP of Nee Soon Group Representation Constituency (GRC) said that the authorities' efforts to nab the culprit have not paid off, despite repeated stakeouts by investigators from the National Environment Agency (NEA).
Evoking laughter from other MPs, Ms Lee said: "If you had the ambition to catch the culprit, you will be able to catch (her). Otherwise, looks like this problem will disappear only when the litterbug (reaches) menopause."
Issues of high-rise littering were brought up in Parliament on Tuesday (Sept 3) during a discussion about killer litter, following a recent fatal incident last month.
Other MPs also waded in, detailing how they had trouble dealing with the littering problem in their wards. Holland-Bukit Timah GRC MP Liang Eng Hwa called for NEA to review its enforcement process, and Mountbatten MP Lim Biow Chuan would like to see tougher penalties, including having NEA work with the Housing and Development Board to repossess the flats of recalcitrant litterbugs. 
In Ms Lee's ward, NEA had installed surveillance cameras at the MPC@Khatib, a large sheltered area of basketball courts next to Block 841. Yet, she noted that enforcement actions were not proactive. Four suspects were caught only after she asked investigators to view footage from the cameras, she told the House.
Dr Khor said that NEA has already put up surveillance cameras many times at Block 841 — most recently in August — after it received feedback from residents.
"How effective we are (in tapping) the surveillance cameras also depends on the information given," Dr Khor said. "So for instance, on the case of the sanitary pad issue you talked about, for a specific block in Yishun, the information given to us was just a picture of a sanitary pad with no other information about where it is likely to come from."
At the Khatib basketball courts, Dr Khor said that outreach and education to the users — mainly basketball players — "did not work" and after that, the cameras were set up with the help of the Nee Soon Town Council. 
The Ministry of the Environment and Water Resources (MEWR) said separately that examples of the outreach and educational efforts were video appeals for information which have been aired by the People's Association on public screens at MPC@Khatib, as well as educational banners, floor stickers and signs put up by NEA and the town council. NEA has also engaged grassroots leaders to educate users of the court in the evenings. 
DOOR-TO-DOOR ENGAGEMENT WITH RESIDENTS
Dr Khor said that rather than relying on surveillance cameras as a panacea, enforcement must complement community engagement and education, noting how a recent pilot programme targeting this issue has yielded results. 
The programme at a block of flats in Ang Mo Kio, which had faced persistent issues with high-rise littering and pigeon feeding, involved proactive door-to-door engagement of residents by grassroot leaders, the town council, as well as the Municipal Services Office. Combined with active enforcement by NEA, Dr Khor said that the problem resulted in a fall of littering cases — from 21 to nine — over a six-month period.
She added that high-rise littering and pigeon feeding are human actions that require change in mindsets and behaviour. "For a long-term solution… the more sustainable approach should be more community involvement, of course facilitated or complemented by enforcement actions."
MEWR said this was a pilot project conducted last year as a collaboration between government agencies, Ang Mo Kio Town Council and the community. More information will be shared when the project is "scaled progressively", the ministry added.
Addressing Mr Lim's point about repossessing the flats of repeat offenders, Dr Khor said that it is an "extreme measure", though there are provisions in the legislation that will allow such penalties to be meted out.
"So I wouldn't say that this is an avenue that we will take, but this is an option available depending on the factors of the case. If it is a case of killer litter anyway, it is under the Penal Code and the police will investigate, (involving) even harsher penalties," she said, noting the already harsh penalties for offenders.
First-time litterbugs face fines of up to S$2,000 for each offence, while recalcitrant individuals offending for the third time or more could be punished with a S$10,000 fine and a Corrective Work Order, where they have to clean public areas for three to 12 hours. Around 2,600 of such orders were issued last year by the court.
'MAKE CAMERAS SMALLER'
After the exchange between Ms Lee and Dr Khor, several MPs continued to ask about enforcement actions. Ms Lee's fellow Nee Soon GRC MP Louis Ng told of his personal experience of a neighbour who would continue to toss cigarette butts outside his flat after noticing that NEA has removed surveillance cameras. Mr Ng urged the agency to seek a technological solution.
"Can we improve the surveillance cameras, make them smaller so that people can't see them, and then we can catch more people and then we don't need to wait for the resident to reach menopause?" Mr Ng asked, alluding to Ms Lee's earlier remarks.
At Block 841 where soiled sanitary pad are thrown outdoors, Ms Lee noted that the surveillance cameras were put up temporarily and removed every five days. "If the CCTV cameras are deployed in five-day cycles, then I ask, who has menstruation in five-day cycles?" she said to more laughter from the House.
She also urged NEA to do DNA testing using the sanitary pads in order to nab the culprit.
Dr Khor reiterated that the priority is not to catch as many litterbugs as possible but to encourage socially responsible behaviour and civic-mindedness. She added that NEA is always on the lookout for better technologies to help investigate high-rise incidents. Cameras are limited by their available vantage points, as well as the need to preserve the privacy of residents.
On using DNA testing, she said that it would not be feasible since the litter would not just contain the DNA of the culprit alone. "We are not referring specifically to sanitary pads, but we are (saying) in general, there will be many other DNA involved," Dr Khor said. 
Moreover, DNA evidence alone was insufficient since it "only ascertains the user of the napkin, but not the perpetrator of littering", MEWR noted. "We would need to capture footage of the culprit in action," the ministry added.
Ms Lee told TODAY later that she was not convinced. "Other objects, maybe. (But then again), I am sure no one would want to touch a sanitary pad."
RESIDENTS DISGUSTED
Yishun residents said that the littering issue has been going on for a while, though the town council's cleaners are generally able to keep the area tidy.
Retiree Chew Eng Seng, 76, a resident at Block 841 who has lived there for 32 years, said that she has seen used sanitary pads in the bushes below the block. 
"Many people would be walking by and so many people have to see something so unsightly," she said. 
Apart from sanitary pads, residents complained of cigarette butts, used tissue paper and containers of stagnant water — which one resident believes is left by cat feeders — spotted at the void deck area. 
Retiree Robert Lee, 73, said of the stagnant water: "There are kindergartens and nurseries in the area, and this could become a problem for these kids (if it breeds Aedes mosquitoes)."
Retiree Lee Thian Hock, 68, said that the cameras installed around the area were of no use. Litter that he sees in the lift could be left there for up to four days. 
He added: "There are cameras around already and they should be able to catch these litterbugs, but I don't know why they haven't already done so." ADDITIONAL REPORTING BY KIMBERLY LIM