Actor Aloysius Pang crushed by gun barrel, suffered injury to 'multiple organs'
SINGAPORE — Actor Aloysius Pang was crushed when a gun barrel in the howitzer he was repairing was lowered and he was "unable to get out of the way", Chief of Army Goh Si Hou said on Thursday (Jan 24).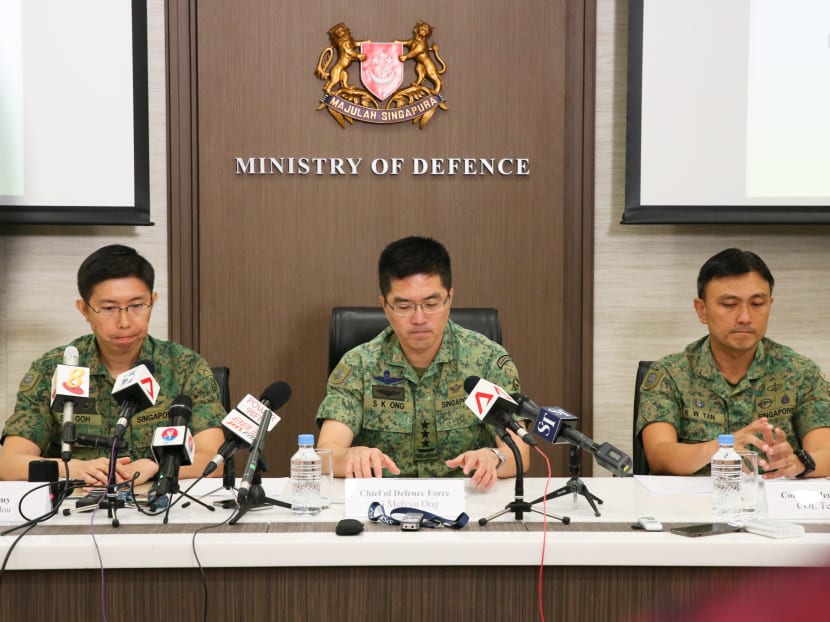 SINGAPORE — Actor Aloysius Pang was crushed when a gun barrel in the howitzer he was repairing was lowered and he was "unable to get out of the way", Chief of Army Goh Si Hou said on Thursday (Jan 24).
Corporal First Class (National Service) Pang and two teammates were trying to diagnose a suspected fault in the gun, when he was caught between the end of the gun barrel and the cabin of the vehicle, and sustained "crush injuries", Major-General Goh told reporters at a media conference.
When pressed for details about his injuries, Colonel (Dr) Edward Lo, who is Chief Army Medical Officer, would only say that Pang suffered "major trauma injury involving multiple organs".
Pang, 28, an armament technician, was part of a maintenance team called in to carry out repair work inside the self-propelled howitzer — an artillery gun mounted on an armoured chassis.
His teammates, a gun detachment commander and a fellow technician, were with him in the cabin, but neither was injured.
The end of the gun barrel juts into the cabin when lowered, reducing room within the vehicle.
Technicians are trained to move out of the way and find a safe space when the barrel is lowered.
"It is typically sufficient for our artillery operators as well as our technicians to be able to operate within this cabin," Major-General Goh said.
Colonel Terry Tan, commander of the Singapore Armed Forces (SAF) Combat Service Support Command, said that it takes an average of nine to 10 seconds for the gun barrel to be lowered to its standby position.
Pang was believed to be standing when the barrel struck him.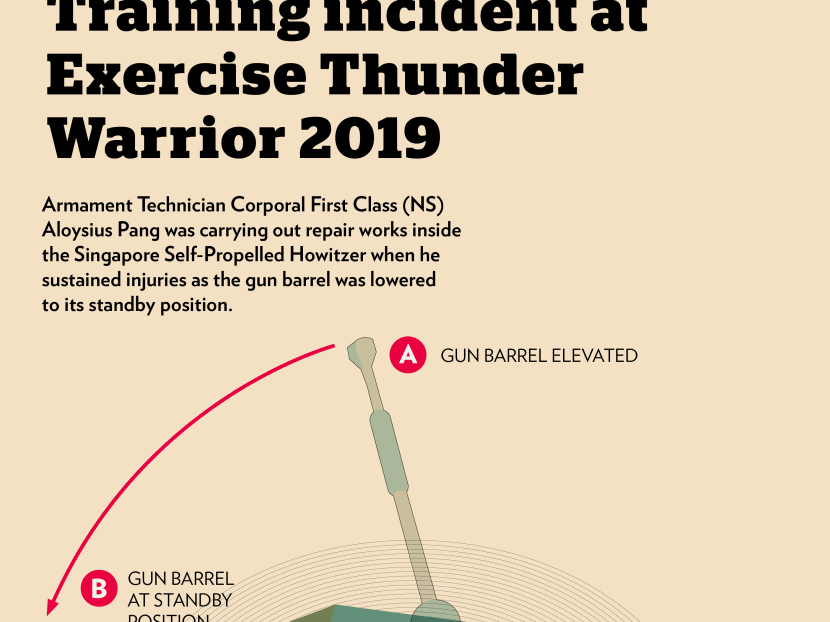 Video: Mindef
Major-General Goh was asked for more details on what happened, such as whether Pang was facing the gun barrel when he was struck and whether he failed to move at all or was far enough from the barrel, but he declined to go into the specifics, saying these details will be investigated by an independent Committee of Inquiry.
As part of standard operating procedures in lowering the gun barrel, a command is given to lower the barrel along with a verbal warning, and the commander also inspects the cabin visually before pushing a button, Colonel Tan said.
Major-General Goh said that the SAF is not aware of any obstructions that could have impeded Pang's movement.
Pang, who was in his seventh in-camp training as an operationally ready national serviceman, had undergone professional training in maintenance, Colonel Tan said.
When he arrived in New Zealand earlier this month, he also went through "just-in-time" refresher training before the exercise kicked off.
Before a major training exercise, maintenance crew will go through refreshers on equipment inspection and maintenance tasks, including demonstrations by trainers on how to carry out these duties, Colonel Tan added.
Read also
Pang, who had been serving in the 268th Battalion Singapore Artillery, died on Wednesday night, four days after the accident left him seriously injured in his chest and abdomen.
He was treated at the Waikato Hospital, a regional trauma centre in Hamilton, New Zealand, about 150km from the city of Auckland.
The accident occurred during Exercise Thunder Warrior, an artillery live-firing exercise, around 2pm on Saturday at the Waiouru Training Area.
After being treated at a battalion casualty station and a camp medical centre, Pang was evacuated to Waikato Hospital, where he had three surgeries before he died from his injuries.
NO SECRECY SURROUNDING ACCIDENT
Chief of Defence Force Melvyn Ong, who chaired the press conference on Thursday, was asked to respond to public criticism over the lack of complete information about the circumstances surrounding the accident and the extent of Pang's injuries.
To this, Lieutenant-General Ong said he did not think there was any secrecy, and that the SAF had tried to be pro-active in what it could release, since many questions had been asked.
While the SAF cannot disclose certain details, he said that it had done as much as it could with the frequency of the updates, though it can "always be better".
"A lot of the focus has been on also… supporting his family and his loved ones to go up there and to be by his side," he added.
In a Facebook post on Thursday, Defence Minister Ng Eng Hen offered condolences on behalf of his ministry and the SAF to Pang's family.
Dr Ng said that the SAF is assisting the family, and the Republic of Singapore Air Force's KC-135 aircraft has been sent to New Zealand to repatriate his body.
"Our grief counsellors are on the ground to comfort the family," he said. "But I know that no words or deeds can relieve their sorrow or replace their loss. I hope and pray that the passage of time will bring them some comfort."