Afghan student waiting to return to Singapore gives a glimpse of life under the Taliban
SINGAPORE — While waiting to return to Singapore to complete her studies, an Afghan student's plans were disrupted when Kabul, the capital of Afghanistan where she lives, was taken over by the Taliban.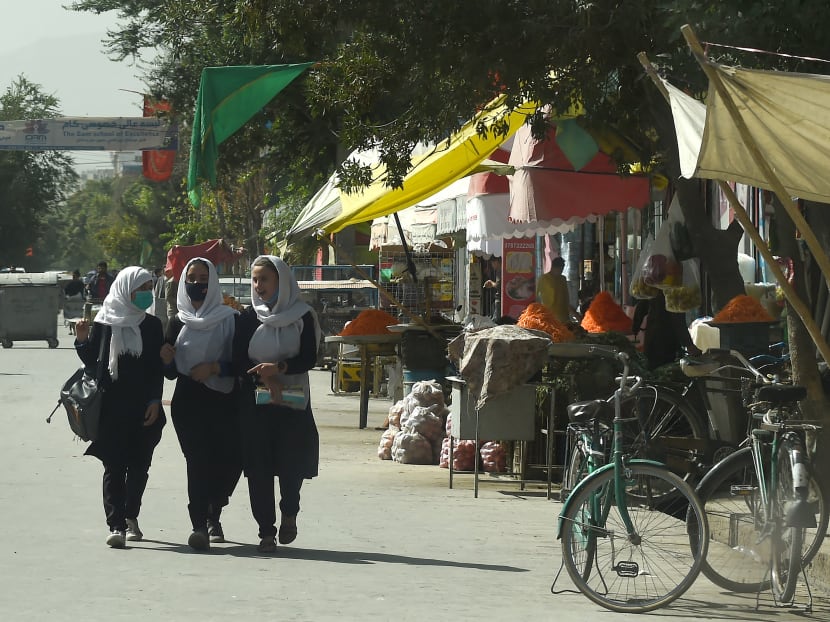 Taliban insurgents entered Kabul on Aug 15 and retook Afghanistan's capital
An Afghan student from a Singapore university talked about how things have been different since
Her plan to continue her studies in Singapore is now in limbo
Her family is now waiting for a flight out of Kabul to another destination 
SINGAPORE — While waiting to return to Singapore to complete her studies, an Afghan student's plans were disrupted when Kabul, the capital of Afghanistan where she lives, was taken over by the Taliban.
Soraya, 20, who declined to be identified by her real name, told TODAY over a virtual interview on Wednesday (Aug 25) that she is waiting for a flight out of the country so that she and her family can be safe. 
She requested that her identity and that of her university be kept anonymous, for her and her family's safety. 
She was supposed to resume her studies at a Singapore university this month but that is no longer what is topmost in her mind now.
While waiting to get entry approval into Singapore, Taliban insurgents entered Kabul on Aug 15 — on the same day Afghan president Ashraf Ghani was reported to have fled the country.
The Islamic militant group then retook Afghanistan's capital, almost two decades after they were driven from Kabul by American troops. 
Soraya said: "We are so shocked and we are trying to make sense of what happened.
"It was very sad and we didn't really expect the Taliban to arrive in Kabul so fast, and for the president to leave the country so fast." 
She said that for the first eight days after the Taliban took over, she did not dare to leave her house. 
"When I was looking out of the balcony… the stores were closed, nobody could be seen around."
NOT ALLOWED TO RETURN TO WORK
Soraya had returned to Afghanistan late last year in the midst of her school term due to health reasons.
Then, she had taken a leave of absence from school for the first half of this year to work for the time being in an Afghan company. 
Work was suddenly cut short the moment the Taliban took over, when Soraya and her mother were told not to return to work. 
"(The Taliban) said women should not go to work until further notice… because it is creating the policies and rules and regulations."
This was not the case for her brother, who was allowed to return to his workplace. 
In the days since seizing Kabul, the Taliban had said that women would be allowed to work and study "within the framework of Islam".
Soraya added that a member of the Taliban had usurped the chief executive officer position in her company.
"How can someone be appointed as CEO to somebody else's investment? My boss has spent, like, millions of dollars to invest in this company."
Within her workplace, there have also been discussions, led by the Taliban, on whether women should be in the same room as men should they return to the office.
"I don't know how that would work, because I have to be in contact with every single colleague," she said. 
Soraya "does not trust" that the Taliban would treat women much differently than it did the last time it ruled over Afghanistan, where there were severe restrictions on women including public corporal punishments. 
"If they have really changed, and if they really want to have women go to work, then the women should be part of all of those ongoing dialogues about how they should dress up and how they should go to work," she said. 
"To remove (women) completely and then talk about how they should dress and how they should go to work, it already shows that they're trying to get women out of the picture." 
DRESSING DIFFERENTLY
The rampant discrimination against women was even more evident when she left her home for the first time just this week to get groceries with her mother. 
Stepping out, Soraya saw a very different Kabul — advertisement billboards had images of females torn down or spray-painted, while clothing stores had posters of women either taken down or vandalised.
She does not know if this was done by the Taliban or by people conforming to the Taliban's beliefs out of fear. 
At the coffee house where she stepped in to get a drink, she also observed that there were no women dining there. 
The people who were walking around had "completely changed the way they dressed". Some women had started to wear traditional clothing such as the hijab and burqa, while men also wore "traditional clothes" that were longer and baggier.
Soraya had to borrow her mother's clothes, which were baggier, and also wore a scarf to wrap around her neck.
Like many Afghans, she had dressed "casually" before the takeover, wearing jeans and T-shirts, for instance.
On how she spots Taliban members, she said that they are easily recognisable due to their long facial hair and the weapons that they sling on their shoulders such as rifles and what looked like rocket launchers.
She did not approach or talk to any of them out of fear. 
"This is all very, very new to me," Soraya said. 
THE HARROWING WAIT TO LEAVE 
Soraya said that her family is now on several evacuation lists and are waiting at home for news on whether they could get a flight out of the country. 
The United States' military mission in Afghanistan would conclude on Aug 31, with the Taliban rejecting the possibility of the evacuations continuing beyond that.
The announcement of the deadline came in the midst of chaotic scenes at Kabul's airport, where many Afghans have tried to board departing planes. 
Soraya said that the news that they can leave can come at any time and in short notice. So, her entire family had packed all their essential belongings into small bags.
"We're leaving everything else behind, including our house," she said. "Seeing what's happening at the airport, I only hope to be evacuated with my family soon." 
Although she had spent the past few weeks agonising about whether she would be granted entry approval into Singapore to continue with her studies, these thoughts are now at the back of her mind. 
She will have to first leave the country to a destination she does not yet know, settle the paperwork there, before even thinking of entering Singapore. 
Due to the Covid-19 pandemic, there were a limited number of entry approvals that could be granted to Singapore, and she said that the school "couldn't really do anything" about her present situation.
Last she heard, her school will be writing to the authorities in an attempt to expedite her entry approval. 
When TODAY reached out to her university, it said that the college "does everything within our means to support students, locally and abroad, to help them to be on our campus to enjoy the full learning experience". 
FUTURE UNCLEAR
Soraya said that she would want to work "for a couple of years" in Singapore after graduating from her studies. After that, the future is murky. 
Her hope is that Afghanistan will be free from Taliban rule once again. 
"This is not the first time that Afghanistan is going through something like this… so I don't think it is going to fall so fast and easily.
"I believe that it will be okay, looking at the resistance forces and how people are fighting back against the Taliban. 
"My biggest hope for now is that even if I leave the country, things will get better and I'll have a chance to come back." 
She added: "The long-term plan was always to be back working in Afghanistan because I just love this country so much. I never really thought that we'd be forced to leave our own country and leave everything behind."