After 19 years in the business, homegrown IT retailer Newstead goes into liquidation
SINGAPORE — Homegrown IT and electronics retailer Newstead Technologies is winding up its business after 19 years, and its troubles could leave Funan DigitalLife Mall without an anchor tenant when it reopens next year.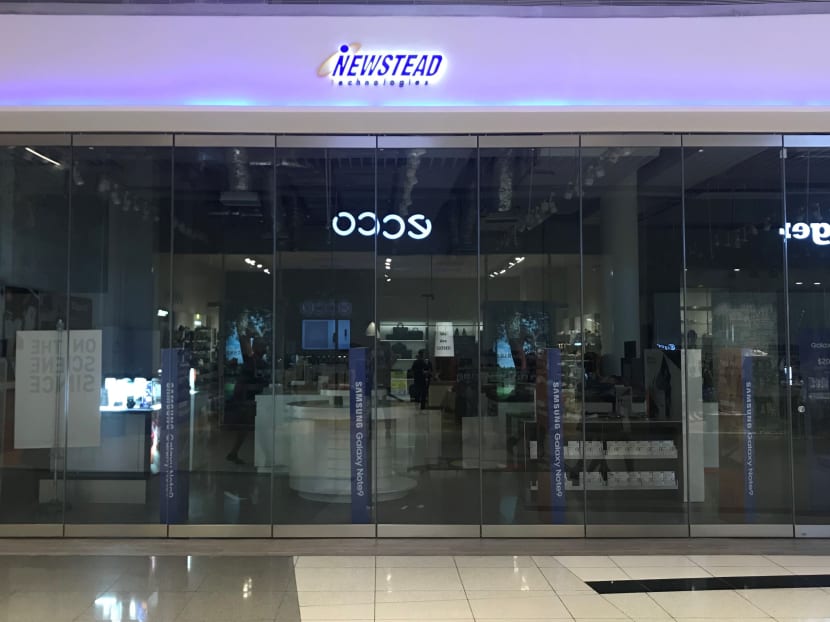 SINGAPORE — Homegrown IT and electronics retailer Newstead Technologies is winding up its business after 19 years, and its troubles could leave Funan DigitalLife Mall without an anchor tenant when it re-opens next year.
The company, which operates under the Newstead, DigitalStyle and Nubox brands, has been put under liquidation, based on a notice put up on the Accounting and Corporate Regulatory Authority (Acra) website last week.
The retailer's Facebook page said that it manages more than 15 retail outlets islandwide.
TODAY's attempts to reach out to Newstead's senior management over the weekend went unanswered, while the staff members at the company's headquarters at City Square Mall were tight-lipped and refused comment when approached on Monday (Oct 8).
It is unclear how the company came to this position, but TODAY has approached its provisional liquidator from Acres Advisory, and CapitaLand — which owns Funan mall — for comments.
The Straits Times reported last year that Newstead was slated to be Funan's largest IT anchor, with multiple concept stores spread across 15,000sqf, when the mall re-opens in the second quarter of 2019.
The mall was closed in July 2016 and is undergoing a S$560 million redevelopment to turn it into a "creative hub".

STORES IN SIM LIM SQUARE CLOSED SINCE OCT 3
Founded in 1999, Newstead started off with shops at Sim Lim Square and the old Funan DigitalLife Mall, before expanding to other malls such as Marina Square, Nex, Suntec City and Jurong Point.
It became a household name for IT and electronics, and scooped up several small- and medium-sized enterprise awards. At the height of its business, it had more than 40 outlets.
Apart from the Newstead brand, the company is also behind Apple reseller Nubox, lifestyle retail concept store DigitalStyle, and computer repair service @notebook.com.
The company's Facebook page showed that it runs four Newstead shops, one DigitalStyle store, and 10 Nubox outlets. It is unclear how many @notebook repair shops there are.
When TODAY visited the Newstead and @notebook stores in Sim Lim Square on Sunday, only one of the several outlets there was open.
TODAY spoke to an employee who wanted to be known only as Mr Lim, who was working in the outlet on the second floor. 
The 25-year-old said that the company's manager "delivered news that the company was in trouble" last Friday.
"He told us that the other stores in Sim Lim will be closed for good. For us, we have to be prepared, and we're living one day at a time," said Mr Lim, who has been working for Newstead the last five years.
However, he added that he did not probe further about the company's troubles, and was only told that the company's accounts were being reviewed.
All the other outlets — operating under several brand names — in Sim Lim Square have been shuttered since Wednesday, said workers at neighbouring stores.
An employee from Atrix, a store selling laptops located opposite the Newstead outlets on the fourth floor, said: "On Tuesday night, the employees (who worked on the fourth floor) were gathered and told that their stores would be closed the next day. They were let go then."
There were "about 10 to 20" staff members affected by the outlets in Sim Lim Square that were closed, added the Atrix employee, who declined to be named.
The Newstead store at Suntec City was similarly closed on Sunday, while a notice posted at the shopfront of its outlet at Marina Square stated "cessation of business".

STILL BUSINESS AS USUAL AT NEX, JURONG POINT
The Newstead outlets at Nex mall in Serangoon and Jurong Point, however, remain in operation as of Monday when TODAY visited.
Mr Kenny Ong, a supervisor at the Newstead outlet at Nex, said that they were told their shop — which has nine employees — would be "safe".
"I'm just thankful we have our jobs, I didn't ask further," he said, adding that a manager visited the store last Friday. "We were told we'll continue operations... We're not worried."
Over at Jurong Point, the DigitalStyle store was displaying "clearance sales" signs, with discounts of up to 50 per cent offered for selected items.
When TODAY approached employees, they said they were "just trying to purge extra stock" and maintained that it was "business as usual".
One employee, who declined to be named, said that the Jurong Point outlet employs "more than 10 staff".

'NO SIGN COMPANY WAS IN TROUBLE'
When TODAY approached employees at Nubox in City Square Mall, they declined comment.
Over at the Nubox branch in Jurong Point, one employee who identified himself as an "intern" said: "When I met with the managers last month to settle my internship, there was no sign that the company was in trouble."
Consumers interviewed said that competition from online IT retailers could be the reason the company's business is affected.
Mr Bernard Lip, a 28-year-old sales executive who bought a harddisk from Newstead some three years ago, said: "It's cheaper to buy online nowadays, so I wouldn't be surprised if these stores cannot survive."
Mr Eric Chen, a 30-year-old commercial photographer, has not bought any IT or tech gadgets from a physical store in the last five years. "There is also a lot more discounts and promotions if you buy online," he said.
Sign up for TODAY's WhatsApp service. Click here: