ALS patients, families unite to become 100-strong support group against 'foreign disease'
SINGAPORE — Procrastination has no place in Mr Ooi Lin Kah's life.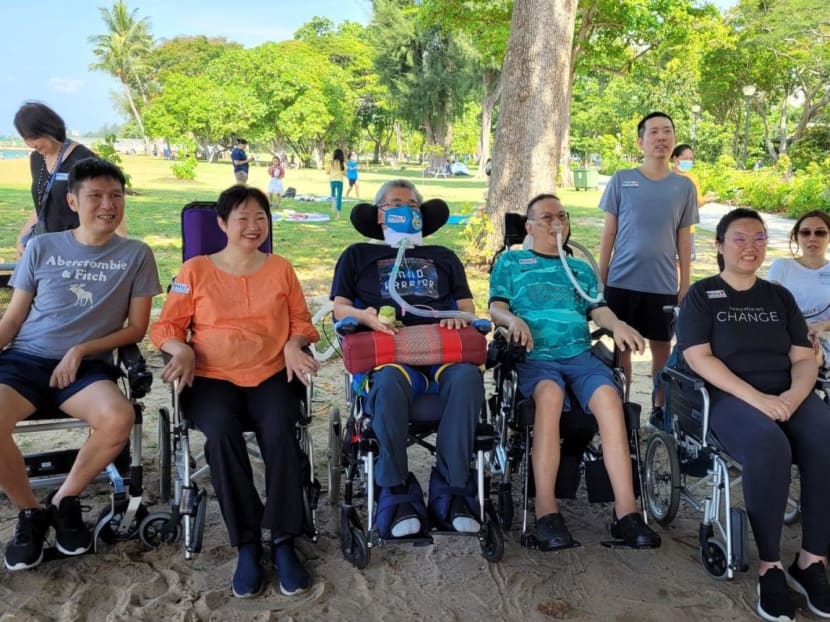 There is no cure or recovery from amyotrophic lateral sclerosis, the most common form of motor neuron disease
In coping with deteriorating health from the disease, a former engineer, 64, tried to find meaning in life without spiralling into negativity
After a 2020 interview with TODAY, it spurred him to do more even though his health got worse during the Covid-19 pandemic 
With help from doctors and some patients and their families, he started a registered society for people and families affected by motor neuron disease
He also wrote and self-published a 100-page book using an eye gaze-enabled device to type
SINGAPORE — Procrastination has no place in Mr Ooi Lin Kah's life.
Diagnosed with a disease that is tightening its grip on him and will eventually rob him of his life, the 64-year-old has been striving in the time of the Covid-19 pandemic to do as much as he can to raise awareness of the illness and to reach out to people suffering in the same way.
In the latest efforts to make the most of his days, he has written and compiled — using only his eye movements to control a gaze-enabled device — a 100-page book titled Dignity, Care and Hope that he then self-published.
Mr Ooi suffers from amyotrophic lateral sclerosis (ALS), also called Lou Gehrig's disease. It is a degenerative neurological disease that killed British scientist Stephen Hawking and American baseball player Gehrig of the New York Yankees.
As neurons in the brain responsible for controlling voluntary muscle movement rapidly deteriorate, alert and active minds are trapped in a body that can no longer control basic functions. There is no cure and for those afflicted, no hope of recovery.
Family and friends watch on helplessly as their loved ones eventually become completely immobilised in the late stages and they can no longer swallow, eat, speak or even breathe.
Mr Ooi, a former engineer who used to be an avid runner, has been confronting his mortality every day since his diagnosis in 2013 when he was 55 years old.
When he told his doctor about the loss of meaning in his life, the doctor encouraged him to use his remaining days to leave a legacy — by setting up an organisation that will help patients with motor neuron diseases overcome loneliness and despair.
The doctor is Dr Chan Yeow from Tan Tock Seng Hospital (TTSH), who oversees Mr Ooi's respiratory care.
After Mr Ooi raised awareness of the disease through an interview with TODAY in 2020, more people with motor neuron disease and their families reached out to him through doctors.
Many of them connected through word of mouth. Some met one another through chance meetings at the clinic.
Before the interview, Mr Ooi and some patients had a support group at the National Neuroscience Institute, but the group meetings stopped after the Covid-19 pandemic started, he said.
As the new support group gained traction, some of the patients with motor neuron disease, their caregivers and volunteers started a registered society last year called the Motor Neurone Disease Association Singapore, or MNDa in short.
In doing so, they connected with more patients and their families living in Singapore.
This was done with support from several medical professionals, including Dr Chan, who is director of the home ventilation and respiratory support service at TTSH.
Dr Chan is also a senior consultant with the hospital's department of anaesthesiology, intensive care and pain medicine.
He now sits as one of the doctors on MNDa's advisory panel and helps them to devise strategies for advocacy.
Dr Chan said that ALS patients face many hurdles, from coming to terms with the painful diagnosis to coping with ongoing losses in bodily function.
Since the launch of MNDa last year, the group has brought together more than 50 patients in Singapore living with the disease and just as many of their loved ones — all of whom experience varying degrees of isolation and loneliness, with some spiralling into deep depression.
Mr Ooi said: "It is our shared dream that MNDa can be a dedicated support network for the motor neuron disease community in Singapore."
He found that being involved in setting up the association also gave him a sense of purpose and fulfilment in life.
Having no voluntary muscle control from the neck down, Mr Ooi relies mainly on his trusty gaze-enabled device to communicate his thoughts.
It was introduced to him by Ms Tan Xuet Ying, a senior speech therapist at TTSH, and allows him to type on a computer using eye-tracking technology.
He completed interviews with TODAY via emails and WhatsApp messages, responding to queries promptly.
Mr Ooi is the founding president of MNDa but recently stepped down due to deteriorating health.
Its president now is Mr Muslim Albakri, Mr Ooi's son-in-law who took over early this year as a volunteer.
The 34-year-old lawyer is looking into putting in place processes and a framework for MNDa to attain charity status.
Mr Muslim tells of his hopes to do his part for the motor neuron disease community: "It's something that is close to home. I've seen how the disease affects my father-in-law and the family.
"And in the last two years, I've gotten to know many more people (with similar conditions) and see the challenges they face."
One of the founding members of the society is Mr Riz Sunawan, who also has ALS. He was a news presenter, voice talent and host before he was diagnosed.
Mr Ooi said that he prefers to refer to MNDa patient members as "warriors".
He explained: "This is to give ourselves encouragement to live a blissful life with a fighting spirit and positive attitude, showing the world we are warriors and not patients who are cluelessly and painfully waiting miserably for the last breath."
This determination has kept Mr Ooi going despite facing so much pain and many obstacles.
After his 2020 interview with TODAY, Mr Ooi said that some online users questioned if he was purposely "seeking unnecessary fame" and attention in his last days.
The negative and insensitive comments initially upset him. Now, he feels that he must "thank them" for spurring him to do more.
His condition has worsened in the past year, particularly his breathing and speech.
Last year, he collapsed at home and underwent a tracheostomy surgery to create an opening at the front of the neck so that a tube can be inserted into the windpipe (trachea) to help him breathe.
He was in an intensive care unit and high dependency ward for a month.
THINGS TO KNOW ABOUT MOTOR NEURON DISEASE
Motor neuron disease

is a term used to describe a group of neurological disorders that affect neurons (nerves) that control movement.

Amyotrophic Lateral Sclerosis (ALS) or Lou Gehrig's disease is the most common form.

The average age of ALS onset is between 51 and 66 years, with the cause remaining unknown for most patients. A hereditary form of ALS occurs in 5 to 10 per cent of cases.

About two-thirds of ALS patients have weakness in one limb (the arm or leg), gradually progressing to weakness of other limbs, speech, swallowing and breathing difficulties.

A third of ALS patients initially show slurred speech and swallowing difficulties, followed by weakness of muscles of the limbs, neck, posture and breathing.

In the advanced stages, patients are totally dependent on a caregiver for activities of daily living, requires feeding through a tube and breathing support.

The majority of ALS patients survive an average of two to five years while about 10 per cent have a slow form of the disease, with survival of 10 years or longer. 
Information provided by Dr Kalpana Prasad, senior consultant with the department of neurology at National Neuroscience Institute.
As frightening as their illness is, Mr Ooi and MNDa's members want others to know that there can be dignity and hope even in their struggles.
MNDa's focus now is on outreach programmes, with social media featuring prominently as a means for members and caregivers to communicate and exchange information. There are around 100 active participants in its WhatsApp chat group.
One of its committee members Stella Ng, 43, a homemaker, said that the chat group provides emotional and practical support for individuals and families hit by the disease.
Other than encouraging messages, many members post practical ideas and inventions that they have devised. An example Ms Ng gave was a homemade sponge mattress with a cut-out to help relieve pressure at the base of the spine for those who spend most of their time in bed.
We were all depressed. For the first year, especially after going on ventilation (to breathe), my mum would cry. The disease is like a foreign disease, and we could only find resources mostly from Australia, New Zealand and the United States.

Ms Stella Ng on the loneliness patients and their caregivers experience
Ms Ng, whose mother was diagnosed with ALS in 2015, has experienced the helplessness that many family members face.
Before connecting with one another through MNDa, affected individuals and families were well-supported by their medical and healthcare teams but many still felt isolated and alone in their struggles against the disease.
"We were like loose sand. The disease has no cure, no treatment (to reverse the damage) and we also did not know other people with a similar disease to exchange information and knowledge with," she said.
Recalling her mother's devastating diagnosis and physical decline, Ms Ng said: "We were all depressed. For the first year, especially after going on ventilation (to breathe), my mum would cry. 
"The disease is like a foreign disease, and we could only find resources mostly from Australia, New Zealand and the United States.
"We could only watch as our mother slowly faded away. She lost her ability to walk, hold the spoon, feed herself and, eventually, she could not even sit up on her own."
Ms Ng said that her mother's mood has perked up ever since getting to know other patients and families.
"When she sees other people in a similar situation being happy and coming out to connect, she's more positive and eager to get out. She doesn't feel alone anymore, I suppose."
Other forms of support for members and their families include a free meal delivery initiative called BelanjaAMeal, and loaning of eye gaze-enabled devices for members to try, Mr Ooi said.
MNDa has also worked with Before Beyond, a social initiative that encourages people to talk about death and grief, to come up with a booklet titled Beyond the Diagnosis – Motor Neurone Disease. It features a collection of real-life accounts of people living with motor neuron disease.
Mr Ooi said that 4,000 copies of the booklet have been distributed to hospitals, hospices and the motor neuron community in Singapore and Malaysia.
In response to public demand, MNDa also produced Chinese version, he added.
This year, members successfully organised four outdoor gatherings after the Covid-19 restrictions were relaxed.
"(The idea to meet in person) started when some members suggested an outdoor gathering after the rules eased. We have not met one another physically although we have been chatting in the chat group," Mr Ooi said.
"The casual and free-and-easy outdoor gatherings were a resounding success."
Since May this year, individuals with motor neuron disease and their families who got to know one another through MNDa have been meeting around once a month at East Coast Park.
When TODAY attended one of these gatherings last weekend, the atmosphere was relaxed and friendly. For those who can no longer express themselves through speech, a sincere smile, a simple touch and eye contact were all that was needed to convey the warmth of human connection.
The outings are believed to be the first group activity in Singapore to be initiated by people with motor neuron disease on chronic ventilation and their families.
That feeling of meeting physically someone whom you only see online — you feel both warm and connected.

Mr Ooi Lin Kah, who relies mainly on an assistive digital device to communicate his thoughts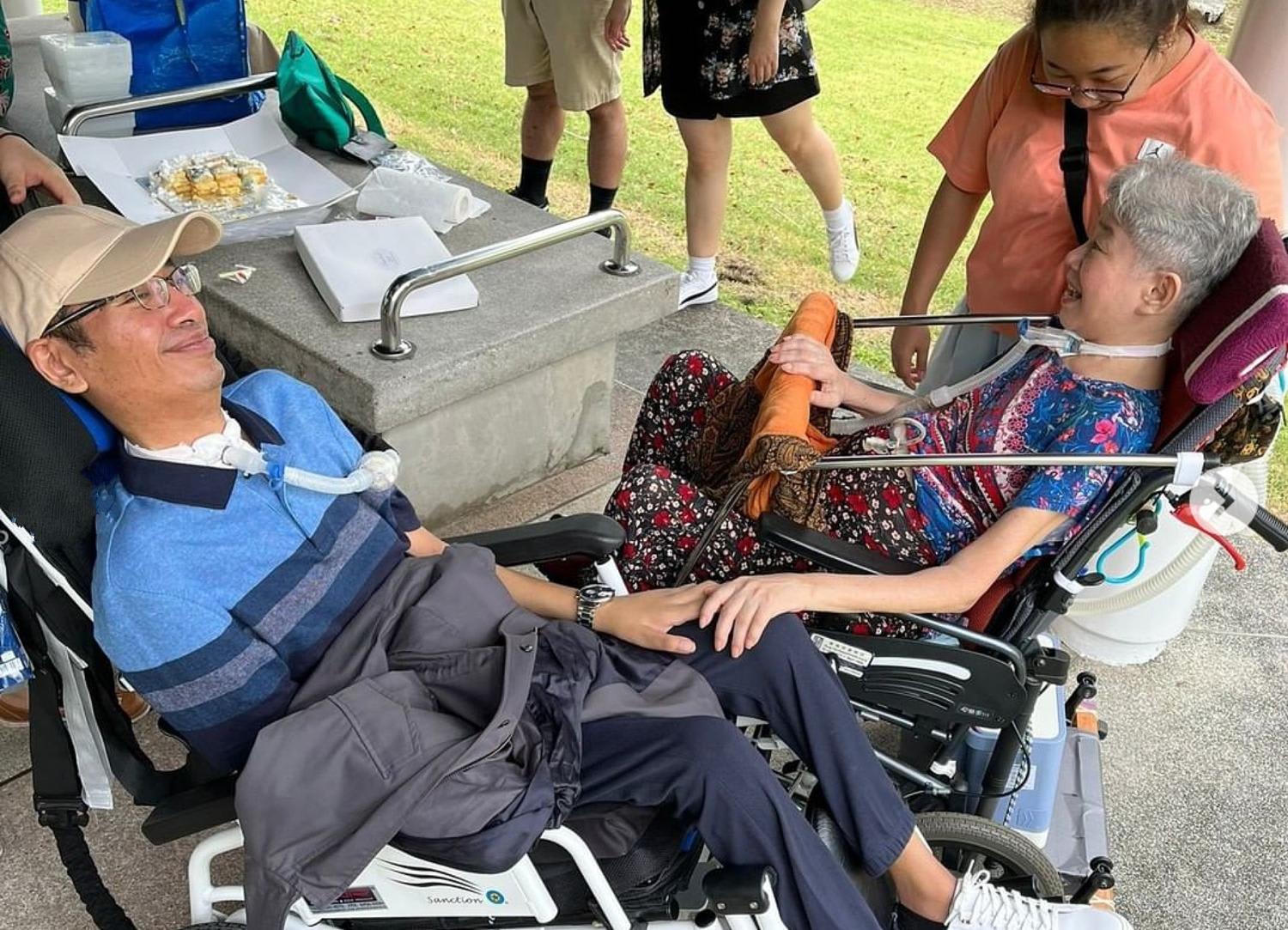 Mr Ooi was apprehensive at first about taking part in the outdoor events due to his advanced condition. He needs a breathing tube, feeding tube and a machine to suck away excess saliva and phlegm.
"I felt it would be too demanding for myself and my caregivers. Another problem is the transferring and travelling. I couldn't imagine myself out of my 'comfort zone' of my bed or massage chair for three to five hours," he admitted.
"But I forced myself to reconsider my negative thinking because I wanted to show other 'warriors' that we can live with this illness with dignity and with little constraints if we were well-prepared."
At the end of each outing, Mr Ooi is always glad to have gotten out of his "comfort zone".
"That feeling of meeting physically someone whom you only see online — you feel both warm and connected." 
Earlier this year, Mr Ooi embarked on the personal project of writing and compiling the 100-page Dignity, Care and Hope book as a way of leaving a legacy for his loved ones.
He has three children aged 29, 30 and 33 who are all married and he also has a grandchild. The extended family, together with Mr Ooi's wife, a 60-year-old homemaker, live together in a terrace house.
The book features accounts and messages from individuals and families affected by motor neuron disease, including his personal experience. The book also includes photos taken during their first outdoor picnic in May.
"I had to use my eyes — no fingers, no toes. I had to be very patient with myself and constantly reminded myself that I was so blessed with my pair of eyes and a brain that are still working, alert and positive," he said.
"My strategy was that I would constantly tell myself that I wouldn't get better. And that spurred me on without an hour of procrastination.
"I also learnt that positive thinking is about accepting whatever you have — they are the best at this moment — and to make full use of them."
Mr Ooi is on his next project, a memoir that he started writing in mid-2020 and is now around 70 per cent completed. He hopes to finish it by early next year.
To do his part for research into treatments and a cure for ALS, Mr Ooi has pledged to donate his brain to the Brain Bank Singapore after his death.
The Brain Bank Singapore retrieves and stores post-mortem human brain tissues via a donor scheme and preserve them optimally for use in ethics committee-approved scientific research studies.
Till then, Mr Ooi wants to live out his remaining days happily, calmly and meaningfully.
"(To live) meaningfully, it means that I will continue to contribute and live positively, leaving behind a positive legacy to my loved ones.
Anyone keen to link up with the Motor Neurone Disease Association Singapore may contact it via its website.