Art exhibition aims to explore what hope looks like to persons living with mental disorders
SINGAPORE — Over a year ago, homemaker Foo Choon Ean wrote a poem about her obsessive-compulsive disorder (OCD) as a form of self-expression because of the frustration, despair and anxiety she had been experiencing as a result of coping with the condition for more than 20 years.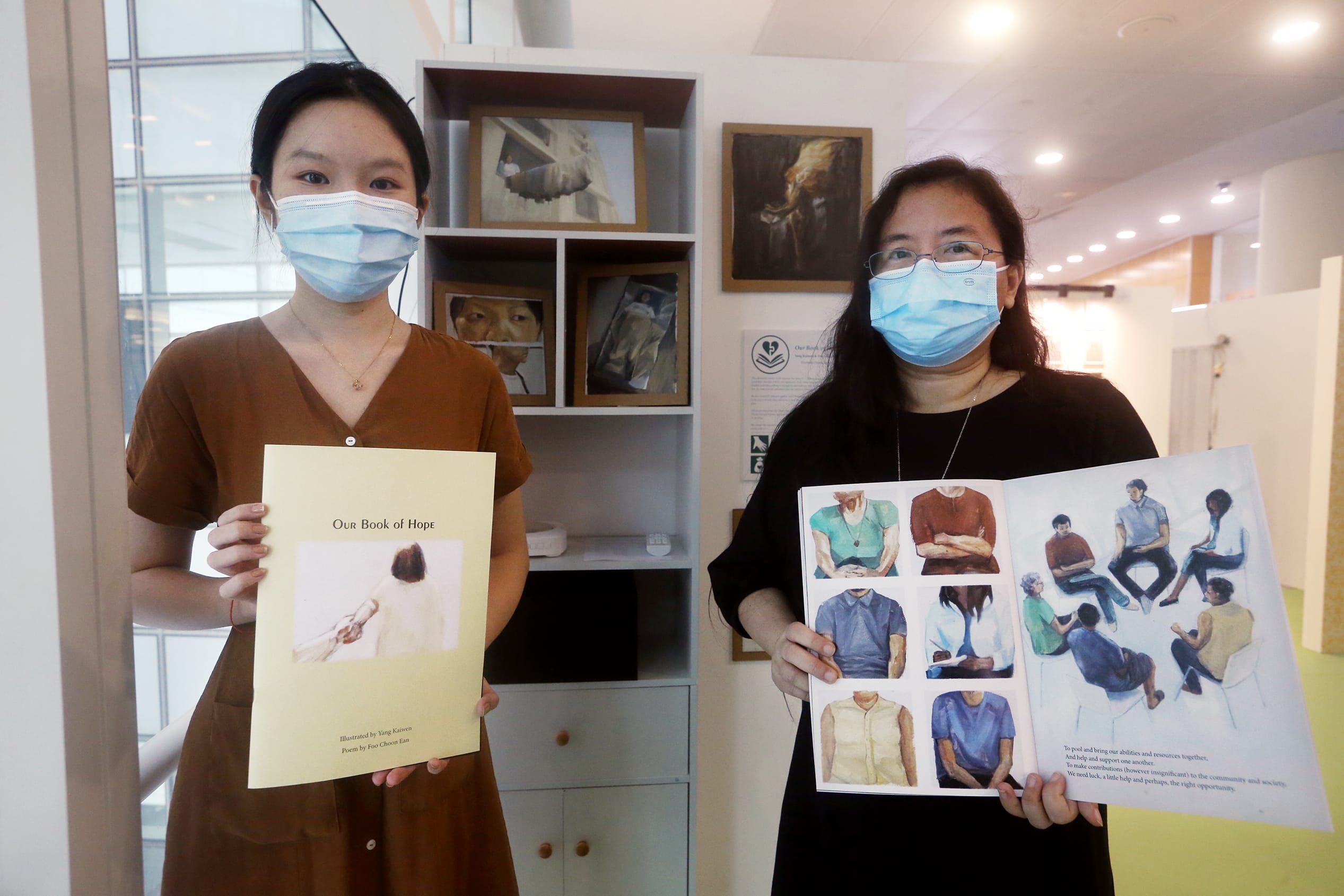 Nine student artists worked with five people who have mental disorders to depict what it is like to live with the conditions
Their artwork will be showcased at an exhibition by a youth-led group called Mental Health Collective SG
There is also a picture book documenting the thoughts of a person suffering from obsessive compulsive disorder
Art mediums such as painting and mixed-media were used to create the various exhibits, to get people talking about mental health
SINGAPORE — Over a year ago, homemaker Foo Choon Ean wrote a poem about her obsessive-compulsive disorder (OCD) as a form of self-expression because of the frustration, despair and anxiety she had been experiencing as a result of coping with the condition for more than 20 years.
The 46-year-old said: "I needed an outlet. I needed to rant. I express myself more comfortably with words, so I wrote the poem. I started writing to vent my frustrations and to make sense of it."
Ms Foo, who also writes simple poems for her friends' birthdays and other occasions, is now taking it a step further.
She is working with Ms Yang Kaiwen, 21, a second-year architecture student at the National University of Singapore (NUS), on a project featuring a 36-page picture book that is inspired by a poem narrating the daily life of a person who has OCD.
There is also an aural aspect to this project, where 20 people who suffer from OCD had their voices recorded reading certain stanzas of Ms Foo's poem.
The picture book, along with six other artworks that feature animation, music and dance, will be part of an exhibition titled The Artist's Residency: An Investigation into Mental Health and Hope.
It aims to explore what hope looks like to people living with mental disorders.
Over six months, nine student artists worked closely with five people who have mental disorders to co-create the various artworks, which depict what it is like to live with the conditions.
The exhibition is organised by Mental Health Collective SG, a youth-led ground-up initiative with around 30 volunteers that aims to centralise the advocacy and service efforts in Singapore's mental health scene, in collaboration with Reach, a department under the Ministry of Communications and Information.
The exhibition, also supported by alumni from Hwa Chong Junior College, will be held at the National Library from Sunday (Dec 19) to Feb 14 next year.
It aims to use art to start conversations among people in the community about what mental health looks like to them, and to encourage people to tell their own experiences of hope and well-being.
Ms Foo said she noticed that people are so fearful of the unknown, especially mental illness, whether it is depression, OCD or other conditions.
"If I were to tell my story, then there'll be more understanding of this condition or other mental conditions. And when there's more understanding, hopefully, society will be more compassionate and they will have more empathy. And there'll be less stigma, prejudice and negativity towards this."
She also hopes to be a voice for other people in the same situation and to acknowledge their existence, because those suffering from mental illness are usually silent and marginalised in society, she said.
Ms Yang, who worked closely with Ms Foo to illustrate the picture book, told TODAY that she sketched out what the book would look like page by page and asked Ms Foo to give opinions about her illustrations, such as how well the imagery expressed her words.
"I also asked for more details to flesh out my narrative. I got to hear from Choon Ean her first-hand account of living with OCD, which is eye-opening for me," Ms Yang said.
For instance, she thought that OCD was merely about compulsive handwashing, but she realised from Ms Foo's accounts that there is more to the mental condition, that the persistent "voice" in one's mind driving and reinforcing certain fears and anxiety can overtake the lived reality.
At the same time, Ms Foo said that she learned more about Ms Yang's world as an artist, and she began to understand how shapes and colours could be used to better depict certain emotions or mood.
Views of mental health among youth
Reach, a government feedback unit, conducted three surveys with 1,950 young people aged 13 to 30 between August and October this year to understand their views on youth mental well-being. Here are some of the findings:
Two in five believed that most of their family would view them negatively if they thought they had mental health issues

Top concerns of students were examinations, contents of schoolwork and workload

Top concerns of young working adults were finances, work-life balance and career prospects

Four in five knew where to seek help for mental conditions

The youth felt uncomfortable seeking help because of social and professional stigma, and financial costs and time, because they were unsure if professional help is needed or were unfamiliar with therapists, or because they disliked speaking about bad problems or they have had bad experiences before

Seven in 10 said that if they needed help with mental health issues they would seek help from friends

Five in 10 said that they would seek help from family,

 while three

 in 10 said that they would seek help from counsellors

One in 10 said that they would not seek help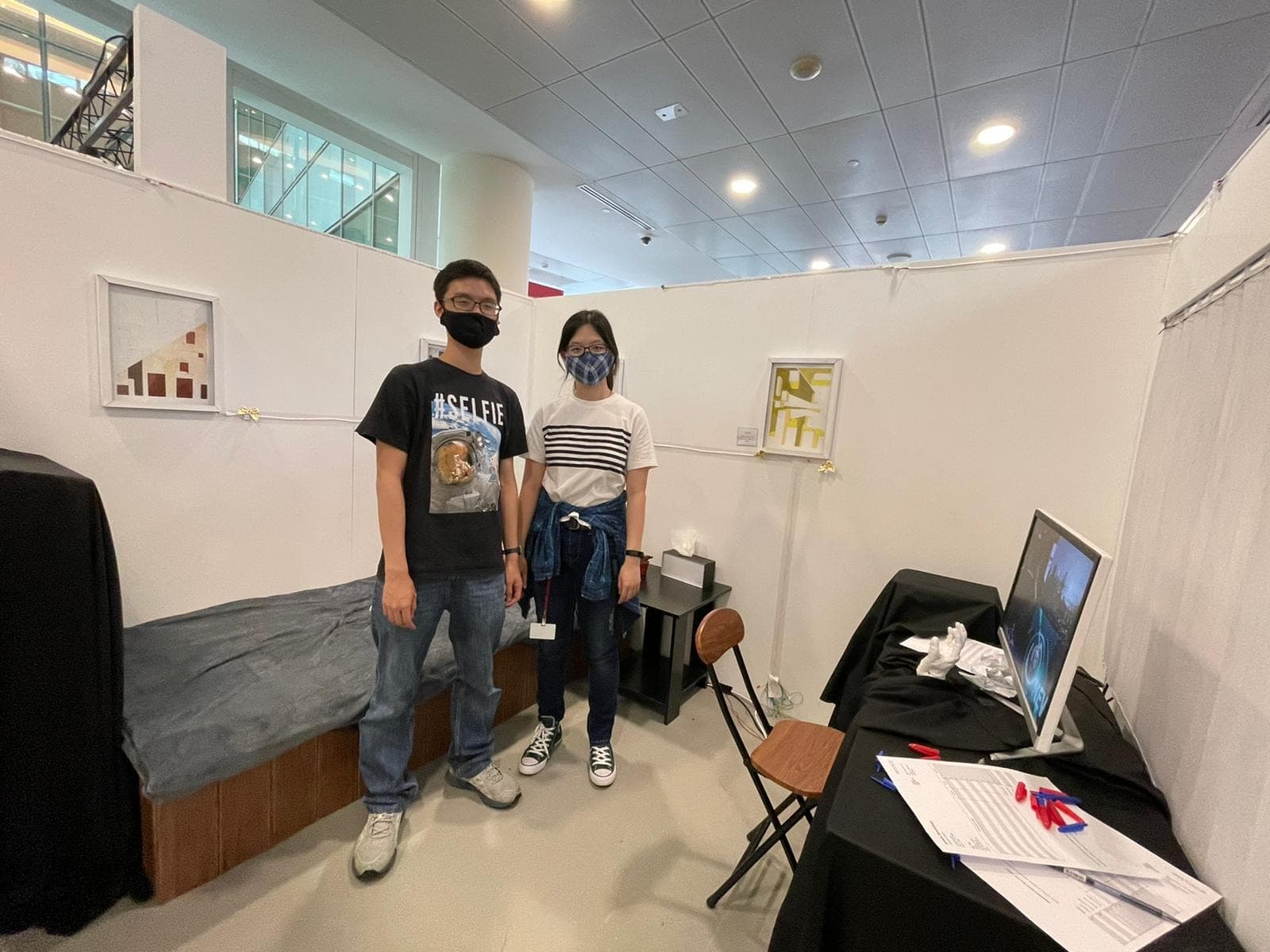 The exhibition will also feature an immersive mixed-media installation created by Ms Michelle Lim, 24, a fourth-year electrical and electronic engineering student at Nanyang Technological University, and full-time national serviceman Arthur Lim, 20.
They collaborated with Ms Faith Wong, 40, to depict her experience of managing her bipolar disorder. 
Ms Wong, a first-year student at Duke-NUS Medical School, said that she shared her lived experience with the pair over Zoom video-calls.
Ms Lim and Mr Lim said: "Using light, sound and digital graphics, we hope that we can give viewers a better idea of what living with bipolar disorder is like. 
"Our piece features various lighting effects such as ultraviolet fluorescence and acrylic lights, which will be used to simulate changes to one's visual perception during manic and depressive cycles."
Mental Health Collective SG started as a school project among some students from Hwa Chong Junior College who teamed up to create a similar exhibition at their school in 2019.
Mr Titus Yim, 20, a founding member of Mental Health Collective SG and who is waiting to begin his undergraduate studies at NUS, said of that exhibition: "We got the individuals who have stories to tell… and we had films, poems people had written and artworks that people had drawn.
"We gathered these to create a very rough impromptu exhibition to basically teach people more about medical conditions and to reveal the stories behind them.
"I think what really struck me was that many of our friends who, for example, didn't care about mental health conditions… when you took the time to explain to them what is the meaning behind the artwork and what are the stories behind it, you could really see them starting to understand more, so I think that was very powerful."
So powerful that he decided to do it again two years later on a larger scale.
"I think what we wanted to do differently this time, instead of collating artworks, or of just getting interviews and then making our own interpretations of their experiences, was that we wanted these individuals to have a little bit more say about the creation of the artworks and that's why we wanted to experiment with this idea of a collaboration.
"Our final hope is to be able to digitise this exhibition and, ultimately, to be able to use this as one of the resources to help educators really get students to start conversations within their classrooms."