Auxiliary police officer gets 16.5 years' jail, caning for robbing Jurong moneylender of S$24,800
SINGAPORE — Saddled with loan-shark debts and having borrowed from friends to pay off his bank loan, an auxiliary police officer decided to commit robbery while armed with a revolver.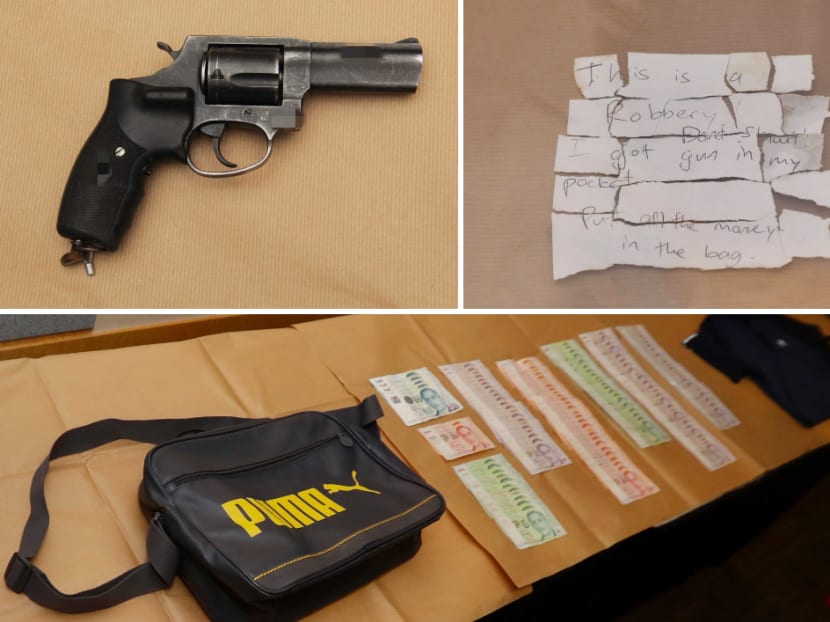 Mahadi Muhamad Mukhtar was an Aetos auxiliary police officer when he decided to rob a licensed moneylender
He was doing it to pay off his debts to unlicensed moneylenders
He went to OT Credit in Jurong with his loaded revolver and handed a note to an employee there
He got away with about S$24,800 but was arrested several hours later
SINGAPORE — Saddled with loan-shark debts and having borrowed from friends to pay off his bank loan, an auxiliary police officer decided to commit robbery while armed with a revolver.
Mahadi Muhamad Mukhtar then researched potential targets online before landing on OT Credit, a licensed moneylender in Jurong that had just been robbed five months earlier.
He was also inspired by James David Roach, a Canadian tourist who fled Singapore after robbing a Standard Chartered bank branch in Holland Village of S$30,450 in July 2016.
Mahadi successfully robbed OT Credit of around S$24,800, after showing the female counter employee a note where he wrote that he had a gun in his pocket.
He then returned to work and was arrested five hours after the robbery.
On Tuesday (Sept 13), Mahadi, 39, was sentenced in the High Court to 16-and-a-half years' jail and 18 strokes of the cane.
The Singaporean pleaded guilty to three charges in total. These included robbery under the Penal Code, which was downgraded from a more serious charge of armed robbery.
He also admitted to two offences of being in unlawful possession of arms and unlawfully carrying arms under the Arms Offences Act.
Two other charges under the Corruption, Drug Trafficking and Other Serious Crimes (Confiscation of Benefits) Act were taken into consideration for sentencing.
SHOP USUALLY NOT CROWDED
The court heard that Mahadi began borrowing money from unlicensed moneylenders in February last year. He needed to pay off bank loans and had been helping his friend Nur Shana Mohd Taib, 34, with her own financial difficulties.
When he eventually owed six loan sharks money, he turned to borrowing from friends and taking more bank loans. He then decided to commit robbery to solve his problems.
He did some online research, initially thinking of robbing a jewellery shop. He changed his mind when he thought it was difficult to sell the jewellery.
Mahadi then decided to rob OT Credit, located at Block 135 Jurong Gateway Road, because several young men had previously stolen about S$48,000 from it in November 2020. The shop was also usually run by female employees and was not crowded.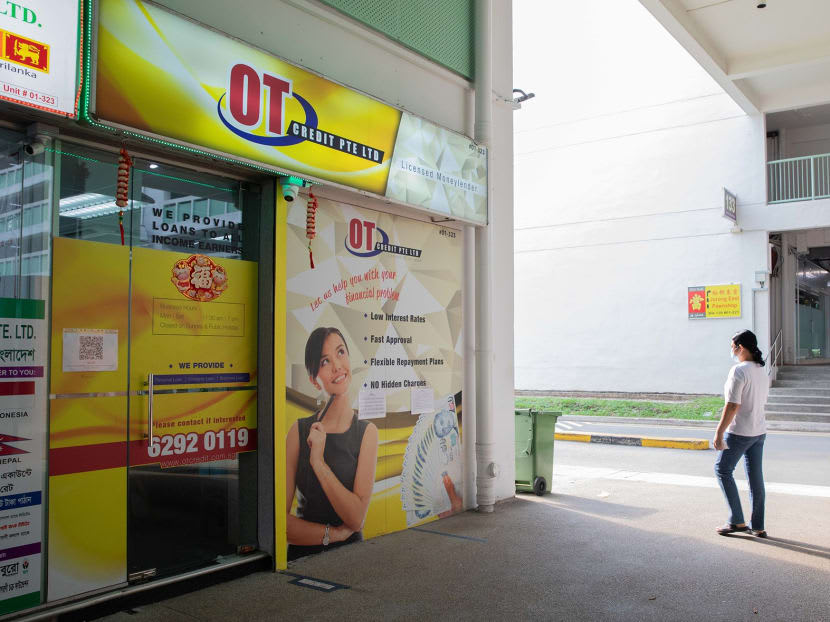 Mahadi then agreed to cover a colleague's shift on the day of the robbery — April 12 last year.
Sometime after 1pm that day, he went to OT Credit to ensure that it was open for business. He saw that it was not guarded and there were two female counter workers there.
He later went to Aetos Complex in Jurong West to report for work and to collect equipment from the armoury. This included a model M85 Taurus revolver, handcuffs and 10 rounds of ammunition.
He loaded five rounds in his revolver and placed the weapon in a sling bag, before storing the rest of the equipment in his locker.
He also changed out of his Aetos top into an Adidas polo tee, also dark blue in colour, to avoid being identified.
He then took a private-hire Grab ride to JCube mall and went over to OT Credit.
'I GOT GUN IN MY POCKET'
When he saw only one female staff member and one customer there, he thought about how to demand money from them.
He then decided to copy Roach's approach in the StanChart robbery, so he went to a toilet in JCube and wrote this message: "This is a robbery, don't shout. I got gun in my pocket. Put all the money in the bag."
He returned to OT Credit and handed his handwritten note to a loan officer there. She hit a panic button under the counter upon seeing the gun that Mahadi had transferred to his front pocket.
Not noticing this, Mahadi opened his sling bag and told her to put the money there. She complied out of fear that he would hurt her.
After leaving OT Credit, he took a Grab ride to Boon Lay Shopping Centre where he transferred S$10,000 of the robbery proceeds to his friend Nur Shana.
He also deposited the remaining S$14,000 into his own bank account.
Close to 5pm, he boarded an Aetos van and left for his deployment at ST Engineering. While on duty on the company's premises along Jalan Boon Lay, he made four online banking transfers to unlicensed moneylenders.
He also tore up the handwritten note and discarded it.
He was ultimately arrested by the police at 8.45pm at Aetos Complex.
At the time, the police said that Mahadi was identified through footage from police cameras and OT Credit's closed-circuit television cameras.
'EFFECTIVELY' SURRENDERED
Deputy Public Prosecutor (DPP) Timotheus Koh sought 15 to 20 years' jail along with the mandatory minimum 18 strokes of the cane.
The prosecutor highlighted three key aspects of the case — an abuse of trust, a high level of premeditation and planning, and the real risk of serious harm from Mahadi carrying a loaded firearm in public.
DPP Koh said that the defence's argument of Mahadi's "effective surrender" was very different from Mahadi actually surrendering to the authorities.
Mahadi's lawyer, Mr Mark Yeo, had told the court that he already intended to give himself up after completing his shift.
DPP Koh said: "The accused knew during his shift that the authorities were on the lookout for him. It was telling that even then, he did not inform his colleagues or contact the authorities."
As for the defence's argument that the robbery was not sophisticated, DPP Koh said that it would "reward him for not thinking things through".
Mr Yeo said that his client made a "fateful and foolish decision" after "reaching desperation point due to his mounting debts".
The lawyer added that Mahadi did not display or use his gun or ammunition, and no one was injured during the robbery as well.
Anyone convicted of robbery can be jailed for at least two years and up to 10 years.
Those found in unlawful possession of arms or ammunition can be jailed for at least five years and up to 10 years, while those who unlawfully carry arms can be jailed for at least five years and up to 14 years.
All three offences carry a mandatory minimum caning punishment of six strokes.