The Big Read in short: S'poreans' love for fast food
Each week, TODAY's long-running Big Read series delves into the trends and issues that matter. This week, we take a look at Singaporeans' enduring love affair with fast food, which first arrived in Singapore more than five decades ago. This is a shortened version of the feature, which can be found here.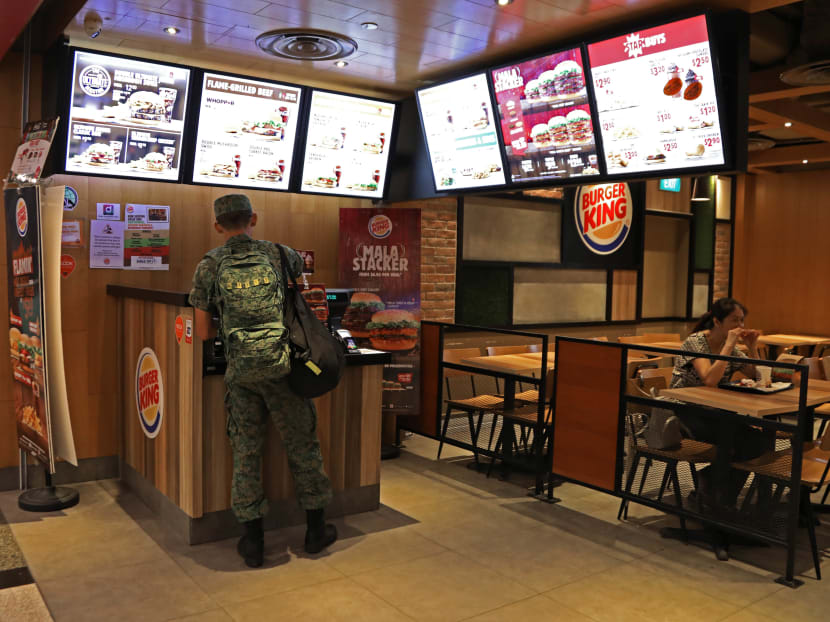 Each week, TODAY's long-running Big Read series delves into the trends and issues that matter. This week, we take a look at Singaporeans' enduring love affair with fast food, which first arrived in Singapore more than five decades ago. This is a shortened version of the feature, which can be found here.
SINGAPORE —  When American burger joint Shake Shack opened its doors at Jewel Changi Airport in April, part time service staff Watt Zhong Qing, 29, was one of the first in line.
The fast food fan — who eats fast food about four times a week — is no stranger to queues, as he waited 3.5 hours for a taste of Filipino fast-food chain Jollibee when it first arrived in Singapore back in 2013.
Apart from crazy queues at new outlets, new flavours introduced by fast food chains also tend to generate much buzz, with offerings sometimes sold out in just weeks such as McDonald's Nasi Lemak Burger.
Based on latest figures from the Department of Statistics (SingStat), fast food outlets in Singapore generated a total of about S$1.1 billion in operating receipts in 2016.
Singaporeans' seemingly insatiable appetite for fast-food has helped the sector buck the overall trend in the food and beverage (F&B) industry.
From 2000 to 2018, data from the showed:
10 per cent decline in sales of overall F&B industry

However, sales increased by 29 per cent for fast-food chains

In contrast, restaurant sales dropped 20 per cent while those at other eating places — such as cafes — fell 13 per cent.
The strong showing by fast food chains in Singapore is in contrast with what is happening in the United States. There, many chains are suffering from an oversaturated market and rising labour costs. Greater health consciousness are also causing more American customers to shun these chains.
NUMBERS AT A GLANCE
Singapore's love for fast food began in 1968, when the first A&W restaurant opened its doors. Over the years, other chains also entered Singapore, including KFC (1976), McDonald's (1979), Burger King (1982) and Long John Silver's (1983).
More recent entrants are Popeyes (2001), Carl's Junior (2005) and Texas Chicken (2010).
Total number of outlets which some of these chains have currently:
McDonalds: 135

KFC: 86

Burger King: 50 in July

Long John Silver's: 25

Texas Chicken: 15
Market share of fast food outlets in Singapore in 2018, based on data by market research firm Euromonitor International:
McDonald's: 40 per cent

KFC: 13 per cent

Burger King: 4 per cent

Long John's Silver: 2 per cent
RECIPE FOR SUCCESS
Experts say that fast-food chains do particularly well in Singapore because:
The healthy eating movement here is not as prevalent as compared to other countries such as the United States which is tackling high obesity rates

Fast food is not much more expensive than local hawker fare

An English-speaking population exposed to international culture

Singapore's dining out culture: 55 per cent of Singaporeans eat out on a weekly basis, based on a Nielsen survey in 2018.
Singapore is also an "excellent" test bed for fast-food outlets looking to expand or test out new products, said Adjunct Associate Professor Lynda Wee of Nanyang Business School.
Long John Silver's spokesperson described Singapore as a "food capital with a diverse range of cuisines". The chain studies the evolving preferences and needs of consumers here to prepare for its expansion overseas, the spokesperson said.
Why fast-food chains have an edge over restaurants:
Convenience and quick service

Affordable prices

Accessible locations

Assembly line model which helps to keep costs low

Successful and targeted marketing. "(McDonald's) Happy Meal is one example. The culture already ingrained is that McDonald's is a part of your life… It's nostalgic to a lot of Singaporeans growing up," said F&B consultant and branding specialist Derrick Chew.
STAYING NIMBLE
Despite the sector's success, stiff competition has led to the failure of many global brands trying to establish themselves in Singapore.
It was the main reason that led A&W, despite having a first-mover advantage here, to exit in 2003, experts noted.
With competitors marketing their offerings much better than A&W, the chain faded into obscurity, said Mr Lucas Tok, marketing lecturer at Singapore Polytechnic.
Other barriers to entry:
Saturation of the market by big players

Lack of capital and resources to scale up fast and spread costs
For Texas Chicken, getting on to food delivery apps has helped it reach more customers, said Mr Eugene Lim, marketing director of Select Group that runs the chain in Singapore.
While technological innovation helps, experts say that it is the service and menu offerings that matter ultimately.
Despite facing high operating costs, manpower shortage and customers' fast-changing tastebuds, fast food chains here have generally been adaptive and responsive to change — especially those that have thrived.
What fast-food chains do to stay on top of the game:
Give local flavours a twist in their offerings

Introduce new food items in line with the latest trending flavours

Tie-ups with international brands

Refresh the look and feel of outlets  

Automation

Healthier options  
HEALTH CONCERNS
The unhealthy effects of fast food is well-documented.
The release of a documentary "Super Size Me" in 2004 triggered a backlash against the fast food sector in the US.
Over the years, authorities around the world, including Singapore, have taken steps to curtail its marketing to young children.
But the fast food industry here has been spared from any consumer backlash stemming from health concerns — even after the "Super Size Me" documentary gained international prominence.
Experts attribute it to the absence of social media then, and the fact that fast food is not a staple in Singapore, unlike the US.
Fast food fans TODAY spoke to also played down health concerns, adding that it would not be an issue if they ate it in moderation.
Nutritionists say it is unclear whether the availability of healthier options are effective in steering consumers away from junk food.
Healthier options, such as salads, may not necessarily be healthy too, if its dressing is high in fat and sodium, for example.
FOOD FOR THOUGHT
While the industry would continue growing, the rising demand for healthier food may pave the way for the rise of fast casual restaurants here, which could provide competition to fast food chains, said Mr Karthik Bakthavathsalem, an F&B lecturer at Nanyang Polytechnic.
An intermediate concept between fast food and casual dining, fast casual eatery chains have taken off in the US, including the likes of Shake Shack and Chipotle.
These chains market themselves as offering the same quick and convenient service which consumers can get at fast food chains, but with better ingredients at slightly higher prices.
In the meantime, some are concerned that the enduring popularity of fast food among Singaporeans could come at the expense of homegrown hawkers and food culture.
Food blogger Leslie Tay believes that people of his generation would stay true to hawker food but he was not so sure about the younger generation.
Food critic and consultant K F Seetoh, who founded the Makansutra website, noted that the younger generation grew up inundated by the marketing efforts of fast-food giants.
"Fast-food outlets are winning, but they have not taken over (local food) — not yet," he said.