A 'brother' and a coach: Kelvin Ho on his bond with Loh Kean Yew, and how social media blackout helped title win
SINGAPORE — After winning the semi-finals at the Badminton World Federation's World Championships last Saturday (Dec 18), national shuttler Loh Kean Yew was up until 1am so that his physiotherapist could nurse his injured ankle. 
The night before championship finals in Spain on Dec 19, Loh Kean Yew had an injury scare
They had to rope in a doctor from Singapore by video call to give advice
His coach Kelvin Ho recounted the pressure Loh faced in the tournament
He also detailed several changes Loh made to his training plan that led to his rise in the game, including a social media blackout
The medium-term plan is to get Loh to be in the top 10 in the world within the next one to two years, he said
SINGAPORE — After winning the semi-finals at the Badminton World Federation's World Championships last Saturday (Dec 18), national shuttler Loh Kean Yew was up until 1am so that his physiotherapist could nurse his injured ankle. 
Mr Kelvin Ho, Loh's coach of 10 years, told TODAY that the player injured his ankle in the quarter-finals of the tournament in Huelva, Spain, and had struggled with it heading into the finals last weekend. 
He also said that the viral image of the 24-year-old athlete being led by wheelchair back to his room was taken right after the semi-finals, when Loh beat against Anders Antonsen, who is ranked third in the world.
The final was due to be played the next afternoon, in less than 24 hours.
"He couldn't walk and had to be wheeled to his room," the 31-year-old coach said. 
Mr Ho himself was a former national player for badminton and is now the national singles coach. He was with Loh at the tournament, cheering him on and coaching him on the sidelines. 
After a late-night treatment by physiotherapist Ho Jiaying, the condition of Loh's ankle improved the next morning and he was given the green light by a doctor in Singapore over a video call to continue with the tournament. 
"Our thinking was that if his ankle became better, we still have to 'chiong' (a Hokkien term meaning to go all out)... it's the world championships final (after all)," Mr Ho said. "Giving up definitely wasn't an option unless he couldn't walk, but if he can still move in the court, we should give our best."
And give his best he did, as Loh became the first Singaporean to win the men's singles title in the championships, when he beat India's Srikanth Kidambi 21-15, 22-20 in last Sunday's final.
GREATEST PRESSURE WAS NOT AT THE FINALS
Loh's determination to fight on against the odds was nothing new and is characteristic of him, Mr Ho said, echoing what those close to Loh had said before. 
When he first started coaching Loh at the end of 2011, Mr Ho could already see that the player would "go the extra mile when it comes to training". Loh had also always believed that he could be among the world's best. 
The final could have made even the best feel pressured to perform, but Loh and his coach treated it like any other match because he had nothing to lose. He was ranked 22nd in the world and went into the tournament unseeded.
Mr Ho said: "I think the most pressure (was felt) during the quarter-finals, because everybody had been saying that if we go to the semi-finals, it would be history-making."
Loh was the first Singaporean to advance beyond the quarter-finals of the world championships, bettering Ronald Susilo's feat in 2007, where he lost at that stage. 
Before the final, player and coach went through the same routine of analysing the opponent's style of play by watching game footage. 
"We analysed his game to see how we could capitalise... maybe we would put more pressure on Srikanth, because during pressure moments, he will make some unforced errors as well." 
COACH'S BATTLE CRY
Before the match, Mr Ho told Loh the same thing that he would tell him before every match, and even during training. 
"Every time, I tell him that when you go into a match, you must have the 'chiong' attitude, but when you 'chiong', you need to be calm and understand why you are executing this shot, and (remember) the purpose of the game plan."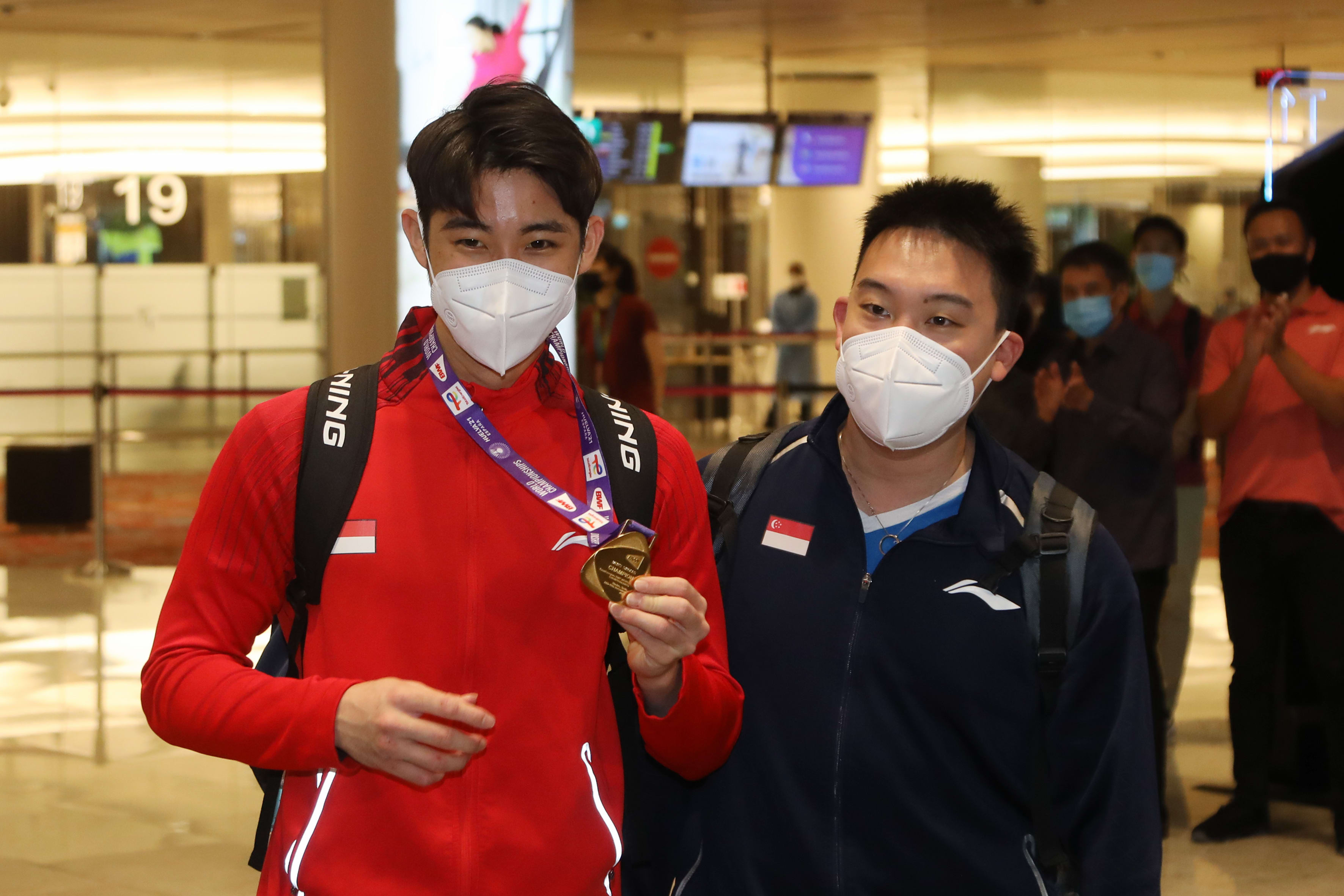 When Loh won, Mr Ho was naturally overjoyed as well. 
"I clapped my hands, but I could not run to him," he said with a chuckle, explaining that coaches were not allowed to run on the court during a match. 
"At that moment, I could only feel happy and proud of him... he did it and he should get the credit." 
Loh's world ranking has now risen to 15 from 22.
SOCIAL MEDIA BLACKOUT
Another decision that Loh made to help him focus during the tournament was to go off social media and completely turn off his phone's notifications. 
Mr Ho said that Loh's decision to have a social media blackout during the world championships was influenced by what happened at a previous tournament.
At the French Open in October, Loh defeated Malaysia's higher-ranked Lee Zii Jia and as a result, there were many people congratulating him on social media. This happened in the middle of the tournament and Loh was reading the messages. 
Then, he lost the next match to India's Lakshya Sen and Mr Ho said that this was partly due to the unnecessary pressure from the social media buzz. 
"(The messages) will build up some pressure, and against Lakshya Sen, he was pressured."
From then on, Loh kept away from social media and kept his focus on his opponents. 
"He learned his lesson well and very quickly. In the next tournament, he immediately applied it," Mr Ho said. 
BETTER TRAINING PARTNERS KEY TO SUCCESS
Loh's ascension was not one that was accidental, but a result of several choices he made over the course of the past year.
It had not always been smooth-sailing, with him suffering a knee injury "last year or two years ago", which derailed some of his progress. 
"He wasn't very decisive in his game plan, as he was scared of injury," Mr Ho recalled.
It was during this year that Loh made big improvements to his game by competing in more tournaments and going up against stronger opponents, as well as training with the top players in the world. 
For instance, he learned from one such tournament that he "cannot be so passive" in his game and needed to play at a higher intensity in order to overcome his opponents. 
He also trained with higher-ranked players such as top-ranked Viktor Axelsen from Denmark for about a month after the Tokyo Olympics in the middle of this year.
Due to his training with the world's best, aspects of his game such as his shot quality, decision making and consistency of his game improved. 
I think we still need to work on his skills and there is room for improvement, (in areas such as) court coverage."

Mr Kelvin Ho, coach of Singapore national badminton player Loh Kean Yew
Outside of the court, Loh also stepped up his physical training in the gym, improving his fitness by doing high-intensity workouts such as sprints and upper-body exercises with battle ropes.
Even though the year had gone well for Loh, Mr Ho said that the player had moments when he was down, such as when there was a change in coaching staff members or if he got injured, but he would still emerge from the doldrums. 
"He never wanted to give up badminton once, never. He had his down moments and doubts in his ability, but he will work on them and he doesn't give up." 
PLANS AHEAD
In the medium term, Mr Ho hopes to work with Loh to improve his ranking such that he is at least top 10 in the world within the next one to two years.
The long-term goal will now be to perform well at the 2024 Olympics in Paris. 
Mr Ho believes that Loh has not yet peaked as an athlete. 
"I think we still need to work on his skills and there is room for improvement, (in areas such as) court coverage."
He is confident that Loh could even be a top-ranking player in the world in future if he continues to improve. 
"The road ahead will be even more difficult, so we need to be more prepared for it — and continue to work hard." 
'WE ARE LIKE BROTHERS'
Outside the courts, Loh and his coach have a close relationship that is built on trust. 
After returning to Singapore on Tuesday, Loh told the media that without Mr Ho, he "wouldn't have won this medal for sure". 
"It takes two hands to clap," Mr Ho said. "I trust him and he trusts me and our communication is good.
"During training, I will nag at him if his shot quality is no good, so when it comes to games, I don't need to repeat myself. He just looks at me and admits his shot quality is no good and I will just nod my head, and (tell him) to continue with his game plan." 
Mr Ho said that Loh is by nature "very bubbly", a very happy person.
"We are like brothers, we are very frank with each other. He is someone who speaks his mind. 
"But when he steps on the court, he's a very different person."