Chinese military aerobatics team allowed to attend S'pore Airshow after 'stringent tests': Ng Eng Hen
SINGAPORE — A Chinese military aerobatics team attending the Singapore Airshow was allowed to come here despite a travel ban on recent visitors to China after its members underwent "stringent tests", Defence Minister Ng Eng Hen said on Friday (Feb 7).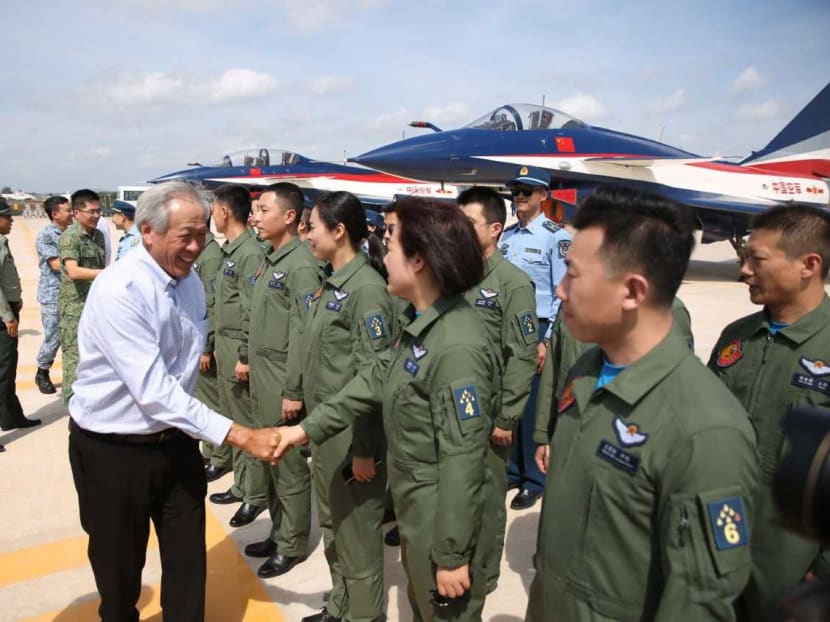 SINGAPORE — A Chinese military aerobatics team attending the Singapore Airshow was allowed to come here despite a travel ban on recent visitors to China after its members underwent "stringent tests", Defence Minister Ng Eng Hen said on Friday (Feb 7).
Dr Ng made the comments after he visited the Ba Yi aerobatics team from the China's People's Liberation Army (PLA) Air Force, who had parked their aircraft at the Changi Air Base.
About 30 uniformed members received Dr Ng on the tarmac. The minister shook their hands and wished them a happy Chinese New Year and good health.
Speaking to reporters who asked about public concerns over their presence here, Dr Ng said: "We have been very careful, and the PLA had been particularly careful that they observe all requirements that were needed to be healthy and they underwent stringent tests."
Dr Ng added that like all military outfits, the team has "military discipline".
"You've got to understand that they, just like the SAF (Singapore Armed Forces), are also concerned about the virus spreading within their own ranks," he said.
"Like the SAF, they are making preparations to make sure if there is an outbreak, they can either prevent or limit the extent of the outbreak within our military troops because if you have a situation where your military troops are sick, you have an issue with national defence."
The United States is also pressing ahead with its participation at the airshow and has sent its fifth generation fighter jets such as the F-22 Raptor and the F-35B Joint Strike Fighter, which will fly for the first time in Singapore skies.
The Singapore Government has asked the US if it can buy up to 12 of these aircraft, a request which is awaiting approval from the US Congress.
The Ba Yi team, which is in town with seven J-10 performance aircraft and two Il-76 transport aircraft, is set to perform at the Feb 11 to 16 Airshow, which is Asia's biggest aerospace gathering. It is the J-10s' first showing in Singapore.
They had flown here from a military base in Tianjin, which is about 1,000km away from Wuhan, the epicentre of the coronavirus outbreak. They arrived in Changi on Wednesday afternoon.
Providing some background for the team's involvement at the airshow this year, Dr Ng said they were invited last year, before the outbreak of the novel coronavirus in China that has now killed more than 600 people and infected more than 30,000 there.
Dr Ng said that during a trip to China, he had asked Chinese Air Force General Xu Qiliang and Minister of National Defence Wei Fenghe for the "famous" Ba Yi team to attend the airshow to mark the special occasion of 30 years of diplomatic ties between Singapore and China.
With the coronavirus situation, Dr Ng said the Chinese Air Force had since taken "extra precautions" for every member of their delegation to ensure that they meet Singapore's criteria, are healthy and well, and pass all health checks.
"I am very happy that they are here, and that they put in so much effort," he added, pointing out Generals Xu and Wei both "fully supported" their presence here.
The team's presence at the airshow, despite its contingency back home, is a testament to "how strong our relationship" is, said Dr Ng.
"You know this phrase, 'good friends stick through thick and thin', and I want to thank both the US as well as the Chinese military for being with us in this airshow," he said.
FIGHTER AIRCRAFT SINGAPORE AIMS TO BUY 'HOVER' IN MID AIR
Dr Ng spoke to members of the participating teams from the US Marine Corps and Pacific Air Forces on Friday and took a tour of the F-35B fighter jet.
On the US' participation, Dr Ng said he is pleased that not only is the US Air Force in Singapore for the show, the array of aircraft they have brought for the show is "more than they have ever done".
Asked of the significance of the F-35Bs taking to Singapore's skies, Dr Ng said it would still take a number of years before the aircraft Singapore is proposing to buy will arrive here as the pilots have to be trained in the US first.
However, Singaporeans will be able to see the aircraft up close in the coming week, he added.
Pointing out that they are starting to practise on Monday, he said: "I think those who are around the east side of the island will be able to see them in the skies."
Speaking to reporters, US Lieutenant Colonel Michael Rountree said the capability of the F-35Bs that airshow audiences might be most interested in is the fact that it is a short take off and vertical-landing aircraft. He is the commanding officer of Marine Fighter Attack Squadron 121.
Audiences will be able to see the 18-tonne heavyweight fighter aircraft hover, "not moving in the sky", which is a "pretty incredible feat for a modern fighter that can also fly supersonic", he added.