Conserved building Golden Mile Complex up for sale at S$800m in 2nd en-bloc attempt
SINGAPORE — The iconic Golden Mile Complex on Beach Road has been put up for collective sale for a second time after a failed attempt ended two years ago.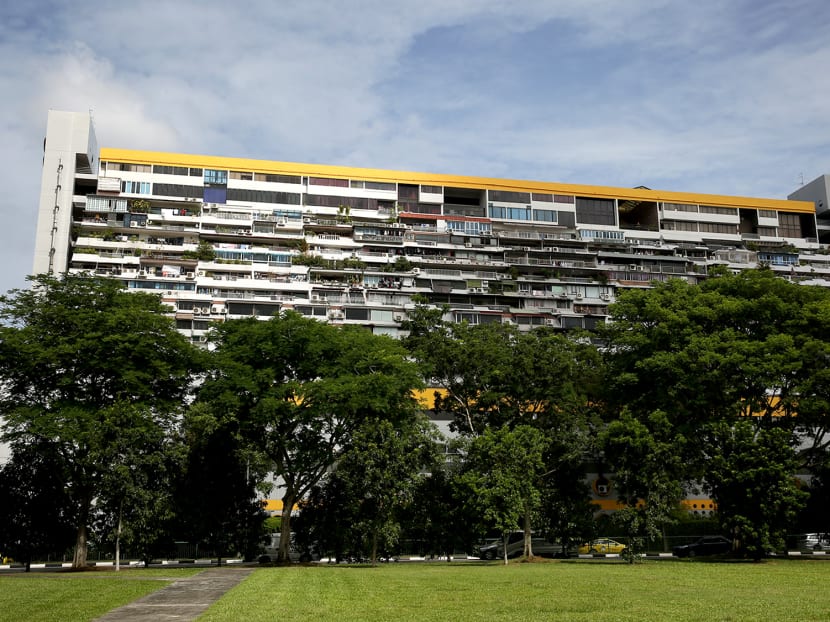 The Golden Mile Complex has been put up for en-bloc sale with the same reserve price of S$800 million
The last sale attempt ended in 2019 with no bids
The building was gazetted for conservation in October 2021 and the Government is offering incentives to make it attractive to buyers
One property analyst said that with the conservation status now confirmed, developers have more clarity over their investment returns
SINGAPORE — The iconic Golden Mile Complex on Beach Road has been put up for collective sale for a second time after a failed attempt ended two years ago.
The 48-year-old building, which was gazetted as a conserved building last month, is up for sale at the same reserve price of S$800 million, its marketing agent Edmund Tie and Company said in a statement on Tuesday (Nov 30).
This works out to about S$1,350 per square foot per plot ratio, including differential premium and lease upgrading premium payable, for the 16-storey commercial and residential building.
Ms Swee Shou Fern, executive director of investment advisory at Edmund Tie and Company, said: "Golden Mile Complex is a national icon that has shaped the visual character of our built landscape.
"Its distinctive architecture and worldwide iconic status will offer tremendous potential to transform the property to a vibrant destination integrating work, live, and play elements."
Golden Mile Complex was built in 1973 as one of the first large-scale developments in Singapore to have shops, offices and apartments housed in the same building.
Dubbed by some as "Little Thailand", the complex is known for its variety of Thai restaurants, tour agencies and nightclubs and it has earned both praise and criticism over the years.
While some people celebrate its locally designed Brutalist architecture as a marker of national identity, others have regarded it as an eyesore, with former Nominated Member of Parliament Ivan Png once calling it a "vertical slum".
After the two tenders in the first attempt closed with no bids in July 2019, its collective sale was reactivated just a month after.
Since then, the collective sale committee and the marketing agent have continued to give feedback to the Urban Redevelopment Authority (URA) on the proposed conservation, Edmund Tie and Company said.
When the building was gazetted, URA announced a range of incentives to make the development options more attractive to potential buyers.
These planning incentives, which do not apply to many other en-bloc sales, include a partial development charge waiver on the bonus floor area and a full waiver on the conserved floor area.
The developer may renew the lease to a fresh 99-year lease, subject to approval from relevant agencies.
The multi-storey car park beside the building can be torn down and redeveloped into a 30-storey tower that is equivalent to the one-third increase in floor area.
The boundary of the 1.3ha site may also be adjusted to include part of the adjacent state land to allow more design flexibility.
Edmund Tie and Company said that the current tender will include a building study conducted by URA, which will serve as a guide to how much rehabilitation works will cost.
SOME COMPLICATIONS REMAIN  
Property analyst Nicholas Mak, head of research and consultancy at ERA Realty Network, said that with details of the development options firmed up, this second collective sale attempt may stand a higher chance of succeeding.
When the complex was last put up for sale, developers were uncertain about the fate of the building's conservation status, he said.
"Now, interested buyers have some clarity to calculate whether they want to go in and what price they want to pay," he told TODAY.
Although the Government's incentives are generous, Mr Mak said that the conservation requirements will make the project a complicated one.
The difficult task of renovating the aged building, which may have dissuaded some buyers from putting up bids in the last sale, also remains.
Mr Mak said that the soil condition is known to be challenging to build on, since it is near the sea and may have high water content.
The Covid-19 pandemic has also brought about uncertainty over the future demand for offices and commercial spaces as more people work from home.
"Golden Mile Complex has built up a character of its own," Mr Mak said. "I hope that this doesn't change and that it is still able to retain its unique characteristics even after some redevelopment."
Mr Alan Cheong, executive director of research and consultancy at Savills, likened the en-bloc attempt to a "difficult childbirth".
"The fact that it is attempting again shows there are enough subsidiary proprietors who believe that the economic value of the property has declined to a point where it does not warrant a continuation of its current use," he said.
"However, the reserve price of S$800 million also shows that there are owners who need to be bought over as they are still reaping good profits from carrying on their activities in the present building or have sentimental value attached to their property."
The tender for Golden Mile Complex will close on Feb 28 next year at 3pm.