Courage in the new normal: CEOs, leaders taking bolder steps to talk about their mental health struggles at workplace
NGAPORE — At the peak of the Covid-19 pandemic, Dr Daniel Tan, the chief executive officer (CEO) of healthcare firm Parkway Laboratories, wrote about his own state of burnout in an email to employees but found himself hesitating a little before he clicked "send".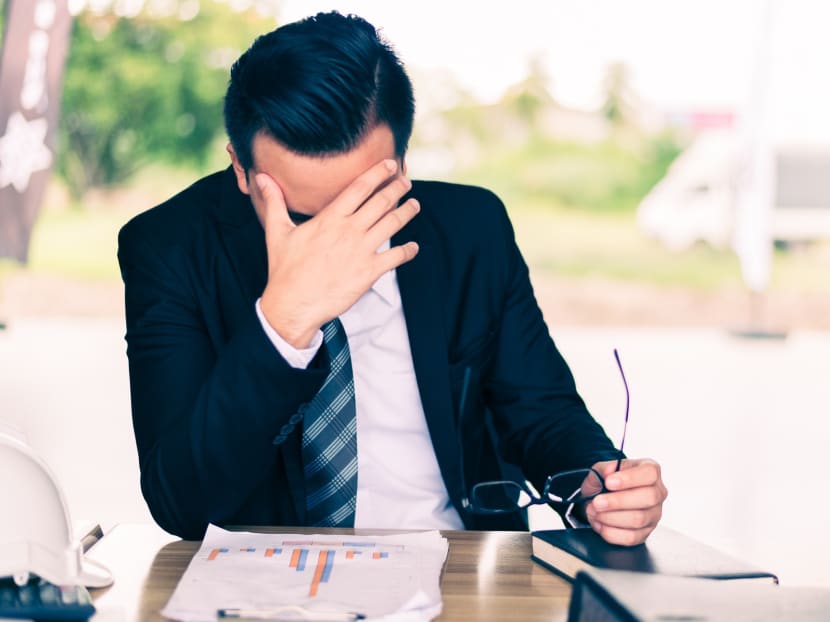 In the new Covid-19 normal, leaders are starting to see mental health as a 'strategic priority', former NMP Anthea Ong said
About 50 CEOs and business leaders gathered online to discuss ways to look after employees' mental well-being
Some are encouraged to share their personal struggles after Economic Development Board managing director Chng Kai Fong did last month
SINGAPORE — At the peak of the Covid-19 pandemic, Dr Daniel Tan, the chief executive officer (CEO) of healthcare firm Parkway Laboratories, wrote about his own state of burnout in an email to employees but found himself hesitating a little before he clicked "send".
Conscious of his intention to "leave the door open" so that his subordinates would feel more comfortable addressing similar mental health issues at a critical time for the healthcare industry, he was also fully aware that he was exposing his weaknesses — contrary to what bosses would typically do.
"In the old days, the boss was expected to be a warrior leader — fearless, brave and would charge through anything. That was the old perception of a strong leader," Dr Tan told TODAY.
"These days, it is a bit more 'touchy-feely', as the critics may say. But I guess it is a different time for different people. You cannot always have the same style of leadership for different seasons. Times have changed, and that's where we have to start to change as well."
Dr Tan, also the CEO of Angsana Molecular and Diagnostics Laboratory, a subsidiary of healthcare group Parkway Pantai, was not the only one to be thinking this way.
A number of the 50 or so other CEOs and C-suite business leaders gathered online for a dialogue on Friday (Dec 4) morning shared this sentiment as well.
Held over video-conferencing platform Zoom, the event was organised by the Workwell Leaders Workgroup, a volunteer-run group that represents employers across the private and public sectors, seeking to champion workplace mental well-being as a leadership priority.
Ms Anthea Ong, a former Nominated Member of Parliament (NMP) and the workgroup's founder, said that many of the leaders attending the dialogue are taking bolder steps in this area, sensing the urgency brought on by Covid-19.
This was the third dialogue since it held its first in October last year, but this was the first time Ms Ong felt that she did not have to convince leaders that there was a need to include mental health as part of their "strategic priority".
There used to be reservations given that mental health, like climate change, had always been seen as important but not necessarily treated as urgent. This time round, "no one was thinking about whether it is important anymore" as it was assumed to be so, she told TODAY.
She added that more than 60 of the leaders are now part of a rapidly growing WhatsApp chat group where they discuss best practices on this topic.
During the dialogue session, ideas that the leaders shared include declaring Fridays to be a day without meetings and revising health benefits for workers to include a mental health component.
They go beyond merely putting in place an employee assistance programme as a first step to help workers resolve personal problems that may adversely affect their performance, she said.
On the subject of high-ranking personnel letting their vulnerable side show, a few of the top executives who attended the dialogue told TODAY that they were encouraged by Economic Development Board's managing director Chng Kai Fong, who had opened up about his mental health struggles at a technology conference last month.
Mr Chng, a former top aide to Prime Minister Lee Hsien Loong, revealed that he lost his brother-in-law to cancer in April, while a close family member was going through serious mental health issues. He had never felt this way before in over 40 years of his life, he admitted.
He then said: "There was the feeling of heat and anger starting with the palms and then it sort of moves towards your entire body. There was one day when I couldn't even wake up. I had to really drag myself out at 11.30am and go for a run because I knew these were signs of depressive bouts. Even during the run, I was super breathless. It was a bad sign."
He had to cope by acknowledging that it is "okay not to be okay" and by proactively seeking help.
"We can do a lot more as leaders to acknowledge that and to share a little bit more about ourselves. And that builds trust," Mr Chng said.
OLD WAY VERSUS NEW WAY
Agreeing with this message, Mr Kelvin Ho, CEO of investment bank Nomura Singapore, told TODAY: "I think leaders need to display more authenticity and empathy, and the best way to show this is to actually demonstrate their commitment, and also to share the personal experiences that are relevant."
Asked if he would do the same, Mr Ho said: "It will take quite a bit of courage for leaders to do that. Not everyone will be willing to do this. And for me, if it is the right occasion and relevant to the situation, why not?"
Recognising that it is important for the leadership at the workplace to "set the right tone", Mr Ho added: "It can't just come from HR (the human resources department). It has to come from the leadership."
Dr Tan from Parkway Laboratories said that the management needs to start taking responsibility in making things better at the workplace by reframing mental health issues as ways to get the best out of everyone.
"The old way is to push people to see how far they can go. That's the old paradigm of work assessment.
"Now, instead of pushing people, let's see how to get them to perform as best as they can in their own circumstances. Create the environment for them to thrive rather than to slog it out and to reach breaking point and burn out and quit."
He added: "When you push people to their breaking point, you get high staff turnover. They will give up on you or fear they will be penalised for poor performance. They rather quit and it's not worth it.
"This becomes a vicious circle created by management. If you don't do something, you will lose good people. Why not change the culture? Why not cultivate an environment that gives people space to adapt and give them a chance to thrive?"
Mr Kevin McGuigan, managing director for Southeast Asia at 3M, which makes industrial materials and devices, and its country leader for Singapore, has a message to leaders who are not taking the mental health and well-being of their workers seriously.
"Watch your turnover or retention rate," he said. "The younger generation will seek out companies that have a culture that makes them feel good. I firmly believe that 3M will be on the winning end as we build our brand as a company that takes this seriously."