Covid-19: Building sector hails proposed law to aid firms unable to fulfil contracts while security, cleaning firms seek inclusion
SINGAPORE — The upcoming Covid-19 (Temporary Measures) Bill will not just provide relief to businesses and individuals who are unable to fulfil their contractual obligations due to the pandemic, it would allow Singapore's economy to bounce back more readily after the crisis, industry experts said.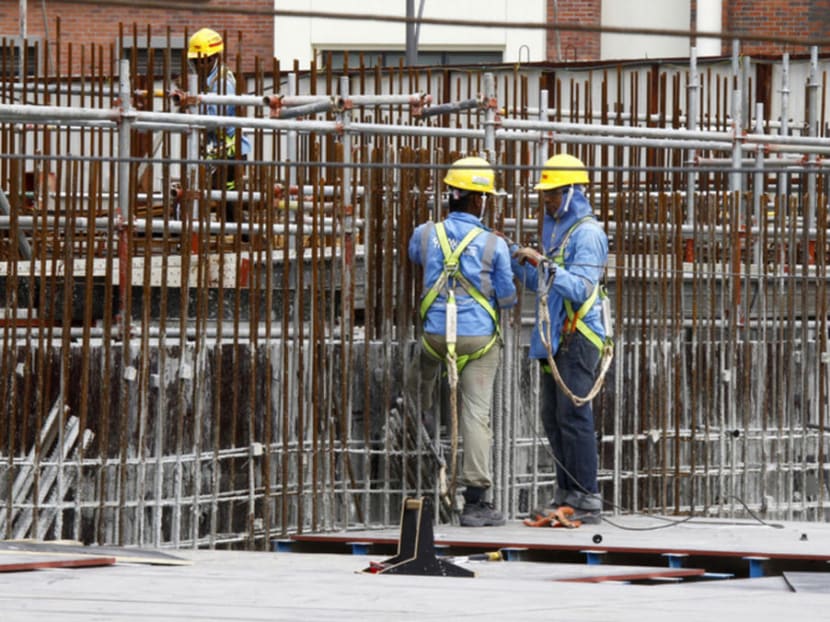 SINGAPORE — The upcoming Covid-19 (Temporary Measures) Bill will not just provide relief to businesses and individuals who are unable to fulfil their contractual obligations due to the pandemic, it would allow Singapore's economy to bounce back more readily after the crisis, industry experts said.
The Bill — which the Government intends to fast-track — proposes to temporarily make it an offence for an organisation or individual to take legal action against a party who is not fulfilling their contractual obligations, as long as that party gives notice that their inability to fulfil the contract has been due to the pandemic.
It is scheduled to be introduced, debated and passed in a single sitting on April 7. If Parliament and the President approve, the proposed law is expected to come into force mid-April and expire a year later.
Mr Keith Magnus, co-chairman of Asia and senior managing director at investment banking advisory firm Evercore, said that without such a law, "the reassembly of broken up enterprises — when the dust settles — will be even more costly and waste precious time".
He noted that Covid-19 had sparked an "economic tsunami".
"Many contracts entered into during stable economic conditions with projected financial outcomes, have been made difficult and, at times, impossible to fulfil given the onslaught of the pandemic on the economy," Mr Magnus said.
What businesses need at this time is some "breathing room — room to recover, defend, recalibrate, galvanise — to survive", he added.
LAW WILL 'SAVE ON COSTS IN ENGAGING LAWYERS'
News of the Bill, therefore, came as a huge relief to the construction industry because one of the five categories of contracts covered pertains to construction contracts or supply contracts.
This means if the law is passed, they will not have to face paying liquidated damages for incomplete projects arising from supply and labour shortages, among others. Liquidated damages are amounts set out in contracts that are payable if a contract term is breached.
Speaking to TODAY, Mr Johnny Lim, executive director of Teambuild Construction Group, said that such damages could run into the thousands or tens of thousands of dollars a day, depending on the types and scale of projects.
If there is no intervention, "a delay of three to six months would easily wipe out even companies with the strongest financial standing", he added.
"The swift action of the Government in (tabling) the law is definitely most welcomed," Mr Lim said.
"It addresses the uncertainty of potential hefty liquidated damages. At least, businesses can then focus on addressing the many other issues and challenges without the overhanging fear of not being able to fulfil the contractual obligations due to circumstances beyond their control."
Mr Kenneth Loo, chief operating officer of Straits Constructions, said that such a law would save his industry on the effort and costs in engaging lawyers to deflect the costs.
"To put it bluntly, at the end of the day, instead of disputing (liability), there is clarity to say, 'Look, going forward, this is sufficient. We don't need to argue over it. It is the law, basically.'"
Asked if this Bill will make it unfair for the parties seeking legal recourse against them, Mr Loo said: "It is something unavoidable. Nobody can foresee it. We just have to work within the constraints…
"In this instance, there is no gain, and everybody is suffering losses. Nobody is gaining… It is about survival — that's the most important thing."
Agreeing, Mr Lim said that the law will "level the playing field for all affected parties" as he noted that the supply and labour shortage that his industry is seeing is "most acute and unprecedented".
"The situation is fluid with the protracted and non-definitive duration of lockdown periods in many countries. There is virtually no time to respond or make alternative arrangements," he said.
"We are practically on a fire-fighting mode addressing uncertainties, labour shortfall, supply chain issues, materials shortfall, cash flow, regulatory and advisory requirements, over and above the many challenges on the project sites."
BLEEDING CASH
Mr Loo elaborated on the various challenges the construction sector is facing.
He said that his firm's supply chain was interrupted first by a lockdown in China. But it was the subsequent lockdown in Malaysia which hurt more because his firm was more dependent on supply from the neighbouring country.
Without the supply of materials, some workers cannot work, but the costs to hire them continue to accrue. This cost, incurred monthly for each worker, includes not just their salary, but also a foreign worker levy of between S$300 to S$950 and dormitory cost of about S$300.
One construction site working on a S$100 million job — one of the most common sizes of construction projects available — typically requires 300 to 400 workers, Mr Loo pointed out.
Besides manpower costs, there are also equipment costs. Although some of them might have to sit idle when supply is held up, the costs to finance them or rent them could go into the hundreds of thousands each month, he said.
All these amount to a serious cash flow problem for not just his, but other construction firms out there, Mr Loo said. "You continue bleeding. You have outflow, but you have no inflow... Our resources are finite and limited. They don't last forever."
SECURITY, CLEANING SECTORS WANT BREATHING SPACE 
Some other industry players, such as those from the security and cleaning sectors, however, hope that the scope of the Bill could be widened to cover contracts between them and their service buyers as well.
Mr Jason Tan Tze Li, director of Benchmark Cleaning Services, said that it is relying on its five to six service buyers' leniency in escaping compensations listed under their service agreements should there be a shortfall of cleaners.
The manpower uncertainties he faces came from Malaysia's nationwide lockdown, which makes it harder for him to hire from the neighbouring country, as well as the directive to give five days' sick leave to patients with respiratory symptoms.
But if he fails to deploy a cleaner for one day, he could be penalised by S$100 a day if his service buyers were to enforce their contracts, he said.
"It could be a lot of money," Mr Tan, who hires 28 cleaners, said. "What if one of my workers got the virus and he goes on to infect five other workers, and six cannot work?"
Mr Lek Shao Hua, general manager of Metropolis Security Systems, said that three in 10 of its clients had indicated that they would like to seek liquidated damages.
"It is usually negotiable, but if they want to impose it strictly, it varies. On the higher end, it may go up to about 10 to 12 per cent of the contract's value," he said.
The Ministry of Law, in response to queries from TODAY, said that companies can give them feedback and they will consider if more areas need to be included in the Bill.
"The Minister for Law will have the power to add to the categories. We are working with agencies to see if there are other categories that need to be included," it said. 
BILL ADDRESSES 'IMBALANCE OF POWER' 
Another type of contract covered under the Bill is leases or licences for non-residential immovable property — an area highlighted in recent days by a committee under the Singapore Business Federation (SBF).
The move by the Government will help fend off legal action against businesses that cannot afford rent after seeing their traffic wiped out by the coronavirus.
Commenting on the latest development, Ms Cynthia Phua — the chairperson leading the SBF committee that came up with a set of guidelines known as the Fair Tenancy Framework — said that it is a "good start" to resolve "an imbalance of power" that exacerbated despite Covid-19.
"(The inclusion of lease contracts) shows that the relevant government agencies realise the imbalance of power between landlords and tenants," Ms Phua told TODAY.
The proposed law, besides temporarily criminalising the termination of the leases of commercial tenants, also covers the confiscation of equipment or prevention of access to property that was paid for through secured loans and the filing of applications to declare the business bankrupt.
Among landlords supporting the Bill is CapitaLand.
Mr Andrew Lim, group chief financial officer of CapitaLand Group, said: "With their short-term cash flow pressure alleviated, tenants will be more empowered to keep their lease commitment and stay open for business."
He added: "Tenants and landlords are in a long-term symbiotic relationship. It is in our interest to see our tenants ride through this with us. We are all in this together because everyone in the ecosystem has been impacted."