Covid-19: SAF deploys 70 medical personnel to foreign worker dormitories
SINGAPORE — The Singapore Armed Forces (SAF) has deployed 70 of its medical personnel to some foreign worker dormitories' here, said Defence Minister Ng Eng Hen on Thursday (April 9).s'
SINGAPORE — The Singapore Armed Forces (SAF) has deployed 70 of its medical personnel to some foreign workers' dormitories here, said Defence Minister Ng Eng Hen on Thursday (April 9).
In an earlier Facebook post on Tuesday, the Ministry of Defence said that the personnel from the Army Medical Services have been deployed to S11 Dormitory in Punggol and Westlite Toh Guan Dormitory near Jurong East.
The two dormitories, which house close to 20,000 workers combined, were gazetted as isolation areas on Sunday. This means that workers must not leave the dormitories for the next 14 days to prevent the spread of Covid-19.
Another two dormitories, Toh Guan dormitory, located near Westlite Toh Guan Dormitory, and Sungei Tengah Lodge, near Choa Chu Kang, were gazetted as isolation areas on Monday and Wednesday respectively.
Speaking to the media after a visit to S11 Dormitory on Thursday afternoon, Dr Ng said that the SAF has set up medical facilities for foreign workers' dormitories. He said the 70 personnel had been deployed to a few dormitories but he did not specify the number.
During the visit, Dr Ng was suited up in personal protective equipment.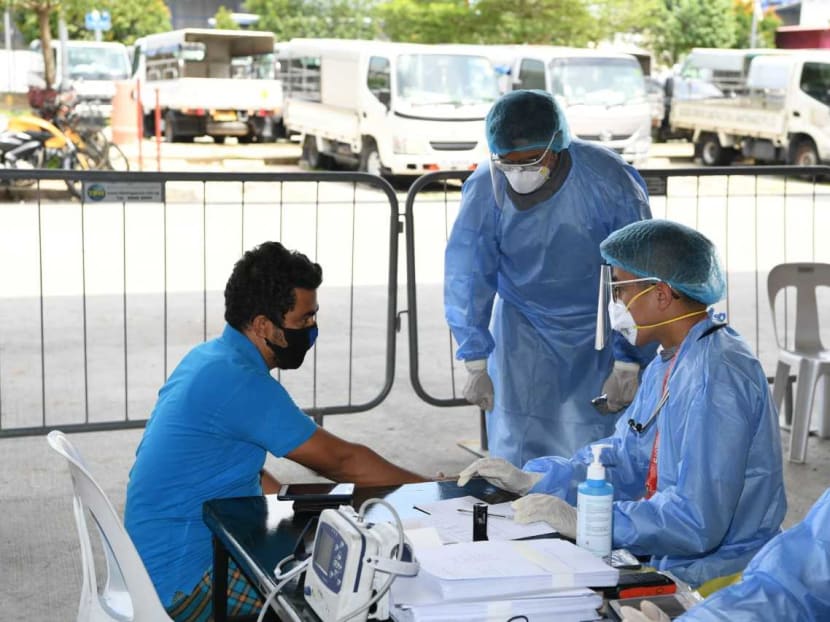 Dr Ng, a medical doctor who specialised in surgical oncology before entering politics, said that morale is high among medical staff, made up of full-time National Servicemen and regulars, and that they understand that their task is crucial.
"It is very orderly and there is a good system in place to triage those with flu-like symptoms and also to test those for Covid-19," said Dr Ng, who was briefed by medical personnel during his visit.
The S11 site currently has 118 confirmed Covid-19 cases, the largest patient cluster in Singapore.
He added that the mood was calm on the ground.
"I also spoke to some of the foreign workers who are on their way to isolation facilities. They are very calm, and they understand what is going on so I think good systems are in place, and it gives me a lot of confidence."
The issue of foreign worker dormitories has been in the spotlight recently after The Straits Times earlier reported on what it described as the squalid conditions at some of the dormitories. It also reported that food had been served to the workers in an untimely manner.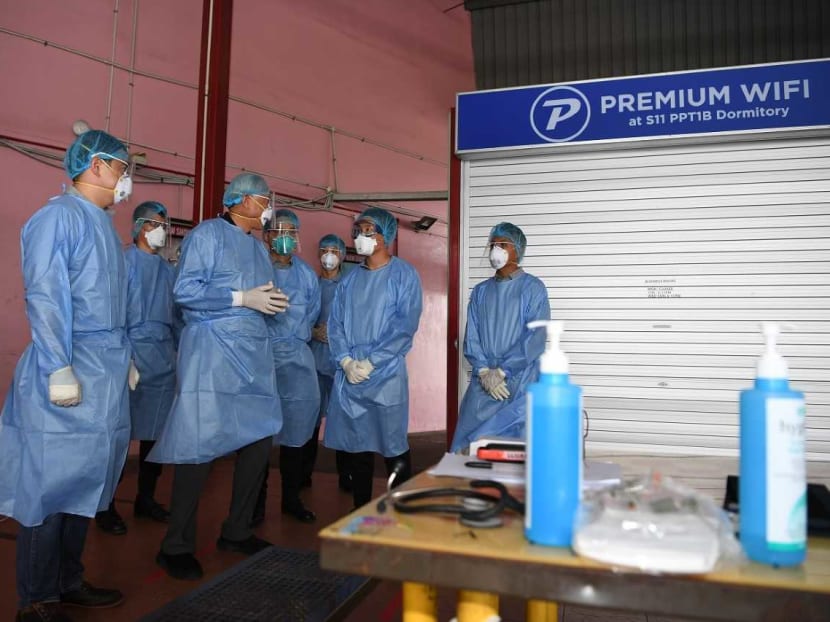 This prompted veteran diplomat Tommy Koh to condemn what he called the "Third World" treatment of foreign workers here, adding that the infection clusters in the dormitories should serve as a "wake up call".
Manpower Minister Josephine Teo also addressed the issue on Monday in a Facebook post, vowing to raise the standard of dormitories after the Covid-19 outbreak is over. Meanwhile, her ministry said it has overseen improvements at some of the dormitories.
The Ministry of Manpower said on Tuesday
that the
cleaning regime had been stepped up
at the S11 Dormitory and Westlite Toh Guan Dormitory, and the timing of meal distribution had improved.
Dr Ng added on Thursday that the deployed SAF medical personnel have also been reminded to take care of themselves.
This include paying extra attention when they are wearing and taking off protective personal equipment, and when they are conducting procedures, to make sure that they themselves are protected from the disease.
Responding to a question on whether the SAF may be deployed in other capacities, Dr Ng said that the SAF will consider doing more if there is a need.
"This is a nationwide effort which is coordinated by the inter-ministry committee and we have given quite a significant resource," he said.
"We are ensuring that we have enough medical resources for our own SAF troops, because we understand that our critical units are also still functioning. They also have medical needs. But if there is a need to do more we will see what else we can contribute," he said.