Covid-19 White Paper: Singapore identifies 7 lessons for next pandemic, and what went right and wrong
SINGAPORE — The Covid-19 pandemic has shown that while the Government must learn from past crises, it must not be limited by existing playbooks if they do not work, but be nimble enough to adopt new strategies, a review of Singapore's pandemic response has found.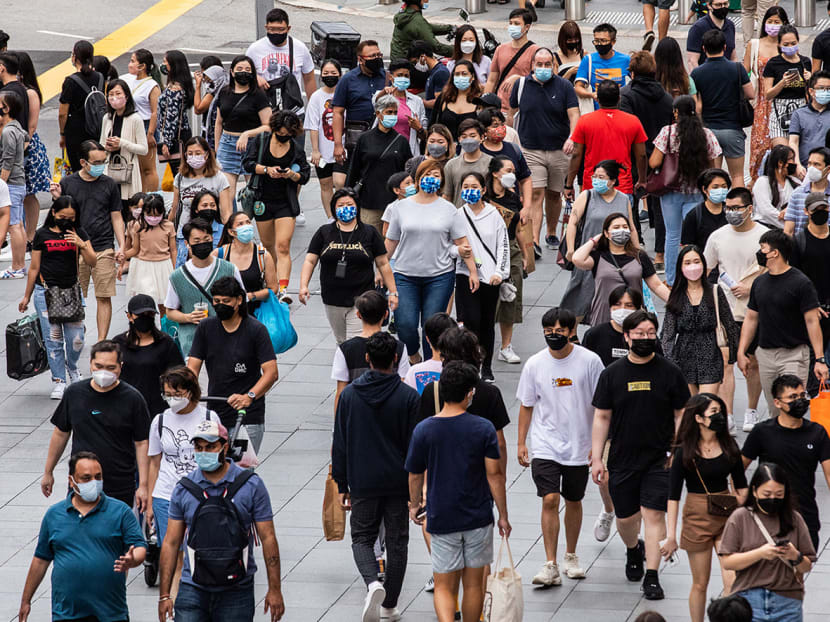 A White Paper on Singapore's response to Covid-19 outlined seven lessons learnt in preparation for future pandemics
The report, which consolidated findings from an internal review, also outlined the hits and misses in the Government's handling of the pandemic
Among others, it noted that the outbreak in migrant worker dormitories and the authorities' initial position on mask-wearing could have been better handled
The rollout of vaccines, and the support given to businesses and individuals to cushion the pandemic's impact, were among the areas in which the Government did well
SINGAPORE — The Covid-19 pandemic has shown that while the Government must learn from past crises, it must not be limited by existing playbooks if they do not work, but be nimble enough to adopt new strategies, a review of Singapore's pandemic response has found.
This was among seven lessons learnt over the course of the three-year pandemic that were outlined in a White Paper published on Wednesday (March 8) on how Singapore handled the "dynamic and fluid" situation.
The White Paper was prepared by the Prime Minister's Office and consolidated findings from an internal after-action review done by former head of civil service Peter Ho as well as those conducted by various ministries and agencies.
Speaking to reporters on Tuesday, Deputy Prime Minister Lawrence Wong said that although the lessons help to give a better sense of preparedness, "we must never fight the last war".
"We must not allow the lessons to become hard-coded into a certain doctrine that might lead us down the wrong path, especially if the next virus turns out to be very different in character and nature from what we have experienced so far," Mr Wong said. He co-chaired the multi-ministry task force handling the pandemic response.
Besides documenting the lessons to be learnt, the White Paper recapped key moments in Singapore's Covid-19 journey, and outlined what the Government had done well and what could have been done better.
Among others, the paper noted that the outbreak in migrant worker dormitories could have been better handled, and that the Government could have been "less definitive" in its initial position on mask-wearing.
On the other hand, the paper also highlighted the rollout of vaccines, and the support given to businesses and individuals to cushion the impact of the pandemic, as among areas in which the Government did well.
WHY IT MATTERS
The after-action review, mentioned in Parliament since as early as July 2021, was meant to examine how the Government handled the Covid-19 pandemic and extract learning points to better prepare Singapore for future pandemics.
Mr Wong told Parliament in May last year that a similar approach was also taken when the Government reviewed lessons from the severe acute respiratory syndrome (Sars) crisis of 2003.
In the wake of that crisis, the Government put in place the Disease Outbreak Response System Condition (Dorscon) framework and had set up the National Centre for Infectious Diseases (NCID).
"I think now we will have to think through what new capabilities we will have to put in place to strengthen our public health system," Mr Wong said on Tuesday.
THE 7 LESSONS
1. Be clear at the outset on the priorities of each response, and exercise more flexibility
Covid-19 was a complex crisis and the next pandemic can be expected "to pose equally if not more complex challenges", the White Paper stated
As such, the objectives and priorities for each action need to be clear
For example, in determining the extent of border closures, the Government must be clear on whether to prioritise the social or the economic dimension of the situation
Measures must also be carried out with flexibility to ensure ease of implementation, as opposed to the "over-calibration" of some safe management measures during Covid-19
2. Further strengthen Singapore's resilience to be better prepared for disruptions
This includes:
Maintaining access to key resources and building buffers, such as by "(reviewing) our stockpiling strategies and improve diversification of critical supplies"
Investing in new systems and capabilities, such as by conducting more research to understand the potential of sewage surveillance for future disease outbreaks
Enhancing the adaptability of infrastructure. For instance, Changi Airport Terminal 5 will be made pandemic-ready with better segmentation of spaces to segregate and manage passenger flow
3. Do more to harness strengths of the people and private sectors
"The government will more proactively partner the private sector to identify gaps in our resilience plans and develop responses to address these gaps," the paper said
The Ministry of Health (MOH) will further develop the role of SG Healthcare Corps so that it can function as an additional standby reserve for healthcare manpower in future pandemics
A "more concerted effort" will be carried out to develop an effective data-sharing strategy system between the private and public healthcare sectors
4. Systematically build up strong public health expertise and organisational capacity
One aspect of expanding healthcare capacity is tapping primary care clinics as the first line of defence for future pandemics, including leveraging them to swiftly vaccinate the population
The paper also proposed establishing "a dedicated set-up where expertise in surveillance, disease prevention, preparedness and response, epidemiological analytics and modelling can be enhanced and sustained"
Existing legislative levers should also be reviewed to support more flexible public health responses, said the paper, as the Infectious Diseases Act currently caters to only two binary scenarios — peacetime or emergency
5. Institutionalise the use of science and technology in pandemic crisis management
According to the paper, "central structures" such as the Smart Nation Digital Government Office and GovTech, should have been activated earlier to integrate digital solutions with ground operations, to speed up the rate of adoption of solutions such as TraceTogether and SafeEntry
Looking ahead, MOH is linking up the NCID with other research laboratories and experts on infectious disease to facilitate the continued exchange of clinical data
6. Strengthen forward planning capabilities to respond to pandemics in a more agile and fluid manner
The paper noted that it "made sense" for planning parameters to take reference from the last pandemic, but it should not limit our responses to new and evolving situations
For example, the Sars crisis was a short, regional outbreak confined to hospital settings. As a result, Singapore's pandemic preparedness system, which took reference from it, "largely focused on managing outbreaks within the hospital ecosystem and not in the wider community"
The paper recommended that the Government continue holding regular tabletop exercises covering various crisis scenarios
In future, the Government will create a separate dedicated forward planning team with the bandwidth and expertise to better anticipate the next few bounds while the main operations team handles the day-to-day crisis situation
7. Continue delivering transparent and clear public communications to build trust and ensure effective crisis response
Overall public communications were well-handled, the White Paper stated, with regular and open communication updating members of the public and addressing their concerns
The Government will review how it "communicates indicators of crisis severity" to avoid causing undue public anxiety, like how announcing the changes in Dorscon level had "sparked public panic and led to a run on essential items"
Similarly, the paper noted how more information could have been provided ahead of the home recovery programme to give assurance to the public before they were expected to pivot to recovering at home.
HITS AND MISSES IN PANDEMIC RESPONSE
The White Paper identified a few aspects of Singapore's pandemic response in which the Government did well, and a few other areas which could have been handled better.
What was done well
Maintained resilience of healthcare system
Successful roll-out of nationwide vaccination campaign
Maintained connectivity and ensured supply chain resilience
Supported businesses, jobs and workers
Supported vulnerable groups in society
Continued students' education
Maintained effective communications and public trust
Rallied together as a nation
What could have been done better
Handling of the Covid-19 outbreak in migrant worker dormitories
Implementation of border measures
Mask-wearing policy
Contact tracing
Execution of Covid-19 rules and safe management measures
Transition difficulties to living with endemic Covid-19 
The White Paper is made available online for the public to share their feedback, and the paper's findings will be debated in Parliament later this month.