Father of 5-year-old boy who died from abuse gets life sentence, mother convicted of murder after appeal
SINGAPORE — The apex court on Tuesday (July 12) sentenced a father to spend the rest of his life in jail, as well as convicted the mother of murder for abusing their five-year-old son to death in 2016.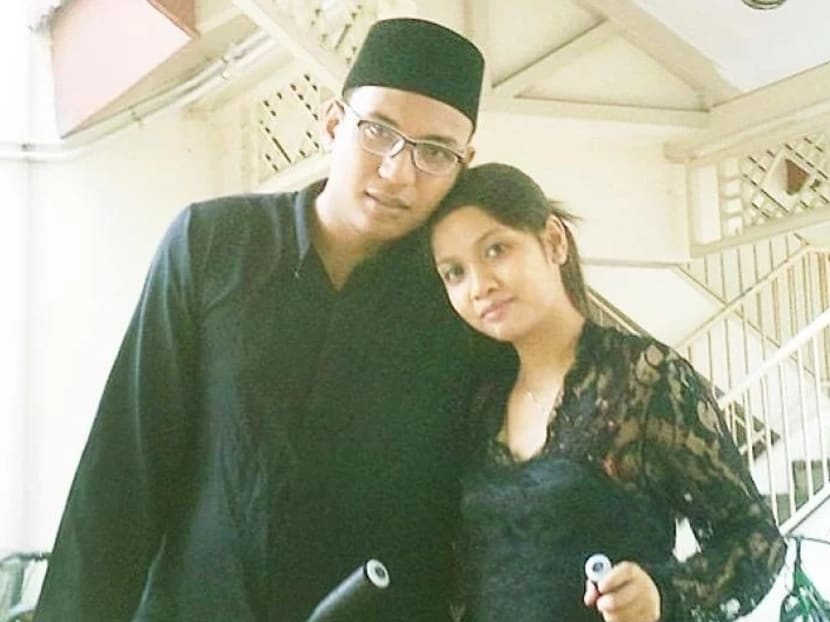 Azlin Arujunah and Ridzuan Mega Abdul Rahman were originally sentenced to 28 years' jail, and 27 years' jail with caning respectively
Previously, they were acquitted of murder by common intention for fatally abusing their five-year-old son to death
The apex court accepted on July 12 the prosecution's appeals against Ridzuan's sentence and Azlin's murder acquittal
Ridzuan received the maximum sentence of life imprisonment for his reduced charge
Azlin is due to be sentenced for murder, and now faces either life in jail or the death penalty
SINGAPORE — The apex court on Tuesday (July 12) sentenced a father to spend the rest of his life in jail, as well as convicted the mother of murder for abusing their five-year-old son to death in 2016.
In a 133-page written decision, five judges in the Court of Appeal accepted the prosecution's appeals for a longer jail term for the boy's father, Ridzuan Mega Abdul Rahman, and to reverse an earlier murder acquittal for the mother, Azlin Arujunah. Both are 30 years old.
Azlin now faces either life imprisonment or the death penalty for murder under Section 300(c) of the Penal Code. She began sobbing when the court delivered its judgement.
She has yet to be given a new sentence for her murder conviction.
Both parents were originally charged with murder with common intention, along with other charges related to the fatal abuse.
This murder charge was premised on four acts of burning or scalding committed in the couple's one-room rental flat from Oct 15 to 22 in 2016. The boy died shortly after that.
Following a High Court trial that ended in mid-2020, Azlin and Ridzuan were acquitted of murder and sentenced to 27 years' jail each on reduced charges of voluntarily causing grievous hurt by a dangerous weapon or means. Life imprisonment is the maximum punishment for this offence.
Azlin was given one more year behind bars in lieu of caning, taking her total jail sentence to 28 years, while Ridzuan was further sentenced to 24 strokes of the cane.
The prosecution then appealed against the sentences imposed on Azlin and Ridzuan and sought life imprisonment in both cases, as well as for Azlin to be convicted of murder by common intention.
ABOUT THE CASE
The couple — then aged 24 — abused the boy over a span of three months in 2016. For a week in October 2016, they then scalded him with hot water on four occasions. The boy died on Oct 23, after the fourth time.
He had suffered second- to third-degree burns over two-thirds of his body, substantial bleeding under his scalp, cuts on his head and face, nasal bone fractures and extensive bruises over his limbs and back. His skin had also turned yellow, wet and raw, with parts peeling off.
The boy cannot be named to protect the identity of his surviving siblings.
Azlin and Ridzuan were acquitted of murder after High Court judge Valerie Thean found that the element of common intention was not sufficiently proven, since not all of the incidents involved both parents.
The judge also declined to impose life imprisonment, saying it was not appropriate because medical evidence could not determine which injuries arose from which incidents.
A TIMELINE OF THE ABUSES
2015
The boy returns to live with his parents after he was fostered out at the age of one month. Ridzuan and Azlin had been unemployed and lived on financial assistance, with Ridzuan selling things such as love potions and amulets on e-marketplace Carousell.
July 2016
Ridzuan uses a pair of pliers on two separate days to pinch the boy's buttocks and thighs several times, causing bruises
August 2016
Azlin hits the boy with a broom on his body, back and legs, after he denied knocking over a biscuit tin and scattering biscuits on the kitchen floor. This left marks on his stomach and caused him to develop a limp and a misaligned kneecap
Azlin pushes the boy on his shoulder, causing him to fall. His head strikes a pillar and begins bleeding
October 2016
Ridzuan burns the boy's palm with a heated metal spoon
Ridzuan flicks cigarette ash from a lit cigarette on his son's arms when he refuses to answer him, and uses a hanger to hit him on the palm when he denies stealing milk powder
Oct 15 to 17, 2016
Azlin grabs the boy by his ankle to prevent him from running away, fills a glass with hot water from a dispenser, pours it over his right leg three times and over his hand about five times. The boy's skin begins peeling, and blisters form on his chest, shoulder and leg
Oct 17 to 19, 2016
Azlin grows angry when the boy shouts, "Are you crazy or what?", in Malay after she splashed hot water on him. Both Azlin and Ridzuan then throw several more cups of hot water at him
Ridzuan burns the boy's palm again with a heated spoon, after finding out he had stolen milk powder to eat.
Oct 19 to 20, 2016
Azlin threatens to splash the boy with hot water when he refuses to answer their questions, but does not do so because he is standing near internet cables. She then pushes him forcefully, causing his head to hit the wall and bleed
Ridzuan then punches the boy in the face
Oct 21 to 22, 2016
The couple confines the boy in a cat cage that measures 70cm in height, 58cm in width and 90cm in length. The boy is 105cm tall
Azlin splashes the boy with nine to 10 cups of hot water, chasing him around the living room when he asks her for things.
Oct 22, 2016
Ridzuan hits his son with a broom on his head, hands and legs to make him take off his shorts for a bath. When the boy is in the toilet, Ridzuan allegedly throws cups of hot water at him, while Azlin shouts at her son to get him to take off his shorts. The boy falls forwards onto the floor and stops moving after Ridzuan pours more water over his back. They take him to the hospital after more than six hours, because they are afraid they would be arrested for child abuse
Oct 23, 2016
The boy dies from his injuries and is pronounced dead in KK Women's and Children's Hospital at around 9am.
APEX COURT'S GROUNDS
On Tuesday, the Court of Appeal agreed with prosecutors that Ridzuan's offence was one of the worst of its kind that warranted the maximum sentence. They noted that he abused his son in a "particularly cruel manner" and that there were no mitigating factors.
His lawyers had argued that he was a young man of 24 at the time, and his adaptive functioning was on an extremely low to low scale. The judges rejected these arguments.
A psychologist had clarified that Ridzuan had self-reported his actions "in a way that did not accurately reflect his actual adaptive function in reality".
Chief Justice Sundaresh Menon noted from the psychologist's report that Ridzuan has the ability to perform tasks "but chooses not to do so and relies on others instead".
The five appellate judges also directed both the prosecution and defence to file submissions on whether Ridzuan will still receive 24 strokes of the cane.
As for Azlin, they found that she had intended to commit all four scalding acts covered in the murder charge, even though she physically did not do so during the fourth incident.
However, she had encouraged Ridzuan to do so by waking him up when their son refused to take a bath. She also did not stop her husband from splashing hot water on the boy, and the couple shouted at him to remove his shorts.
COMMON INTENTION
In its appeal, the prosecution — led by Deputy Chief Prosecutor Mohamed Faizal Mohamed Abdul Kadir and Deputy Public Prosecutor Norine Tan — repeated their point that it has always been their case that Azlin was "factually and legally responsible" for all four scalding incidents.
In their written judgement, the five appellate judges also expanded the scope of how the legal element of common intention should be interpreted.
They highlighted the "relatively novel scenario" that this case presented. This is where a variety of acts are committed by multiple offenders, and each act can be a distinct offence because the offenders' intentions for the aggregate of the acts may be different even though they collectively intend to commit some of the acts.
The judges ultimately found that liability for individual acts committed by another person can be attributed to the offender, in order to form a "larger" criminal act that serves as the basis for the offence.
This interpretation would help to further deter group crimes and expand the criminal liability of those who commonly intend and participate in such crimes, beyond the actions they personally perpetrate, the apex court said.
The judges used this reasoning to find that Azlin's intention to cause the four scalding incidents was "clear beyond reasonable doubt".
The five-judge apex court panel comprised Chief Justice Menon along with Judges of Appeal Andrew Phang, Judith Prakash, Tay Yong Kwang and Steven Chong.
Azlin was defended by Mr Amarick Gill and Ms Cheryl Ng, while Mr Eugene Thuraisingam and Mr Chooi Jing Yen represented Ridzuan.