Day 3 of debate on government spending: What you need to know
SINGAPORE — The Committee of Supply debates resumed for the third day in Parliament on Friday (March 4), following the end of the debate over the Budget statement earlier this week.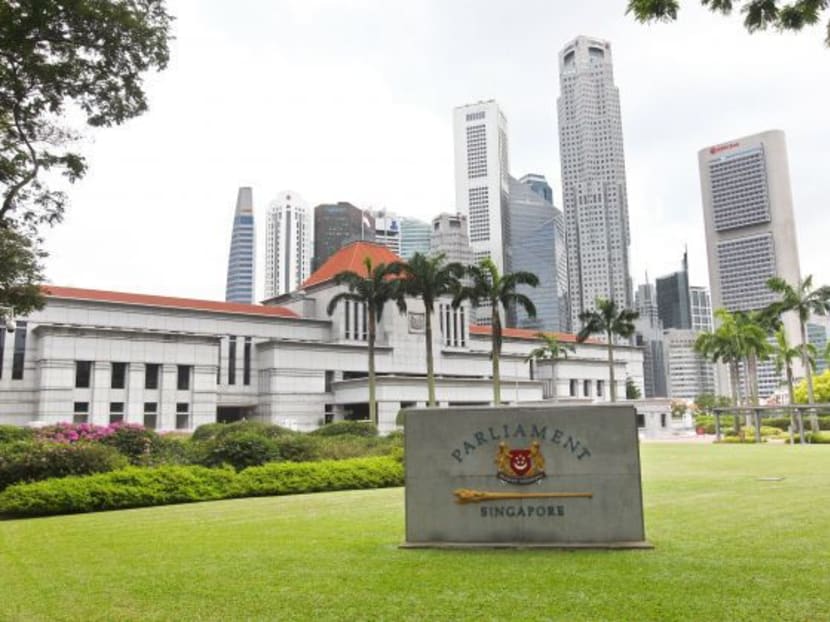 Debates on government spending for the various ministries resumed for the third day in Parliament
Announcements included enhanced coverage of mandatory medical insurance for migrant domestic workers
Others were government help for polytechnic and Institute of Technical Education graduates to enter tech roles
Ministers also laid out the Government's strategy to grow four industries that will play a key role in Singapore's economy in the next decade.
SINGAPORE — The Committee of Supply debates resumed for the third day in Parliament on Friday (March 4), following the end of the debate over the Budget statement earlier this week.
The debates allow Parliament to examine each ministry's plans. Members of Parliament (MPs) file "cuts" to speak on issues under the various government ministries' purview.
Among the government leaders who fielded questions on Friday were ministers overseeing the Ministry of Trade and Industry (MTI), Ministry of Communications and Information (MCI) and Ministry of Manpower (MOM).
Announcements made on Friday included enhanced coverage of mandatory medical insurance for migrant domestic workers and government help for polytechnic and Institute of Technical Education (ITE) graduates to enter technology roles. 
Ministers also laid out the Government's strategy to grow four emerging industries that will play a key role in Singapore's economy in the next decade.
Here is what you need to know.
1. MTI
Singapore Economy 2030 vision: Services, manufacturing, trade and enterprises will make up the four key pillars under Singapore's newly unveiled vision for the economy in the next decade, Trade and Industry Minister Gan Kim Yong revealed.
The Singapore Economy 2030 vision will "outline our ambition, provide direction and coordinate actions" to develop these sectors of growth, he said.
Manufacturing 2030: Singapore has made "already made good progress" on the Manufacturing 2030 vision unveiled last year by MTI to increase the manufacturing value-add by 50 per cent in 10 years, Mr Gan said. Over the past year, the sector grew by 13.2 per cent. It also received S$8.5 billion in total fixed asset investment, which will create more than 6,000 jobs when these projects are completed.
MTI will "redouble efforts" to support the development of local manufacturers with strong potential and help them expand their global reach, Mr Gan added.
Launch of M2030 Careers initiative: MTI will launch a job initiative to further support companies in developing attractive career options in manufacturing, especially for local graduates from polytechnics and ITE. 
The initiative's projects include a handbook for manufacturing employers containing guidelines on career progression pathways.
MTI will work with companies to offer "high quality" internships for ITE students, aiming to secure at least 200 places from 60 companies by the end of the year, Mr Gan said. The ministry will also trial providing a grant to selected companies to hire and train ITE graduates for "critical" technician and assistant engineer roles. 
Trade 2030: As part of MTI's strategy to grow Singapore's trade, the ministry will boost efforts to cultivate a strong core of locally-grown traders that "command global scale and are highly innovative", Mr Gan said. An example he raised was Fish International Sourcing House, a homegrown seafood trader that has a presence in more than 90 markets.
Under this Trade 2030 strategy, MTI aims to grow Singapore's export value from S$805 billion to at least S$1 trillion and double offshore trade value from US$1 trillion (S$1.36 trillion) to US$2 trillion.
Enterprise 2030: As for developing Singapore's enterprises, MTI's two-pronged strategy entails supporting the growth of companies with a high potential to be globally successful and strengthening the core capabilities of the broad base of local enterprises in industry transformation, said Second Minister for Trade and Industry Tan See Leng.
To do that, MTI will launch the Singapore Global Executive Programme in the second half of 2022 to help local enterprises with global expansion ambitions to build a pipeline of young local talent with the potential to take on regional or global leadership positions.
The Economic Development Board will be launching a Mergers and Acquisitions (M&A) grant to co-fund the qualifying spending on Singapore-based professional and financial advisory services incurred on an M&A deal.
MTI will also work with SkillsFuture Singapore to bring on board multinational corporations and large local enterprises to curate industry-relevant training courses in emerging growth areas such as robotics and Industry 4.0 under the SkillsFuture QueenBee programme.
S$70 million Food Services and Retail Business Revitalisation Package: To help the food services and retail sectors that have been repeatedly battered by Covid-19 disruptions, MTI will introduce a financial package to help these businesses. 
The package will extend crucial support for companies in these sectors to improve productivity and equip them with capabilities to pivot and transform their businesses. It will also help companies beef up manpower in the hiring and training of locals.
Our Heartlands 2025 initiative: Enterprise Singapore will be launching an initiative estimated to cost around S$50 million to help neighbourhood mom-and-pop stores by raising revenue, improving operational efficiency and attracting more customers. 
The four-year programme will seek to deepen their digital and manpower capabilities, upgrade the capabilities of the Trade Association and Chamber partners and revitalise the heartlands and heartland shops.
The aim is to have nine in 10 shops by 2025 adopt at least one digital solution such as online sales.
The Government will also widen the reach of the Heartland Visual Merchandising Programme, which has about 100 business owners enrolled at present, which helps them acquire new skills in product placement, digital content creation and to redesign their storefronts.
2. MCI
New Codes of Practice against online harm: The MCI is planning to introduce a Code of Practice to protect online users in Singapore.
To protect children, the code will require online platforms to have robust systems such as content filters to minimise the exposure of children and young persons to harmful content.
The code will mandate that online platforms make it easy for users to report harmful content. They must also be responsive in acting on these reports and must inform their users when action is taken.
Online platforms will also be required to provide information on what they are doing to keep users safe. 
Review of the Cybersecurity Act: The review by the Cyber Security Agency of Singapore, expected to complete by 2023, is centred around three key questions, said Communications and Information Minister Josephine Teo. 
The questions are:
1. How can Singapore ensure that software vulnerabilities are patched quickly before malicious actors strike?
2. What should be considered "critical information infrastructure", so that beyond physical systems, virtual assets including those not hosted in Singapore can be protected?
3. How can digital infrastructure and services — such as those that provide access to emails, websites or apps — be protected from disruption?
Advanced Digital Solutions scheme: MCI will help small- and medium-sized enterprises adopt more advanced technology through a scheme launched in 2020, with a greater emphasis now placed on artificial intelligence and cloud-based solutions.
Helping polytechnic, ITE graduates enter tech roles: The Infocomm Media Development Authority will establish a TechSkills Accelerator for ITE and Polytechnics Alliance to encourage leading tech companies to offer more internship opportunities, graduate apprenticeships for these students. The programme aims to create 1,000 openings over the next three years for these students, who are at times overlooked in favour of university graduates.
Alternative Dispute Resolution (ADR) Scheme: The ADR Scheme will be launched in April to help work out issues that customers are unable to resolve directly with their telecommunication providers. It is compulsory for companies to participate in the resolution process once filed by a customer.
Telcos will also have to publish their consumer complaint statistics regularly, starting from the first half of this year.
3. MOM
Complementarity Assessment Framework (Compass): This points-based system will be used to assess all new applications for Employment Passes (EPs) from September 2023. It will evaluate applications on a range of criteria to ensure EP holders better complement local workforce and that companies put in effort to build up the skills of local hires.
End of SG United Traineeship Programme: The programme, which offers paid training for fresh graduates at host companies, will not be renewed as the hiring prospects improved recently. As of December 2021, more than 11,700 had been accepted into this programme, with eight out of 10 eventually securing full time employment either with the host companies or elsewhere.
SGUnited Mid-Career Pathways Programme extended for mature job seekers: This programme offers paid attachment opportunities for mid-career individuals. It will be retained only for mature workers aged 40 and above, with each participant eligible to receive a month allowance of S$1,800 to S$3,800. 
Government support for this scheme will decrease from 90 per cent to 70 per cent of the monthly allowance, with the host company funding the remaining 30 per cent.
Enhanced Migrant Worker Medical Coverage: MOM will enhance the coverage of the mandatory medical insurance to better protect employers against large medical bills of their Work Permit and S Pass holders, including those of migrant domestic workers.
Employers will continue to be fully insured on a first-dollar coverage basis for the first S$15,000 insured that is currently required of them. To enhance protection, a co-payment portion up to an annual claim limit of S$60,000 will be introduced, with insurers bearing 75 per cent of the bill.
Insurers must also introduce age-differentiated premiums to help keep premiums affordable. They will be required to reimburse hospitals directly upon the admissibility of the claim, to ease the cashflow burden on employers.
Manpower for Strategic Economic Priorities scheme: The Government will launch a scheme later this year to support the growth of businesses that contribute to Singapore's economic priorities. This scheme will provide firms "some flexibility" to hire S Pass and work permit holders beyond the prevailing Dependency Ratio Ceiling for a limited period of time, said Minister for Manpower Tan See Leng.
MTI and participating economic agencies will support firms that meet their criteria of undertaking ambitious investment, innovation, or internationalisation activities. This would include firms that participate in existing schemes such as Enterprise Singapore's Scale-Up SG, and the Economic Development Board's Research and Innovation Scheme for Companies.
Non-Traditional Source Occupation List: MOM will introduce a "tight list" of rank-and-file occupations where employers will be allowed to hire foreign workers holding S Passes on work permits, Dr Tan said. This new scheme will allow businesses in the services and manufacturing sectors to cope with the higher benchmark for foreign workers to qualify for an S Pass. 
This list will be introduced in September 2023, when the first increase in S Pass qualifying salary for renewal applications kicks in. The list will include seven occupations including welders, food processing workers, as well as cooks in Indian restaurants.