Devastated family of woman killed in PMD collision urges speedsters to 'know the consequences'
SINGAPORE — Looking at the terrible injuries suffered by his 65-year-old aunt, he could hardly believe that a personal mobility device (PMD) could inflict such damage.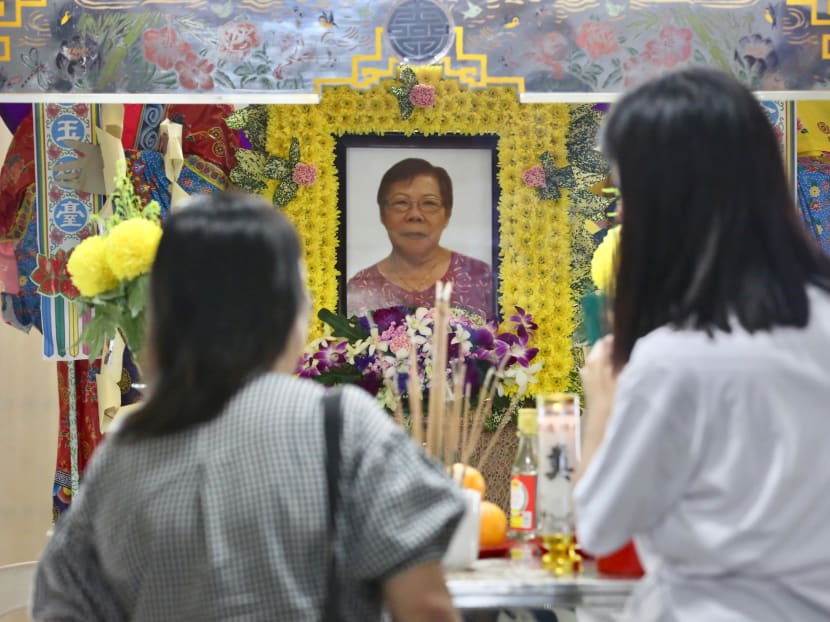 SINGAPORE — Looking at the terrible injuries suffered by his 65-year-old aunt, he could hardly believe that a personal mobility device (PMD) could inflict such damage.
Speaking to TODAY at the wake of Ong Bee Eng, her 38-year-old nephew, who wished to be known only as Mr Sim, said that her head was swollen, heavily bruised, and still bleeding through her bandage even after surgery.
"Blood was still flowing out (of her head). Blood was still dripping through her bandage," Mr Sim said on Thursday (Sept 25).
Ong  died in hospital on Wednesday, four days after a collision with an e-scooter in Bedok.
Last Saturday, her bicycle and an e-scooter operated by a 20-year-old man were involved in a crash near Block 539 Bedok North Street 3 at about 11pm. She was taken to hospital unconscious.
Ong, a logistics assistant with courier company DHL, suffered fractures to her ribs and collar bone in addition to her severe head injuries. She never regained consciousness and remained in a coma at Changi General Hospital's (CGH's) surgical intensive care unit until she died.
The e-scooter rider, who was also taken to hospital, has been arrested and the police are now investigating the case as causing death by rash act.
In a statement on Thursday, the Land Transport Authority (LTA) said that the PMD involved in the collision on a shared cycling path exceeded the weight and width limits and should not have been used on public paths.
Mr Sim added that he was also "pretty shocked" to hear from doctors at CGH that his aunt had suffered "very serious brain damage" caused by a "large force".
"I was confused. I asked, 'How could a PMD have generated so much force?'" he said.
He is more enlightened now, having read up compulsively over the past few days and learnt that some PMDs can travel at speeds of 60km/h or more, although the LTA has already stipulated that users are not to ride at speeds exceeding 25km/h.
To inconsiderate PMD users who ride along shared paths at such high speeds, he has a blunt message: "Consider, one day, what if your loved one was hit? What are you going to tell yourselves?"
As the family appealed for eyewitnesses to step forward, one of them, a 53-year-old who wished to be known only as Mr Yang, told Chinese newspaper Shin Min Daily News that the e-scooter allegedly appeared to be moving at more than 50km/h. The police have not made any statement on the speed of the device at the time of the accident yet.
Mr Sim is uncertain of what happened, but he said: "Cars, at 50km/h to 60km/h, can easily maintain control. But for PMDs, I am not sure if it is built for that. To ride at 50km/h to 60km/h is one thing. To maintain control at that speed is another thing."
The case has sparked renewed calls to ban PMDs. However, Mr Sim felt that such a step would not solve the problem.
"While regulations can be in place, ultimately, if (a person) wants to ride recklessly, nobody can stop you," he said. "They need to know what consequences can come of (their reckless riding). They should control (their speeds) before it is too late."
'SHE WAS ALWAYS THERE FOR US'
More than 100 friends and family visited Ong at the hospital when she was in critical condition. Mr Sim said the turnout reflected the kind of person she was — generous, kind-hearted and outgoing.
Ong, who was widowed, is survived by two children and three grandchildren.
As she was the oldest among her four siblings, Mr Sim said she shared a special bond with her family and they would occasionally gather at her flat located on Chai Chee Street.
"She was always there for us, always there asking if we needed food," Mr Sim added. His late aunt often pampered her grandchildren with McDonald's Happy Meals and their favourite food.
On the day of the collision, she had just gone to the supermarket to buy some green tea to have on hand, so that her family would have something to drink whenever they visited, he said.
Earlier that day, she had visited her 88-year-old mother, who had been hospitalised at the Singapore General Hospital for about two weeks, and attended someone else's wake.
She was a familiar face to many in her neighbourhood. On the day of the accident, a passerby recognised her and contacted a male friend of his aunt's, he said.
The man then accompanied Ong, who was bleeding profusely, to the hospital in an ambulance. Mr Sim said he met this "uncle" friend because he stayed at the hospital while she was undergoing surgery.
In a Facebook post on Tuesday, Ong's niece, Ms Ko Chin Fung, said that she cried so much she was unable to speak. She "could no longer recognise" her aunt on the hospital bed. Her head injuries were so severe that blood was flowing out of her ears, she said.
Remembering Ong, she said: "My childhood was always filled with memories of her, but now we can no longer gather at her house without her any more.
"Her house will no longer be filled with her loud and melodious voice. We can no longer hear her parking her bicycle outside the house, and most importantly, she can't hear us call her 'dayi' (Chinese for oldest aunt) any more."