E-scooter rider jailed 5 days for crashing into 6-year-old boy on Punggol Park Connector
SINGAPORE — While Neo Wei Chia was riding his electric scooter along the Punggol Park Connector last year, a six-year-old boy suddenly ran into his path.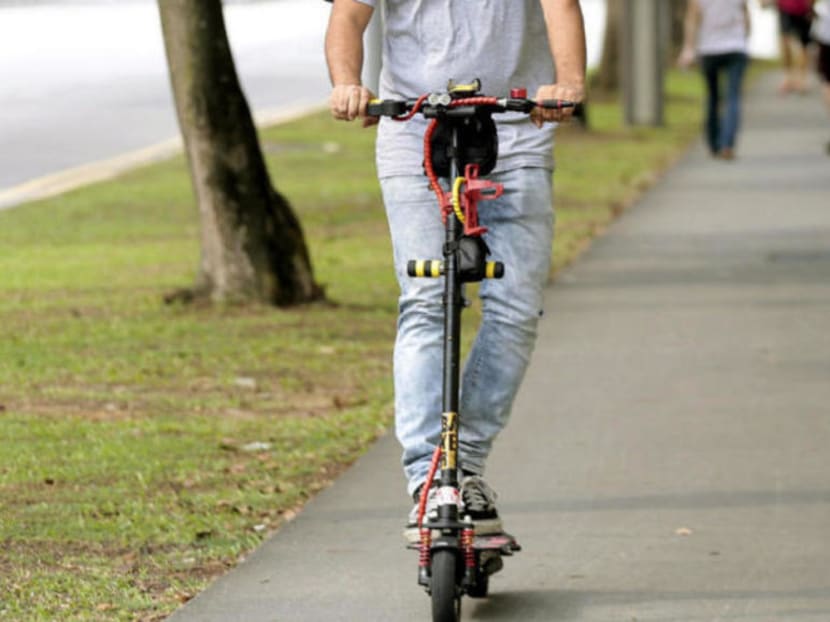 SINGAPORE — While Neo Wei Chia was riding his electric scooter along the Punggol Park Connector last year, a six-year-old boy suddenly ran into his path.
The 42-year-old man braked but could not stop in time, hitting the boy on his back. The child suffered fractures and temporary hearing loss from the accident.
Neo was sentenced to five days' jail on Thursday (Nov 7) after pleading guilty to one charge of causing grievous hurt by a negligent act. He could have been jailed up to two years, fined up to S$5,000 or both.
The court heard that the boy was cycling with his grandmother along the park connector on April 12 last year, at about 6.30pm.
When they approached the entrance of the Riversails Condominium, where they lived, he got off the bicycle. His grandmother continued cycling while he decided to run along the left side of the park connector.
At the same time, Neo was riding his e-scooter "speedily" on the right side of the park connector, Deputy Public Prosecutor (DPP) R Arvindren said. The weather was clear at the time and there was little human traffic.
Neo had a clear view of the path up ahead where the boy was running but did not slow down. Then the boy suddenly ran over from the left side of the path to the right and into Neo's path.
When Neo noticed the boy at the last moment, he braked but collided into him.
Both of them fell to the ground, and the boy began bleeding from his ear. His grandmother heard the commotion and immediately went over.
Neo waited at the scene with them while the boy's father arrived.
The boy was taken to KK Women's and Children's Hospital, where doctors found that he had suffered several superficial abrasions, cuts, hearing loss and fractures.
Neo was also injured with several abrasions on his elbows, fingers and knee. He was treated at Changi General Hospital and was given two days of medical leave.
DPP Arvindren told the court that Neo had committed several unrelated offences stretching back to 1994, including drug consumption and theft in dwelling.
The prosecutor sought at least one week's jail for Neo, saying that the recent spate of accidents involving personal mobility devices "knocking down hapless pedestrians or members of the public" showed that negligent riding offences are prevalent.
Just this week, the Government banned e-scooters from all footpaths starting from Tuesday. Riders may now use them only on cycling paths and park connector networks, such as the one Neo was using.
"There is no doubt that there is an urgent need to make pedestrian paths safer for all users," DPP Arvindren added.
Neo's lawyer K Jayakumar Naidu did not object to jail time. In mitigation, he said that Neo had not been speeding and that the boy had dashed across the path into Neo's way.
Principal District Judge Ong Hian Sun noted that e-scooter riders have to take precautions and pay attention when young children are around.