Invention to relieve eczema itching runner-up in James Dyson Award; winning entry helps stroke sufferers
SINGAPORE — Ms Koh Bei Ning, 23, who has suffered severe bouts of eczema since she was 14 years old, said that waking up to blood-stained bed sheets due to bleeding skin was common for her.
Rehabit, an intuitive rehabilitation tool for stroke patients, has won the James Dyson Award 2022 on the national level and will progress to the international stage of the award
Its inventor John Tay, a recent industrial design graduate, was inspired to work on the project after his father's stroke in 2021
Runner-up Koh Bei Ning, who suffers from eczema, designed a rollerball itch reliever to help eczema patients cope with itchy skin and avoid scratch-related injuries
The international shortlist comprising of 20 entries will be announced on Oct 12, with the winners to be announced on Nov 16
SINGAPORE — Ms Koh Bei Ning, 23, who has suffered severe bouts of eczema since she was 14 years old, said that waking up to blood-stained bed sheets due to bleeding skin was common for her.
"My first flare-up was the worst one, where half my face was raw and red. Also, there would be weeping (referring to the oozing of pus) of skin," she said. Ms Koh now works as a designer at the Design Incubation Centre of the National University of Singapore (NUS).
Before inventing the rollerball itch reliever — which is a textured rollerball to provide a sensation like scratching to the skin — Ms Koh tried rubbing or slapping her itchy skin. Both, however, were ineffective.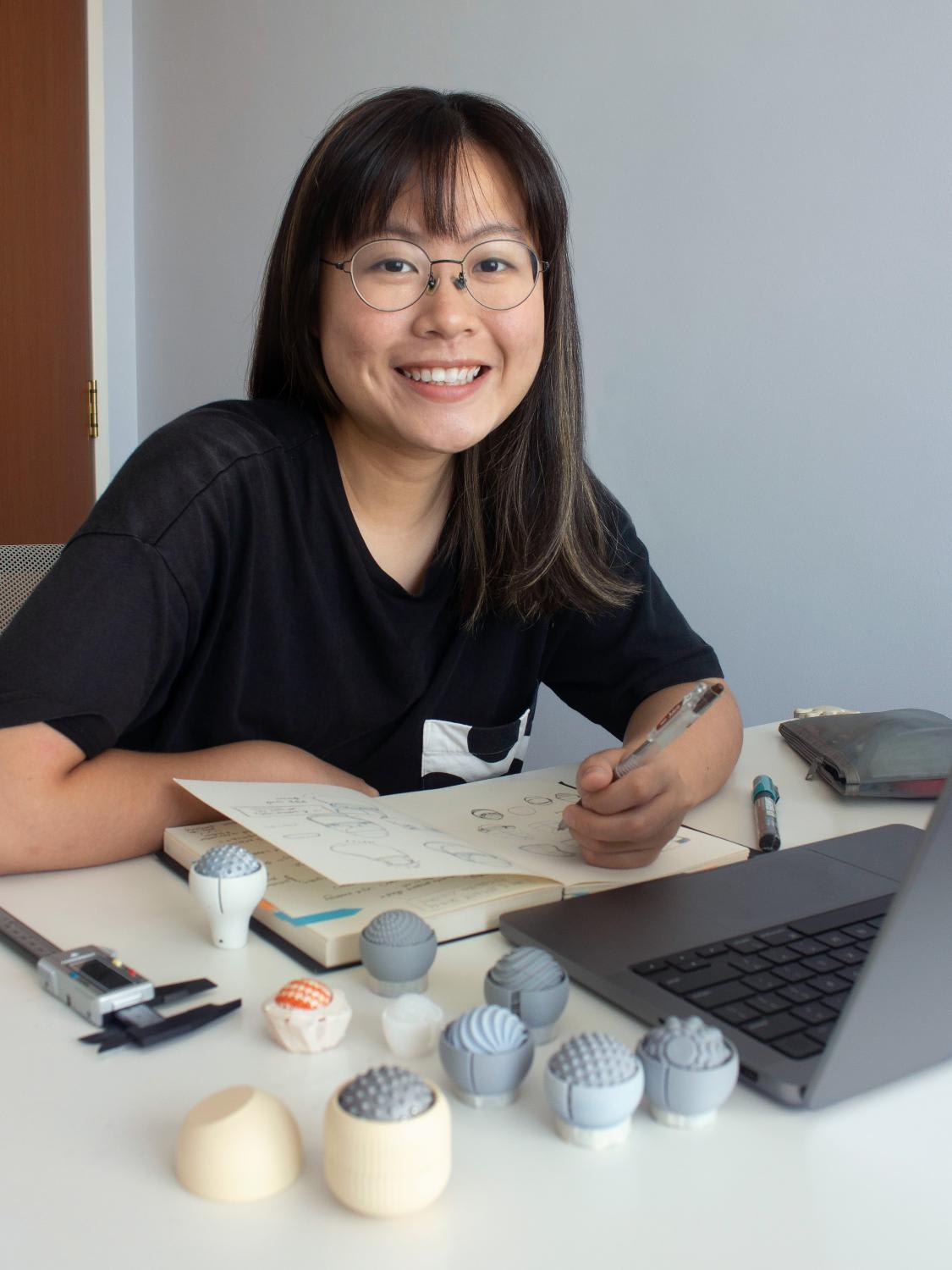 Seeing that other "scratchers" were also not up to her expectations, Ms Koh decided eventually to create her own.
Originally made for her final-year project, Ms Koh entered her product for the Singapore National James Dyson Award for 2022. 
On Wednesday (Sept 7), her product was named as one of two runner-ups. The other was an automated farming system mounted on building exteriors to enable anyone to grow their own produce at home.
Established by British engineer and inventor James Dyson, a billionaire businessman, and handed out yearly since 2005, the award seeks to recognise problem-solving innovations by current and recent design engineering students.  
Entrants must be enrolled for at least one semester in an engineering- or design-related course at the undergraduate or graduate level, or have done so within the last four years.  
The entries are judged first at the national level within each participating country by a panel of external judges and a Dyson engineer. The panel selects a national winner and two national runners-up. 
The international shortlist comprising 20 entries will be announced on Oct 12, with the winners to be announced on Nov 16. 
Ms Koh's multi-directional rollerball, developed from January to April this year, ensures that there is no drag on the skin, which will damage it. 
"While the rollers aim to provide relief to the skin, they are not meant to replicate scratching, which is precisely what people having eczema should avoid," she said. 
After creating around 80 prototypes, she picked 14 designs with six types of spotted balls to test with patients. Receiving feedback for each one, she chose a version that was found to be the best among users. 
She hopes to eventually offer some of the other versions of the rollerball, due to requests for such balls made even by people without eczema seeking to relieve themselves from itch. 
"Possibly, the product can be catered even to pregnant women, many of whom experience itchy sensations around the belly," she said. 
Ms Koh said that her invention has received positive feedback from members of the eczema community as well as from dermatologists. "Though my invention does not replace therapy, it is something that they can turn to for relief," she added.
Details on whether the product will enter the market are not finalised yet.
The product is now with the NUS Design Incubation Centre where Ms Koh is working closely with the centre's team on further development, testing, sourcing for grants as well as to explore the potential of commercialisation.
TOOLS DEVELOPED TO HELP FATHER WITH STROKE 
When industrial design student John Tay was studying for his final year at NUS last year, his father suffered a stroke in November.
As the family absorbed the emotional impact of this medical blow, Mr Tay decided to find a way to help his father recover.
"His physiotherapist recommended several exercises. However, there was a lack of availability of proper equipment. Instead, he had to rely on makeshift methods such as towels and plastic bags during treatment."
It was then when Mr Tay decided to develop Rehabit, a set of assisted exercise tools that allow patients to perform exercises such as arm, wrist and finger movements safely and independently. 
With one of the tools attached to a mobile phone holder,  patients can accurately record their range of motion. They can also use it with existing accelerometer-based games, to keep exercises engaging and fun, increasing the chances of a successful recovery.
Mr Tay submitted these tools as part of his final-year project.
Now, the 27-year-old's tools have clinched for him this year's Singapore National James Dyson Award Winner with a prize of S$9,000.
Rehabit consists of four products, which focus on upper-limb rehabilitation including: 
Shoulder inner and outer rotation
Forearm pronation and supination 
Wrist flexion and extension 
Finger extension
Mr Tay described the fourth product for finger extension to be "the most important product".
"Without stretching finger muscles, it could lead to permanent shortening of the tendons for stroke patients. So this product helps stretch their fingers out and open the way for them to do many other hand exercises."
Although the entire set costs S$150, the tools can be bought individually as well online.
"Patients who require a discount are referred to by their therapists," Mr Tay added.
He hopes that eventually, the selling price can be brought down further via increased production.
Mr Tay also said that a mobile application linked to the tools will be developed soon tentatively by next year. This is to schedule regular exercise sessions, chart progress and provide other therapists access to data required to tailor more insightful repeat sessions.
Therapists who were impressed with the tools decided to place orders for their work with stroke patients. 
Mr Tay wishes to further commercialise the product and scale into other sectors of therapy such as that for cerebral palsy.
Through the award, he also hopes to raise more awareness around stroke recovery and help more patients "like my father, through Rehabit". 
Mr Tay plans to reinvest the National Winner prize money from the James Dyson Award of S$9,000 back into Rehabit, to further support its expansion.
"I am excited as this will give me the opportunity to reach out and help so many more patients in their recovery journey."