Explainer: Could jogging behind someone get you infected with Covid-19?
SINGAPORE — A Dutch-Belgian study that has been widely shared online suggests that joggers and cyclists should stay up to 10m away from others doing similar exercises to avoid the risk of catching Covid-19 — but the research has already drawn sharp criticism from other experts.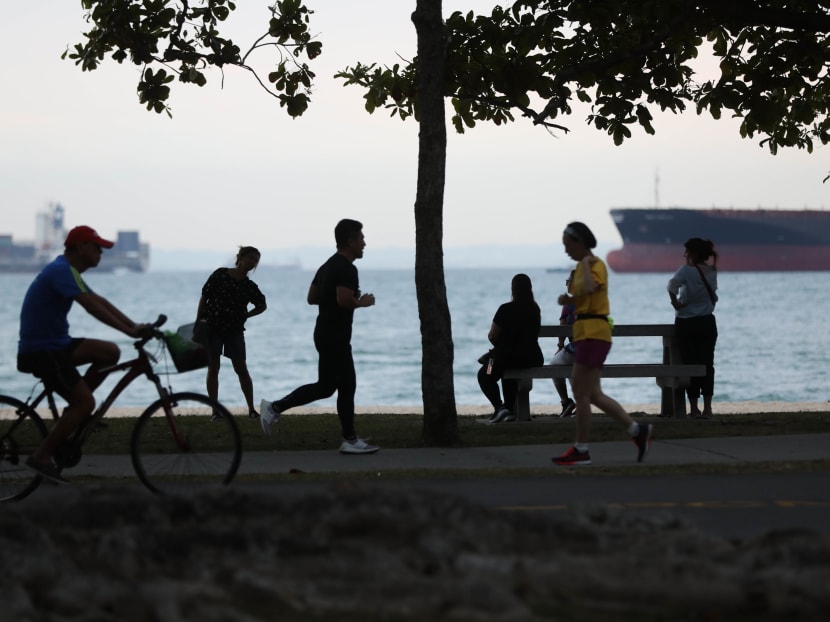 SINGAPORE — A Dutch-Belgian study that has been widely shared online suggests that joggers and cyclists should stay up to 10m away from others doing similar exercises to avoid the risk of catching Covid-19 — but the research has already drawn sharp criticism from other experts.
The study finds that joggers and cyclists are safer being alongside each other than with one in front of the other.
Its conclusions represent a marked departure from the standard advice to stay 1m to 2m away from others while exercising outdoors, but critics challenge the study's lack of peer review — a common practice in research — and its methodology.
Still, the authors have drawn some support. One Princeton academic says puffing and panting by an infected person while exercising could spread airborne Covid-19 particles farther than usual — and that a heavily breathing potential recipient might be more likely to suck them into his or her lungs.
The Dutch-Belgian study, which focuses on the "slipstream effect" of one jogger running behind another, is accompanied by an animation depicting the claims it makes. It has generated panic among some internet users concerned that even exercising in relatively non-crowded areas may result in their contracting Covid-19.
Under the circuit breaker measures in effect until May 4, Singaporeans may still exercise, but on their own or with members of their household in open, uncrowded spaces. Safe distancing measures, such as keeping 1m apart, must also be observed at all times.
TODAY looks at what the study says, what it recommends and why some experts are taking issue with it.
WHAT'S THE DEAL WITH THIS STUDY?
The study, titled "Towards aerodynamically equivalent Covid-19 1.5m social distancing for walking and running", is published by researchers from Eindhoven University of Technology in the Netherlands and KU Leuven in Belgium.
The lead researcher is Professor Bert Blocken, a civil engineer who is an expert in urban physics, wind engineering and sports aerodynamics at Eindhoven.
On April 7, Prof Blocken posted a simulation on his Twitter page, showing how respiratory droplets can travel from one person to another while they are exercising outdoors. It goes on to suggest that running beside someone is safer than running behind someone, as there is less exposure to the droplets.
His study became popular online after another post on the website Medium on April 8 by entrepreneur Jurgen Thoelen, titled "Belgian-Dutch Study: Why in times of Covid-19 you should not walk/run/bike close behind each other", made reference to it. In his post, Mr Thoelen said that he would run on the streets instead of busy parks after reading the study.
WHAT DOES THE STUDY SAY?
The study says that while the recommended safe distance of about 1.5m in most countries is effective when people are standing still, it does not account for the potential aerodynamic effects introduced by a moving person who may be walking fast, running or cycling.
It then uses computational fluid dynamics simulations, a form of computer simulation commonly used by engineers, to measure the airflow around a runner and the distance travelled by droplets when he or she exhales.
The study found that a person walking or running directly behind someone, also known as the slipstream position, gives the largest exposure of droplets to the person behind.
The study then recommends that people keep a distance of up to 5m away if they are walking directly behind another individual. Those who are running or cycling slowly should keep a distance of 10m away.
They may also run in staggered positions or side-by-side to avoid passing through clouds of droplets from the person in front, it suggests.
WHAT'S THE ALLEGED PROBLEM WITH THE STUDY?
The study is a "white paper", which means it is not peer-reviewed.
Peer review refers to the process in the academic world where someone's research has been looked over by other experts in the same field — who may identify errors — so that it is ready for publication in widely respected scientific journals and the like.
This has resulted in backlash from other experts, who say that the study has misled the public.
"He did not consult a virologist, clinical physician or epidemiologist in his research. Since we are all used to only having vetted, peer-reviewed research put out in the public square like this, readers, including Mr Thoelen, took it as scientific fact," said Dr Jennifer Kasten in a Facebook post on April 11. Dr Kasten is an assistant professor in the department of pathology at the University of Cincinnati in the United States.
Responding to criticism on his Twitter page on April 9, Prof Blocken said that he had released the study given the "urgent" situation facing the world.
"Should the public wait for months until the peer review process is finalised?" he asked on Twitter.
Dr Ooi Eng Eong, deputy director of the Emerging Infectious Diseases Programme at the Duke-NUS Medical School, disagreed, saying that with people sharing information on Covid-19 rapidly, skipping the peer review process may lead to researchers misinforming the public.
He said that if a study is important, it can still be put out after going through a rapid peer review process.
The study has also been criticised by some for not being realistic.
The simulation, for instance, shows how someone who is running can "spray" another person who is running directly behind with droplets when he or she coughs or sneezes.
Yet Dr Kasten said in her Facebook post that humans do not generate a continuous mist of droplets under steady pressure.
Moreover, particles from a cough or sneeze usually spread out in front of a person and disperse laterally, said Dr Kasten.
Dr Ooi agreed that the study did not reflect how viruses are transmitted in real life.
"Exposure to one virus does not cause infection. You need a minimum load of virus getting in (to someone) at the same time," said Dr Ooi, who added that viruses usually dilute when they are in the air.
Dr Ooi also said that there was no evidence so far to suggest that the coronavirus can be transmitted by air, and that this happens mainly through touch.
Still, researcher Dylan H Morris of Princeton University in the US, who has a Master of Philosophy in Applied Biological Anthropology from Cambridge University in Britain, was quoted on the Australian Broadcasting Corporation television programme 7.30 as lending some support to the broader questions raised in the study.
"It is quite plausible that when you are breathing more heavily when exercising, you pose a slightly higher risk to others because you are expelling more particles, and indeed, you yourself are at slightly higher risk because you are taking these deeper breaths," he said.
"Imagine that everyone is smoking, and think about it that way. If you were standing right next to a smoker, and they puffed in your face, you would inhale a lot of smoke. If you are standing six feet (about 2m) away, you will inhale less, and if you are standing 12 feet away (about 3m), you will inhale even less than that.
"And maybe even consider exercising in a face mask, which particularly will protect others from you, because while it will not block everything, it will block something of that flying exhalation."
In a question and answer on his study released on April 13, Prof Blocken acknowledged that his study did not draw any conclusions on infection risks. Rather, it reports on aerodynamic results of droplets, and he said that there is potential for future collaboration with virologists, who study viruses, and epidemiologists, who study disease control.
CAN I STILL EXERCISE OUTSIDE?
Associate Professor Lim Poh Lian, a senior consultant at the National Centre for Infectious Diseases, told Singaporeans to take the claims of the study with "a healthy scepticism" while it is being validated and to continue exercising outdoors with sensible precautions.
While being outdoors generally improves ventilation and reduces the risk of respiratory transmission, Assoc Prof Lim said that there remained many factors to consider.
"For example, if a stiff breeze is blowing, and you are 1m away, depending on whether you are upwind or downwind from the infected person, that might decrease or increase your risk of infection."
She recommended that those exercising outside generally keep as far as possible from the next person when doing so.
"In general, if you are running behind someone in still air, then you are, by definition, downwind from them. If you want to exercise outdoors, try to keep as much distance as possible. As mentioned, 2m is safer than 1m, and is generally feasible outdoors," said Assoc Prof Lim.
She suggested that people exercise when parks are less crowded, and not to share towels or drink from the same bottle.
Likewise, Dr Ooi said that Singaporeans can continue to exercise but should avoid congregating or gathering, as this could increase the risk of transmission.
While the study highlights the risk of jogging or cycling directly behind someone, Dr Ooi said this was less important than instances where two people exercising come into contact with the same surface. For example, the virus may spread when two people touch the same handrail when doing stretching exercises.
Dr Ooi also advised those who exercise outdoors to be aware of how frequently they touched their nose and mouth, as this is the main way the virus spreads.