Explainer: What are polders and how does the Govt plan to use them to defend S'pore against climate change?
SINGAPORE — When Prime Minister Lee Hsien Loong devoted a big part of his National Day Rally speech on Aug 18 to climate change, many listening may have encountered an unfamiliar word — "polders".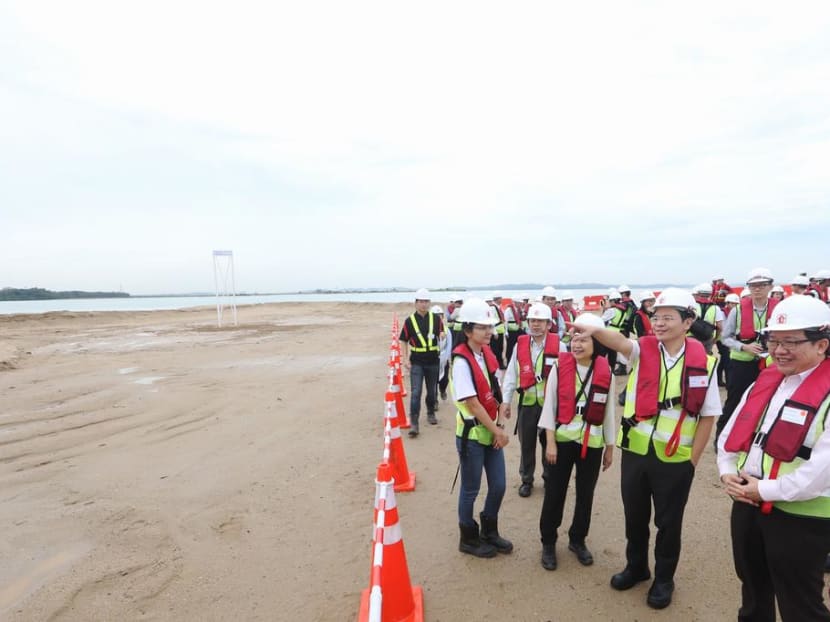 SINGAPORE — When Prime Minister Lee Hsien Loong devoted a big part of his National Day Rally speech on Aug 18 to climate change, many listening may have encountered an unfamiliar word — "polders".
In his speech, Mr Lee warned that significant areas of Singapore are 4m above mean sea level or lower, and they will increasingly be at risk of going underwater when sea levels rise.
To address this, he said that the Government is prepared to invest about S$100 billion or more over the next 50 to 100 years to strengthen its coastlines against the threat of rising sea levels.
And that's where polders come in. The money will mainly be spent on coastal defences, including plans to build polders, along with reclaiming offshore islands or building dykes.
But what exactly are polders, and how do they work? Speaking to some experts, TODAY takes a look at polders to understand the potential challenges of using them to defend Singapore against climate change.
WHAT ARE POLDERS?
Responding to queries from TODAY on Sept 3, Professor Benjamin Horton of Nanyang Technological University's Asian School of the Environment said that a polder is "a low-lying area of land surrounded by embankments known as dykes".
Prof Horton, who is also a principal investigator of the Earth Observatory of Singapore, added that there are three types of polders:
Land reclaimed from a body of water, such as from a lake or the sea bed, through the construction of a dyke and a network of drains, water pumping systems and canals

Floodplains separated from the sea or river by a dyke. A floodplain is an area of low-lying ground adjacent to a river, formed mainly of river sediment, which is vulnerable to flooding

Marshes separated from the surrounding water by a dyke which are subsequently drained
Singapore plans to investigate the first option, he said.
Civil and structural engineer David Ng said that the main materials used to build a polder are sand and stones for the dykes and cement which is used to strengthen the soft clay of the sea bed during deep soil mixing.
Deep soil mixing is an engineering method which is used to strengthen weak soil by mixing it mechanically with a slurry — a semi-liquid mixture — that includes either a dry or wet binder, depending on the method used.
HOW DO THEY WORK?
Mr Piet Dircke, who is the global leader for water management at global engineering and design consultancy Arcadis, told TODAY that polders are essentially man-made water management systems.
To create a polder, he said, three things are required: A dyke around the land area, pumps to get rid of the excess rainfall and to drain the sea water and storage space to retain the excess rainwater before it is removed.
When water enters the low-lying polder through infiltration and the water pressure of ground water, Prof Horton said that the water is "pumped out or drained by opening sluices" — gates or other devices that control the flow of water — at low tide.
Because of this, Mr Dircke said that polders are not affected by "the challenges that (rising) sea levels pose" as long as the system is managed proficiently.
COST AND DURATION
Mr Ng, who is also a member of the civil and structural technical committee at the Institution of Engineers, Singapore said that the polder development project at Tekong Island — which involves a dyke that is 10km in length and 15km wide surrounding 810ha of reclaimed land — will cost S$1.23 billion to build. The area is about the size of two Toa Payoh towns.
The project, which was announced by National Development Minister Lawrence Wong in 2016, started construction in 2017 and is slated to be completed in 2022.
TODAY understands that the polder is under construction. No official updates have been issued since the initial announcement was made.
Mr Ng noted that for future projects, "a project timeline and cost are dependent on the factors of the project site such as seabed depth where the dyke is and the geological makeup of the area". These factors will affect the cost of materials and the manpower needed, he said.
WHAT ARE SOME OF THE CHALLENGES?
The experts that TODAY spoke to agreed that maintaining the polders will be one of the greatest challenges of using them to defend against climate change.
Rising sea levels would mean that the dykes will have to be built higher and the polders would have to be deeper. This would make them more expensive to maintain, said Prof Horton.
Similarly, Mr Ng said that as rain storms become more intense due to changing weather patterns, the pump systems installed in the polders will be more difficult to maintain.
"The pumping system would need to be adequate and functional to pump excess rain water within the polder out into the sea, without causing flooding within the polder land," he said.
Mr Dircke also noted that land subsidence — where land sinks due to the withdrawal of large amounts of groundwater — is a potential challenge to maintaining the operation of the polder.
Additionally, while polders are not affected by rising sea levels, he added that they are still vulnerable to other environmental phenomena. For example, giant storm surges can destroy the dykes that are protecting the low-lying reclaimed land and cause flooding.
This is why Mr Dircke believes good governance is key to ensuring that polders remain functional and well-maintained.
"When you build a polder system, you have to be sure that you are able to have the governance system to sustain it… it is a complicated system that requires excellent governance," he said.