Explainer: What led to Malaysia's second major lockdown and its state of emergency
SINGAPORE — A combination of "Covid-19 fatigue", spread of the disease in foreign worker settlements as well as domestic travel during the year-end holidays most likely led to the big jump in infections in Malaysia, analysts here and abroad said.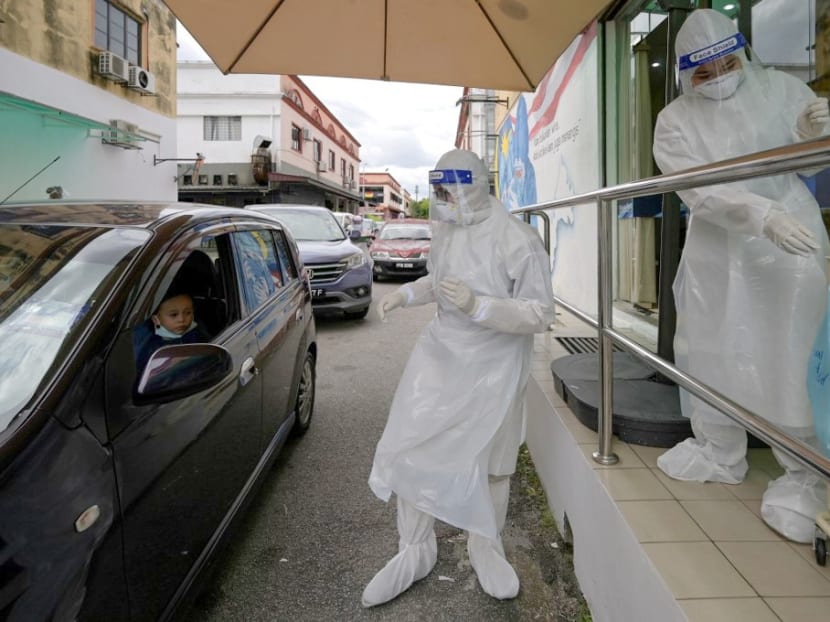 Malaysia announced a second Movement Control Order on Jan 11 and then declared a state of emergency on Jan 12 
This was after cases surged from double-digit lows a day from May to September, to thousands from October onwards 
Observers said the state of emergency is politically motivated
However, they also said this will have little effect on its people who wants the economy to recover
SINGAPORE — A combination of "Covid-19 fatigue", spread of the disease in foreign worker settlements as well as domestic travel during the year-end holidays most likely led to the big jump in infections in Malaysia, analysts here and abroad said.
The Sabah state elections last September was also a contributing factor, Malaysian prime minister Muhyiddin Yassin had said.
As of Thursday (Jan 14), the total number of Covid-19 cases in Malaysia has reached 147,855 and close to 580 people have died from the disease.
On three days this month, there were more than 3,000 daily cases, with a daily record high of 3,377 on Thursday.
The death toll from the first two weeks of 2021 has exceeded 100, compared with 128 deaths from January to August 2020.
On Tuesday, Al-Sultan Abdullah, Malaysia's king, did an about-turn to declare a state of emergency that will stretch until Aug 1 or earlier should Covid-19 cases there come under control.
He had in October last year rejected a proposal by Mr Muhyiddin to make the declaration.
The king's pronouncement came just a day after Mr Muhyiddin said in a televised address that five states including Penang, Selangor, Melaka, Johor and Sabah, and the federal territories of Kuala Lumpur, Putrajaya and Labuan will be placed under lockdown, or a Movement Control Order (MCO), again for two weeks starting Wednesday.
TODAY takes a look at how the coronavirus spread in the neighbouring nation.
THE EARLY DAYS OF DISEASE CONTROL
Malaysia's first Covid-19 cases were reported in January last year and by the time it imposed its first MCO on March 18, there were a total of 790 cases. 
The lockdown was to last two weeks, but was extended to a month.
Malaysia recorded its first deaths from Covid-19 on March 17 and by the end of that month, 43 people had died. The total number of cases by then was 2,766.
The MCO was extended again until the end of April. The total tally was 4,171 in end-April, with 102 people dead.
During this period, the Malaysian government relaxed several measures of the MCO. Two family members were allowed to buy food and daily essentials starting April 30, and on May 4, all public transportation services resumed. 
In May, the number of daily cases stayed mostly under 100, with total cases rising to 6,353.
On May 4, the Conditional MCO (CMCO) took effect, which meant that more economic activities could resume, among other relaxed measures.
Interstate travel was still not allowed, except for work purposes or to return home. 
At that time, the CMCO received some backlash from politicians and health experts, with 340,000 people signing a petition to maintain the movement curbs, due to concerns that there may be a possible resurgence of the virus. 
In early June, Mr Muhyiddin announced the next phase of the MCO, the Recovery MCO, where interstate travel would be allowed, except in areas under tighter restrictions called the Enhanced MCO. 
Like in May, the number of new daily cases over the next four months remained relatively stable. The case numbers rose to 8,354 at the end of June, 8,644 by the end of July, 9,054 by end August and at the end of September, there were a total of 9,967 total cases. 
In September, the Sabah state elections were held, with thousands of political campaigners and cabinet ministers freely mingling during the campaign period, and then returning to their home states after the polls. 
SURGE IN CASES IN OCTOBER
The tide turned in October, with daily cases soaring to the hundreds, rising to as high as 1,240.
At the end of the month, total case numbers in the country had risen almost threefold to 31,548. 
That month, Mr Muhyiddin made his first plea for a state of emergency to be declared, but the Malaysian king decided that there was no need for one.
Sultan Abdullah also delivered a warning directed at politicians looking to unsettle the country's administration.
The proposal for a state of emergency happened after opposition leader Anwar Ibrahim was granted a royal audience with the king. Datuk Seri Anwar claimed to have gained the support of "over 120 Members of Parliament" to take over the government.
Mr Muhyiddin then acknowledged in November that the Sabah state elections was the cause of the new wave of infections. The number of cases did not abate in November, doubling to 65,697. 
In early November, the Malaysian authorities announced that it would be reinstating the CMCO throughout most of the nation. 
FOREIGN WORKER CLUSTERS EMERGING
At this time, large Covid-19 clusters also began to appear in foreign worker dormitories. 
In a report by The New Straits Times, Dr Zainal Ariffin Omar, president of the Malaysian Public Health Physicians Association, said that some of the Covid-19 clusters in November indicated that community transmission had taken place in foreign worker settlements. 
He added that this was bound to happen, as low-skilled migrant workers often live in cramped accommodation with poor hygiene and ventilation, the newspaper reported. 
In December, glove manufacturer Top Glove was investigated by the authorities for not complying with standards for worker accommodation, leading to thousands of infections among foreign workers. 
INTERSTATE TRAVEL ALLOWED IN DECEMBER 
Although case numbers at the start of December showed no signs of abating, the authorities confirmed that the CMCO would end for most states on Dec 7.
The authorities said that police checks would no longer be conducted at road blocks between states, Malay Mail reported. This will also apply to areas under CMCO such as Selangor and Kuala Lumpur.
Political and health experts interviewed by TODAY said that the relaxation on interstate travel led to a further spike in Covid-19 cases, when Malaysians took the opportunity to travel domestically for the year-end holidays. 
Dr Leong Hoe Nam, an infectious diseases specialist from Mount Elizabeth Novena Hospital here, said that the authorities were threading a "very thin line" and had a "very difficult" task in balancing the revival of the economy and the health crisis. 
"You have a country divided in politics fighting a disease that works by keeping us physically separated," Dr Leong said. "Any physical action of solidarity is the means to spread the virus." 
Agreeing, Dr Serina Rahman from the Malaysia programme at Singapore's Iseas-Yusof Ishak Institute said that fatigue might have set in among the population. 
"With the long drag in restrictions in various forms, people were also beginning to ignore appeals to stay home, with many insisting on large family gatherings and going on holiday" she said. "And so, it got worse." 
In an open letter to Mr Muhyiddin published by Malaysiakini news site in January, 46 healthcare professionals proposed 10 "urgent and critical actions" to manage the rise in Covid-19 cases. 
Among the suggestions were calls to ramp up testing using rapid test kits, automate contact tracing with digital applications that would quicken the tracking process, and to stop politicising the pandemic. 
The rise in cases heading into January led to the current imposition of the second MCO. 
The key restrictions during this lockdown include: 
No travelling between states or districts

Roadblocks will be set up to limit travel to a 10km radius from home

People are urged to stay home; only two people in each household are allowed to head out to buy groceries

Social gatherings are banned, including weddings, seminars and group sport

Only five essential economic sectors are allowed to operate: Manufacturing, construction, service, trade and distribution, and plantations and commodities

People employed in non-essential services fields are to work from home
POLITICAL MOTIVES? 
The analysts told TODAY that while a state of emergency might be politically motivated — the Muhyiddin administration, which barely commands a parliamentary majority, has bought itself some time — Malaysians are prepared to give their prime minister "the benefit of the doubt". 
Mr Muhyiddin had said that an election would be held as soon as an independent committee declares that the pandemic has subsided and it is safe to hold one.
A state of emergency now means that parliament is suspended, possibly until August, and the prime minister and his administration would have the power to make rules and approve spending deemed necessary to ensure public security, or introduce laws without the approval of parliament.
Opposition parties had criticised Mr Muhyiddin for clinging to power at a time when he faced calls to step down and hold a general election.
Professor James Chin from Tasmania University who specialises in Asian studies said: "For the majority of Malaysians, they don't care about the politics, they care about the economy." 
He added that with the case numbers spiralling out of control and beds in intensive care units being "completely full", people are awakened to the fact that there is "really a health emergency". 
On the likelihood of a general election being held in Malaysia, Dr Serina said that it is not a preferred outcome, given the after-effects of the recent Sabah elections. 
"Overall, there was relief that elections would not happen, albeit the complaints about loss of human rights and the lack of a democratic discussion," she said. 
"Even as lawmakers and politicians screamed louder about it, the average person just shut them out and concentrated on preparing for what is expected to be a longer-than-two-weeks lockdown."