Explainer: Why Singapore's east and north tend to suffer the largest dengue clusters every year
SINGAPORE — A record number of dengue cases is expected in Singapore this year, partly due to Covid-19-related factors and partly because of a new strain of dengue to which many people are more vulnerable, scientists say.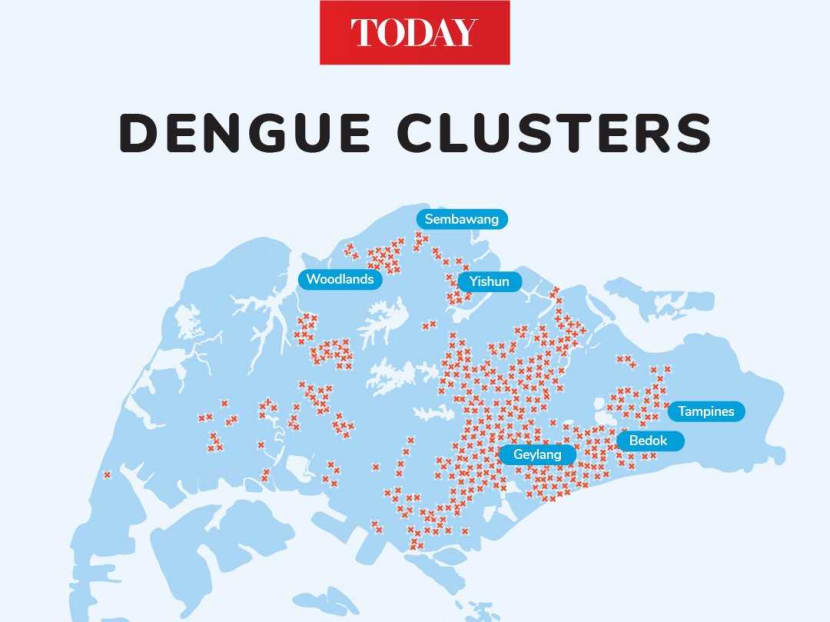 Since 2015, the largest dengue clusters have tended to be in parts of the east and north of Singapore 
Key factors include population density and a larger proportion of landed housing in some areas, experts said
A lack of immunity to a newly circulating DENV-3 strain of dengue has led to higher numbers this year
Stay-home curbs in April and May may have contributed to this year's spike in cases 
SINGAPORE — A record number of dengue cases is expected in Singapore this year, partly due to Covid-19-related factors and partly because of a new strain of dengue to which many people are more vulnerable, scientists say.
So far this year, the country has recorded close to 20,000 dengue cases spread across more than 400 clusters.
But as with previous years, certain parts of Singapore, concentrated in the east and north, are emerging as the hottest locations for dengue clusters.
Some of the biggest hot spots this year have been centred around areas such as Aljunied, Geylang in the east and Woodlands Road in the north, the National Environment Agency (NEA) said.
On the other hand, in certain parts of the west, such as Pioneer, there seems to be no clusters at all, although one major cluster so far this year is located in the west, in the Bukit Panjang area.
The tendency for greater dengue clusters in the east and north has been identified since 2015.
Based on NEA data, the top clusters each year since then have been in the east, in areas such as Tampines, Geylang and Bedok, and in the north, in neighbourhoods in Woodlands, Yishun and Sembawang.
TODAY spoke to experts as well as Members of Parliament (MPs) to find out why these areas are particularly prone to dengue.
WHY ARE SOME AREAS SO SUSCEPTIBLE TO DENGUE?
In an emailed response, NEA said that the eastern part of Singapore is "highly populated and urbanised", which is why dengue transmission is generally higher in the east.
"The primary vector of dengue, the Aedes aegypti mosquito, is very well-adapted to our urban environment, preferring to breed, mate and feed near human dwellings," the agency said.
The combination of people living in close proximity, the presence of Aedes mosquitoes and the availability of artificial breeding receptacles such as pails and potted plants has led to the greater concentration of dengue clusters in the east, it added.
A graph showing the sharp rise in dengue cases in Singapore so far in 2020 compared with recent years. Illustration: Samuel Woo/TODAY
However, NEA said that dengue hot spots are not confined to the east.
"Urbanised and high-density areas in the north and west have also seen mosquito breeding habitats and high numbers of dengue cases." 
Most experts who spoke to TODAY agreed that a combination of a more urban and built-up setting — together with a dense population — could make an area more susceptible to becoming a dengue cluster.
Associate Professor Lim Poh Lian, a senior consultant at the National Centre for Infectious Diseases (NCID), said that "clusters likely reflect areas of urban population density", since Aedes mosquitoes "thrive" in housing areas.
Dr Alex Cook, an associate professor at Saw Swee Hock School of Public Health in the National University of Singapore (NUS), said that urban settings could result in "warmer microclimates" because of dense building infrastructure.
"Mosquitoes develop faster in warmer temperatures, meaning the cycle from one generation of human infection to the next is shorter. The virus also replicates faster at higher temperatures during the extrinsic incubation period, with the same effect," he said.
Some other factors raised by experts include the presence of old buildings and a lack of immunity to a newly circulating dengue serotype or strain called DENV-3.
Dr Borame Sue Lee Dickens, a senior research fellow at the NUS Saw Swee Hock School of Public Health, said that the design of older buildings in Singapore provides more opportunities for small pools of water to build up.
"There are more crevices from building wear and tear, and now-defunct design features present similar opportunities for mosquito breeding such as the holes for bamboo poles (where people hang laundry outside windows of high-rise flats)," she explained.
Dr Vincent Pang, an assistant professor at NUS Saw Swee Hock School of Public Health, noted that some human populations in certain areas had a lack of resistance to newly circulating serotypes of dengue.
"Residential areas that were less affected by the newly circulating serotype (DENV-3) previously are more likely to be affected by the newly circulating serotype due to lack of localised herd immunity," he said.
Given that there has been a rise this year in DENV-3, which has not been prominent for years, dengue clusters could have taken hold because of an area's lack of immunity to the DENV-3 virus strain, he added.
Dr Cook highlighted the significance of high-density living as a key dengue risk factor.
"One of the main reasons that we have more clusters in central and eastern Singapore is that more people live in those areas... so there will be more cases and hence, more clusters of cases."
As for why clusters form in parts of the north such as Woodlands, Dr Cook proposed that Woodlands has a "younger age profile than many other parts of the heartlands", so it is possible that residents there are slightly less immune to dengue.
Dr Duane Gubler, an emeritus professor in the programme of emerging infectious diseases at Duke-NUS Medical School, suggested another reason for why the east has a greater number of clusters.
"The western region is more forested, has a lower human population density and the dominant mosquito there is Aedes albopictus, which is a less efficient epidemic vector," he said.
The Aedes aegypti mosquito prefers less greenery, Dr Dickens said, and goes where many people are in the urban environemnet. It is thus known to be a more frequent biter in Singapore than its cousin Aedes albopictus.
When asked why certain clusters remain dengue hot spots over the years in spite of persistent efforts to stamp out breeding, Dr Cook replied that the situation is "most perplexing".
"In general, our levels of mosquito breeding compare favourably to other countries of a similar climate… getting to zero breeding is a challenge. There may be some sites that the mosquito can find that we cannot," he said.
Dr Cook also said that the dengue virus may be reintroduced to estates such as people getting infected at work and taking the virus back to their neighbourhoods, and human behaviour such as plant-pot keeping and poor drain maintenance.
Careless behaviour was also the key factor identified by MPs interviewed by TODAY when asked about the incidence of dengue clusters in their constituencies.
BREEDING SITES IN HOMES A MAJOR FACTOR
Breeding sites found in homes and shared residential spaces featured prominently in MPs' responses to questions about common breeding spots in their constituencies.
Ms Cheryl Chan, an MP for East Coast Group Representation Constituency (GRC), said that potted plants collecting water, as well as leakages in "hidden areas" such as below sinks, were the most common breeding spots she has noticed, especially in the Fengshan area.
"I asked the NEA about trends in cases that it found, and it said that between 70 and 80 per cent of breeding spots are found in homes," she said.
Other MPs noted that dengue clusters seemed to be more common among landed properties in their constituencies.
Mr Lim Biow Chuan, MP for Mountbatten Single Member Constituency, identified the Meyer Road area as one of the neighbourhoods that has been "more badly affected by dengue". The area has a large proportion of landed property, he noted.
"When you have a garden and nooks and crannies, it is more challenging because there is the potential for mosquito breeding grounds. There are pots and rims on pails, so when it rains, the rainwater will get caught in these receptacles."
Ms Poh Li San, an MP for Sembawang GRC, also said that landed properties are posing particular challenges in the fight against dengue. Potential breeding grounds such as drains are key risks, she said.
What of construction sites and old or abandoned buildings then, which are commonly thought to be dengue hot spots?
Mr Desmond Choo, an MP for Tampines GRC, said that big condominium construction projects that have been put on hold in Tampines have not turned into dengue clusters at all. 
"I know that NEA inspectors look at these areas (construction sites) quite closely and they found that most of the breeding sites are still homes,"  Mr Choo said.
Ms Chan noticed a similar trend in East Coast GRC, where construction sites such as one near Tanah Merah MRT Station have been "continuously checked" by NEA, which could explain why clusters have not formed there.
However, at Sembawang GRC, Ms Poh said that construction projects that have been put on hold, such the Woodlands Spring Build-To-Order (BTO) construction site, have the potential of developing into dengue breeding sites. 
Ms Poh noticed that puddles of stagnant water had formed there, which could have led to an increase in mosquitoes at one of the five-year-old BTO housing areas nearby.
She added that that the town council has been working with the Housing and Development Board and NEA to ensure that stagnant water at these sites is cleared.
NEA said that it has been working with town councils across the country to conduct an intensive two-week long vector control exercise in a bid to keep dengue cases under control.
HOW COVID, NEW DENGUE STRAIN MADE THINGS WORSE
As for factors specific to this year, Dr Pang from Saw Swee Hock School of Public Health attributed the high number of dengue cases in part to a "prolonged period of population clustering", owing to stay-home measures to counter Covid-19 during the circuit breaker in April and May.
Assoc Prof Lim from NCID said that the re-emergence of the DENV-3 strain could have been one of the factors that exacerbated the number of dengue cases this year, given that there is "less immunity against DENV-3 in our population" .
NEA acknowledged that these two factors have contributed to the spike in case numbers this year.
To protect themselves from bites, there are "simple and proactive" steps that people can take, the agency said. "More residents working from home should also mean better housekeeping."
Residents should do the 10-minute, five-step "Mozzie Wipeout" regularly, which includes actively checking for and getting rid of stagnant water in their homes from pails, vases and empty vessels. They should also loosen hardened soil in flower pots and clear roof gutters where applicable. 
Added measures include spraying insecticide in dark areas around their homes, applying mosquito repellent on themselves regularly, and wearing long-sleeve tops and long pants whenever possible, to prevent moquito bites.