On first day of relaxed rules, most Singaporeans still prefer to stay masked outdoors but have larger gatherings planned
SINGAPORE — Even though mask-wearing has now become optional outdoors, Mrs Khulood Ahmad, 36, was still wearing hers when TODAY spoke to her at Tampines Interchange on Tuesday (March 29).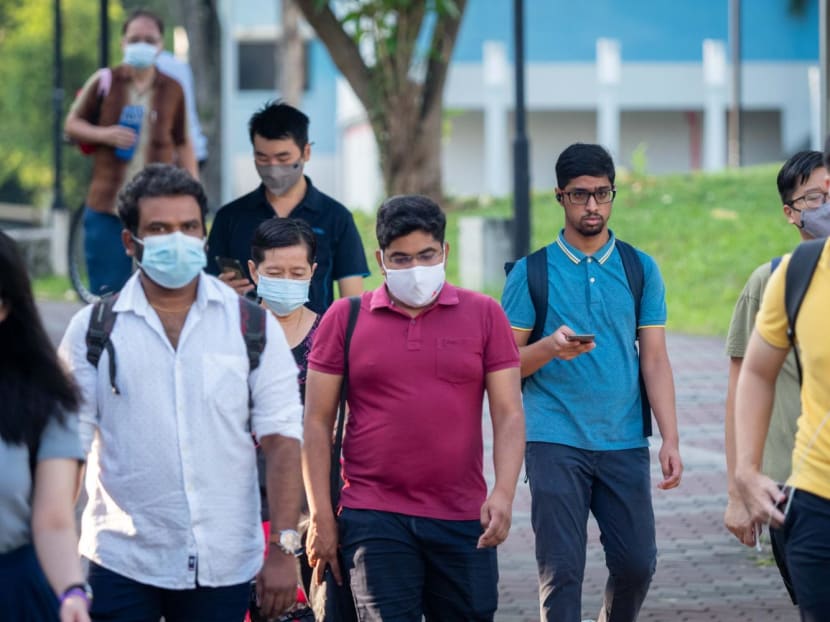 Covid-19 rules were relaxed to increase the cap on social gatherings from five people to 10, and to make mask-wearing optional outdoors
TODAY visited Ang Mo Kio, Pasir Ris, Tampines and Chinatown on March 29 morning and found that a majority of people still wore their masks 
Most were being extra cautious so as not to contract Covid-19 or said it was a hassle to remove the mask and put it back on again when indoors
Many people also said that they were planning larger gatherings with loved ones
SINGAPORE — Even though mask-wearing has now become optional outdoors, Mrs Khulood Ahmad, 36, was still wearing hers when TODAY spoke to her at Tampines Interchange on Tuesday (March 29). 
She was being extra cautious because she has two young children and did not want to risk catching Covid-19. However, she is looking forward to larger social meet-ups now that groups of up to 10 people are allowed to gather. 
The mother of a son and daughter aged 12 and seven respectively said: "My children are excited about their birthdays and being able to celebrate with more friends and family. My youngest daughter's birthday is in April and we'll be planning for a gathering." 
Mrs Khulood's views and plans were echoed by other Singaporeans who spoke to TODAY on Tuesday morning. Many are still being very cautious by choosing to stay masked outdoors, but are making plans to meet up with larger groups of friends and family for meals and parties. 
Last Thursday, Prime Minister Lee Hsien Loong announced the relaxed rules, saying that enough evidence has shown that there is very little risk of contracting Covid-19 while outdoors and unmasked. 
When TODAY visited Ang Mo Kio, Chinatown, Pasir Ris and Tampines and Chinatown on Tuesday morning, however, the vast majority of pedestrians outdoors were still masked.
Many said that they have simply become accustomed to wearing masks. 
Mr Bryan Yeo, 38, who did not want to state his profession, said that he was transiting between two buildings — Chinatown Point and People's Park Centre —  and found it a hassle to have to remove it and then put it on again later when indoors.
Similarly, nurse Neela Raj, 35, said: "If I already have a mask with me, it's more troublesome to take down and put up my mask. Also, now, we don't know who is Covid-positive and who is negative, and we've seen that despite the stricter rules previously, many people have been non-compliant."
Some others said that they will need to get used to going mask-less outdoors.
Mr Rezki Fahrulla, 24, an engineering undergraduate, said: "It'll take some time for people to acclimatise again to go mask-free. It took us a year to get used to wearing a mask so maybe it'll take another year."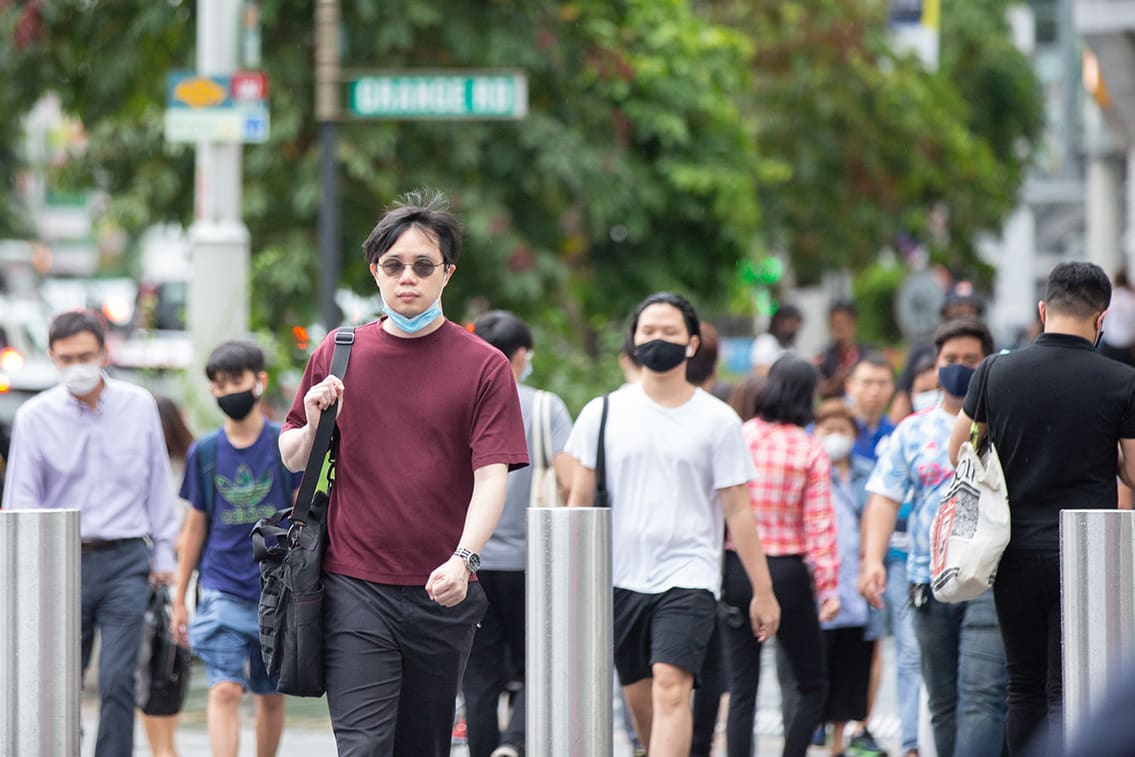 On the other hand, the few people who decided to remove their masks while outdoors said that the change in rules gives them a sense of normalcy. 
Mrs Selyna Lai, 55, the quality principal at a kindergarten, said: "I'm so happy. I always take morning walks and it's so stuffy with my mask on, you can see sweat on my face. Now without it, I feel like I can breathe again."
Ms Rebecca Chia, 40, a housewife who spoke to TODAY at Ang Mo Kio Central while on a walk with her three children, said that she felt confident about going mask-free and letting her children do the same because the whole family had contracted Covid-19 just recently. 
"We are all fully vaccinated and even if we were to get Covid again, it would be very mild symptoms. When we had it previously, our symptoms were not so serious."
LARGER GATHERINGS A BIGGER DEAL
Most people seemed more excited about the relaxation of rules pertaining to group sizes for social activities.
Ms Chia said: "Our family is made up of six people, including my mother, so we could only eat at separate tables or go out without her. It's been this way for two years. Now, at least, we have the option of sitting with everyone all together."
Mrs Katherine Loh, 72, a part-time cashier, said that her family is marking the occasion on Tuesday itself.
"I have plans to go to a coffee shop with my family tonight. We finally can all eat together, like family, instead of being at separate tables," she said. "I'm so happy."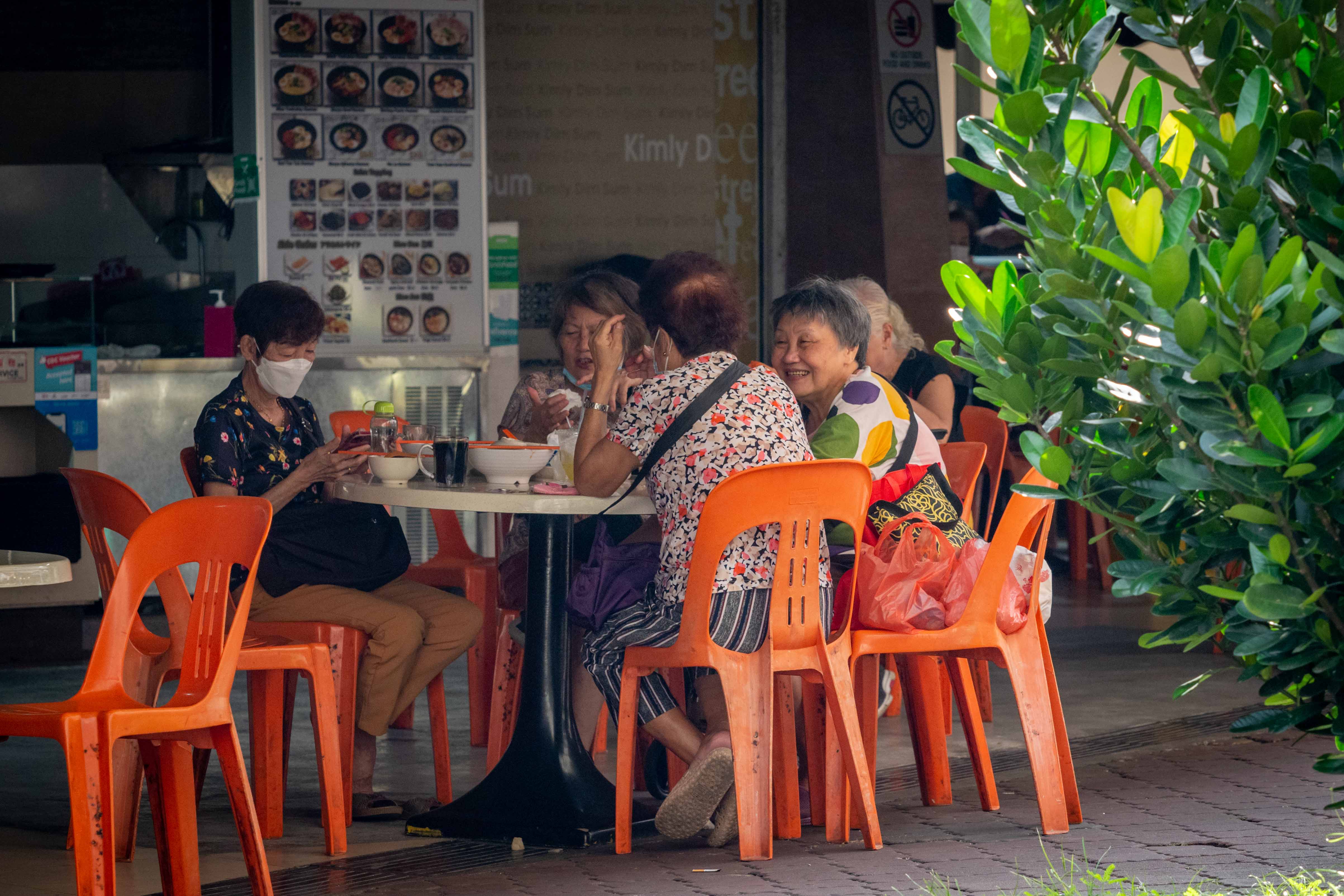 Still, despite the eased restrictions, several people said that they are saving the big gatherings for special occasions just to be on the safe side.
Taxi driver Low Chy Soon, 60, said: "For special occasions like birthdays, we could invite only five people because of the previous rules. Now, I'll invite maybe one or two more family members. I'm old already, so I need to be even more careful and make sure I don't catch the virus."