Flooding in tropics expected but brace for more 'extreme weather', even prolonged dry spells in Singapore, experts say
SINGAPORE — Some experts in environmental science are warning that Singapore can expect more erratic weather events to occur in future, such as the hours of intense rainfall earlier this week that led to the recent deluge in Bukit Timah.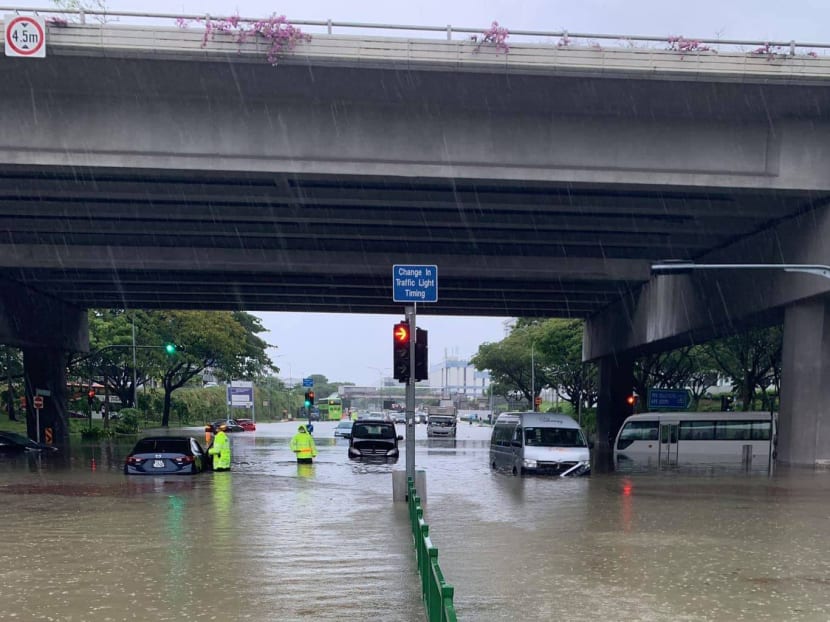 Some climate experts expect more intense weather phenomena to occur in future
This could mean more frequent floods and even prolonged periods of dry weather
The planet is warming and these patterns are being observed elsewhere
Boosting drainage infrastructure aside, the experts offered other suggestions to prevent and manage floods
SINGAPORE — Some experts in environmental science are warning that Singapore can expect more erratic weather events to occur in future, such as the hours of intense rainfall earlier this week that led to the recent deluge in Bukit Timah. 
However, they were split on whether to attribute this phenomena to climate change.
Some suggested that occasional floods are to be expected in a tropical country, while another said rising temperatures mean that the atmosphere can hold more moisture, which leads to greater and more intense rainfall, including the one on Tuesday (Aug 24).
Rainfall hit a 38-year record high that day, with more rain falling over parts of the island than any other day in August since 1983, the National Environment Agency (NEA) said. 
The rain began as early as 4.30am and lasted beyond 10am. 
In response to TODAY's queries, NEA said that the total rainfall for the Upper Bukit Timah area around Ngee Ann Polytechnic on Tuesday was 132.2mm — several times higher than the records for the month of August in the preceding five years.
The highest recorded rainfall in August last year was 30.6mm, and the second highest record for August was 40.6mm in 2018. The lowest record was 9.6mm in 2019. 
The amount of rain on Tuesday caused flash floods to occur along Dunearn Road near Sime Darby Centre in the morning, turning the roads and canals into rivers of fast-flowing reddish-brown water. 
The nearby Bukit Timah Plaza was affected as well when flood waters entered the basement of the shopping centre and ruined not only the goods of retailers but the floorings of shops, too. 
Photos on social media also showed some cyclists at the nearby Bukit Timah Nature Reserve wading through neck-high flood waters at the Lasia Track, a trail for mountain bikers.
Mr Lim Liang Jim, group director for conservation at the National Parks Board (NParks), said that this was a localised flooding episode caused by "unprecedented heavy rainfall over the past few days". 
He added that "such flooding incidents are rare" and NParks has not observed any impact to the surrounding ecosystem.
Last Friday, several motorists had to be rescued by the Singapore Civil Defence Force when their vehicles became partially submerged after heavy rain triggered a flash flood near Ikea Tampines at the junction of Tampines Avenue 10 and Pasir Ris Drive 12.
National water agency PUB is in the midst of investigating if construction works may have contributed to the flooding at this road junction.
In a reply to TODAY on Saturday about the flood along Dunearn Road, PUB said that intense rainful had "temporarily overwhelmed" the drainage capacity at a section of the Bukit Timah Canal, adding that the location is a "known flooding hotspot".
PUB said to address this issue, it is in the midst of widening and deepening a 900m section of the Bukit Timah Canal, from Rifle Range Road to Jalan Kampong Chantek, to expand drainage capacity. 
The works, which started in 2019, are expected to be completed by the first quarter of 2024.
"When completed, the upgraded canal will enhance flood protection for the surrounding area including Dunearn Road, and reduce the risk of flash floods occurring," said PUB. 
As an interim measure, PUB said that it will be carrying out road raising work for a 450m section of Dunearn Road to mitigate flood risks. This is expected to be completed by November.
RAIN AND FLOODS PART OF TROPICAL LIFE
Without a doubt, the planet is getting warmer.
The recent United Nation's Intergovernmental Panel on Climate Change (IPCC) report stated that Southeast Asia will see many more days with the temperature soaring above 35°C as well as the occurrences of wetter monsoons.   
When asked if the recent inclement weather was a result of climate change, Associate Professor Koh Tieh Yong, a weather and climate scientist at the Singapore University of Social Sciences, said that it would be "unscientific to ascribe a few rainfall events" to it because climate change occurs on a long timescale — 30 years or more by international recognition.
"So far, local rainfall records dating back to 1869 do not point clearly to whether the frequency of heavy rainfall has changed significantly, or to the underlying cause of any such change such as global warming, local urban heat island effect or natural regional variability." 
He did note that the combined effect of the intensity and duration of the rainfall on Tuesday was a "rare event". 
"One may estimate that it occurs once in 40 years. But extreme weather occurs from time to time even in a stable climate."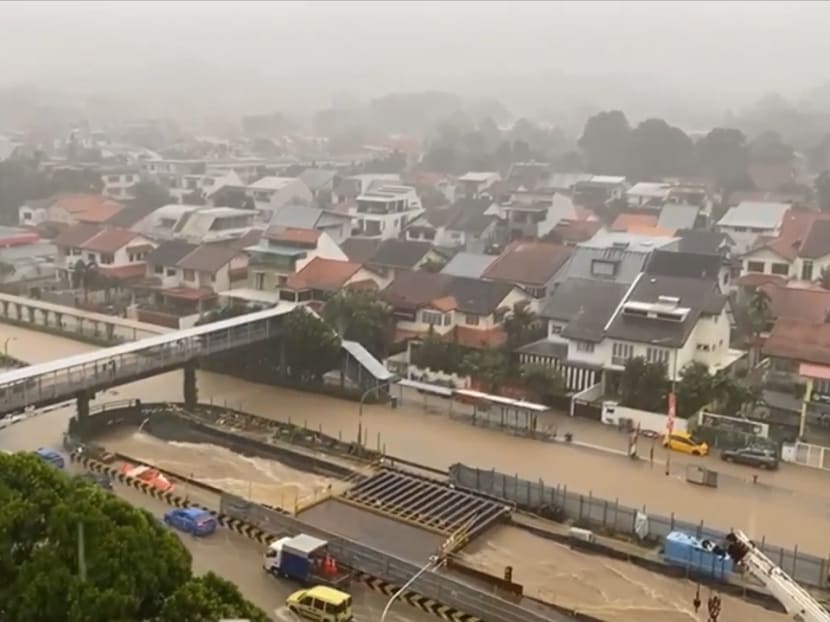 To put things into context, Assoc Prof Koh said that the highest daily rainfall for the island was 512.4mm on Dec 2 in 1978. This was since the first full-scale meteorological station was set up at Mount Faber in 1929.
"That was a once-in-a-100-year event (in 1978). Tuesday's record was less than half of that and so, remains within the possibility of natural variation," he added.
Associate Professor Adam Switzer from the Asian School of the Environment at Nanyang Technological University (NTU) said that Singapore is a tropical country with a long history of flooding events. 
"Periodic flooding is part of tropical life and we must learn to live with an acceptable level of flooding. Flooding will always be part of living in the tropics."
'SOMETHING ELSE IS HAPPENING'
Based on his observations, Professor Benjamin Horton, director of the Earth Observatory of Singapore at NTU, believes that recent phenomena warrant a closer examination.
He said that natural cycles cannot by themselves explain the recent number of record-breaking extreme weather events that have been seen both in Singapore and elsewhere.
The state of Tennessee in the United States is in the midst of recovering from a deadly flood that claimed at least 20 lives after it, too, underwent record-breaking rainfall last weekend. 
More than 300 people died in Zhengzhou, China, after the city was similarly inundated by intense rainfall that left it submerged under flood water in July. 
"Something else is happening," Prof Horton said. "Earth is getting warmer." 
He explained that as the atmosphere gets warmer, it starts holding more moisture — which means people can expect rainfall to be "greater and more intense".
More research is needed to find the direct links between climate change and the unusual weather this year, he added, but in the meantime, Singapore "must prepare for more extreme scenarios".
"There is a significant increasing trend from the 1980s to the present day. Rainfall events have also become shorter in duration and higher in intensity, leading to greater frequency of urban floods."
Prof Horton also said that a changing climate could result in severe and frequent dry conditions over the island. 
These dry spells could have an adverse impact on Singapore's food and water security efforts by affecting the collection of water in reservoirs and farms.  
Assoc Prof Switzer, who specialises in coastal science, said that a phenomenon known as compound flooding could occur, too.
This is when water flowing from drainage systems here meets high sea levels, which results in the flooding of coastal areas.  
"Luckily, this happens rarely in Singapore today, but as sea level rises, the potential for compound flood problems increases as well," he said.
However, given that sea level rise is "inevitable", people must prepare for it. 
FLOOD PREVENTION   
The experts were generally of the opinion that Singapore's efforts to contain floods were steps in the right direction, but more improvements could be made.
Assoc Prof Switzer said that Singapore is in the "relatively rare situation" where it has the technology, the engineering and the financial resources to adapt to climate change in ways that other nations may not have.
In May, Ms Grace Fu, Minister for Sustainability and the Environment, said that since 2011, the Government has invested almost S$2 billion in drainage works and will invest another S$1.4 billion over the next five years to enhance flood resilience here.
Some projects include the Stamford Water Detention Tank, the ongoing widening of the canals along the flood-prone Dunearn Road — expected to be completed by 2024 — and the construction of a new water detention tank for the Jalan Besar area, which is targeted for completion by 2025. 
Beyond improvements to drainage infrastructure, Prof Horton suggested identifying flood-prone areas and changing their land use to parks and recreational areas that can tolerate occasional flooding.
Assoc Prof Switzer said that the Bishan-Ang Mo Kio Park is a perfect example of a "functional, innovative, multi-use flood management system". 
On PUB's website, it is stated that the park's naturalised canal is designed around the concept of a floodplain — an area of land that is prone to flooding. 
Simply put, the park is not only able to contain large amounts of water during intense rainy periods, but also promotes biodiversity and serves an aesthetic function for visitors.  
Beyond that, buildings and bridges can be elevated, protected with floodwalls and levees, or designed to withstand temporary inundation, Prof Horton proposed.
Other storage areas for rainwater could be considered, he said, naming rooftops and parking lots as potential candidates.
Techniques that promote infiltration and storage of water in the soil column, such as infiltration trenches or permeable pavements, may also be incorporated into new and existing residential and commercial buildings to reduce runoff from these areas, Prof Horton added.
All these aside, Assoc Prof Koh said that making advancements in short-term weather forecasts will be beneficial, and so would improving the communication of flood-risk warnings to residents and businesses.