Fresh war of words between PAP and WP over the opposition party's stance on GST and HDB affordability
SINGAPORE — A fresh war of words has broken out between the ruling People's Action Party (PAP) and Workers' Party (WP) over the Opposition's change in stance over the years in relation to the Goods and Services Tax (GST).
A fresh war of words has broken out between PAP and WP
The debate is over the Opposition's change in position over the years over the Goods and Services Tax
Mr Chee Hong Tat from PAP published a commentary saying that WP should make it clear publicly whenever it makes changes in its policy stance
WP issued a statement replying to his points, and in turn asked why PAP had not sought clarification on the matter over the years
SINGAPORE — A fresh war of words has broken out between the ruling People's Action Party (PAP) and Workers' Party (WP) over the Opposition's change in stance over the years in relation to the Goods and Services Tax (GST).
At the heart of the matter is whether a political party should make it clear publicly when changing its position on policy matters and what a responsible party should do in Singapore's democracy.
This latest development came almost a week after both parties locked horns in Parliament over the same issues, which led Mr Chee Hong Tat, Senior Minister of State for Finance and Transport, to publish a commentary on Tuesday (April 25) on the ruling party's blog, Petir.
In the post, Mr Chee said that he was "surprised" to hear WP's Member of Parliament (MP) Leon Perera saying in Parliament that the party had accepted "the reality of GST at 7 per cent since 2018". Mr Chee described it as a "major and welcome shift in its longstanding position".
The opposition party issued a statement on Wednesday in reply to the post, saying that its stance has been clear all along, and that it was "surprised" that Mr Chee did not rise to debate in Parliament if he was unsatisfied with replies from WP members then.
CHANGE IN POSITION OVER GST
In the commentary, Mr Chee said that before the debate in Parliament last Thursday, WP had never said that it accepted the GST.
He noted how the opposition party had opposed the introduction of the tax in 1994 and every increase ever since.
"(WP) had consistently criticised the GST as a regressive tax, and ignored Singapore's unique GST system, which couples the tax itself with permanent offsets for the lower income," he wrote.
"I was therefore surprised to hear Mr Perera say, in reply to Minister Ong (Ye Kung)'s question, that the WP has 'accept(ed) the reality of GST at 7 per cent' since 2018; and they now only oppose the 2 per cent increase."
He then asked why WP had not announced a change in position all this time, and kept "silent and vague".
"Who knows, perhaps a few years from now, we may hear from a future WP leader that a 9 per cent GST is acceptable, too?" Mr Chee wrote, adding that a responsible Opposition has to be honest and forthright about its views and positions.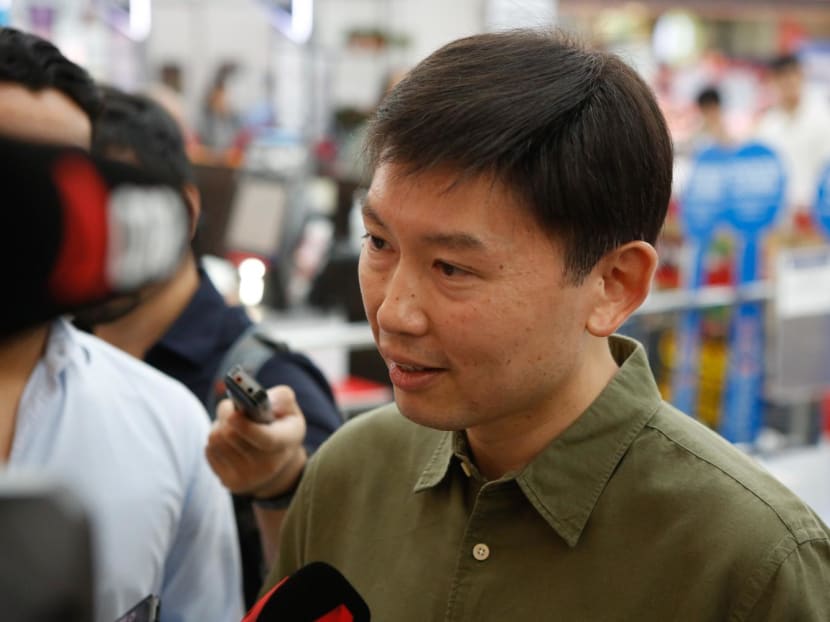 In its statement on Wednesday, WP questioned why the Government chose to bring up the issue only now and not clarify the matter in parliamentary debates in 2018 or anytime since, including the latest Budget, if the Government had found WP's stance vague or unclear.
"As Leader of the Opposition Pritam Singh pointed out in Parliament, the Government's raising the issue of the WP's stance on the GST serves to distract the attention of Singaporeans," WP's statement read.
The opposition party said that its statements in Parliament in 2018 made clear that it was not calling for the GST to be reduced to 0 per cent, and that it would have made the call "explicitly" if it had intended to do so.
WP noted that "no response from PAP Members of Parliament was forthcoming" when Mr Perera asked in Parliament last week to give evidence that members of the opposition party had called for the GST to be reduced from 7 per cent to 0 per cent in 2018.
Responding to Mr Chee's opinion on WP hypothetically changing its stance on a 9 per cent GST in the future, the opposition party said that future PAP governments may adopt policy positions advanced by the WP today, "much as former PAP governments implemented WP positions in the past".
AFFORDABLE HOUSING 
Mr Chee noted that on the issue of affordable housing, PAP MP Saktiandi Supaat had highlighted in Parliament that WP MP Louis Chua previously co-authored a report with his Credit Suisse colleagues in January 2023.
The report stated that public housing in Singapore is "affordable", Mr Chee said.  
"Yet just one month later, Mr Chua joined his fellow WP MPs in Parliament to criticise the Government for not providing affordable public housing, and to call for HDB (Housing and Development Board) flat prices to be further reduced."
Mr Chee said that Mr Chua was "not credible" for claiming that there was no contradiction between the report and his own statements in Parliament.
"The responsible and honest thing to do would have been for him to either stick to his original professional views or declare upfront that he had shifted his position and explain why," Mr Chee wrote.
Replying to this point, WP said that Mr Chua had made clear that the paper was written in his capacity as a commercial research analyst, and was intended to advise investors on where they can make profits in the housing market.
"His paper advised that HDB housing was affordable from the standpoint of prices not curbing sales transactions and not resulting in mass mortgage defaults, considerations relevant to investors when making commercial decisions," WP said.
The party added that neither Mr Chee nor any other PAP MP rose in Parliament to express dissatisfaction with Mr Chua's reply and ask him for clarifications.
KEEPING POLITICS 'UPFRONT, RESPONSIBLE'
Mr Chee on Tuesday wrote that Singapore's politics must always be kept "upfront, responsible and honest". 
"There is no point for politicians to wring their hands about our becoming a 'post-truth' society, and then go on to say whatever they want to make a convenient political argument, or surreptitiously shift their positions without telling the public," he said.
Doing so "would only land us with the kind of populist and irresponsible politics that has weakened so many established democracies," he added.
WP in its statement on Wednesday said that if the ruling party wishes to resurrect the Opposition's positions from "15 to 20 years ago", then the Opposition could also do the same for debate today.
"For example, has the Government explicitly reversed it stand on extending HDB (Housing and Development Board) upgrading funded by taxpayers to opposition constituencies last, a policy introduced in the 1990s? Was there a post-mortem and closure on that policy?" said the party.
"If the WP were to bring that up for debate in 2023, would that be constructive?"
The WP was referring to an HDB upgrading policy introduced by then-Prime Minister Goh Chok Tong, who said during the 1996 hustings that estates "will be left behind" if residents vote for the opposition.
WP members had previously noted that national upgrading programmes have been directed to opposition-held wards in recent years, such as the upgrading of lifts.
Nevertheless, the issue of public funding for upgrading works in these estates remains a perennial one.
In its statement, WP wrote: "Going forward, we hope Mr Chee is prepared to debate the Workers' Party in Parliament when he disagrees with our positions."
"This would not be an unreasonable expectation of any serious government, anywhere in the world."