Design of future HDB projects to take into account residents' physical, social and mental health
SINGAPORE — Residents moving into new public housing towns from next year may find a number of empty open spaces around their estates.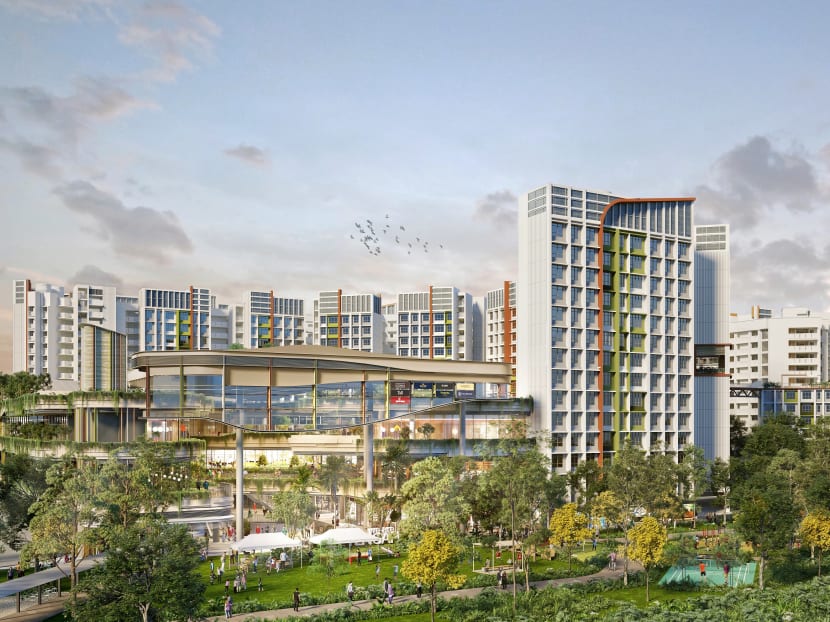 Residents will be given the latitude to design common spaces in some new public housing towns
Multi-storey car parks will be elevated to create car-free ground-level spaces for activities
The Housing Board will also roll out more inclusive, elder-friendly features in estates
Singapore's urban planning in the past has meant residents are now able to work from home, HDB's CEO said
SINGAPORE — Residents moving into new public housing towns from next year may find a number of empty open spaces around their estates.
But this is not for a lack of development plans. 
The idea by the Housing and Development Board (HDB) is to allow residents to take ownership of designing and building these shared spaces based on how they want to use them. 
It will be tested next year in selected new precincts with Build-to-Order flats in Tampines and Dawson.  
It is one of HDB's plans over the next decade that will take into account people's physical, social and mental health in designing homes.
The other plans include setting aside more tranquil green spaces in housing estates and infusing elder-friendly designs and features promoting active living into towns and homes.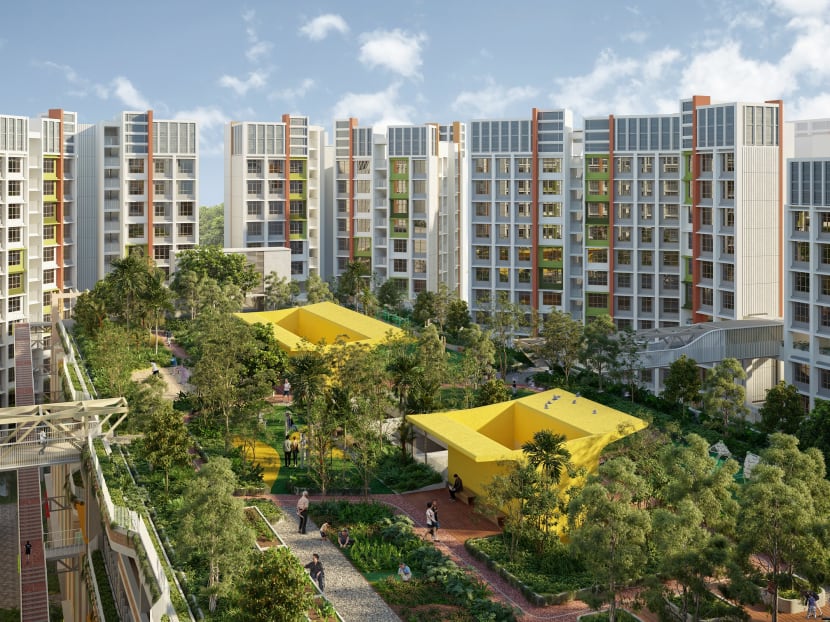 HDB's roadmap, dubbed Designing for Life, was launched on Thursday (Oct 15) by Deputy Prime Minister Heng Swee Keat at a webinar streamed live on Facebook. 
In a pre-recorded speech from Dawson estate in Queenstown, Mr Heng, who is also Finance Minister, said: "The task of building Singapore never ends. 
"As Singaporeans' lifestyles and aspirations evolve, we must continue to provide a home and quality living environment for Singaporeans at every stage of their lives."
HDB said that multi-storey car parks in the future Tengah Park district will be above ground to open the way for more car-free ground-level spaces for community bonding and fitness activities. 
To create a safer and more inclusive environment, signs in future towns will also be designed with pictorial symbols and larger fonts. Safety bars in bathrooms will be in contrasting colours that are easier to spot.
In a discussion during the webinar, Professor John Eu-Li Wong from the National University of Singapore cited research showing that better signs and safety features in homes are important to reduce the risk of injury, especially among older residents.
In addition, 60 per cent of the factors influencing premature death and disability are related to social, behavioural and environmental aspects, the senior vice president of health innovation and translation said. Genetics make up 30 per cent of the factors, while only 10 per cent are related to the quality of healthcare.
HDB is also creating smart public housing towns. 
The new Punggol Northshore district, ready by the year's end, will be the first housing estate where smart and sustainable initiatives are rolled out from the planning and design stages. For example, smart electrical sockets and distribution boards will allow residents to track their energy consumption.
Also in the pipeline for more estates are a smart parking system that obviates the need for gantries or coupons, automated waste collection systems that allow remote monitoring of waste levels, and lights at common areas that dim or brighten automatically.
Facilities such as polyclinics and active ageing hubs will also be brought closer to homes. The new Bedok South Horizon Build-to-Order project, for example, will be integrated with the Siglap Community Centre and care facilities for seniors.
As for older towns, Mr Heng said that HDB will continue upgrading and rejuvenating them. This will be done through programmes such as the Voluntary Early Redevelopment Scheme and the Neighbourhood Renewal Programme.
The Voluntary Early Redevelopment Scheme allows residents of selected precincts that are at least 70 years into their 99-year leases to vote on whether they want the Government to buy back all the flats for redevelopment. 
The Neighbourhood Renewal Programme, fully funded by the Government, focuses on improvements to housing blocks and precincts.
In the coming months, HDB will invite residents of Bukit Merah, Queenstown, Chua Chu Kang and Ang Mo Kio to take part in the Remaking Our Heartland programme to renew and further develop existing public housing towns and estates.
"HDB would like to hear from you and work with you, to turn this roadmap into reality," Mr Heng said. 
DESIGNING FOR FUTURE PANDEMICS
During the webinar, HDB's chief executive officer Cheong Koon Hean was asked whether the design of towns takes into consideration what would happen in future disease outbreaks.
Since the Covid-19 pandemic hit, urban planners around the world have been looking at how to bring amenities closer to neighbourhoods to spread out the population in cities, Dr Cheong said.
"Fortuitously, my predecessors have done a fantastic job since six decades ago to start planning HDB towns as neighbourhoods," she said, referring to HDB's practice of designing towns with their own shops and schools.
Within the homes, Singapore's efforts in the past decade to equip every home with high-speed fibre broadband internet access have made it possible for residents to work and study from home, she added.
Building smart homes now will enable residents to work from home, Dr Cheong said. "In the future, maybe we should be thinking about how (we can) get some co-working spaces close by."