HealthServe launches first 24-hour crisis helpline for migrant workers needing mental health support
SINGAPORE — The call came at midnight, just after Mr Menchie Macomis had started his nine-hour shift as a crisis helpline specialist at HealthServe.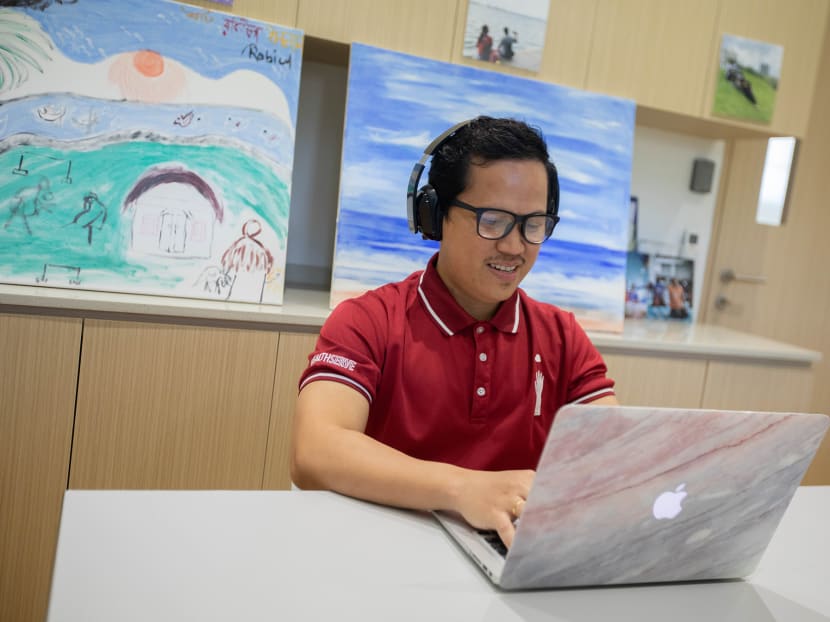 The crisis hotline by HealthServe was launched on Sept 10 after a month-long trial in August
More than 100 helpline specialists and volunteers have been trained to support the helpline
HealthServe said since the pilot, it observed that half of the calls came in at night
SINGAPORE — The call came at midnight, just after Mr Menchie Macomis had started his nine-hour shift as a crisis helpline specialist at HealthServe.
It was a desperate cry for help from a Singaporean.
"He was calling on behalf of a migrant worker who was having anxiety and wanted to kill himself. But the good thing is, we managed to intervene and… he didn't (do it)," Mr Macomis said.
The 35-year-old is one of five specialists and more than 100 volunteers who support HealthServe's 24-hour crisis helpline for migrant workers — the first such hotline in Singapore — which was launched on Friday (Sept 10).
HealthServe is a non-profit organisation that provides medical care, social assistance and various services for migrant workers.
The helpline was first piloted in August this year. HealthServe said that half of the calls received so far came outside of office hours, between 7pm and 10am.
It has received an average of about 200 calls a month for mental health support since January this year, with spikes observed on significant occasions such as when tightened Covid-19 restrictions were announced, or when a crisis occurred in the workers' home country.
Mr Macomis said he has gained respect for the migrant worker community here.
"If you see a migrant worker in Singapore, you will know that they are strong (because they do work under the hot sun)... but inside they are also vulnerable," said Mr Macomis, who left his job as an engineer and joined HealthServe in 2021.
"Seeing that vulnerability when they call us and tell us their problems makes me salute them... they're strong enough to express their problems to us."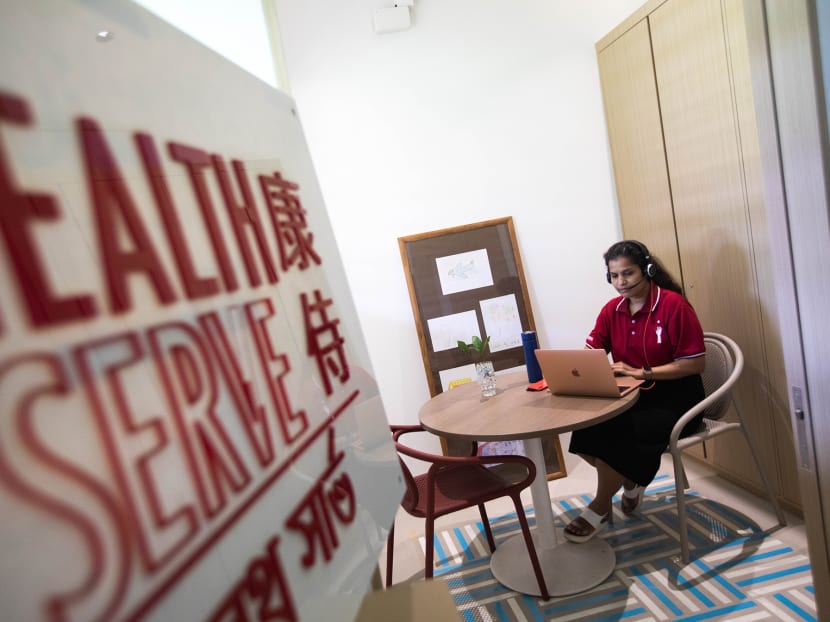 MORE ANXIETY CASES DURING COVID-19
The crisis helpline specialists and volunteers have been trained in skills such as empathetic listening, emotional support provision and suicide risk assessment and management over the phone.
For cases that require more specific or additional intervention, HealthServe's native-speaking counsellors will be activated.
Ms Durga Arivan, 40, a counsellor at HealthServe who joined the organisation in early 2020, said she has seen more migrant workers with anxiety issues during the Covid-19 pandemic.
Some of the workers were feeling worried and anxious about the coronavirus situation back home, when Covid-19 cases were surging in Bangladesh and India from May to August this year.
Others were grieving the loss of their daily routines and activities, said Ms Durga, who sees at least three to four cases a day.
"Their general routine used to be going to work, coming back, cooking with their friends and eating together. On Saturday, they go to the temples, go to Tekka Market, and have their favourite food.
"But nowadays, it is not the same," she said.
Ms Durga said there were workers she supported during this period who were frustrated because their plans to return home to get married, or start a family, were thwarted because of the pandemic.
"I had a worker whose wedding was postponed twice because of Covid, and he just totally lost it because he was getting older and his mother had passed away unexpectedly. So he was feeling like he had no future left," she said.
To help him cope, Ms Durga advised him to shift his perspective to see that there is no rush to get married.
'FEEL BETTER' WITH SUPPORT
One beneficiary of HealthServe's counselling service is Mr Sharm (not his real name).
He approached HealthServe for assistance following recommendations from the residents at the Housing and Development Board block where he does upgrading services, after he had a workplace accident in October last year.
The worker, who did not want to be identified, was later referred to the organisation's mental health team after he showed signs of depression and anxiety.
Speaking to TODAY, Mr Sharm said he has been overwhelmed with concerns over providing for his family since he is still recovering from his injury and is not able to return to work yet.
As the eldest of four children, he is the main provider for his family — his two sisters, brother and elderly parents. He also supports his wife and 20-month-old son.
He is currently on medical leave and rests in the sickbay of the workers' dormitory that he stays in.
"When I think about (my family) and my future then I cannot think anymore. I am going to cry or feel very sad because of this sudden problem. How can I help my family if I don't recover?" he said.
His case worker and counsellor at HealthServe provided him an avenue to vent his frustrations and worries, which he said has helped him feel better as they often give him advice and solutions to his issues.
This is especially since he cannot turn to his family, who are already worried about him, and his colleagues, who are often too busy to stop and chat.
Migrant workers, employers or concerned members of the community seeking assistance can call HealthServe's 24-hour crisis helpline at +65 3129 5000.