#trending: After quick rise to fame, Cathay busker Jeff Ng faces backlash, accusations of buying followers
SINGAPORE — Online users are wondering if busker Jeff Ng of recent TikTok fame has been buying followers on Instagram in a bid to maintain a large group of followers, after allegations of his abusive and unprofessional behaviour surfaced over the weekend.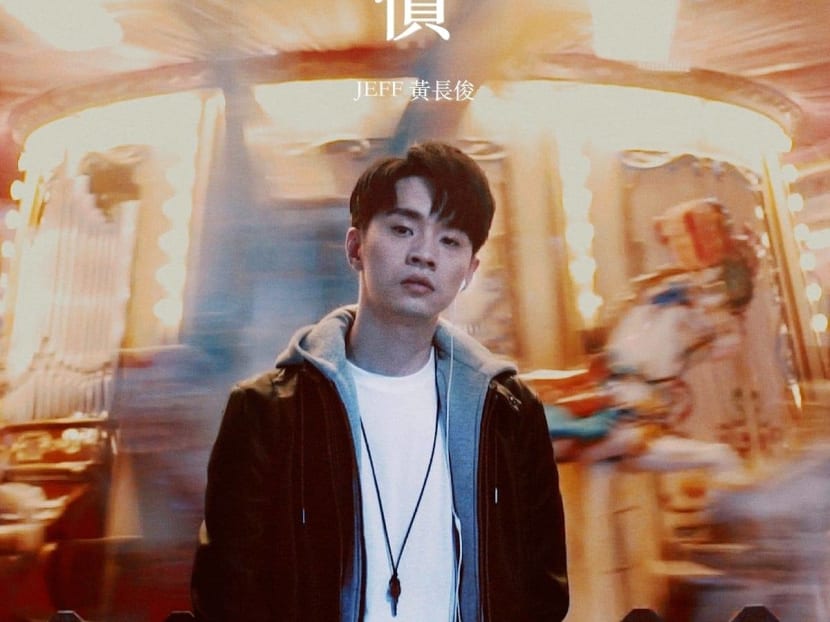 SINGAPORE — Online users are wondering if busker Jeff Ng of recent TikTok fame has been buying followers on Instagram in a bid to maintain a large group of followers, after allegations of his abusive and unprofessional behaviour surfaced over the weekend.
Over the past month, the 32-year-old musician saw a sudden rise in spectators at his regular busking sessions at The Cathay, following several viral TikTok videos of his performances and widespread media coverage.
However, over the weekend, public opinion of Mr Ng quickly soured.
Last Thursday (June 30), his "ex-partner of almost three years" Lena Ng shared a Facebook post of more than 3,300 words alleging that he had emotionally and verbally abused her while they lived together. The post has been shared more than 3,700 times.
Social media users then began to surface more incriminating allegations against Mr Ng, including an older Facebook post by Singapore musician Khim Ng that alleged that people in the music and live bar gigs industry have long steered clear of working with him.
In the latest twist in the saga, some have begun to wonder about his abrupt increase in Instagram followers. Before Ms Ng's post, the count came in at just under 80,000, but is now standing at 141,000.
One Instagram user said in a comment on Sunday (July 3): "No way he's not buying followers… yesterday 106k followers now 146k."
One person on online forum Reddit agreed: "The numbers are shooting up way too quickly and accounts look suspicious lol."
Looking at his follower list, the online community has noted that many accounts seem to be "bots", or fake Instagram profiles. The usernames of such bots often feature a string of jumbled letters and numbers, missing or generic profile pictures, and have few or no followers of their own.
On TikTok, video recordings of his follower list have emerged, with one user saying: "If you look at his follower list, there (are) so many bots following him recently. That means he's buying followers."
However, one Hardwarezone forum member pointed out that fake followers can be bought by anyone, not necessarily the owner of the account.
"Can be his hater buy to sabo (sabotage) him," the comment said. "(If) he really (wanted) to buy, (he) would have bought after those media interviews ... not yesterday."
In response to the various online posts, Mr Ng briefly went private on Instagram last Saturday. After switching back to a public profile, he used Instagram Stories to ask fans for help with removing "bot accounts" from his followers.
He said that he had been alerted by friends that he was being followed by these bots and was "distressed" about the situation because he did not know how to prevent them from following his public Instagram account.
"I am sorry that this incident has caused everyone to have doubts and concerns," he wrote in Chinese. "Apart from Instagram's anomalies, the figures of other social media platforms TikTok / Facebook / YouTube seem to be normal at the moment."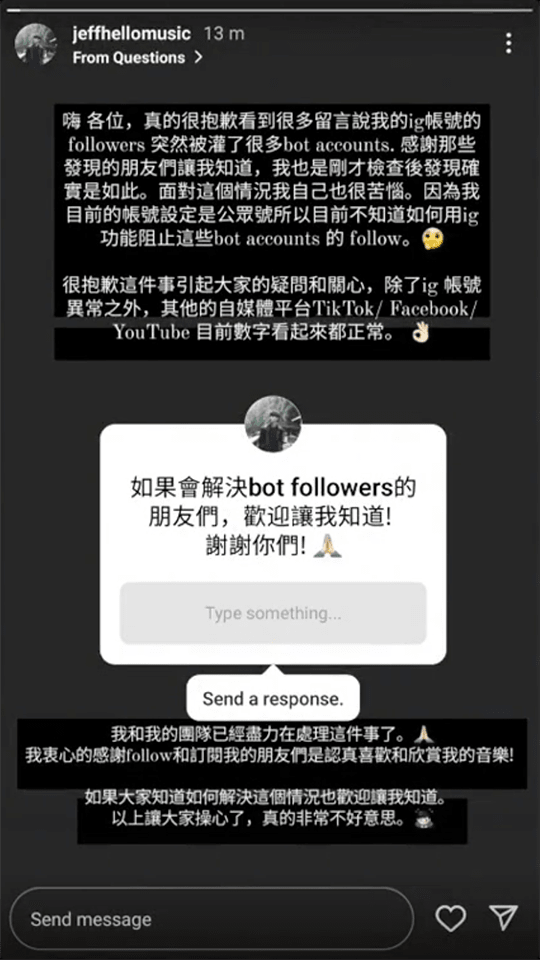 However, online users were not convinced, telling him to just admit that he had been buying followers.
One said: "He responded to this with more sincerity than the 'apology' to his ex-girlfriend."
These criticisms came on top of claims from former followers that he would harass them via messages on Instagram Direct if they unfollowed him.
'CONFRONTING' USERS WHO UNFOLLOWED HIM 
Along with the Facebook posts from his acquaintances, screenshots presumably shared by a former follower went viral over the weekend. In the conversation, Mr Ng confronted the Instagram user for unfollowing his account, then further criticised them for not responding to his message.
Influencer Melody Yap, wife of Mr Brad Lau or blogger Ladyironchef as he is better known, also posted a series of Instagram Stories on Sunday, questioning Mr Ng's sudden increase in Instagram followers and sharing another screenshot from a "personal friend", which alleged that Mr Ng had messaged them after being unfollowed.
In these messages, Mr Ng appears to approach former followers wanting to know whether or not the "unfollow" was accidental or due to a "technical bug". The screenshot shared by Ms Yap dates back to November 2020, with her noting: "So it's not a new thing, I see."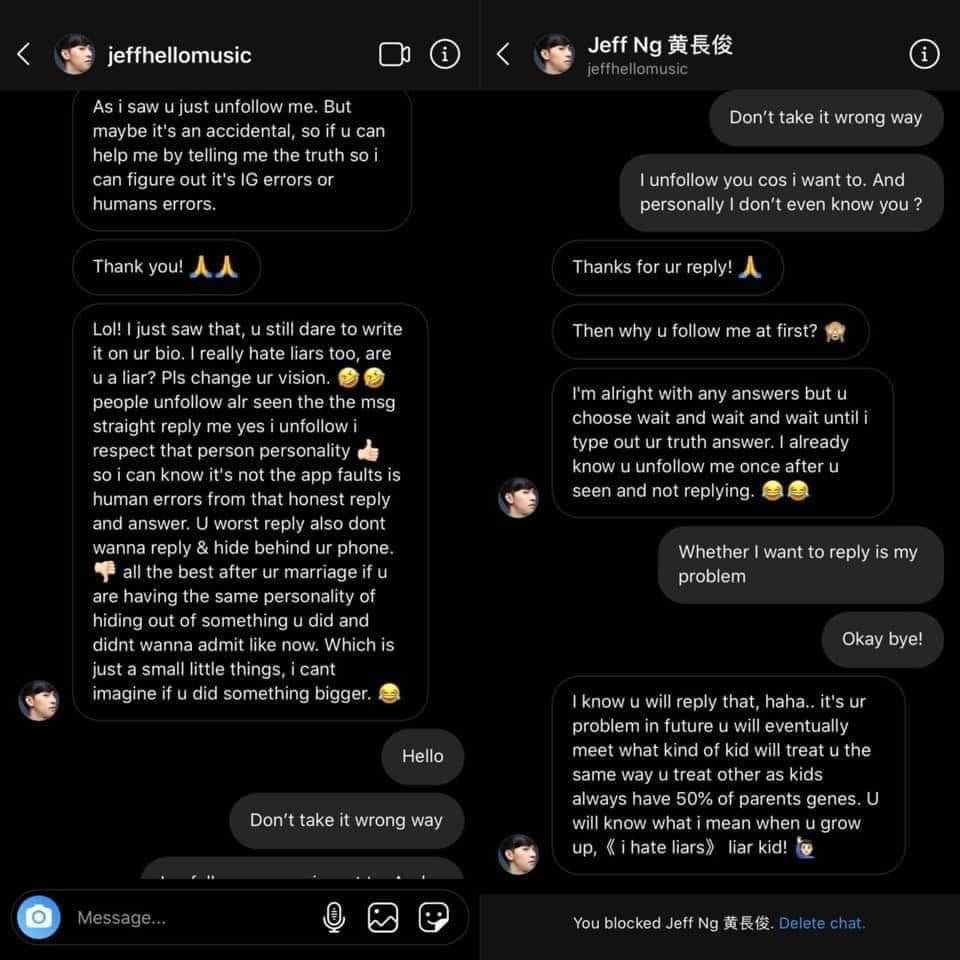 Since then, others have shared their own similar experiences with Mr Ng.
One ex-follower said on Instagram: "The screenshot is so true, happened to me too when I unfollowed him a while back."
Others began to poke fun at the musician, saying: "This makes me want to follow him just to unfollow him."
CANCELLING BUSKING GIGS
Last Saturday, Mr Ng was due to perform at The Cathay in the Dhoby Ghaut area as he has been doing for the past few weeks. However, in an Instagram Story a few hours before his scheduled performance, he wrote in Chinese that the session had been cancelled.
The post read: "Due to the sudden spike of Covid-19 cases, as well as friends I met recently testing positive, my team and I have discussed and decided to cancel tonight's busking performance for everyone's safety."
He then thanked his fans for their support and asked for their understanding.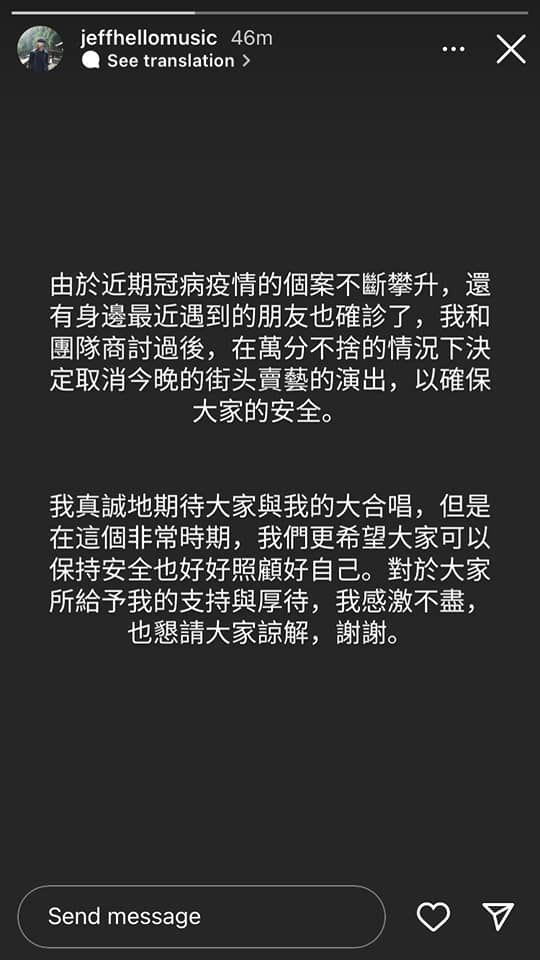 This brought on a whole new slew of accusations that he had cancelled the performance because of his recent scandals, though he had made no mention of them in his post.
One Facebook user remarked: "Wah seh. He really changed to be better person... now care for his audience getting Covid. Hearsay he used to show attitude if patrons (were) chatting and not focusing on his singing performance in cafes and pubs."
A TikTok user joked: "Worried that all his exes will come."
A reporter from Chinese daily Lianhe Zaobao who had been monitoring his busker profile on the website of National Arts Council (NAC) said that Mr Ng was also previously scheduled to perform at Dhoby Ghaut Green on Monday from 5pm to 10pm, but later cancelled it with no word on his social media accounts.
At the moment, his NAC profile still displays two upcoming performances with fellow musician Leon Lim. The performances are scheduled for the next two Saturdays at The Cathay and have not been cancelled as of Tuesday.
'UNFRIENDED' FOR SHOWING SUPPORT
Facebook user Candy Mei Cui, who said that she was the administrator of his fan club for a few years, said in a post last Wednesday that she had been "unfriended" by Mr Ng on Facebook because she had shown support for other singers apart from him.
"He always asks people (to) stop requesting songs he doesn't know how to sing. He wants customers to hear him sing and you MUST clap for him ... After performing, he will just storm off," she added.
One Reddit user shared another anecdote: "Seen the guy live once, can confirm his personality matches these rumours. In between songs, he would make snarky comments about (the) audience not clapping for him.
"We said, 'ok, la, let's clap for the dude, maybe he's having a bad day'. But now (with) all these leaks, seems like it's just his regular routine."
BARRING COMMENTS DURING LIVESTREAM
Though Mr Ng has not responded to the claims of him "scolding patrons", a screen recording of one of his livestreams on Chinese video platform Xiaohongshu last year has been making its rounds on social media platforms.
In the video, Mr Ng is shown saying in Mandarin: "I know you are all here to listen to the songs. Listening to the songs is okay, but try not to chat... If you want to chat, you can — you can do whatever you want, once I end this livestream."
He continues: "It's your choice, anything is fine... I'm really okay with either. I'm not blaming anyone in particular, I will end the livestream myself, so I will forfeit the pay myself."
As one Reddit user said: "This is like the rise to fame and fall to infamy speedrun."
TODAY has reached out to Mr Ng for a comment. ADDITIONAL REPORTING BY IZZAH IMRAN