Jewel effect wearing off? Some F&B outlets at Changi Airport say business has dipped, after initial boost
SINGAPORE — Some said business has become worse, while others said the initial boost from the opening of Jewel Changi Airport has waned.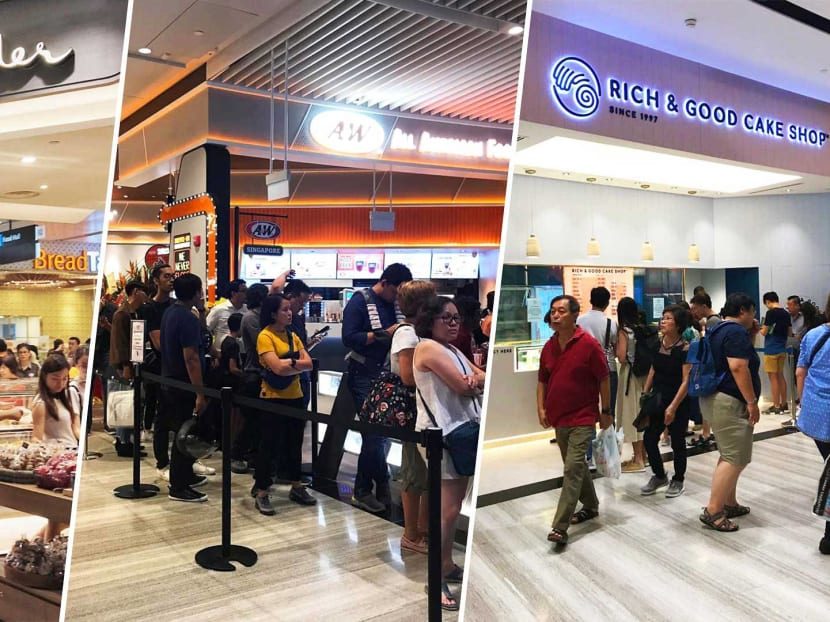 SINGAPORE — Some said business has become worse, while others said the initial boost from the opening of Jewel Changi Airport has waned.
That was the response from 12 food-and-beverage outlets across the four terminals at Changi Airport that TODAY spoke to, about a month after Jewel officially opened its doors to the public on April 17.
Jewel is located at Terminal 1, and connected via link bridges to Terminals 2 and 3. Visitors from Terminal 4 will have to take a shuttle bus to Terminal 2, and then take the link bridge.
It is home to 112 food-and-beverage outlets, with new-to-Singapore brands like Shake Shack drawing snaking queues.
During its six-day preview period prior to its official opening, about 500,000 visitors flocked to Jewel to catch a glimpse of its new facilities and retail offerings.
The crowds spilled over to the other terminals.
"The opening of Jewel has certainly increased footfall to Changi Airport, including to our terminals," said the Changi Airport Group (CAG) in response to TODAY's queries.
SPILLOVER CROWDS HAVE THINNED
While food-and-beverage outlets in Jewel are still seeing brisk business, most operators outside of Jewel said that the spillover crowd seems to have thinned. Some are starting to feel the heat from the competition coming from outlets in Jewel.
Local restaurant PappaMia in Terminal 1 said it had more diners than usual during Jewel's preview and opening period, but its overall monthly receipts have dropped "significantly", said its operations manager Tai Ser Kiong.
"PappaMia has been here for nearly seven years already, but this is the first time (business is) so bad," said Mr Tai, adding that he was already expecting things to slow down during Ramadan.
"Usually we would be full during dinners and over the weekends, but now we see a lot of empty tables."
Mr Tai, 39, said that the competition from Jewel could be a factor; he believes more people would be drawn to it as it offers more food options compared to Terminal 1.
Similarly, Chinese restaurant Paradise Dynasty in Terminal 3 saw its revenues dip slightly compared to the same period last year, said its manager Li Gui.
"When I'm on the MRT (to the airport), I see more people coming here but most of them are headed towards Jewel (instead of T3)," said the 37-year-old.
Even during Jewel's preview period, the restaurant saw a large decrease in footfall, she added.
RAMADAN FACTOR?
Some restaurants believe that the fasting month of Ramadan could have contributed to their business slowing.
Halal Korean restaurant Jinjja Chicken's manager Eric Toh, 45, said that when Jewel opened, the 24-hour restaurant in Terminal 2 was at its peak, with a near-30-per-cent increase in takings.
"Now, business is about the same as before (the spike)," he said.
Another restaurant in Terminal 2 that is feeling the heat this month is Fish & Co, as around 70 per cent of the halal restaurant's customers are Muslims, said its store manager Ravi Aravind.
"I don't feel that the Jewel magic is still there," the 27-year-old said, referring to the initial boost brought by the spillover crowd from Jewel.
With quieter lunch hours now, Mr Aravind said that it was a good time to focus on training his workers.
"If you do a good service, people (customers) will definitely come back," he added.
AWAY FROM JEWEL...
Terminal 4, unlike the rest of the terminals, is not directly connected to Jewel. Visitors going to Jewel from the terminal have to take a free shuttle bus to Terminal 2, before walking over via the link bridge.
Thanks to the provision of a free shuttle bus service to Jewel during the opening period, some businesses reported an increase in receipts.
But when the bus service was suspended, their takings also declined, they said.
In response to TODAY's queries, the CAG said that the direct shuttle service from Terminal 4 to Jewel was introduced specifically to cater for the "very high visitor volume" during the public preview period and the following two weeks after Jewel's opening.
For Bee Cheng Hiang supervisor Yeo Wan Chin, 58, there were "no significant differences" in sales or footfall in Terminal 4 since Jewel opened.
"The only difference is now I get more enquiries about how to get to Jewel," she quipped.