Job vacancies at record high, majority of unfilled roles PMET-related: MOM
SINGAPORE — The number of job vacancies reached an all-time high last year, with 35 per cent of vacancies remaining unfilled for at least six months, and a majority of these unfilled roles being those for professionals, managers, executives and technicians (PMETs)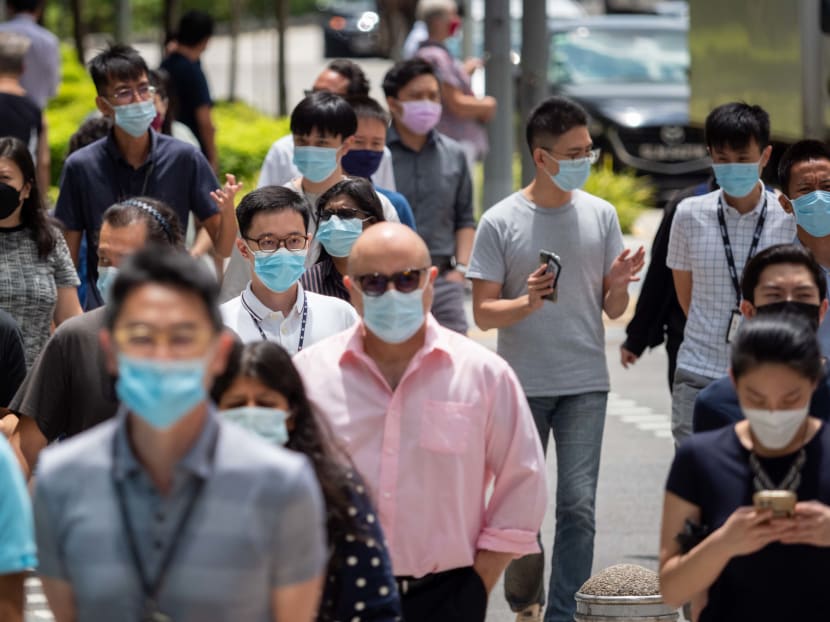 The proportion of job vacancies that went unfilled for six months or more increased to 35 per cent in 2021 from 27 per cent in 2020
MOM said this was partially due to a tight labour market, as well as employers being unable to find candidates with the right skill sets
A majority of unfilled jobs were PMET-related roles
Manpower Minister Tan See Leng said he expects labour shortages in non-PMET roles to abate as Singapore reopens
SINGAPORE — The number of job vacancies reached an all-time high last year, with 35 per cent of vacancies remaining unfilled for at least six months, and a majority of these unfilled roles being those for professionals, managers, executives and technicians (PMETs)
A tight labour market was not the only reason why these roles went unfilled, the Ministry of Manpower (MOM) said, and it was not because of a lack of academic qualifications among Singaporeans.
Rather, employers were unable to find candidates with the relevant skills or work experience, the ministry said.
These findings were released on Friday (April 1) as part of MOM's annual job vacancy report, which detailed the type and nature of positions that employers are looking to fill, the type of jobs in demand and the difficulties in finding people to take up these roles.
A total of 14,340 establishments employing some 1.8 million employees were polled between November last year and January this year, around the time Singapore was undergoing the Omicron coronavirus infection wave.
HARD TO FILL POSITIONS
The report found that 35 per cent of job vacancies were unfilled for six months or more in 2021, an increase from the previous year (27 per cent).
For PMETs, the top five positions unfilled for at least six months were:
Software, web and multimedia developer
Audit associate professional
Registered nurse and other nursing professional
Systems analyst
Commercial and marketing sales executive
Employers commonly said that the top reasons why these PMET positions were unfilled was because there was a shortage of candidates with the necessary skills (43 per cent) and work experience (33.8 per cent), especially in positions that required specialised technical knowledge such as software developers or systems analysts.
Other reasons included an unattractive pay (29.8 per cent and increased competition (22.4 per cent) from other employers for positions such as audit associate professionals.
For non-PMETs, the top five positions unfilled for at least six months were:
Construction labourer
Cleaner
Shop sales assistant
Waiter
Heavy truck and lorry driver
Workers were commonly deterred by the physically strenuous job (52.4 per cent), unattractive pay (42.6 per cent) and non-conducive working environment (36.8 per cent).
JOBS IN DEMAND
The report found that among the job openings last year, 44 per cent of positions were newly created as a result of business expansion, such as the opening of new outlets or new roles for which the firms are hiring due to restructuring or development in new business areas.
A majority of the job vacancies (53 per cent), MOM said, were for PMETs, but the proportion of non-PMET vacancies has also been rising since 2020.
This is particularly so for construction labourers and electrical and electronic equipment assemblers, due to border closures that restricted the inflow of foreign workers.
The ministry also found that the Covid-19 pandemic has accelerated the trend towards digitalisation, leading to greater demand for technological skills.
Among the top PMET jobs in demand were:
Commercial and marketing sales executive
Software, web and multimedia developer
Operations officer (except transport operations)
Systems analyst
The top non-PMET jobs in demand include:
Construction labourer
Shop sales assistant
Cleaner
Receptionist, customer service and information clerk
SKILLS AND ATTITUDE KEY CONSIDERATIONS
The report also found that slightly more than seven in 10 of the job vacancies last year remained unfilled because employers were not assessing candidates mainly on their academic qualifications. 
MOM said that this trend has "been on the rise, with a more pronounced increase observed for PMETs".
Instead of academic qualifications, a candidate's skill set and work attitude were the key considerations for employers, MOM found.
"Hence, having relatively higher qualifications does not mean a candidate is automatically considered ahead of his or her counterpart with lower qualifications," it added.
DECLINE IN REMOTE WORKING
Despite greater demand for technological skills, the proportion of vacancies that involved work that could be done remotely dipped slightly from 35 per cent in 2020 to 31 per cent in 2021.
This reflected the higher proportion of vacancies from industries and occupations where remote work was not prevalent, such as production engineers in manufacturing or civil engineers in construction.
At the same time, with the resumption of workplace activities, MOM said that fewer employers offered remote work options for occupations that usually require face-to-face interactions or on-site presence such as operations officers in food-and-beverage services, as well as commercial and marketing sales executives.
'CLEAR INDICATION ECONOMY RECOVERING'
Commenting on the record high job vacancies last year, Manpower Minister Tan See Leng said that when considered together with both the growth in employment and falling unemployment, it becomes a "clear indication that the economy is recovering from the impact of the Covid-19 pandemic".
With the economy picking up, Dr Tan hopes that employers can put in more resources in training available manpower to meet longer-term needs.
"I would exhort all employers… to adopt a plug-train-and-play mindset when hiring through our SGUnited Mid-Career Pathways Programme, as well as the Career Conversion Programme," he said.
The SGUnited Mid-Career Pathways Programme is a full-time attachment programme that allows mid-career workers to widen their professional networks and gain industry-relevant skills and experience, by being attached to a host organisation for four to six months.
The Career Conversion Programme is for mid-career workers to undergo skills conversion and move into new occupations or sectors that have good prospects and opportunities for progression. 
Touching on the impacts of the easing of border restrictions, which were announced by Prime Minister Lee Hsien Loong last Thursday, Dr Tan said that the labour shortages in non-PMET roles "will largely abate" as Singapore opens up further. 
However, with the relaxation of social gathering measures, Dr Tan said that "consumer-facing industries may face persistent strain as hiring demand picks up alongside resumption of business activities".
On that point, Dr Tan urged businesses to find ways to transform their businesses and raise productivity.
For instance, he said that the Service Industry Transformation Programme — which supports the lifestyle sector by providing guidance on service delivery and job redesign — has been simplified, and will now take half the time to complete. Instead of taking 30 weeks to finish, the project duration has been shortened to 15 weeks.
Dr Tan also said that there are ways to expand the resident workforce despite the tighter labour market.
One way is for employers to tap some 260,000 women "who are not back in the workforce, but who are capable of doing so".
The other is through the hiring of older workers, of which there are another 120,000.
On the Government's part, he said that it has been supporting hiring through schemes such as the Jobs Growth Incentive, which has matched close to 509,000 job applicants with 67,000 firms between September 2020 and August 2021.
The scheme, which helps firms increase the headcount of resident workers through the provision of government subsidies for their wages, will be available until September this year.
With the easing of Covid-17 regulations, there will also be a decrease in demand for short-term jobs related to infection controls such as safe distancing ambassadors, Dr Tan noted.
Many of them, he said, will return to sectors that they had originally come from, such as aviation or the service industry.
He added that the authorities will also be trying to absorb safe distancing ambassadors into the healthcare sector as well, if they have been deployed to areas related to it.
As for others, many agencies that employed these workers are planning to create a "roadmap" together with Workforce Singapore and the Employment and Employability Institute, to have these individuals employed elsewhere.