Life sentence, caning for man who stabbed Punggol jogger to death out of anger over NS enlistment and father leaving family
SINGAPORE — While out on his regular run during the Covid-19 partial lockdown period on May 10, 2020, Surajsrikan Diwakar Mani Tripathi tripped and fell near a bus stop along Punggol Field Road.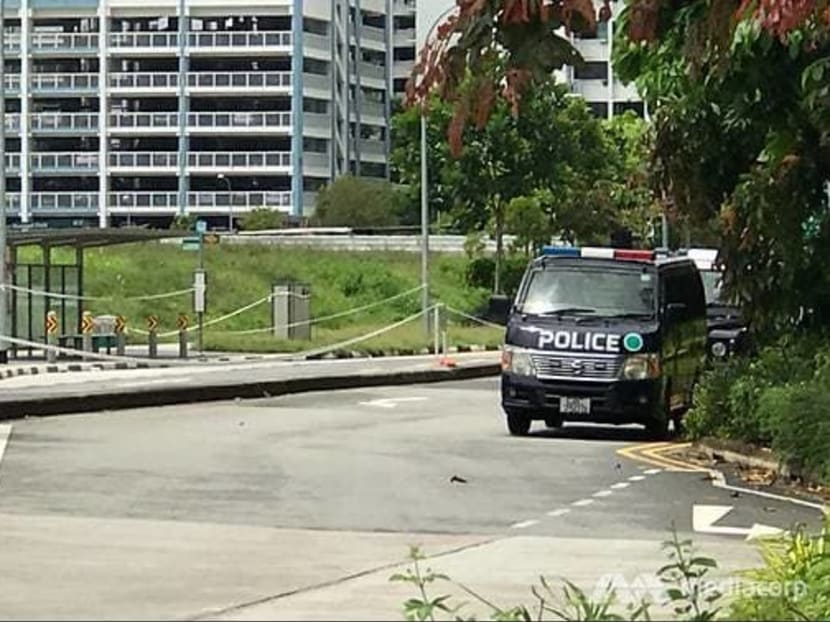 Surajsrikan Diwakar Mani Tripathi was sentenced to life imprisonment and 15 strokes of the cane
His actions of stabbing a fellow jogger to death in 2020 were triggered by the date of May 10
He was arrested several days later after fleeing the scene
He suffered from mental illnesses such as severe social anxiety disorder and obsessive-compulsive disorder
A judge expressed his hope that the sentence would bring some sort of closure to the victim's family
SINGAPORE — While out on his regular run during the Covid-19 partial lockdown period on May 10, 2020, Surajsrikan Diwakar Mani Tripathi tripped and fell near a bus stop along Punggol Field Road.
That date left the 20-year-old frustrated and angry because two years before, he had enlisted for National Service on that day.
His father had also abandoned his family that same day in 1999 when his mother was still pregnant with him.
Shortly after tripping, Surajsrikan chased after a 38-year-old stranger who jogged past him and then used his Singapore Armed Forces (SAF) Swiss army knife to stab the other man from behind forcefully.
The victim, Tay Rui Hao, died in hospital from multiple stab wounds shortly afterwards. Surajsrikan fled the scene before being arrested at his flat about a week later.
Surajsrikan, now 22, was sentenced in the High Court on Thursday (Sept 15) to life imprisonment and 15 strokes of the cane after pleading guilty to Tay's murder under Section 300(c) of the Penal Code.
The offence carries either life in jail or the death penalty. Prosecutors did not seek the latter.
WHAT HAPPENED
Tay's family members were present in the courtroom when the court heard details of what happened that day.
Tay, who lived in Punggol with his wife, began jogging two to three times a week when the circuit breaker or semi-lockdown period for the Covid-19 outbreak started a month earlier. He worked as an assistant manager at the Nike retail store in Changi City Point mall.
Surajsrikan lived in a Housing and Development Board flat along Sumang Walk Lane with his extended family. He was a regular runner and strictly adhered to his routine to avoid regaining the weight he previously lost.
That evening, Surajsrikan brought along his SAF knife and some wet wipes on his run.
While running, he tripped and fell near a bus stop along Punggol Field Road. He then paced around the area for five minutes to work off his anger.
When Tay jogged past around 11pm, an angry Surajsrikan unfolded his knife, chased after the older man and stabbed him forcefully in the back, causing him to fall.
Tay then rolled forward and faced Surajsrikan, lifting his arm in an attempt to sit up. Surajsrikan proceeded to slash and stab Tay's arm before stabbing him several times in the chest and abdomen.
He then ran back to the bus stop and did not call for the police or an ambulance.
He walked back to his neighbourhood, wiping the blood off his hands with the wet wipes, and wandered around for about one-and-a-half hours while avoiding other people.
He discarded the wet wipes at the void deck of a public housing block before returning home, only telling his family that he was late because he had fallen while jogging. He also washed the knife with soap.
At the scene of the stabbing, Tay called 995. When paramedics arrived at the scene, they found him lying on the grass and bleeding heavily.
He was still alert but later lost consciousness, before dying from his injuries at Sengkang General Hospital around 12.30am.
Surajsrikan was arrested on May 16, 2020. The authorities identified him through police camera footage, which showed him wandering around the neighbourhood with a knife.
An autopsy report showed that he had inflicted four stab wounds on Tay.
PSYCHIATRIC ISSUES
When Surajsrikan was examined at the Institute of Mental Health (IMH), a psychiatrist diagnosed him with severe social anxiety disorder, obsessive-compulsive disorder and a learning disorder.
Deputy Public Prosecutors (DPPs) Andre Chong and Han Ming Kuang told the court that these mental illnesses did not cause his actions but had a severe and deleterious effect on his socio-occupational and academic functioning.
This led to feelings of low mood and anger but his symptoms were not enough for him to qualify for a diagnosis of depressive disorder.
He was previously found to have borderline to low intelligence but the IMH psychiatrist did not find that he had an intellectual disability. He also did not have a psychotic disorder.
'SENTENCE WILL NOT BRING VICTIM BACK'
DPPs Chong and Han argued for the maximum 24 strokes of the cane along with life imprisonment for Surajsrikan.
The prosecutors put forward four aggravating factors, including Surajsrikan acting with premeditation rather than on impulse. They also noted the brutal manner of the killing and his actions afterwards, which showed a lack of remorse.
The fact that it took place during the circuit breaker period "caused substantial public disquiet", the prosecution said.
In mitigation, Surajsrikan's lawyer Edmond Pereira said that his client did not offer any excuses for what he did but had not planned to harm anyone. He had wanted to harm himself instead, the defence counsel claimed.
Mr Pereira told the court that Surajsrikan dropped out of school and experienced anxiety around crowds, keeping to himself even at home. Since his arrest, he has been remanded in isolation in a single cell.
His National Service stint was "quite short because of his behaviour", including using a hammer to break a communication set and glass tabletop, Mr Pereira disclosed. He was then medically downgraded and later discharged from SAF.
Due to these circumstances, the lawyer urged High Court judge Dedar Singh Gill not to impose caning or a fewer number of strokes.
"Something happened to trigger him. It was a senseless and cruel killing — we cannot dispute that. His family is in grief with the deceased's family," Mr Pereira said.
In sentencing Surajsrikan, Justice Gill told the court that although the sentence will not bring Tay back or "erase memories of this painful episode", it was his hope that it will "provide some sort of closure" to Tay's family members.
"It is also my hope that the accused dutifully continues with medication while in prison," Justice Gill added.