LTA reverses some changes to Bukit Panjang bus services, delays withdrawal of services by 2 weeks
SINGAPORE — After heavy criticism from two Members of Parliament (MPs), the Land Transport Authority (LTA) on Thursday (Aug 13) walked back some of its changes to bus services in Bukit Panjang town.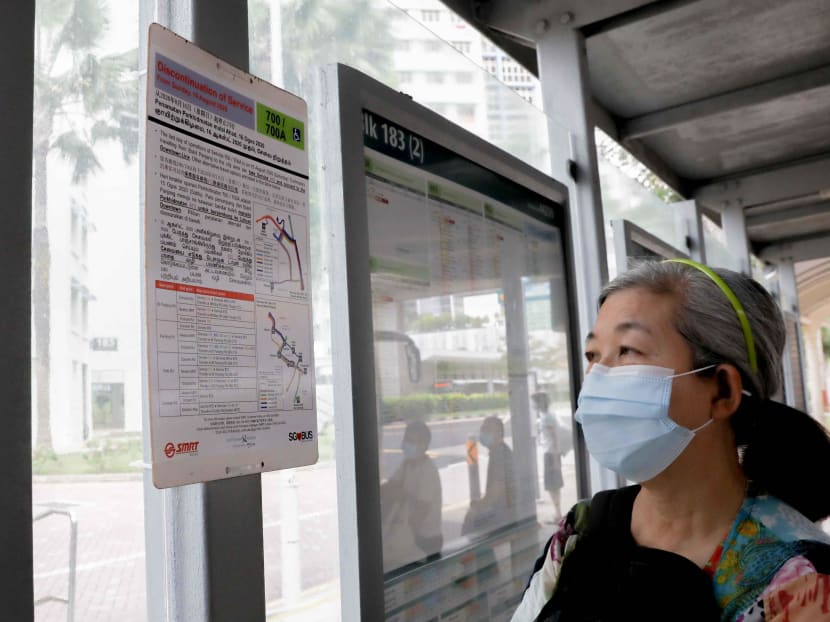 LTA walked back its changes to service 972
The stoppage of services 700 and 700A, and shortening of service 171, will stay
But the moves will be delayed until Aug 30
Other bus routes will be amended to cushion the impact on commuters
SINGAPORE — After heavy criticism from two Members of Parliament (MPs), the Land Transport Authority (LTA) on Thursday (Aug 13) walked back some of its changes to bus services in Bukit Panjang town.
It will amend some bus routes to cushion the impact of the removal of services 700 and 700A, and the shortening of bus service 171.
These moves will take effect on Aug 30, instead of Aug 16, to give commuters and bus operators time to adjust, LTA said on Facebook.
The revisions come after last Monday's announcement that bus services 700 and 700A — which connect Bukit Panjang to Shenton Way, Orchard Road and Bukit Timah — will be withdrawn. Service 171 will also be shortened.
Service 171 now runs through Yishun, Mandai, Bukit Panjang, Upper Bukit Timah, Orchard Road and Bras Basah. With the change, it will loop around Bukit Panjang's town centre before returning to Yishun.
The announcement drew rebukes from Bukit Panjang MP Liang Eng Hwa and Mr Edward Chia, an MP for Holland-Bukit Timah Group Representation Constituency, who voiced disappointment at LTA last week over the changes. 
LTA said the earlier decisions were made after ridership on these bus services tumbled since the opening of the second phase of the Downtown MRT Line in December 2015. It has also been subsidising some of these services, to the tune of more than S$5 million a year.
While the changes remain, LTA said that it would amend an existing express bus service, 971E, to ply along Petir Road in Bukit Panjang to provide residents of the town with a direct link to the city.
It will also convert the service, which bypasses certain stops, to a peak-hour trunk service 971, with extended operating hours. The service will also call at more stops.
LTA also reversed its decision to amend the route of service 972, which connects Bukit Panjang to Orchard Road, after complaints about the proposed changes.
The original plan was for service 972's route to be revised to serve stops at Bukit Timah Road, Dunearn Road, Newton MRT Station and Scotts Road.
The authorities will instead introduce a modified service 972M by redirecting a portion of service 972 buses to ply along Dunearn Road and Scotts Road, so as to preserve residents' connectivity to the city.
Mr Chee Hong Tat, Senior Minister of State for Transport, said in a separate Facebook post that LTA will increase the peak-hour frequency of services 972 and 972M to manage the crowds where necessary.
With the changes, Bukit Panjang residents can take service 972 or 972M to town, or service 971 during peak hours. 
"While this arrangement increases the headway between bus arrivals for both services 972 and 972M, commuters can use the bus service app to plan your journeys and minimise waiting time at the bus stops," he said. 
"I seek everyone's understanding that we need some give-and-take in such situations, to cater to different groups of commuters while ensuring prudent use of public funds."
LTA will also raise the peak-hour frequency of service 973 to improve links to Hillview MRT Station, Mr Chee said. The authorities will monitor the situation after two months and assess if further tweaks are needed.
Mr Liang and Mr Chia, who met the transport agencies this past week, took to Facebook to thank Mr Chee and the authorities for considering feedback from residents.
Mr Liang told TODAY: "To find that balance is not easy, but I'm glad that we all have an open mind to explore the various possibilities and that LTA was prepared to make further changes and adjustments, allowing us to come up with these solutions."
SOME RESIDENTS STILL INCONVENIENCED
While some residents welcomed the adjustments, they noted that the withdrawal and shortening of bus services would still leave them with fewer travel options from Bukit Panjang — the final station on the Downtown Line — into the city.
The changes also failed to allay the concerns of others such as Mr Stanley Ang, who lives in Yishun and works in Hillview as a teacher.
As service 171 will be shortened, the 39-year-old's commute to work will soon be more inconvenient, since he will have to make more transfers by train.
While he understands the rationale behind the bus service changes, Mr Ang hopes future public transport decisions will not be measured merely in dollars and cents.
Mr Chia also acknowledged that some concerns still linger. 
"We understand that some residents will still be affected by these new changes, and we hope to seek your understanding and patience," he wrote on Facebook.
"The Ministry of Transport and LTA have assured us that they are open to continual communication with us and will closely monitor the waiting times and crowdedness of the buses."
Mr Liang added that it was a work-in-progress. 
"We will, of course, continue to engage LTA each time there are concerns raised. Or if we think there is scope to improve, we will go back to them."