Luxury car dealers see sales boost from first-time buyers, regular customers seeking to pamper themselves
SINGAPORE — Despite the pandemic, property agent Noor Ally saw an unexpected 30 per cent increase in business following the circuit breaker period.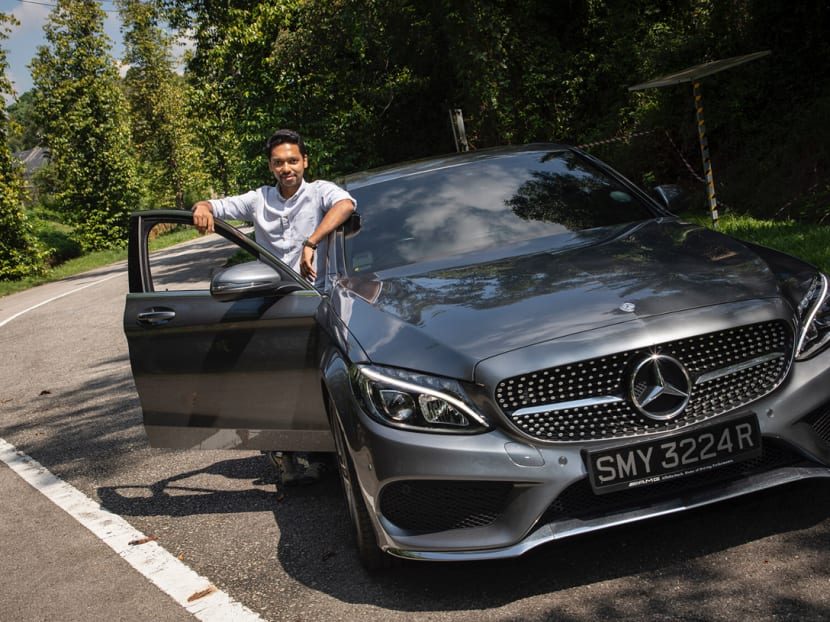 Luxury car dealers said they have seen a boost in sales despite the pandemic
They have seen a mix of first-time luxury car buyers and returning customers
Customers cited reasons such as wanting to splurge, and boredom due to closed borders, as reasons for buying a new car
SINGAPORE — Despite the pandemic, property agent Noor Ally saw an unexpected 30 per cent increase in business following the circuit breaker period.
With the extra cash in hand, he decided to reward himself by swapping his six-and-a-half-year old Volvo S60 with a two-year-old Mercedes-Benz C200, which he paid S$160,000 for earlier this month.
"I was really making good money and I decided, okay why not just upgrade," the 39-year-old said.
Despite the economic uncertainties brought on by the pandemic, dealers of luxury cars here said sales have increased thanks to both buyers upgrading from their existing cars and regular customers.
Recent reports of how demand for luxury homes has soared at least 10-fold in March suggest that the wealthy are looking for avenues to spend their money, with leisure travel halted by the coronavirus.
The car dealers and rental companies whom TODAY interviewed said as much.
Mr Gary Hong, the general manager of luxury car vending machine Autobahn Motors, said many of his customers are travel-starved and looking for something that can "further enrich their lifestyle" as a substitute for jet-setting.
Before the pandemic, they would have thought twice about splurging on a luxury car because they would hardly be in Singapore to drive it, said the 50-year-old.
MORE FIRST-TIME BUYERS, UPGRADERS
Some of the luxury car dealers whom TODAY interviewed said part of the increase in demand came from first-time buyers of luxury cars, many of whom traded in their existing cars for bigger or more upmarket models.
Mr Benjamin Loo, head of operations at CarTimes Automobile, said many of these customers purchased their current cars when the prices for Certificates of Entitlement (COE) were low, at around the S$30,000 range.
Now that COE prices have risen to around S$60,000, these customers are able to trade-in their cars with very little losses for a bigger or upmarket car, said Mr Loo.
He added that the company's sales for continental cars have doubled compared to before the pandemic.
Mr Aaron Tan, chief executive officer of car dealership Carro, said he has seen demand for luxury cars increase by almost 10-fold, especially for models such as BMW, Mercedes-Benz and Porsche.
"Majority are families with young children, who upgrade to more luxurious car models to travel with greater safety and comfort," said Mr Tan.
Undergraduate Shaun Wong, who bought a BMW Z4 in February, said he had been saving up to buy this particular model. He also took advantage of the low COE prices.
"The main reason I chose to buy now is I have the ability to do so," said the 24-year-old, who is also a financial advisor.
REGULAR CUSTOMERS LOOKING FOR NEXT JOY RIDE
Other car dealers said sales have remained robust due to returning customers.
Mr Shaun Domoney, managing director for luxury brands at car dealership Eurokars, said sales have gone up across the board for three of its luxury car brands — Porsche, Rolls-Royce and McLaren.
He said buyers of brands like McLaren have cited good return investments as the reason they were back in the market for another car, or they just had "spare cash" as they were not able to travel.
Mr Lim Ah Poh, 56, owner of pre-owned luxury car business Motorway, said he has seen a 20 to 30 per cent increase in sales from before the pandemic, and half of these customers were regular returning customers.
He added that some of the returning customers were into the hypercar market — rare and expensive cars with an engine that far outperforms an average sports car — as they were looking for more novelty purchases.
The most expensive car he sold recently is one from Swedish manufacturer Koenigsegg for S$6.8 million.
For corporate executive G C Lee, 55, the decision to buy his new Bentley was a spontaneous one as their sport utility vehicle was more than four years old.
"When you're not travelling, you're really bored… So once you have the chance, you put some spice into the normal schedule and we just got it," said Mr Lee.
CAR RENTALS ALSO UP
Ms April Koh, 31, the general manager of car leasing firm Ace Drive, said rentals for its luxury car fleet have also seen a boost since the pandemic began.
"Because people cannot travel out of Singapore for holidays and what not, customers have come in because they want a joyride, want a luxury car experience, or want to rent a car for birthday occasions and celebratory occasions," said Ms Koh.
Some have come in to rent a luxury car while waiting for their own new ride to arrive in Singapore, she said.
The firm has seen a 75 per cent jump in new customers, of which 20 per cent were customers looking to rent luxury cars.
The numbers are even better than the year before, she said.