Maserati driver found guilty of dragging cop more than 100m in hit-and-run
SINGAPORE — A 35-year-old man who outright denied being the driver of a Maserati in a hit-and-run incident was found guilty of 10 related charges, including dragging a uniformed traffic police officer for more than 100m.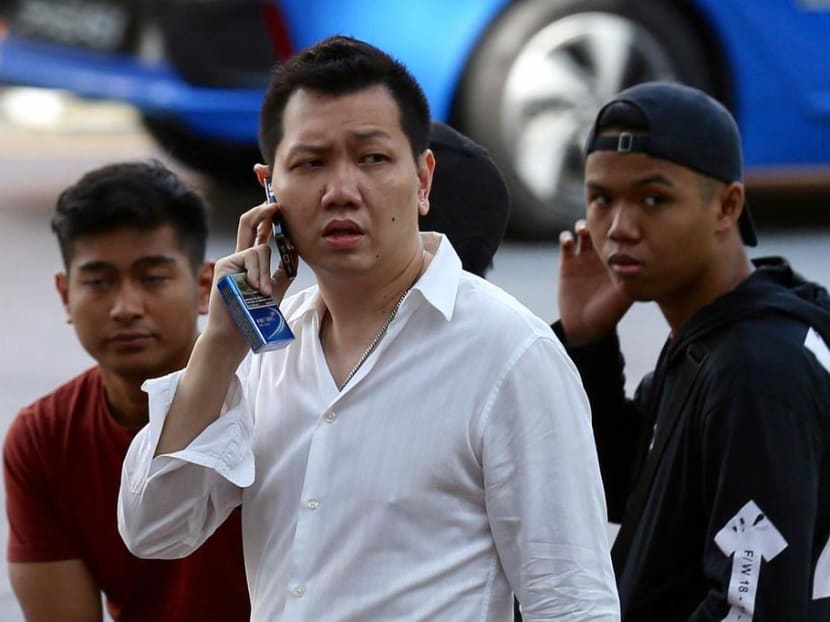 SINGAPORE — A 35-year-old man who outright denied being the driver of a Maserati in a hit-and-run incident was found guilty of 10 related charges, including dragging a uniformed traffic police officer for more than 100m.
Lee Cheng Yan had claimed trial over the incident that took place on the evening of Nov 17, 2017, along Bedok Reservoir Road.
He asserted on the stand that he had lent the white Italian luxury car to someone known only as Kelvin, a man he had met briefly about four months earlier and whose full name and address he did not know.
Kelvin had been driving the car that evening, he testified. 
However, Deputy Public Prosecutor (DPP) Timotheus Koh pointed out on Wednesday (Dec 4) that Lee's lawyers had not even called Kelvin to the witness stand "even though he is a key part of the defence".
Lee was also found guilty of rash driving, failing to wear a seat belt, driving while under a nine-month ban, failing to stop after an accident, and obstructing justice by abandoning his car and discarding his white T-shirt in a rubbish chute.
In convicting Lee, District Judge Ng Peng Hong ruled that the prosecution had established all the charges beyond a reasonable doubt, after considering all the evidence.
The judge increased Lee's bail by S$10,000 to S$70,000. He will return for sentencing on Jan 14 next year.
'DESPERATE PLAN TO MISLEAD COURT' 
Among the various offences, Lee was convicted of causing grievous hurt to the officer as well. Staff Sergeant Khairulanwar Abd Kahar was dragged by Lee's car when his uniform got caught in its door.
As a result of his injuries, Mr Khairulanwar was medically downgraded by the Home Team Medical Board, affecting the range of duties he was able to carry out as a traffic police officer.
During oral submissions on Wednesday, Lee's lawyer S Balamurugan argued that the Maserati driver could not have known that Mr Khairulanwar would be grievously hurt from the car suddenly reversing, as per the charge.
Mr Balamurugan also said that none of the eyewitnesses were able to identify that Lee was the driver, save for one who had done so with "a fleeting glance through a heavily tinted window".
In response, DPP Koh said that Lee had acknowledged during the trial that the Maserati driver would have realised that the officer would fall and be seriously injured. Mr Khairulanwar had also been shouting for him to stop.
DPP Koh told the court that a "golden thread of evidence" ran through the chronology of events, showing that Lee was the driver.
"(His description of Kelvin) fits with his desperate plan to mislead this court that the driver was someone resembling him and not himself," the prosecutor argued.
 
Lee faces another 59 unrelated charges, such as for unlicensed moneylending and online gambling. They will be dealt with later. 
EVENTS THAT LED TO INCIDENT
During the five-day trial that began in October, the prosecution argued that Lee left home at about 8.50pm the day of the incident and drove the Maserati to Bedok Reservoir Road to pick up a laptop from another man.
After picking that up, he was driving the car towards Eunos Link at about 9.20pm, when he was signalled to stop because Mr Khairulanwar spotted him driving without a seat belt.
Lee refused to stop, the prosecution said, but was eventually compelled to do so at a signalised traffic junction due to traffic conditions.
Video footage of the incident showed that Mr Khairulanwar parked his patrol motorcycle in front of the Maserati before dismounting to approach the driver's window to speak to the driver.
Lee wound down his window and Mr Khairulanwar instructed him to pull over to the side of the road.
But instead of complying, Lee suddenly reversed the Maserati before quickly accelerating forward while the officer stood next to the driver's side door.
The officer was dragged along with the moving vehicle, which was going at a "considerable speed" of 79km/h to 84km/h for 124m.
Lee then fled the crime scene without rendering any help, DPP Koh said.
The escape was witnessed by a motorcyclist, who tried pursuing him while his pillion rider recorded the chase with his mobile phone camera.
Witness testimony stated that Lee was driving rashly during the chase — beating two red lights, overtaking vehicles without signalling and travelling against the flow of traffic.
After losing the pursuing motorcyclist, Lee abandoned the Maserati which was found by the police along Willow Avenue near Upper Aljunied Road. He then called his friend, Mr Jason Ong, to pick him up.
DPP Koh said that Mr Ong drove Lee to the house of another friend, where he admitted to that friend that he had driven the Maserati and run away from the traffic police earlier that evening.
Later that night, Lee also spoke to another man on the phone and likewise admitted to him that he had run away from the traffic police.