I watched a metaverse concert and this is what it was like
SINGAPORE — There was a "DJ" on a large, illuminated stage playing a remix of Coldplay's hit A Sky Full of Stars, and there were dozens of "people" dancing to the beat.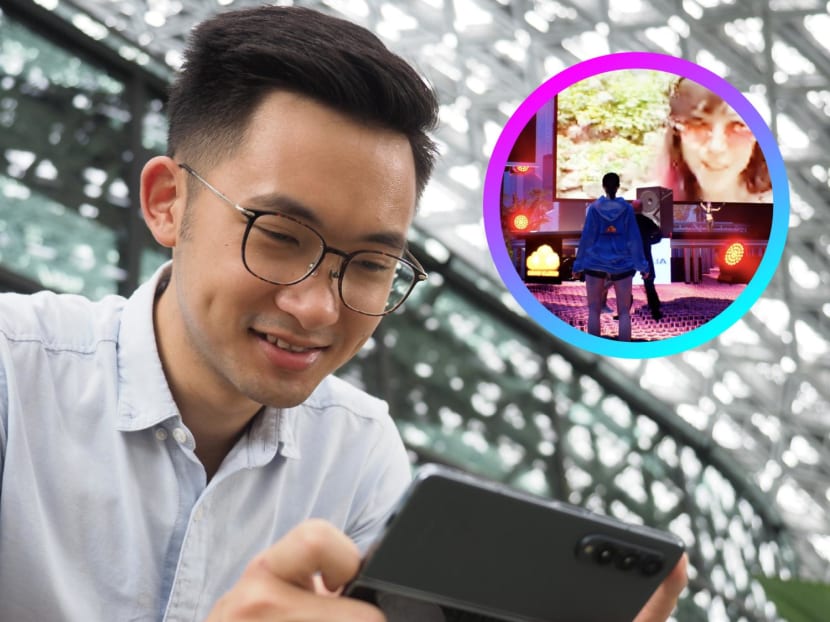 A metaverse is a three-dimensional virtual world where people socialise, work and play
This journalist "attended" a metaverse concert in the form of a virtual avatar 
There were perks to being in a virtual concert, such as being able to go right up to the front of the stage
But overall, this journalist says that an actual concert experience cannot be replaced
SINGAPORE — There was a "DJ" on a large, illuminated stage playing a remix of Coldplay's hit A Sky Full of Stars, and there were dozens of "people" dancing to the beat. 
The famed Supertrees from Gardens by the Bay appeared to tower over the venue, and they were pulsating with pink neon lights. The ground, too, was emanating light, and a building that looked like Marina Bay Sands stood in the distance. 
This concert would have cost organisers and arm and a leg to host, taking up virtually the entirety of the Gardens by the Bay venue. 
But the truth was, the organisers had not spent a single cent on renting out the space, or on any physical props, for that matter. 
In fact, "I" was attending this concert, not in my own 28-year-old male self, but in pixels, as a young female avatar wearing hot shorts and a hoodie. 
In other words, I was attending a concert in the metaverse. 
A metaverse is a three-dimensional virtual world where people socialise, work and play, and in this case, the metaverse was akin to a gaming world, where I had a specific character that could walk around and interact with the 3D environment. 
The idea of the metaverse puzzled me, being someone who hardly plays computer games.
So, when I heard that telecommunications company M1 was teaming up with Gardens by the Bay and e-gaming firm Electronic Sports Private Limited (ESPL) on Tuesday (Sept 27) to showcase a demo of a metaverse concert, I joined in on the fun.
GROWTH IN POPULARITY OF THE METAVERSE
It seemed like a concept for the distant future, up till I noticed that just last month, a couple had actually gotten married in the metaverse, which they said was the first marriage of its kind. 
In fact, the metaverse has been a buzzword for over a year, ever since Facebook founder Mark Zuckerberg renamed his Facebook company to Meta in October last year, signalling its big push into the metaverse. 
Since then, various companies, both local and global, have delved into this concept. 
For instance, DBS Bank last month collaborated with The Sandbox, a decentralised virtual gaming world, to acquire a unit of virtual real estate in The Sandbox metaverse. 
Even governments have been delving into the metaverse. English language daily the Khaleej Times reported last month that the United Arab Emirates Ministry of Economy would have a new headquarters located in the metaverse, where anyone can visit. 
Whether the popularity of the metaverse will continue to expand will depend on an "ecosystem" of different stakeholders, said Professor Lim Sun Sun, head of humanities, arts and social sciences at the Singapore University of Technology and Design.
For instance, technology such as 5G networks, the accessibility of immersive devices such as virtual reality (VR) headsets, and the variety of metaverse events have to develop at the same pace to sustain the growth of the concept.
"It speaks to the broader ecosystem, whether or not the metaverse environments are appealing, whether they are welcoming, whether the hardware becomes more comfortable, whether that sort of physiological experience of interacting with others (in the metaverse) becomes more palatable over time, and so on," said Prof Lim. 
BOTH A LIVE PERFORMANCE AND A VIDEO GAME
For the metaverse concert demo, members of the media were invited to Floral Fantasy, an indoor garden at Gardens by the Bay, where we could use several smartphones on display, which was to be our window to the metaverse.
This didn't seem very special at first, as I initially thought that having a VR headset would make for a more immersive experience, by granting users a 360-degree view of the metaverse. However, I understood that not everyone would have a VR headset, so a smartphone could actually be the primary mode the metaverse is accessed in the future. 
According to M1 and Gardens by the Bay, having the metaverse experience on a smartphone was a remarkable achievement in itself. 
Deputy chief executive officer of Gardens by the Bay Lee Kok Fatt said that it is only with a 5G network that the metaverse can be experienced from the typical mobile devices.
"The content (of the metaverse) is very rich and heavy, so before the advent of 5G, it required users to download a very big file to access the user experience," he said. 

He added that Gardens by the Bay, M1 and ESPL will be working together to provide 5G connectivity at Gardens by the Bay's indoor venues and this will make such metaverse events more accessible there. 
What I found special about the metaverse was that it was a mashup between both a live performance and a video game. 
The "live performance" came in the form of an actual DJ, Jasmine H Nera, who goes by the stage name DJ Red, playing at this demo event. Her physical self, however, was at another location within Gardens by the Bay, while her avatar was on the metaverse stage that I could see from the phone, behind a DJ console.
There was a "live chat" function, where I could type messages or questions to Ms Nera. I typed: "How will the metaverse benefit you?" 
Ms Nera's own physical face popped up on a large screen in the back of the metaverse stage and she was able to reply me, live. 
"The convenience is there because it allows me to just stream from wherever I am... that provides me a great way to talk to my fans, especially the international fans, because they are not going to be able to fly in just for my show," she said. 
I found this function particularly distinct from a typical live performance, where performers would scarcely be able to respond to specific fans amid the chorus of screams. It added an intimate touch to the event. 
And with the performance being viewed on a smartphone, it was a largely two-dimensional experience, with the sound quality itself the same as when watching a YouTube video. This paled in comparison to being at a live concert, as the feeling of jostling with the crowd and having live music blast out of large speakers could not be replicated. 
On the other hand, the entire experience also felt like I was playing a video game, with my avatar's movements around the metaverse space, from running around to jumping, controlled by me. 
This was in theory supposed to give my avatar some degree of freedom in the concert venue. Sure enough, I could just weave between other partygoers and easily find myself at the front of the stage.
For now, there was also no way for me to change my avatar from a woman to a man, let alone customise the avatar's appearance and clothing, but this was an option that will be added in later, the developers told me. 
Other burning questions which I had were also addressed, namely, whether there was any safeguard against harassment or abusive behaviour in the metaverse. For instance, could an avatar run on stage and disrupt the show, or hurl vulgarities at other audience members? 
Project Chair of ESPL Roland Ong said that while there is nothing to stop users from posting what they want, there is the possibility of having moderators on the platform, to ensure that anyone deemed to be abusive or disruptive to the performance can be booted out of the metaverse. 
"Secondly, we can use software to catch words that are undesirable, so that they are censored right away," he added. 
Overall, it was an extremely novel experience, one that I would not mind doing again when the operating system is more refined and updated. It presents an opportunity for me to "attend" a performance without committing a lot of time and money, yet also allows for some degree of interaction that an online video cannot provide. 
However, I can safely say that I would not want the metaverse to replace actual live performances, as there is a certain tangibility about them that is difficult to emulate. 
THE AIM IS NOT TO REPLACE LIVE PERFORMANCES: M1, GARDENS BY THE BAY
My concerns that we were heading for an entirely virtual world bereft of "traditional" live performances were quickly assuaged, because the aim of testing out the metaverse was never to fully replace the real life concert experience. 
Mr Ong from ESPL said that the metaverse will allow tourists the chance to "explore" Gardens by the Bay without flying down. 
However, the end goal is still to attract people to visit the physical venue itself. 
"(Gardens by the Bay's) status as a global icon, we can use it to host local artists and showcase them to the world, that is another one of our objectives," Mr Lee said. 
Chief corporate sales and solutions officer from M1, Mr Willis Sim, said that other than cutting the costs of renting out large spaces, the metaverse provides concert organisers the opportunity expand their reach, by either holding an event entirely on the metaverse, or have hybrid events, where some of the audience is live, and another group is in attendance online. 
"This will increase the revenue for the artists, the concert and the event organiser," he said. 
Members of the public, too, can hold their own metaverse events at Gardens by the Bay. 
"If you book a wedding package, you can discuss with us right away, if you want an option to also make it available on the metaverse," said Mr Ong.