'Monsters' that go 100km/h or faster: Inside the booming black market of PMD modification
SINGAPORE — A teenager, with his father in tow, walked into Mr Samuel Tan's e-scooter shop a while back with a request to "zhng (Hokkien for modify) my ride".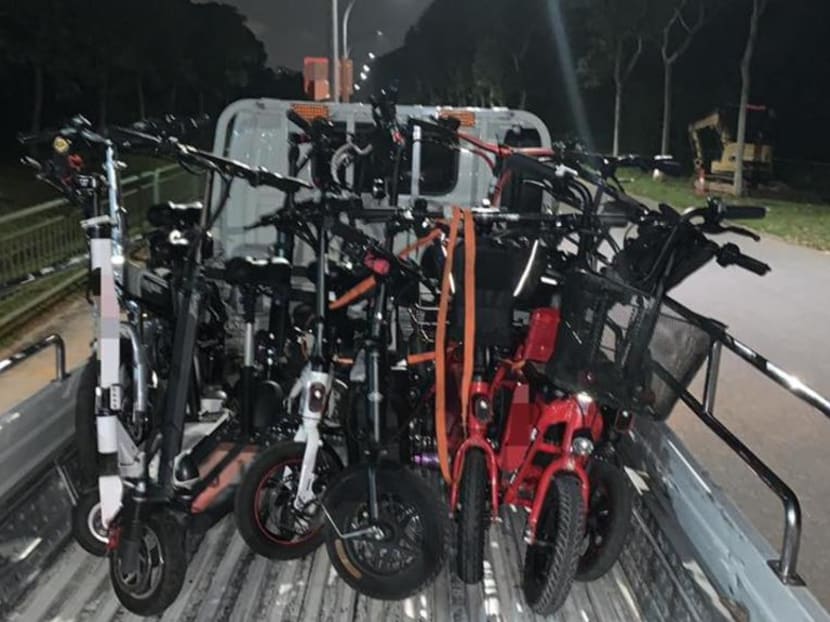 SINGAPORE — A teenager, with his father in tow, walked into Mr Samuel Tan's e-scooter shop a while back with a request to "zhng (Hokkien for modify) my ride".
The teen had wanted an illegal and expensive upgrade of his personal mobility device (PMD) to allow him to travel at speeds many times the Singapore limit of 25km/h. His father was there to finance the modifications, ready to pay thousands of dollars.
Mr Tan, the proprietor of Synergy Scooters at Beach Road, pulled the parent aside, refusing the request. How could he, in good conscience, "empower a kid with a scooter that would get him or innocent passers-by into trouble or harm", he recalled telling the parent.
But the parent pleaded with Mr Tan to agree to do the work: "If you won't do it for him, we will get someone else to do it."
This is how it used to be in the hidden world of building "monsters" or "beasts" — terms that some in the industry use to describe high performance e-scooters that can travel at speeds of 100km/h and beyond.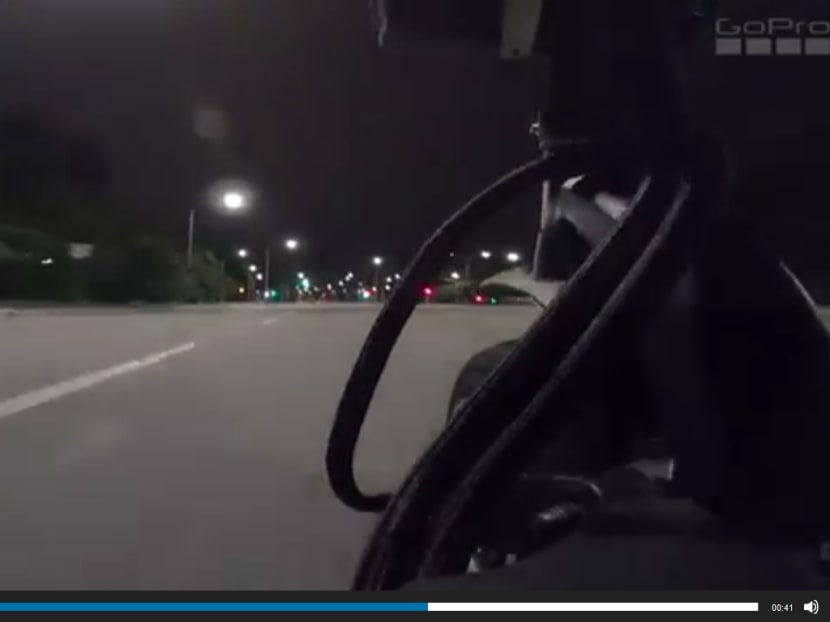 It is illegal to modify PMDs and render them non-compliant on public paths, and retailers and users can be jailed for three months and fined S$5,000 for the first offence, according to the Land Transport Authority (LTA) website. Since July 1, shops have been forbidden from advertising and selling PMDs that are not UL2272 certified — any tampering with the scooters' electrical components will also void the certification.
The LTA is also reviewing the end-2020 deadline that will bar non-UL2272 devices on public paths, following recent incidents of PMD-related fires that have claimed one fatality.
Since the introduction of the Active Mobility Act in 2017 that sets out PMD rules, shops claim to have slowly ceased performing such modifications for PMD riders.
But this has led to the rise of a cottage industry of home-based businesses that offer these services and operate under the authorities' radar.
With the new e-scooter registration rules that kicked in on July 1 this year and LTA's active enforcement, maintenance shops and scooter retailers have told TODAY that these speed demons have gone further underground, and a solution to remove these "monsters" from roads and homes is nowhere in sight.
'COTTAGE INDUSTRY' OF E-SCOOTER BUILDS
Despite the rules dampening some demand for such scooters, the business of modifying them is still "very much alive and well", said retailers.
Tweaking a scooter is neither a simple nor cheap process, requiring owners to remove standard parts and replace them with expensive higher-powered electronic components, such as batteries, the battery management system, motors, cabling and the controller — the electronic brain of the PMD.
Custom brakes are usually added to accommodate the higher top speeds, though there are some who choose to skimp on brakes to save weight and cost.
These parts are typically ordered online and shipped from overseas, but they are also traded between users in a black market of parts in private forums and Telegram groups. Their reliability is questionable, said a spokesman for retailer Fabulous Scoot, who wanted to be known only as Don, 38.
Yet, the high profits for such conversions have attracted many youths, many of whom do not have any technical or electrical credentials, he added.
On online classified sites such as Carousell and private Telegram groups, these owners posted listings and pictures of their modified scooters, with some claiming that they can travel above 100km/h. They are priced upwards of S$3,000, with one decked-out Dualtron model selling for nearly S$8,000 and purportedly able to hit speeds above 130km/h.
One such seller, who declined comment, listed a high-performance build based on the popular Fiido model that comes without a battery pack. Listed for roughly S$2,000, the seller would earn around S$400, a profit margin of about 20 per cent, based on a cost breakdown by TODAY.
Don said most of these home-based modification shops are "fly-by-night operators" who started as hobbyists, because no retail shops were able to meet the demand.
"In a sense, they mix and match parts from everywhere, anywhere, and once they find the right formula for a build, their friends start to ask if they can also have one and from there, they have a business," he said.
Other shop owners, like Mr Tong Guodong, 35, who runs a scooter maintenance shop in Geylang, also said these customers are usually younger, and they end up being duped by cheap and fake products that are more prone to causing fires.
BATTERY MODIFICATION RISKS
As these scooters use lithium ion battery cells, Associate Professor Wang Qing from the National University of Singapore Department of Material Science and Engineering said the quality of the battery matters, since the battery chemistry is "energy intense" and flammable materials are typically used in its construction.
"For low quality batteries, there could be many problems such as poor battery design, uneven electrode sheet or separator, short circuiting, and variance of each battery cell in a battery pack which may cause safety issues," he said.
Some shops like Fabulous, however, still sell custom-built high voltage battery packs that are made in Singapore. But a Fabulous spokesman said they are meant to replace damaged batteries or to increase the range of non-UL2272 certified scooters as they are still usable until the end of 2020.
If a young customer wants to buy battery packs, Fabulous will insist on speaking to their parents to verify if it will be used for legitimate reasons and not for building monster scooters, he added.
"The problem is that there are some parents who just give their children money to buy whatever they want for their scooters without understanding what it will be used for," he said.
A high capacity pack of batteries can cost more than S$2,000 by itself, depending on capacity and the type of cells used.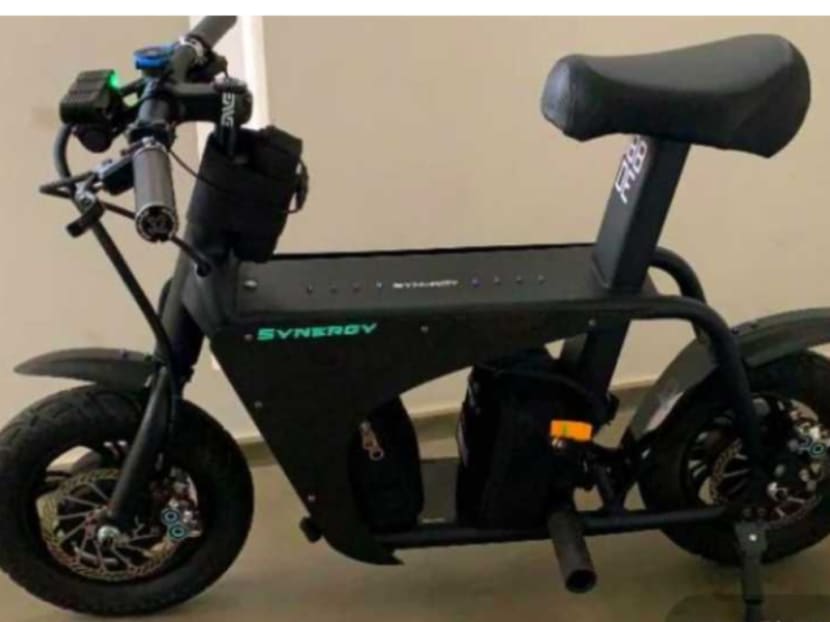 YouTuber Jamie Lim, 42, who frequently posts videos about e-scooters and has a number of modified scooters himself, said many shops in Singapore still sell battery packs meant for scooters today.
"If the modification is done correctly, it will not explode. If they are a retailer or shop, they bear the responsibility when these (mishaps) happen," said Mr Lim.
But he admits that many users who want to modify their e-scooters lack understanding and knowledge of these lithium ion batteries and the safety risks involved.
Retailers and users said battery upgrades are the most commonly requested modification, adding that most intend to use them for extending the mileage and range of their PMDs, instead of creating speed monsters.
When TODAY asked 10 PMD users about modifications, all of them said there are benefits unless their intention is to speed.
Food delivery riders said modifying their devices to achieve an extended range will greatly help them, especially those who work 12-hour shifts.
PMD user Muhammad Hanif Khairuddin, 27, said it is fine if the modifications are merely aesthetic. "But if it is to give more power or enhance maximum speed then that is a cause for concern," he said.
E-SCOOTER RACING
Some PMD users argue that these high-powered scooters have been given a bad reputation, especially after the emergence of a viral video depicting e-scooter riders allegedly travelling at 150km/h on Tanah Merah Coast Road earlier this month.
These modified scooters have their place in sports and not on public roads, said a spokesman for Singapore-based DSX Sport Club, believed to be the first group here to offer competitive e-scooter racing on closed circuits and on off-road trails in other countries.
The group, which is co-founded by Singaporean Sanati Mohamed for "hardcore e-scooter fans" and holds events in Malaysia, told TODAY that high performance e-scooters "can do more than just riding fast or recklessly" on the pavements, park connectors or roads.
Said a spokesman: "Our machines do not meet LTA requirements and we do not ride them in public."
The 25km/h limit on shared paths and 10km/h limit on footpaths do not apply to PMDs used on private land. The law also states that PMDs cannot exceed 20kg in weight and have a width of more than 70cm to be used on public paths.
The spokesman noted the negative portrayal of PMDs on social media: "When skateboarding first started, it was labelled as a public nuisance and a menace. Over time, it slowly gained recognition as a sport, with skaters competing on a global level.
"We hope that will be the case with e-scooters. We would like e-scooters to be seen as not just another option for commuting, but also as an alternative (form of) leisure for enthusiasts."
SECOND-HAND MARKET
Since the change of rules on July 1, no high-performance PMD users have visited the Fabulous shop at Paya Lebar for servicing and maintenance, a sharp reversal of the many who came previously, said Don. Sales have dipped by 50 per cent this month too, he added.
Rather than riding them and getting caught, retailers said these users are keeping the scooters at home. This is dangerous as the powerful battery packs in the scooters could still degrade over time and pose a fire risk, said Don.
"It is not like users can simply go throw them into the e-waste collection bins," said Don. "We need to ask LTA to provide an avenue to let them dispose of their modified scooters without penalising them for having it in the first place."
The fear of getting caught using these PMDs has also created a booming second-hand market for these modified scooters and their parts, with owners seeking to recover the costs.
Both Synergy and Fabulous, well-known names among those in the scooting community, have also been implicated as the ones who built these machines, according to ads found on Carousell.
But both shops claimed that they do not build high-performance PMDs that breach LTA rules, and said these listings were made by home-based businesses who want to piggyback on their reputation to sell extreme scooters.
Fabulous said it will take a firm stance and file police reports against these advertisements for misusing its brand.
Mr Tan said Synergy stopped modifying scooters years ago. But by turning speed demons away now, his shop has even suffered a backlash from some consumers in the form of 1-star reviews to try to discredit the Synergy name.
Sighing wistfully, he said: "These young punks, as you say, are a big problem. Not just a problem for me, but for the industry as a whole."
CORRECTION: An earlier version of the article gave the impression that PMDs are allowed on public roads. This is incorrect. These devices are only allowed on public paths, not on public roads.  We are sorry for the error.