Mothers who lost children to suicide launch 'PleaseStay' movement to raise awareness
SINGAPORE — After scoring 58 marks for his Primary 5 maths examination, 11-year-old Evan Low decided to take his own life.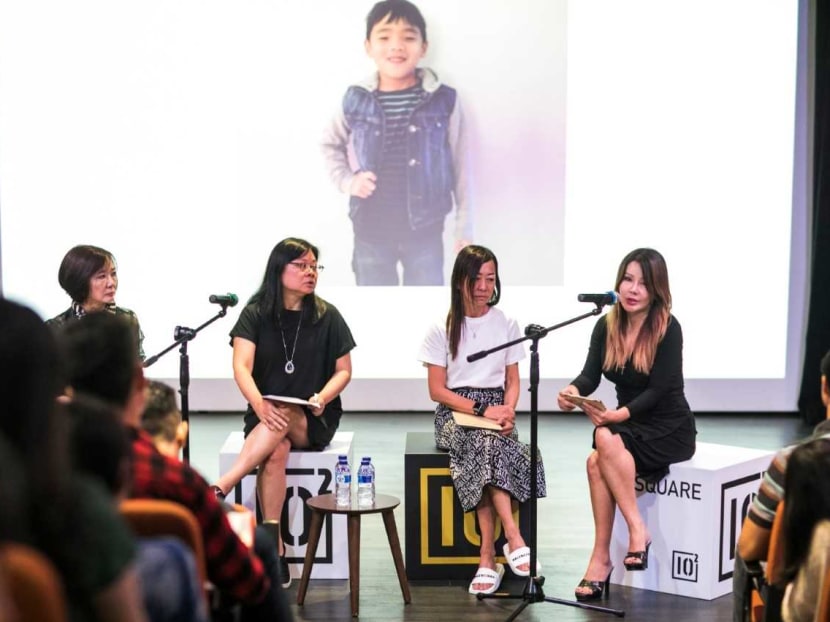 SINGAPORE — After scoring 58 marks for his Primary 5 maths examination, 11-year-old Evan Low decided to take his own life.
Almost two years after her loss, his mother, Ms Doreen Kho, 44, the founder of a Korean cosmetics company, still struggles to get through each day.
But now she has teamed up with other bereaved mothers to address the deeply distressing problem of young people taking their own lives.
On Tuesday (Oct 29), the women launched the PleaseStay movement, which is pushing for a national strategy on mental wellbeing and suicide.
Ms Kho recalled tearfully: "(Evan) was devastated the day before he passed away when he got his P5 math results, for which he scored 58 marks. Evan had already started on his antidepressant medication and told me he couldn't focus most of the time."
She added: "He would often put on a mask and entertain others — doing magic tricks, showing his space creations and enjoying comics because he wanted to see people laugh. But behind that he was broken with his own insecurities, his fears and his worries."
Evan was diagnosed with Asperger syndrome, which is a developmental disorder characterised by difficulty in social interactions and picking up on nonverbal cues.
Speaking to TODAY, the mother of three other children, aged six to 12, said: "Everything you say, he takes it very literally and very negatively. We spoke to our oldest daughter and told her to tone it down. She immediately made a change — she became very giving and tolerant of everything.
"I think the family tried very hard to play a part, it is just that the help did not come soon enough. I wish that right at the beginning we done the right thing. I wish I had taken time off school for him."
The PleaseStay movement has been led by Child Bereavement Support Singapore (CBSS), an informal network of parents who have lost their children to causes including suicide.
PleaseStay is a ground-up initiative from a group of four bereaved mothers who have lost their children, aged 11 to 29, to suicide.
On Tuesday, the four mothers, each of them fighting back tears, shared their experiences and talked about how they coped with the loss of their children.
The group has been engaged by other organisations such as Resilience Collective, a charity organisation which aims to provide support for people struggling with mental illness.
LEADING CAUSE OF DEATH AMONG YOUNGER SINGAPOREANS
The number of reported suicides rose by 10 per cent from 2017 to last year, according to the Samaritans of Singapore (SOS).
The figures indicated that suicide is the leading cause of death for those aged between 10 and 29, with 94 deaths in 2018. Last year, there were 2.8 times more deaths from suicide than transport accidents.
Males accounted for more than seven in 10 suicides last year.
A YouGov survey also found that over a third of Singaporeans have experienced suicidal thoughts and almost a quarter have engaged in self-harm. It found that this was particularly prevalent for younger Singaporeans, with 10 per cent of those aged 18 to 24 self-harming frequently.
Ms Elaine Lek, 54, head of global brand team at a tableware company, is also part of the group which started PleaseStay. Her family launched a fund named after her late 17-year-old son, called the Zen Dylan Koh Fund, in hopes of reaching out to vulnerable youths.
She said: "All of us can be an active part of the conversation on how families, schools, workplaces, the medical community as well as society as a whole can come together to help young people cope with depression.
"Through our personal experiences, we hope to build platforms to engage youths at risk, garner community support and dispel misperceptions about mental illness."
The women making up the PleaseStay movement said they supported the recent move to decriminalise suicide, and stood ready to help policymakers plug any gaps that may exist in addressing the multi-faceted issue of suicide.
COPING AND TRYING TO MOVE ON
Ms Kho still carries around the grief of her son's death but tries to find ways to get through the day.
"When somebody dies of suicide, for parents, the guilt is something that will never go away. If it were other illnesses, at least you have something to blame: The technology wasn't advanced enough, or why didn't the doctors do this. But suicide, we are the first line of defence for our children, so whatever happens, we should be looking in on what we did not do right," she said.
At the launch of PleaseStay, the bereaved mothers displayed items that were significant for their children. Ms Kho's son Evan loved comics. Photo: Chrisppics+
Ms Kho said that she spends as much time as possible with her children now and takes them for overseas trips whenever possible.
She added: "To me everything is logic, I have to learn a new formula to live my life and create a new norm for my children… let them get to know that they lost their brother but this is life now. We cannot keep thinking about the loss but how we can move forward as a unit."
If you or someone you know is seeking help for mental health-related issues, here are some helplines:
Samaritans of Singapore (24-hour hotline): 1800-221-4444

Community Health Assessment Team: 6493 6500/01 or click on the webchat icon at chat.mentalhealth.sg

Singapore Association for Mental Health helpline: 1800-283-7019