Musician raises money to buy food from hawkers and give it to migrant workers
SINGAPORE — During the phase of heightened alert in the last month, hawker Noorjahan Manja Shahul Hamid has mostly been sitting outside her stall on the second floor of Amoy Street Food Centre, nursing a nagging worry that she may have to close for good.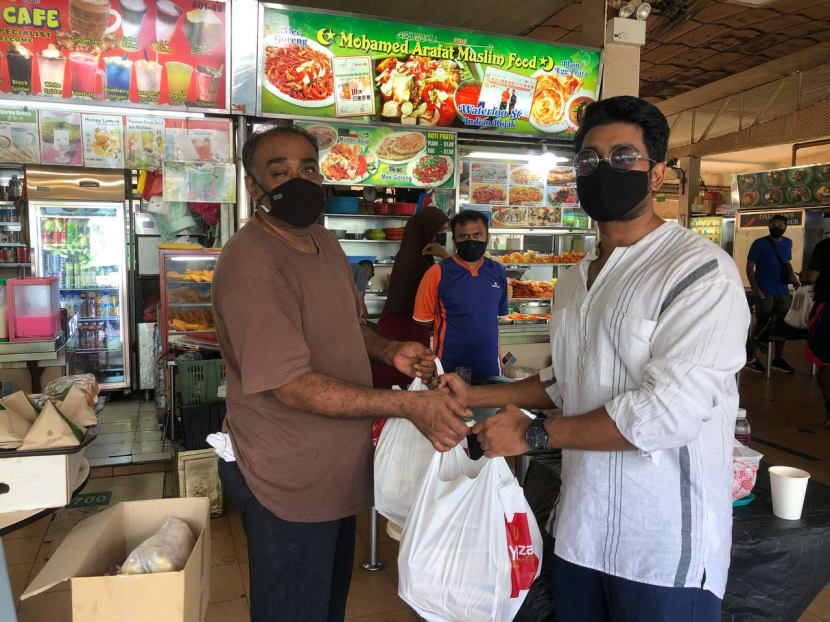 Local musician Shabir Tabare Alam felt moved after reading about the plight of elderly hawkers during the pandemic
He started WeEat with migrant worker support groups to raise funds for bulk purchases from hawkers
Volunteers deliver the food to migrant workers so that they can have a taste of local fare
Members of the public and even migrant workers themselves have stepped forward to donate over S$8,000 for the initiative so far
SINGAPORE — During the phase of heightened alert in the last month, hawker Noorjahan Manja Shahul Hamid has mostly been sitting outside her stall on the second floor of Amoy Street Food Centre, nursing a nagging worry that she may have to close for good.
With dining-in banned during this period and most people working from home, Ms Noorjahan, 59, has seen little footfall at her Indian Muslim stall, Bismillah.
So when someone made a bulk order last week, she thought it was a scam.
"In my heart, there was some doubt about whether this was for real. It would have been a pain if I cooked everything and they did not come to collect the food," Ms Noorjahan told TODAY in an interview last week.
But her fears were laid to rest when a volunteer from the Covid-19 Migrant Support Coalition (CMSC), a ground-up initiative championing migrant worker issues, dropped by last Saturday to collect and deliver the 170 packets of Maggi goreng to a dormitory.
The bulk purchases were made possible by an initiative called WeEat, mooted by local musician Shabir Tabare Alam in collaboration with two migrant worker support groups. It aims to "kill two birds with one stone" by helping two communities affected by the pandemic — struggling hawkers and migrant workers.
The homegrown artist who is known for his Tamil compositions, including the 2012 National Day song Singai Naadu, said he had felt moved after reading an article by entertainment website 8Days about elderly hawkers struggling to survive.
In a "lightbulb moment", it occurred to him that he could provide such hawkers some financial relief by purchasing food from them, while giving migrant workers, who have been stuck in their dormitories since circuit breaker last April, a chance to try local food.
"It's not just about money for these hawkers. It's also about keeping traditions alive," said the 36-year-old.
He then reached out to CMSC to kickstart a fundraiser on fundraising website rayofhope.sg to facilitate bulk purchases from hawkers.
The fundraiser aims to raise S$10,000 by the end of this month to fund around S$500 worth of food purchases per hawker. Since its launch last Saturday, it has already raised over 80 per cent of its target.
FIRST TIME TRYING MAGGI GORENG
Nine hawkers from eateries such as Amoy Street Food Centre, Lau Pa Sat and Market Street have benefited from the bulk orders, with another 10 expressing interest in the initiative.
CMSC volunteers and staff from Mr Shabir's music production house Shabir Music Asia would deliver the food to migrant workers at their work sites or dormitories.
"We thought this initiative would be a nice tie-in, given that food is part of our culture. A lot of the workers may not know how to order the food and are used to their own dishes from Bangladesh, so we wanted to expand their exposure," explained Ms Jewel Yi, 30, the co-leader of CMSC.
As part of the effort, 24asia.news, a migrant worker volunteer group, published videos in Bengali to introduce the local fare to workers.
Over 800 workers have been treated to meals, and one of them was Mr Ahmed Shamim, a Bangladeshi national who tried Ms Noorjahan's Maggi goreng last week. It was his first time trying the dish in the 10 years he has worked in Singapore.
"There are no hawker centres near construction sites. We usually bring our own food or we get caterers," Mr Shamim said.
Describing the food as "very spicy and delicious", Mr Shamim, 32, said he and his colleagues are keen to try more hawker fare in future.
For Ms Noorjahan, simply being able to prepare the food after weeks of slow business has been uplifting.
"It felt like someone pouring a waterfall for a dried plant. Being able to prepare the 170 packets was encouraging and motivating for me."
Migrant workers have also done their part to support hawkers in need. Mr Shabir said that he was touched when a group of five workers pooled their savings to donate S$100 to the fund, saying that they wanted to give back to the community after the support they received during the pandemic last year.
Even if the purchases may not be enough to keep some hawkers afloat, he expressed hope that it will help to provide rental relief for some of the hawkers.
The initiative will end once the funds are exhausted, Mr Shabir said, but he pledged to revive it again should Singapore enter another partial lockdown.