Near miss inspires Singapore-based entrepreneur to create a motorcycle collision alert system
SINGAPORE — When riding home on his motorcycle along Holland Road one afternoon last year, Mr Yoav Elgrichi almost got into an accident when he was making a turn.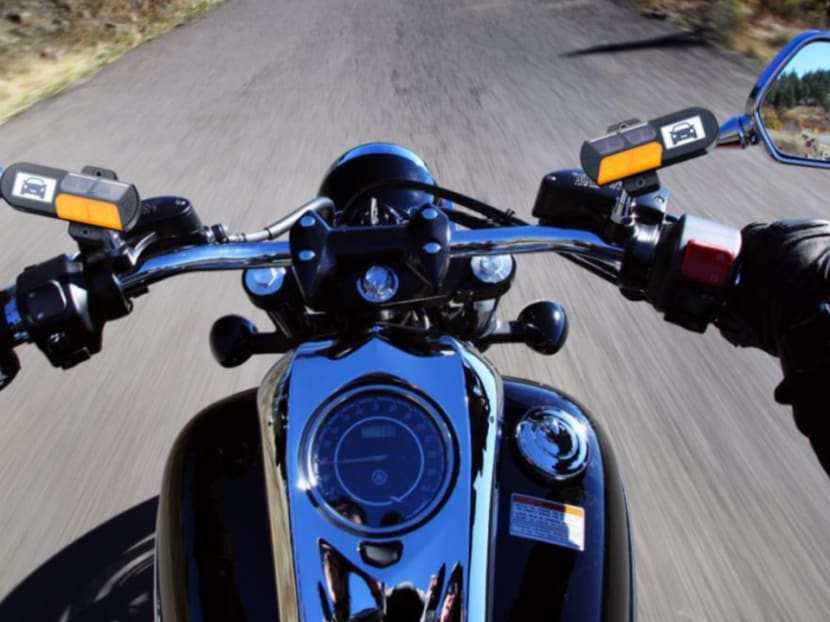 Mr Yoav Elgrichi's collision alert system can alert motorcyclists against threats on roads such as fast incoming vehicles or dangers on a rider's blind spot
It was inspired by a close miss he had while riding on his motorbike
The alert will sound off when a vehicle is approaching a motorcycle and there is a strong possibility of a collision
The product will not be available to individual riders for now, but will be first provided to companies with motorcycle fleets
SINGAPORE — When riding home on his motorcycle along Holland Road one afternoon last year, Mr Yoav Elgrichi almost got into an accident when he was making a turn.
He did not see the car in his side mirror as it was in his blindspot.
"The car bypassed me and I felt as if my jeans were 'rubbed' by the car," he said. "It was a very scary, close call that could have ended very badly."
This near miss led him to create an artificial intelligence (AI) based "collision alert system" through his startup, Rider Dome, which has managed to raise about US$1 million (S$1.34 million) in seed funding from nine angel investors. TODAY has seen the investment agreement documents.
Angel investors are usually high-net-worth individuals who fund startups in the early stages, often with their own money.
This system can alert motorcyclists to threats on roads such as fast incoming vehicles or dangers on a rider's blind spot, which could give a rider time to avoid them.
Mr Elgrichi, 50, has also approached the authorities for discussions on his product, and is set to test it on a fleet of motorcycles later this year in a pilot with a private organisation.
He had searched online after his near miss for a collision warning system for motorcycles, something like those that can be commonly found in cars.
Mr Elgrichi was surprised to learn that there were no such systems for motorcycles in the market.
"We thought this was a huge opportunity," he said.
HOW THE COLLISION ALERT SYSTEM WORKS
He and a co-founder Kineret Karin, both of whom are from Israel but moved with their respective families to Singapore more than 10 years ago, formed a team of 11 who worked on the idea.
Mr Elgrichi said he is an "experienced entrepreneur" who has built and sold startups in the past such as Singapore-Dine, a food delivery platform which was sold to Foodpanda in 2015.
He and Ms Karin also founded ImpacTech, a startup accelerator that supports early-stage, growth-driven companies through education, mentorship and financing.
The collision alert system that was developed by Rider Dome consists of components such as two wide angle cameras mounted at the front and the back of the motorcycle, an AI processing unit that analyses the video to detect threats such as incoming traffic, and an alert system.
The system is mounted on both handlebars and will alert the motorcyclist with lights and sounds to indicate which direction the danger is coming from. For instance, red lights will indicate that there is an imminent collision from the front, and orange lights will indicate hazards from behind and at blind spots.
Given that motorcycles will often be in close proximity to other vehicles when on the road, Mr Elgrichi said that the system is fine-tuned such that the alerts will sound only when there is a threat of collision, not just when an object or vehicle is nearby.
"Let's assume the bike is behind a car and the car slows significantly. Immediately the distance is getting shorter, and a collision may happen, so we trigger the alert," he said.
In contrast, if the car comes to a halt behind a motorbike, this means that the possibility of a collision is low and so no alert will sound.
He said that his company has tested the system on their own motorcycles.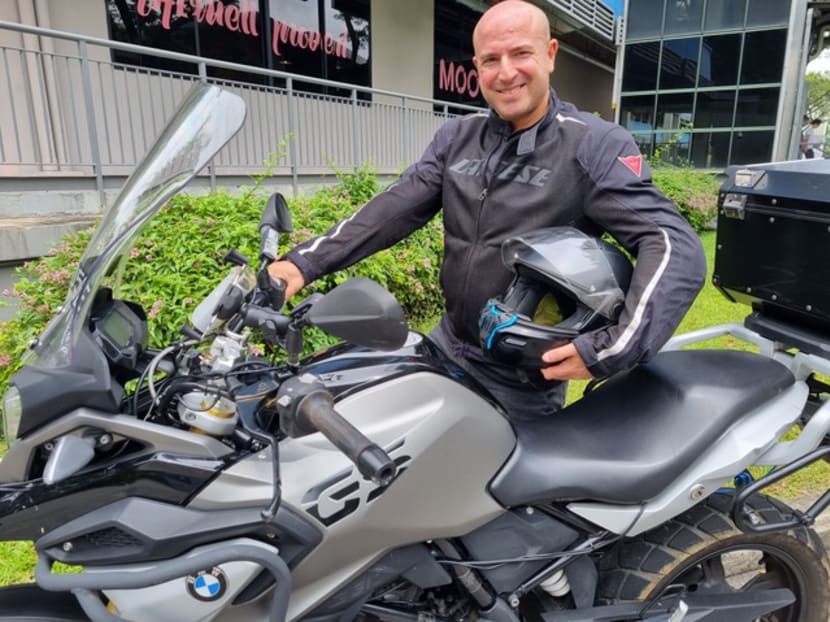 EXPANSION OF SYSTEM TO MOTORCYCLE FLEETS
Mr Elgrichi said that his initial intention was to create a product for individual users, but he soon realised that his technology could also be used by companies that employ motorcycle fleets, such as food delivery or courier firms.
"The problem today is these fleets do not have any visibility of the safety aspect, and they do not have (sufficient) technology to help the rider's safety," he said.
Mr Elgrichi has developed a centralised "fleet safety platform" that helps these firms monitor which areas in the city are "danger zones" for motorcyclists based on the data, and warn their riders when they are nearing these zones.
The platform will also allow the firms to keep track of individual riders' safety habits.
"If you're a fleet manager and you have more visibility, training, or can analyse the safety aspects and take action, this will allow you to have a much safer fleet and not just wait and count accidents," Mr Elgrichi said.
There have been several high-profile accidents involving delivery men on motorcycles.
In May this year, a motorcycle accident left a 46-year-old food delivery rider with brain injuries and saddled with S$100,000 in medical bills.
In 2019, a 42-year-old food delivery rider was killed after his motorcycle and a truck were involved in an accident along Gambas Avenue in Sembawang.
Other than reaching out to the authorities to discuss his invention, Mr Elgrichi is also separately engaging a firm that utilises a fleet of motorbikes that he said has agreed to pilot his system.
While he cannot give details about the fleet size and cost of the pilot as the terms are confidential, he said that the pilot with this company will begin in November.
He does not have a price tag on his system as there are no plans yet to make it available to the wider public.
"We believe that it is only a matter of time until automotive regulators start enforcing riding safety solutions for delivery and logistics fleets, and Rider Dome aims to be a market-shaper in the domain," Mr Elgrichi said.