NOC's Sylvia Chan says firm lost at least S$250,000 in deals amid controversy, claims computer was hacked
SINGAPORE — In just one week after a scandal broke out over its chief executive officer Sylvia Chan, production company Night Owl Cinematics (NOC) has lost business deals worth about S$250,000.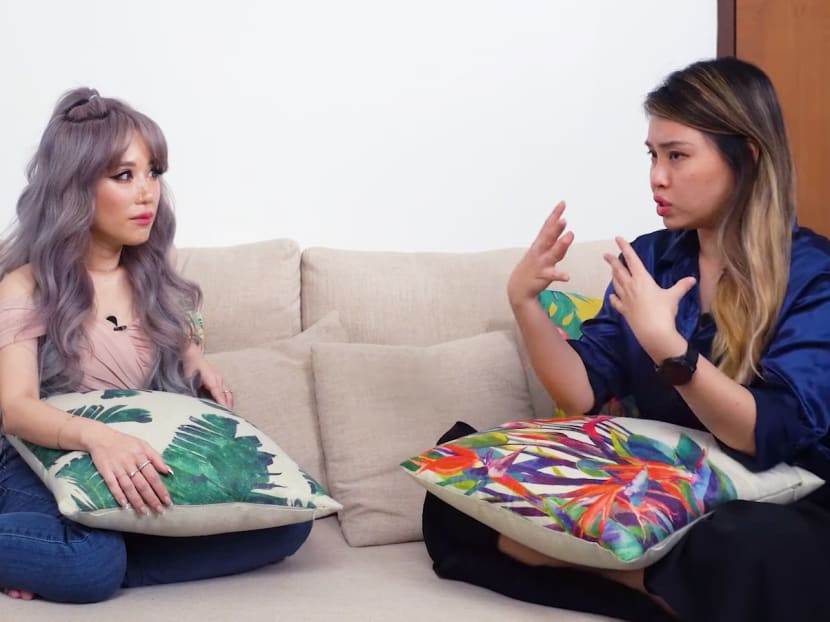 Ms Chan was interviewed by YouTuber Wendy Cheng, better known as Xiaxue
She responded to allegations of her bartering sexual services of a "talent" in exchange for courier services,
She said she had only introduced her friends to some rich men at a party
She claimed that NOC co-founder and ex-husband Ryan Tan is behind the allegations
She denied that her brother's salary was funded by NOC to fulfil his permanent residency status
SINGAPORE — In just one week after a scandal broke out over its chief executive officer Sylvia Chan, production company Night Owl Cinematics (NOC) has lost business deals worth about S$250,000.
Ms Chan — who is also the co-founder of NOC — revealed this in an almost two-hour interview with YouTuber Wendy Cheng — better known as Xiaxue — which was posted online on Sunday night (Oct 24).
Ms Chan said she believes that her computer was hacked around the time the allegations against her began surfacing on social media a month ago.
"The fact is that we have lost a lot of deals… within the first week, we already lost S$250,000 of deals," she said. "At this point, I'm just really struggling to keep the company afloat."
She also suggested that the entire saga is a smear campaign to "completely destroy" her, and that her ex-husband and NOC co-founder Ryan Tan is among the people who would have "something to gain from this".
During the interview, she responded to accusations that she had misappropriated company funds, withheld employees' salaries and bartered the sexual services of an NOC "talent" in exchange for courier services for her own chilli sauce business.
Ms Chan, 33, became the subject of a string of accusations that were first posted on the account of an Instagram user called Sgcickenrice.
The Instagram user had published various anonymous allegations from Oct 1, including saying that Ms Chan had been verbally abusive towards one of the company's employees. Audio recordings of such episodes were posted as well.
On Oct 13, Ms Chan issued a statement on her own social media account saying that she would remove herself from the artists' team at NOC and apologised for not stepping up to the standards she should have upheld as a leader.
Then, fresh allegations emerged in a blog published on Oct 19 claiming, among other things, that she had bartered sexual services of an NOC "talent" in exchange for courier services and that she had used the company to fund her brother's salary in order to facilitate his application to be a Singapore permanent resident.
There were also allegations that many of NOC's employees were overworked, with some regularly working on projects past midnight.
COMPUTER 'HACKED'
Ms Chan said in her interview with Ms Cheng that she believes her computer was hacked at around the same time that these allegations began surfacing.
For instance, the Sgcickenrice Instagram account reported that she had filed a police report just 20 to 30 minutes after she had done so, and she also saw that there were two accounts that had logged into her email that were unfamiliar to her.
Ms Chan questioned the timing of each posting of allegations.
Leading up to the allegations, Ms Chan and Mr Tan, who announced last year that they were ending their 10-year marriage, were in talks with lawyers about a dispute in the company involving Mr Tan's incorporation of his own venture, Reno King, which produces videos of home interiors.
"And I think it's just very coincidental that it just so happens that me and Ryan are working out our commercial split," she said.
Mr Tan, who has resigned as NOC's director, had told TODAY earlier this month that he will be taking steps to tackle the "public relations crisis" the company is facing, and had asked for "kindness and civility" to be extended to those involved in the recent developments.
Ms Chan's latest claims included allegations that Mr Tan had cheated on her and had eyes on some of the firms' talents and employees.
TODAY has sought comment from Mr Tan on Ms Chan's allegations.
RESPONSE TO ALLEGATIONS 
Responding to the allegations of sexual bartering, Ms Chan said: "I know a few logistics bosses, I've never asked them to send anything for me at all. There was no barter, and there was no trade."
She said that she and two other female NOC employees had gone to a house party with the boss of a courier company and his male friends, adding that there is nothing wrong with "introducing girlfriends to really rich guys".
She was unaware of what happened between her colleagues and the men at the party over the course of the evening, she added.
"I didn't know that bringing friends to meet other friends is a crime… now it is even being accused as sex trade."
On the accusation that NOC was being used to fund the pay of her brother Sikeen Chan, Ms Chan said that he had always been an employee at NOC since it was founded.
Ms Chan said that Mr Tan had "always hated" her brother and because of that, she would ask him to work from a different office belonging to NOC, which is why he was not seen often by the other employees.
And on allegations of NOC employees being overworked, Ms Chan said that the media industry in general has "very flexible timings".
"There are jobs where (the schedule) is really very tight, and then there are seasons where we are slacking around making fun videos, because there are really no clients," she said.
"(The accusations) make it seem like the whole year is like this (very tight). That's not true."
WHAT OTHER INFLUENCERS, CONTENT CREATORS SAY
Several influencers and content creators have responded to Ms Chan's interview on social media.
Ms Cherylene Chan, a content creator under Titan Digital Media and also Mr Tan's present girlfriend, said in a post on her Instagram account on Monday: "So next time, to get people to believe me after spouting blatant lies, I just have to cry?"
Ms Chan had choked up with emotion at various points of the interview.
YouTuber Preeti Nair said in a Twitter post on Monday that the saga has been "just a painfully messy divorce and a very public fight over assets and everyone else (is) collateral damage".
Ms Nair was named in the anonymous blog post on Oct 19, which included screenshots of a conversation between Ms Chan and an NOC employee, in which Ms Chan allegedly called Ms Nair derogatory names such as "rhinoceros".
Addressing the authors of the anonymous blog post, Ms Nair said: "Y'all really could've given me a heads-up about those comments lol but anything to push your narrative la right?"