Otter population up sharply but still manageable, say experts who urge public to learn to co-exist with them
SINGAPORE — The population of otters in Singapore has nearly doubled to about 150 in the past four years, but the founder of a group that tracks the endangered mammals said that it has not reached the point where it is a matter of concern.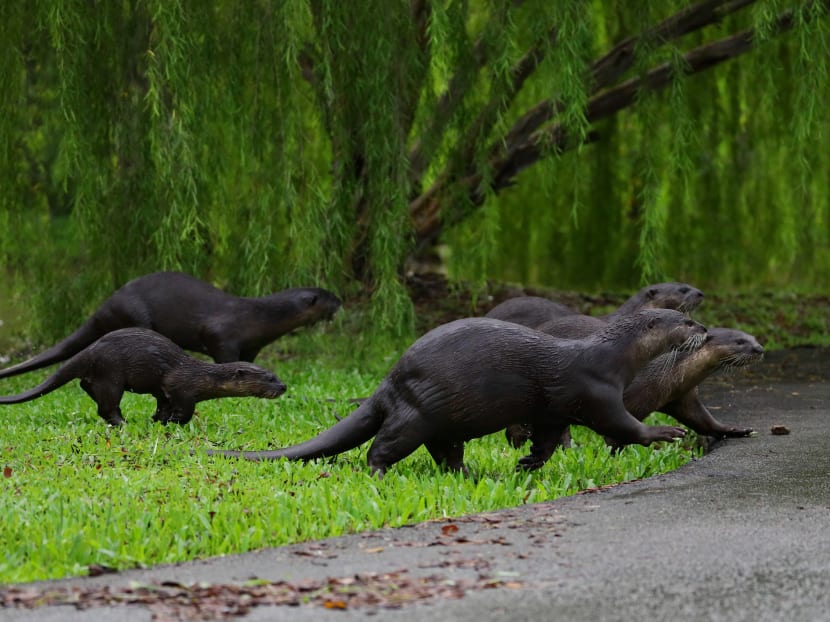 The smooth-coated otter population in Singapore has nearly doubled to 150 over the the past four years
However, it is nothing to be concerned about yet, otter expert N Sivasothi said
If the population grows further, there are natural ways to manage the animals without having to resort to culling, he added  
Other environmental and animal welfare groups said that people, for their own safety, need to know how to respond when they see wildlife 
SINGAPORE — The population of smooth-coated otters in Singapore has nearly doubled to about 150 in the past four years, but the founder of a group that tracks the endangered mammals said that it has not reached the point where it is a matter of concern.
And even if their numbers grow further, there are ways to manage the population in such a manner that they will not require culling, Mr N Sivasothi told TODAY on Thursday (Dec 9).
The biological scientist from National University of Singapore was commenting on an incident first reported by TODAY on Wednesday where a visitor to Singapore Botanic Gardens was bitten by a group of otters, which led to calls by some people on social media for the creatures to be culled.
Mr Sivasothi, known to many as "the Otterman", said: "Why is culling the first word people think about? This is being put forward by desktop warriors, not people on the ground, who don't know the science of wildlife management."
The senior lecturer whose research interests include these semi-aquatic carnivores is also the founder of OtterWatch, a community that shares news about the slender, furry creatures that belong to the taxonomic subfamily Lutrinae.   
OtterWatch is also part of the Otter Working Group, a volunteer group that includes various government agencies, Animal Concerns Research & Education Society and the Mandai Wildlife Group — previously known as Wildlife Reserves Singapore.
Mr Sivasothi said that social media has played a part in over-stating their presence in Singapore and has amplified negative news about them.
"It is very different from what you see when you go to the ground."
Attitudes to otters are quite varied.
Some people see them as Singapore's unofficial mascot. Drawings of the creatures frolicking in the sea made an appearance in a video of the theme song at this year's National Day Parade and they even feature on the TraceTogether mobile application used for Covid-19 contact tracing.
People who are concerned about their growing numbers note that the incident at the Singapore Botanic Gardens is not the first time otters have made it into the news for the wrong reasons.
In May, an elderly man was similarly attacked by a family of otters along Upper Boon Keng Road, while numerous reports have surfaced of the creatures devouring expensive ornamental fish in places such as churches and condominiums.
Reactions to such incidents have generally run the gamut from amusement to more drastic calls to rein in the otter population. Several readers of Wednesday's article posted comments that the animals are starting to become a nuisance.
GROWING, BUT SMALL POPULATION
However, Mr Sivasothi said that it is not as though there are thousands of otters in Singapore. 
To highlight Mr Sivasothi's point, Dr Adrian Loo, the group director of wildlife management at the National Parks Board (NParks), said that there are only about 150 otters in about 10 families.  
The agency lists the animals as critically endangered in Singapore on its website, and they are protected under the Wildlife (Protected Wildlife Species) Rules 2020  — a schedule under the Wildlife Act.
Still, Mr Sivasothi notes that the otter population has grown over the years.
To get a sense of how the population has grown, a webinar organised by the NParks in July this year, involving members of the Otter Working Group, said that a census in 2017 found that there were about 79 smooth-coated otters from more than 10 families. 
The Botanic Gardens incident involved smooth-coated otters, said Mr Sivasothi.
In the 1990s, sightings were rare up until late 1998 when a pair of smooth-coated otters were spotted at Sungei Buloh Wetlands Reserve. 
Mr Sivasothi credits the population increase to the success of Singapore's greening efforts that have provided an ideal environment for otters — particularly smooth-coated otters — to thrive.
Aside from green banks where they can surface and dry off to prevent hypothermia (lowered body temperature), Mr Sivasothi said that the adaptable smooth-coated otters are able to use artificial structures found under bridges or roads as their holts, or dens.
Moreover, the clean waterways are the right environment for numerous large fish such as tilapia to spawn, a scenario Mr Sivasothi describes as a "buffet table" for the otters. 
"This whole setup matured to the point where it became suitable for (the smooth-coated) otters." 
The Asian small-clawed otters, on the other hand, are less adaptable, and not do not typically prey on large fish, Mr Sivasothi said. The Singapore Zoo said on its website that these otters primarily eat crustaceans, molluscs and small fish.
LEARNING TO CO-EXIST
While the population of otters in Singapore is still relatively small, Mr Sivasothi said that the likelihood of humans crossing paths with them will increase as the nation progresses with its City in Nature goal.
However, while the infrastructure might be shaping up to meet this goal, its citizens are "not there yet", Mr Sivasothi said.
"Being a city in nature requires having people addressed (the topic) at all levels. There are people who like butterflies, but not caterpillars, so how? 
"But when they realise they can perfectly co-exist (with other living beings), then they can calm down. And this requires education," he added.
CLARIFICATION: A previous version of this article stated that a 2017 census found there were about 79 otters from more than 10 families and that these included smooth-coated otters, commonly seen on mainland Singapore, and the Asian small-clawed otters found on Pulau Ubin and Pulau Tekong. This was based on information from a webinar organised by NParks involving members of the Otter Working Group. Mr N Sivasothi has since clarified that the census involved only smooth-coated otters. 
Part of it is understanding how to manage wildlife through thoughtful design of urban spaces. 
He said that condominiums with koi ponds, for example, could create exclusion zones by shoring up barriers to prevent otters from getting access to the ornamental fish.
As for open areas with ponds, he said that property owners could consider introducing small, native species of fish into them rather than have non-native big fish that will get eaten by the otters.
That way, it not only helps support the conservation of a native species, but it also deprives the otters of a food source. 
Limiting the resources for otters in turn helps to control their population, thus removing the need for culling, Mr Sivasothi said.
Dr Loo from NParks said that in Singapore's urban environment, the otter populations are limited by environmental limits, referred to as the "carrying capacity" of the area, and availability of suitable habitats. 
"As otters are highly territorial, competition for space and pup mortality will further limit how much the populations can grow," Dr Loo added.  
Mr Sivasothi said that this means rival otter families might "fight to the death" or be forced to "eke out an existence" in a sub-optimal situation. "This is just a natural process."
Dr Loo said that NParks has been collaborating with the Otter Working Group to monitor the animals regularly to pre-empt or mitigate conflict where possible. 
The Otter Working Group works with estate managers to deny the otters access to private spaces through simple infrastructure alterations, such as meshing up gaps in gates to prevent the otters from entering, he said. 
In addition, advisories to observe the otters from a distance and educational engagements are introduced early at hot spots where otters are sighted, Dr Loo said.
CUTE BUT WILD
Still, other environmental and animal welfare groups said that the onus is on people knowing how to behave when they encounter a wild animal.
Dr Shawn Lum, the president of the Nature Society Singapore, said: "These animals might look cute… but they are wild animals with sharp teeth.
"They have to be in the wild to contend with crocodiles and monitor lizards and have evolved to fight back when necessary… They won't hold back."
Ms Aarthi Sankar, executive director of the Society for the Prevention of Cruelty to Animals, said that it is important to keep a distance from wild animals and stay calm if you encounter them and remove yourself from the situation. 
"Most often, we forget that these wild animals are scared and stressed due to the loss of natural habitat. It is best to admire wildlife from afar and with respect."
Aside from keeping a distance, Dr Lum said that it helps to be mindful of the composition of the group — if there are pups around, the adults will be on the defensive.
The last thing to do, he said, is to run through a pack of otters that have young ones in their midst.