Over 7 years' jail, caning for gang member who kept loaded pistol, extra bullets in his Jurong West flat
SINGAPORE — After his close friend's ex-wife was assaulted by a gang member, Muhammad Ikram Abdul Aziz, who belonged to a secret society himself, decided to buy a gun to help his friend and scare those from the other gang.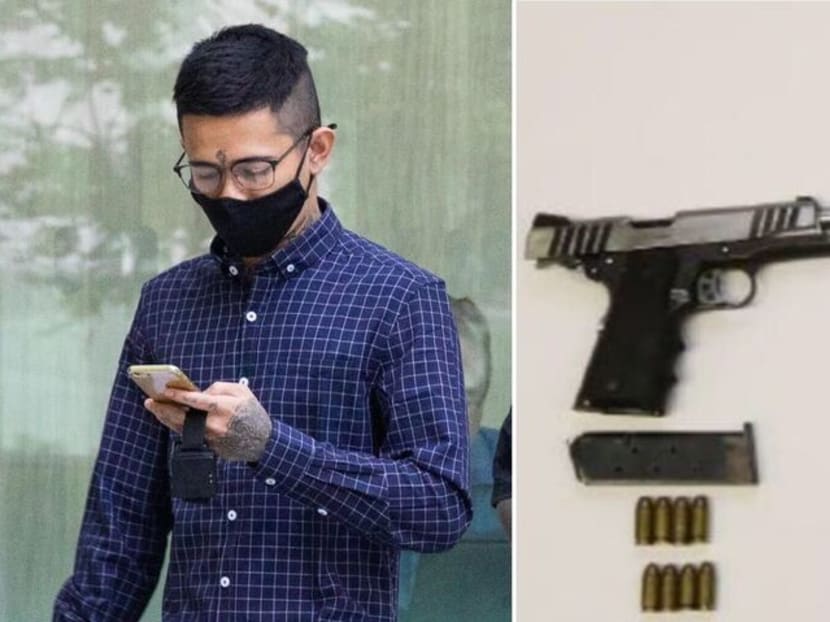 Muhammad Ikram Abdul Aziz, 26, pleaded guilty to illegal possession of a firearm in the first such case in a decade
He bought the gun in Johor Baru and smuggled it into Singapore to help his friend, Amirul Asyraff Muhammad Junus
The other man wanted to avenge his ex-wife who had been assaulted by a gang member
Ikram later offered Amirul the gun but he was shocked and refused to take it
Amirul has also been charged and his case is pending
SINGAPORE — After his close friend's ex-wife was assaulted by a gang member, Muhammad Ikram Abdul Aziz, who belonged to a secret society himself, decided to buy a gun to help his friend and scare those from the other gang.
Ikram managed to get the illegal semi-automatic Seahawk pistol and eight bullets during a trip to Johor Baru, Malaysia with his parents.
For seven months, he kept them in his Jurong West flat. He had offered his friend, Amirul Asyraff Muhammad Junus, the gun but the other man refused to take it.
It was only when Central Narcotics Bureau (CNB) officers raided Ikram's home on the suspicion that he had taken drugs that they found the weapon and ammunition.
Ikram, 26, who also goes by the name of Sonic, was sentenced to seven years and 10 months' jail and six strokes of the cane on Monday (March 1).
The Singaporean food stall operator pleaded guilty to one count of unlawful possession of a firearm under the Arms Offences Act — the first such case since 2009.
He was not charged with drug-related or secret society offences.
Amirul, also aged 26, has been charged with consorting with a person carrying arms. His case is pending. He worked as a safety officer at the time in 2019.
HOW IT BEGAN
The court heard that both men knew each other from their studies at the Institute of Technical Education (ITE) College West in 2012. They had also played football for the under-18 team of Tanjong Pagar United Football Club.
Around 2016, Ikram joined the Sio Kun Tong secret society. Amirul followed suit about two years later.
In January 2019, Amirul learned that a man known as Faris had beaten up his ex-wife outside the Baliza nightclub, located at the Marina Square mall.
She told him that Faris had also declared he was from "Teck Whye", which Amirul knew as a gang whose members frequently patronised the nightclub.
Amirul told Ikram about this, wanting to take revenge on behalf of his ex-wife. Ikram told him not to act rashly and that he would help him, but added that he had a young daughter and did not want to get into a fight because of that.
Ikram then decided to buy a gun for their safety, as well as to scare the Teck Whye members and show that Amirul could not be bullied.
Around February 2019, Ikram travelled to Johor Baru with his girlfriend and Amirul, then secretly went to a tattoo shop in a shopping mall to get a gun.
A man who approached him outside the shop eventually said he could sell Ikram a revolver for S$900. Ikram agreed and handed over the cash.
However, the man took too long to return with the gun and Ikram returned to Singapore later that day.
BOUGHT GUN FOR S$1,400 IN TOTAL
A few days later, the man called Ikram and told him that while the revolver was no longer available, he could pay another S$500 for a handgun which was nicer.
Ikram agreed and drove to Johor Baru with his parents. There, he deposited RM1,500 (S$491) in the man's bank account before meeting him later that day.
When the man handed him a bag containing the pistol, magazine and bullets, Ikram said he wanted only the gun. The man then said they came together.
Ikram did not dare to refuse taking the bullets as he was a foreigner, Deputy Public Prosecutor (DPP) Norine Tan told the court.
The man also told Ikram not to stay for too long, worried that Ikram would be stopped by the police as he was heavily tattooed.
The next day, Ikram went back to Singapore. He decided to take the gun back with him, rather than leave it in his rental condominium unit, as he observed that Customs officers would seldom check his belongings if he travelled with his parents.
He then bought a black holster from e-marketplace Carousell for S$15 and a pair of gloves.
While alone in his room, he explored the pistol's features such as removing the magazine, pulling the trigger, putting four bullets in the magazine and engaging the pistol's safety lock.
AMIRUL 'SHOCKED' TO SEE GUN
Sometime in March 2019, Amirul went to Ikram's house for dinner. He was shocked when Ikram showed him the pistol.
Ikram then told him he could not "go down and fight" for him as they lived far apart, meaning Ikram could not reach Amirul in a short time to help. Because of this, he thought the pistol was the easiest way to help.
DPP Tan told the court: "Ikram then asked Amirul if he wanted to bring the pistol home and Amirul refused.
"They got into an argument as Amirul expected Ikram to protect him. On the other hand, Ikram felt that this is Amirul's personal matter, and he should be standing up for his ex-wife himself."
In the subsequent months, Amirul was allegedly assaulted by members from the Teck Whye secret society, among other incidents.
Ikram asked if he wanted him to bring the pistol for a settlement talk with the gang, including Faris, but Amirul declined.
On Oct 8, 2019, CNB officers detained Ikram at the void deck of Block 731 Jurong West Street 72 for suspected drug offences.
One of the officers then discovered four bullets in a glove, kept in a box on the highest shelf of a cupboard in Ikram's uncle's bedroom. Another officer then found the loaded gun, including the magazine, in another cabinet.
LEAST SEVERE OF ARMS-RELATED CRIMES: JUDGE
While sentencing Ikram, District Judge Teo Guan Kee noted that his offence was the "least severe of arms-related offences contained in the (Arms Offences) Act as it now stands".
For example, those convicted of illegally carrying a firearm could be jailed for up to 14 years and caned, while those who use or attempt to use any arm can be given the death penalty.
The judge also disagreed with Ikram's lawyer Ferlin Jayatissa that Ikram had merely kept the pistol at home, as he had at least tried out its features. The fact that the authorities only found it after raiding his home for an unrelated offence also pointed to the offence being hard to detect, the judge added.
While Mr Jayatissa argued that Ikram did not mean to buy the bullets, District Judge Teo said that he had "actively sought out" the weapon and brought it into Singapore despite knowing it was illegal.
For unlawful possession of a firearm, Ikram could have been jailed for at least five years and up to 10 years, and given at least six strokes of the cane.