PAP's Tan Wu Meng criticises WP chief Pritam Singh's support of playwright Alfian Sa'at
SINGAPORE — People's Action Party (PAP) Member of Parliament (MP) Tan Wu Meng has criticised Workers' Party chief Pritam Singh for supporting Singaporean playwright Alfian Sa'at, saying that Mr Alfian is not a "loving critic" of Singapore and Mr Pritam should read Mr Alfian's writings "more carefully".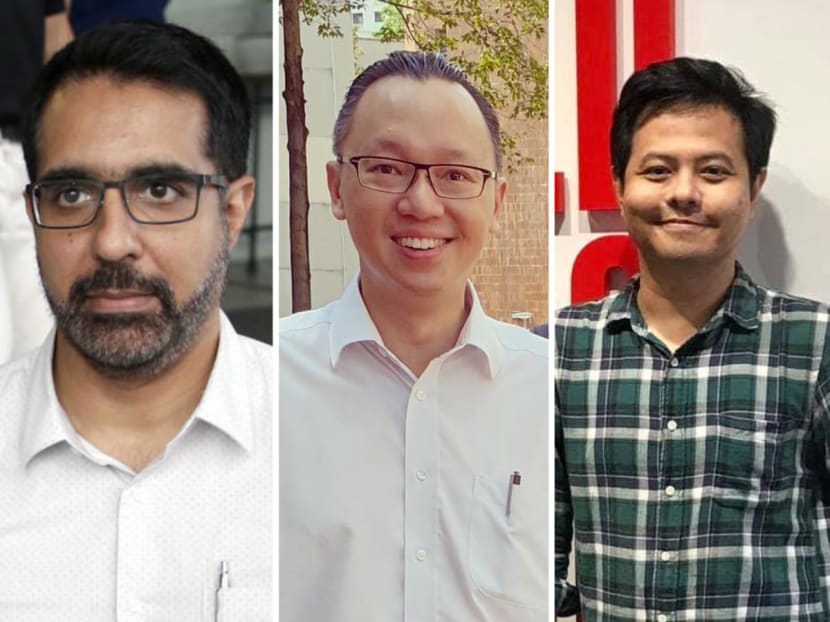 SINGAPORE — People's Action Party (PAP) Member of Parliament (MP) Tan Wu Meng has criticised Workers' Party chief Pritam Singh for supporting Singaporean playwright Alfian Sa'at, saying that Mr Alfian is not a "loving critic" of Singapore and Mr Pritam should read Mr Alfian's writings "more carefully".
Dr Tan's remarks were in an article published on the PAP website on Friday (June 19) — a day after the Elections Department (ELD) issued new guidelines on how political parties should carry out election campaigning if the upcoming General Election (GE) is to be held within Phase Two of Singapore's reopening.
Dr Tan, who is the MP for Jurong Group Representation Constituency (GRC), pointed to a segment of a speech that Mr Singh made in Parliament on June 5 during a debate on the fourth set of Budget support measures rolled out by the Government. 
Mr Singh had said: "We should count ourselves fortunate that we have citizens who are the loving critics amongst us, some of whom have been questioned in this very House in this term of government. Members would recall one citizen's poems were nit-picked with a view to cast wholly negative aspersions on his character, even though that individual was not present in the House to defend himself."
While Mr Singh, an MP for Aljunied GRC, did not name any specific individual, Dr Tan said "it is clear that he was referring to Alfian Sa'at".
Mr Alfian was singled out by Education Minister Ong Ye Kung in Parliament in October last year for his role behind a scrapped Yale-NUS module on dissent and protest.
Mr Ong had said that individuals such as Mr Alfian may use the autonomous universities here "to conduct partisan political activities to sow dissent against the Government". 
The incident prompted several prominent figures, including Ambassador-at-Large Tommy Koh, to speak up for the poet and playwright. 
In Dr Tan's opinion piece, he argued that Mr Alfian is "no loving critic". 
"There are many Singaporeans who criticise Singapore out of patriotism and genuine care, including opposition leaders like Mr Chiam See Tong and Mr Low Thia Khiang… For nearly a decade, Alfian has consistently praised Malaysia to illustrate his disdain for Singapore," said Dr Tan, who is also the Senior Parliamentary Secretary for Foreign Affairs as well as Trade and Industry. 
Dr Tan then went on to cite remarks made by Mr Alfian on Facebook, from as far back as 2011, and lines from his poetry, which he said were evidence of the poet's disdain for Singapore. 
One example Dr Tan quoted occurred in 2018, when Mr Alfian said that Singapore's approach to Malaysian government vessels anchoring in Singapore's waters amounted to jingoism. 
Dr Tan characterised the playwright as someone who "constantly runs down Singapore" and would be on the side of Malaysia whenever there are tensions between the neighbouring countries. 
"Mr Singh may not have read all these things that Alfian has said. I suggest he read them carefully, and then tell us if he still thinks Alfian is a 'loving critic' of Singapore," added Dr Tan. 
"If he does, perhaps Mr Singh considers himself a 'loving critic' of Singapore too?" 
ALFIAN SA'AT, PRITAM SINGH AND TAN WU MENG RESPOND
Responding to queries from TODAY on Dr Tan's article, Mr Alfian said: "I have no comments on the matter. I think elections are coming. Let's focus on reading up the various parties' manifestos. I think that's what competitive elections should be about."
Nevertheless, Mr Alfian posted on Facebook that it was "bad form" of Dr Tan to attack him as a way of attacking a member of the Opposition. 
"If you wish to call me out on various statements that I have made over the years, then do it without having to drag other people into it," he said. 
Mr Alfian said he had made such remarks over the years because he felt that Singaporean nationalism was built on a sense of superiority, "that at times went close to contempt and hatred for our neighbouring countries".
"So over the years, I have made comments, not just on Facebook, but also on forums and interviews, where I would try to offer alternative — meaning positive, meaning sometimes even rhapsodic — views of Malaysia," he added.
He noted, too, that there are many other instances where he has been critical of Malaysia. 
"In fact, I have written an entire play called 'Parah' (Wounded), which is deeply critical of the toxic racial politics in Malaysia," he said.
He added: "If you had to go through this route just to attack another opposition party, the impression you're giving is that their party manifesto and their policy proposals are so perfect and unassailable that you have to actually resort to this."
Sharing the PAP article on his Facebook page, Mr Singh said: "A loving critic. A son of Singapore. Not perfect. As imperfect as you and me Dr Tan, maybe more, maybe less". 
TODAY has reached out to Mr Singh for more comments. 
In response to TODAY's queries on what prompted him to write the piece, and whether he considered if his post might be construed as negative campaigning, Dr Tan said: "Mr Alfian Sa'at on multiple occasions has taken the side of Malaysia, against Singapore.
"And so when the Leader of the Opposition endorses Alfian as a 'loving critic', it is important for all of us to understand what Alfian stands for, and to ask if that endorsement was an informed choice."
Apart from unveiling new campaigning rules for the next GE if it takes place during the second phase of Singapore's circuit breaker exit, ELD on Thursday reiterated that candidates should refrain from engaging in "negative campaigning".
"Candidates and their authorised representatives should conduct election campaigning in a responsible and dignified manner that befits the seriousness of the election process. They should steer away from negative campaigning based on hate and denigration of opposing candidates," said ELD.