Plans to create 1,000 new jobs for landscape sector as NParks moves to adopt high-tech systems
SINGAPORE — Some 1,000 new and redesigned jobs will be created over the next five years for the landscape sector, as the authorities push out a new digitalisation plan.
New or redesigned job roles are and will be available for workers and those keen to work in the landscape sector
There will even be vacancies for new hires such as gardening enthusiasts under a new pilot scheme run by the National Parks Board
The board is conducting a year-long pilot around the  Bishan-Ang Mo Kio area to trial various digital tools
Among them is a video analytics system that can monitor visitorship and identify offenders who break Covid-19 safety rules
SINGAPORE — Some 1,000 new and redesigned jobs will be created over the next five years for the landscape sector, as the authorities push out a new digitalisation plan.
Mr Goh Eng Lam, chairman of the Landscape Industry Association (Singapore), said that this move towards a greater adoption of technology will be beneficial in attracting a younger and better-skilled Singaporean workforce to a sector that is traditionally seen as manpower- and labour-intensive.
"This is a big milestone," Mr Goh said on Monday (Jan 11) at an event to launch the digitalisation plans — an initiative led by the National Parks Board (NParks), stakeholders within the landscape sector, institutes of higher learning and other government agencies.   
The event was held at the Bishan-Ang Mo Kio Park, which forms part of a wider area where NParks has begun a year-long pilot to showcase its suite of new digital tools and technologies.
Among them is the scope for video analytics through the park's surveillance cameras, which not only allows the agency to monitor visitor numbers to the park and make plans accordingly, but also carry out enforcement actions against people flouting Covid-19 regulations. 
For instance, the technology allows NParks to automatically detect illegal group gatherings and issue warnings through its speakers, as well as capture snapshots of visitors who refuse to wear a face mask. This information is then used to aid NParks officers with their enforcement actions. 
Other technologies include the ability to monitor the health of the park's trees remotely, as well as sensors to determine whether a dustbin needs to be emptied or a toilet needs to be cleaned. 
The pilot will also encompass other areas within the Bishan-Ang Mo Kio area such as the Lentor and Mayflower residential areas, as well as Thomson Nature Park and Windsor Nature Park.
NParks explained that these areas are representative of the different terrains it manages.
When the pilot ends in January next year, NParks said that it will progressively roll out the technological tools to other areas under its management. 
It will also explore opportunities to share and provide training support for interested agencies and companies. 
'EXCITING TIME FOR LANDSCAPE SECTOR'
With the landscape sector's push to go digital, there will be new job opportunities for Singaporeans in this arena.
Mr Desmond Lee, Minister for National Development, said that as the industry develops further, he expects to see 1,000 new jobs to be created in various fields over the next five years.
They include arboriculture, horticulture, landscape design, as well as digital technology.
NParks did not give details on how many jobs will be created in each field but these 1,000 jobs will include "upgraded" roles for existing employees, as well as vacancies for new hires.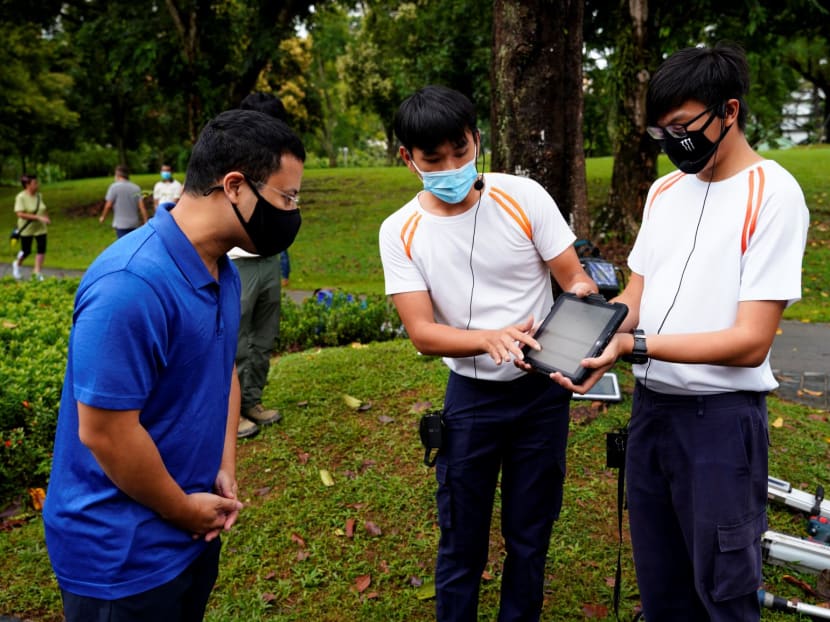 For new hires, there is the new Resident Gardeners Programme, which will be introduced at NParks-managed green areas at Ang Mo Kio, Punggol and Yishun from next month.
Mr Lee said that this pilot will see interested applicants be employed by landscape companies to care for the greenery in their neighbourhoods such as in town gardens and parks.
"In this manner, the programme provides an opportunity for residents who are gardening enthusiasts to supplement their income, while engaging in their interests.
"It is an exciting time to join the landscape sector," he added.
Mr Goh from the Landscape Industry Association (Singapore) agreed, and said that the digitalisation push is a step forward for the sector, which is currently heavily reliant on foreign manpower.
The greater adoption of technology could help reduce this reliance, while at the same time improve the skill sets of workers and improve their pay, Mr Goh said. 
Consequently, he foresees that this could lead to a rejuvenation of the industry with more young people being drawn to it. 
"This will give them (young Singaporeans) a new profile of the industry; that it is not the typical gardening, digging of weeds, but a career that they can build for themselves (by) exploring the technological aspects of it," Mr Goh said.
One teenager, Muhammad Raqibb B Mohamad R, is excited by the prospects.
A second-year Higher Nitec student in landscape management and design at the Institute of Technical Education (ITE) in College East, the 19-year-old is now on industrial attachment with NParks at Fort Canning Park.
He said that the use of technologies, such as flying a drone, has made the laborious task of inspecting trees a whole lot easier. 
Furthermore, the ability to monitor them remotely will be a boost to productivity as well, since it will allow them to continue working within the office even when it rains. 
Separately, Mr Lee launched on Monday a new edition of the 1,001 Garden Plants in Singapore. 
The S$38 three-book compendium features more than 2,700 plants cultivated in gardens in Singapore, and can be bought at a 20 per cent discount from now till Jan 17 at the Singapore Botanic Gardens, its online shop and the Hort Park near Alexandra Road. It will also be available at major bookstores by next month. 
WHAT NPARKS IS DOING
The technological tools that NParks is using at Bishan-Ang Mo Kio Park include the following:
1. Remote measurement system for trees
It is a system that uses light detection and ranging scans as well as machine learning to automatically map the locations of individual trees and extract tree measurements
The data is automatically uploaded onto NParks' Tree Registry System, which allows the agency to obtain an overview of trees in the area
The system helps reduce the need for landscape workers to undertake labour-intensive fieldwork to inspect trees and to manually update tree records
2. Surveillance cameras, video analytics and park visitor assessment system
A combination of these tools have been used by NParks to monitor visitorship levels in parks and gardens during the Covid-19 pandemic
Surveillance cameras, some with video analytics integrated into their systems, have also been used to monitor visitorship and even safe-distancing compliance
These tools allow NParks to determine how best to allocate its manpower
3. Maven II 
This is an upgraded version of an electronic platform that was created to consolidate all of NParks' technological and research initiatives
It stores information such as park planning and facilities data, tree information and biodiversity data, among others
This allows NParks officers to access information on the go
The upgraded platform includes a self-billing feature that will shorten the processing time for payment to contractors once work has been completed