#trending: 'Curvy' woman urges Singapore fashion brands to be size-inclusive after CNY dress misfit; netizens weigh in with similar experiences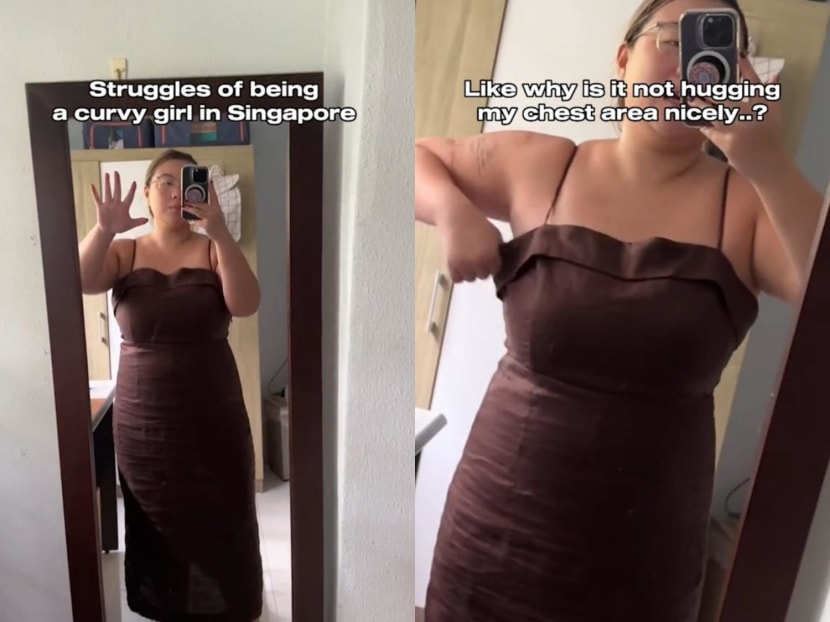 Ms Gladys Lim's dress for Chinese New Year from local brand The Editor's Market turned out to be a big "no-go" due to several issues with the fitting
Ms Lim shared her struggles to find clothes as a "curvy" woman in Singapore in a TikTok video that has since gained traction 
She called for fashion brands in Singapore to be more size-inclusive and to "do their homework" when it comes to catering for larger sizes
SINGAPORE — Looking one's best in a brand new outfit is something to look forward to every Chinese New Year (CNY).
Unfortunately, for self-professed "curvy girl" Gladys Lim, her CNY outfit from Singaporean fashion brand The Editor's Market turned out to be a big "no-go" due to several problems with the fitting.
In a TikTok video titled "Struggles of being a curvy girl in Singapore", Ms Lim said that she had bought only one dress for the festive occasion. It was a linen slit dress from The Editor's Market in XL size for S$59.
Despite having bought other garments from the store in the same size before, this dress in particular did not fit Ms Lim's figure.
The 26-year-old video producer complained that it took her a long time to zip up and the top part of the dress did not hug her bust area nicely.
"What is this awkward gap?" she says in the video, while tugging at the extra fabric.
Ms Lim then points out that an area around the back zipper tore when she sat down. She was also unable to pull the dress' inner lining down fully because it was too tight. 
Seemingly directing her words at The Editor's Market, Ms Lim's in-video caption read: "If you want to expand on your sizes, at least get the average measurements right."
She concludes the video by lamenting that this is "the reality" of plus-sized women in Singapore.
In the video's caption, Ms Lim called on fashion brands in Singapore to be more size-inclusive and to "do their homework" when it comes to catering for larger sizes.
The 36-second clip has gotten more than 110,000 views and 4,100 likes since it was posted on Tuesday (Jan 24).
Ms Lim's struggles seemed to resonate with many online users who also found it difficult to find clothes that fit them.
One wrote: "Finally, someone said it! It's so difficult to shop in Singapore if you don't fit into the mainstream size."
Another commented: "I've long given up on local brands, they don't cater to curvy girls at all."
Some TikTok users claimed that the sizing issues extend to smaller sizes as well.
One comment read: "Agreed. Even for size S or M, if you are on the curvier side, The Editor's Market doesn't fit. I tried and everything looks ill-fitted."
Others suggested more curve-friendly brands here that Ms Lim could look into such as Love, Bonito, Love and Bravery, and The Stage Walk.
When questioned why she did not try the dress before buying it, Ms Lim explained in a comment that the changing room queue at the brand's Takashimaya Shopping Centre outlet had been "insanely" long since it was the weekend before the Chinese New Year holidays.
'WE WANT TO BE HEARD'
Speaking to TODAY, Ms Lim said that finding brands that cater to a wide range of sizes is difficult in Singapore. Some clothes tend to be too small even though the brands claim to provide bigger sizes of up to XL.
She also said that as her chest and hips are bigger, she has to resort to shopping for clothes that have a flowy silhouette. Sometimes, bottoms would fit her at the waist but not the hips.
However, when she does manage to find clothes that fit perfectly, the price tag tends to be higher.
"Why can't it be made affordable for everyone?" she questioned.
"What I hope for brands to take away from this video is (to not) just expand on (the) sizes just because (they) want to seem 'size-inclusive'. We want to see representation. It's empowering to see all shapes and sizes being represented in the market. Everyone deserves to enjoy wearing clothes that fit their figure."
Ms Lim also hopes that brands would put in the effort to better understand the concerns of their plus-sized customers.
"Girls like me were afraid to bring this up because a large group of us probably faced body-shaming at one point in time. But with social media thriving now, more people are starting to reach out to brands and raise awareness on this issue.
"We want to be heard and we want change," she added. 
So what is going to happen to the dress? Ms Lim said that she will fix the hole at the back before giving it away to someone whom it can fit better.
In response to TODAY's queries, The Editor's Market said that it carries clothes in the sizes XS to XL, which is the equivalent of UK6 to UK14.
"We have received feedback for more plus-size options and have plans to develop our sizing to better cater to Singapore's plus-size community," it said, adding that it has since reached out to Ms Lim.
The company also said that it would be improving the fit of its current larger sizes and has plans to introduce sizes above XL in the near future.