WP's Pritam Singh, Leon Perera in sharp exchange with DPM Lawrence Wong over housing, reserves
SINGAPORE — The temperature in Parliament rose on Friday (Feb 24) as the Budget debate ended on a heated note, with two Workers' Party (WP) Members of Parliament (MPs), Mr Pritam Singh and Mr Leon Perera, exchanging sharp words with Deputy Prime Minister Lawrence Wong.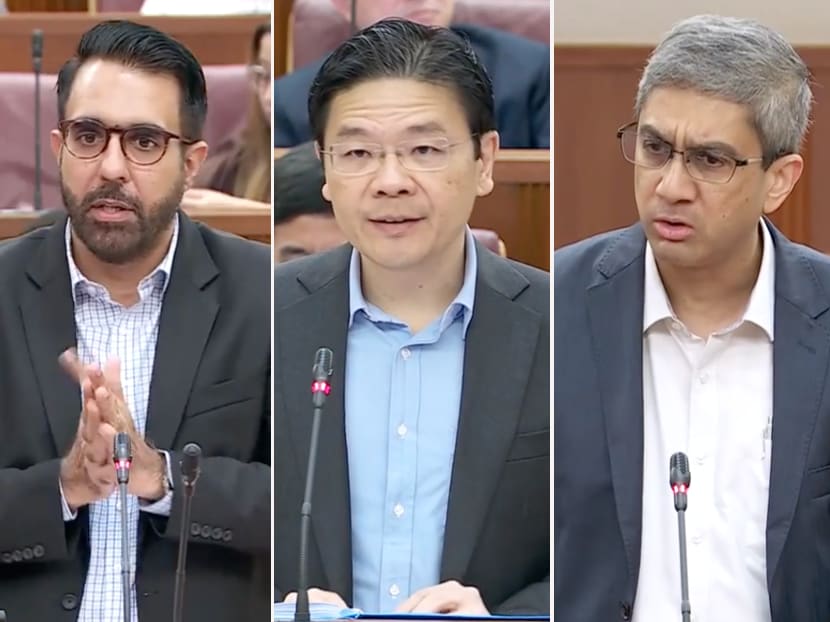 Sparks flew between the Workers' Party's (WP) Pritam Singh and Leon Perera and Finance Minister Lawrence Wong on Friday (Feb 24) over the issue of housing and the reserves
The trio debated over WP's 2019 housing working paper in response to the Voluntary Early Redevelopment Scheme
Mr Wong also brought up WP's former secretary-general Low Thia Khiang's response to the Government's decision to draw more from the reserves in 2009
SINGAPORE — The temperature in Parliament rose on Friday (Feb 24) as the Budget debate ended on a heated note, with two Workers' Party (WP) Members of Parliament (MPs), Mr Pritam Singh and Mr Leon Perera, exchanging sharp words with Deputy Prime Minister Lawrence Wong. 
One of the issues at the heart of their debate was that of Build-to-Order (BTO) flats and a November 2019 working paper by the WP on the resale prices of Housing and Development Board (HDB) flats.
In the paper, which the WP had published in response to the launch of the Voluntary Early Redevelopment Scheme, it noted that resident population growth had been around 30,000 a year since 2010 and 2011.
"Assuming an average household size of 3.3, this would mean that around 9,000 or so new dwelling units are required annually," the paper said, adding that completions of BTO flats within the same time period have far exceeded the resident population growth.
It then posed the question: "Will the HDB have a vacancy rate problem, compounded by a still steady stream of 16,000 to 17,000 BTO units in the last few years, which will continue to increase supply up to 2022?"
In his round-up speech, Mr Wong, who was the National Development Minister in 2019, noted that in a letter published in national daily The Straits Times on Friday, the WP said that this 9,000 figure was not a proposal. 
"Well, come on. You can call it whatever you want," Mr Wong said. "But it was quite clear in the Working Paper… it says very clearly, 'around 9,000 or so dwelling units are required annually' based on various population parameters, otherwise HDB will have a vacancy rate problem. Fortunately, HDB did not take their advice."
Mr Singh and Mr Perera, who are both MPs for Aljunied Group Representation Constituency (GRC), both rose at the end of his speech to rebut him, leading to an extended exchange.
Another matter that the trio debated about was the Net Investment Returns Contribution (NIRC) scheme and the reserves. 
Under the NIRC framework, the Government can spend up to 50 per cent of the net investment returns on net assets achieved by Singapore's sovereign wealth fund GIC, the Monetary Authority of Singapore and state investor Temasek Holdings.
In his speech, Mr Wong noted that the former WP secretary-general Low Thia Khiang had in 2009 expressed surprise that the Government was planning to draw S$4.9 billion of past reserves to help Singaporeans tide over the Global Financial Crisis.
He then quoted Mr Low as saying that the reserves are a strategic asset meant for use in times of unprecedented circumstances, and added that the WP's stance seemed "to have shifted from the days of Mr Low".
"Instead, their repeated calls for the Government to spend more from the reserves — to slow the growth of the reserves, increase the 50 per cent NIRC formula, change the reserve rules — different options, different suggestions, dressed up in multiple ways, but it boils down to the same consistent ask," he said in his speech.
This prompted Mr Singh, who is Leader of the Opposition, to point out that the Government had changed the NIRC framework in 2015 by including Temasek into the mix, a point that Mr Wong then rebutted. 
Below are edited excerpts of their exchanges. 
ON WP'S 2019 WORKING PAPER
Mr Singh: What the Government is not saying is that the context of the WP housing paper was in response to the Voluntary Early Redevelopment Scheme. The housing paper looks at a longer-range forecast of the housing sector. And that was the context, which I have not heard any PAP MP speak about.  
Mr Wong: I fully appreciate the context because I was there in the Ministry of National Development (MND) — the context was a concern about decay of leases, declining values. But the context was also in the midst of falling resale prices for consecutive years. 
And the Workers' Party was not alone in highlighting that under such an environment, we better consider how many new flats we are putting out. Many experts shared similar concerns. I was under tremendous pressure to cut back BTO flats. 
There's no shame in acknowledging that… you got that wrong, because many people did. Why not just acknowledge it?
Yes, it may not have been a specific proposal, whatever you want to call it, but it was clearly stated.
And we are not here to pass judgement because with the benefit of hindsight, of course it is very easy to say (but) no one would have predicted that we would have a Covid-19 crisis and what has happened in the last three years... So let's acknowledge that with some humility. 
Mr Perera: The People's Action Party (PAP) seems to be doubling down on this incorrect assertion, using its tremendous public relations and communications machinery to repeat this assertion about the Workers' Party HDB paper again and again.
So the call to action (in the working paper) says that BTO should continue. I repeat, "BTO projects should continue". It doesn't say the "BTO project should continue at reduced rates". It doesn't say, "BTO projects should stop". It doesn't say... [Mr Wong seemingly laughed at this point] You laugh, you laugh. Let me continue — it says BTO projects should continue and then it goes on to say that you can taper that down in the longer term when our universal sale and lease back proposal kicks in, which would yield flats that could be repurposed for sale of balance flats or for an expanded public rental scheme. 
But that only starts to kick in in about 12 years' time. Let's have debates on our real positions and not mischaracterise one another's positions.
Mr Wong: I think Mr Perera is now sort of alluding to the fact that the assessment that they put out was pertaining more to a longer-term concern about a supply overhang. But that's very clearly not what the write-up says. The write-up says that there was a concern about short-term overhang, too many supply of new flats. 
Like I said, it's not just you who was highlighting this concern. You can check the Hansard (a record of the official reports of parliamentary debates). I think some PAP MPs must have asked me the same question. I was under a lot of pressure to cut back the building of new flats, precisely because of the short-term concern.
To me, as somebody who was looking at the working paper then on the receiving end in MND, I think it was clear as daylight what the WP wanted to do… So let's be upfront and honest that the assessment made at that time was not right. 
ON DRAWING FROM THE NIRC
Mr Singh: The final clarification pertains to the point Finance Minister made about Mr Low Thia Khiang, his responses to the drawdown of the reserves during the Global Financial Crisis. I think the simple answer to that is that the position of the WP has evolved because circumstances have evolved significantly.
And we can see it also in terms of the contribution of the NIRC and the Government's own attitude to the Net Investment Income (NII) framework after the Global Financial Crisis. 
You have Temasek being included in the NIRC formula. Why? Because, we were told, there were more needs, healthcare needs, ageing population. I think these are perfectly, eminently reasonable explanations as to why the Temasek tap was led into the NIRC framework. 
So I don't see this as a particularly problematic issue to deal with because I think, naturally, as circumstances evolve, the PAP also will change its position. And the Workers' Party of course, will be entitled to do the same. 
Mr Wong: I'm glad that Mr Singh has acknowledged that it's a change in the Workers' Party's position, but I would respectfully disagree with his comparison with how we have updated our position on the involvement of Temasek in the NIRC framework. 
Because we have made it very clear when we embarked on this, that we did want Temasek to come in, but it was a matter that needed more time to study, and therefore the implementation was staged. 
More importantly, our underlying philosophy, our intent, our principles, have never changed and will never change. It's about fiscal prudence, discipline, responsibility, stewardship.
That is consistent and has not changed and will not change, whereas it seems to me, on that part, the Workers' Party has shifted.
Mr Perera: The Deputy Prime Minister has set out a world view that reducing the rate of growth of reserves is taking away from past generations. But in 2008, the PAP did just that when it created the NII framework, slowed it even more in 2015 by adding Temasek. 
So why is that not irresponsible and not taking money away from future generations, but when the Workers' Party says it, ah, then it is irresponsible. Is it seeking political mileage, that it is okay when you do it, but it's not okay when we call for it?
Mr Wong: I think we have been through this debate in this House and I've explained from the Government's point of view, we put in place a framework and we staged out the implementation over a period of time. 
We always had the intention for Temasek to be there, but we put in place a framework that will provide discipline for the Government to use the reserves as an endowment fund. It was meant to be a set of fiscal rules that we live by, not to change at the time when we need money, which is what the Workers' Party is proposing. 
But what we are highlighting is, so soon after this framework was finalised, at the first sign of needing money, why the attitude of then going back to change the rules? Shouldn't we live by the rules that we have set for ourselves and agreed and put in place? 
And maybe down the road, years later, after the benefit of lots of experience, yes, we can come together to review this again, because — I have said — that nothing is cast in stone. We should review but not so soon after we have finalised the framework and at the first sign of needing money. 
Mr Singh: Finance Minister said, look, he respectfully disagrees with my characterisation of the move made in 2015 to include Temasek and that this actually was a plan that the Government had already had in the works for some time.
So I took the opportunity to pull out then-Finance Minister, Mr Tharman Shanmugaratnam's, second reading speech at the Constitution of the Republic of Singapore (Amendment) Bill, which effected this change… (He had said) "including Temasek in the Net Investment Returns framework will provide the Government with additional fiscal resources in the years to come". 
And just to set it out there, (in Mr Tharman's speech, there were) three reasons why these additional revenues were required: Number one, healthcare. Number two, human capabilities, training, SkillsFuture, strengthening education. Thirdly, transport — infrastructure, Changi Airport, Terminal 5, Tuas seaport.
These were the reasons why the tap was opened, because there's a need. And that's the perspective that the WP is bringing when we speak of looking at the reserves differently.
Mr Wong: The intention was clear from the outset, the only reason why we wanted to stage it was because of the complexity of having to incorporate Temasek into the framework because Temasek is quite different from GIC. We always knew that there was going to be additional resources.
I mean, that's to be expected, right? Once you put Temasek into the framework, obviously there will be additional resources. 
But the point remains — having finalised the framework with Temasek, as we had originally intended, let's stick to the rules… Maybe many, many years down the road, we will have a rethink… maybe a different finance minister. But for now, the rules are sound.